17 ASO Tips You Need to Know (And Apply)
In this post, we are going to present you 17 ASO tips to make your app/game take off 🚀. These tips are based on our App Store Optimization experience and expertise, and if you apply them, we can assure you that you'll see some great results!
First of All, What Is ASO?
App Store Optimization (ASO) is the process of optimizing a mobile app or game in order to maximize its visibility in the app stores in Search (when users search) and Explore (when users browse), increase traffic to listing and improve conversion rate to generate the maximum volume of organic (free) downloads. App Store Optimization is about Visibility (Search + Explore) and Conversion Rate to download.
Two kinds of factors can be identified: the on-metadata and the off-metadata ones. You also need to be aware that on-metadata factors are different between the Apple App Store and Google Play Store.
ASO is a wide matter, and there are a lot of things you need to know to carry out a successful strategy. You don't know where to start or what to focus on? No worries, today we are sharing with you 17 ASO tips to market and boost your app or game, in terms of downloads and revenue. Because you know… The more downloads = the more revenue.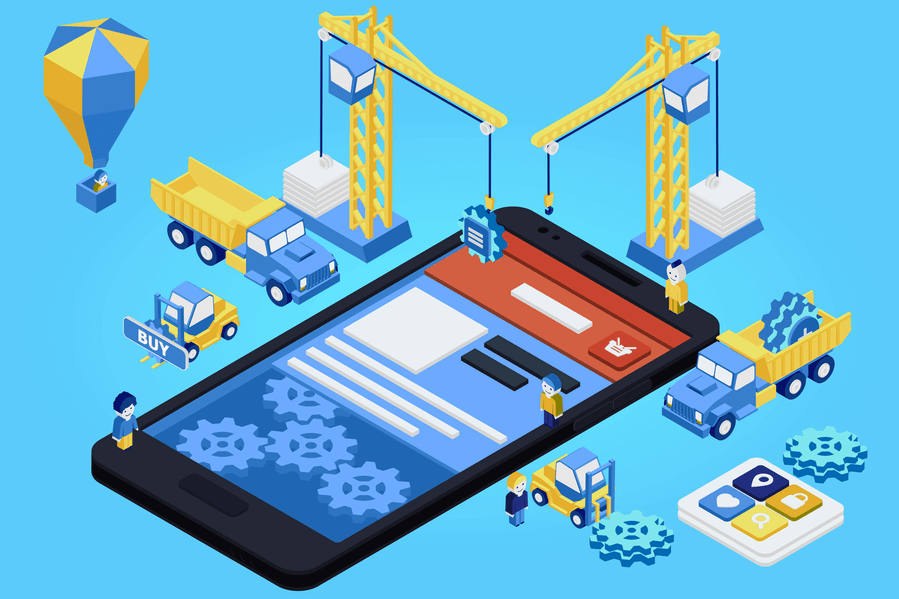 1. Do Not Underestimate ASO
App Store Optimization is more than important and a discipline that can't be ignored if you are in the app business. It helps your app get more organic downloads and reduce UA (User Acquisition) costs if you are actively investing in acquiring new users. So, in our opinion, ASO is a must for every marketer/developer and the base of any App Marketing strategy.
2. Find the Right Keywords
The first step to carry out is to do keyword research and find the right keywords, adapted to the market and relevant to your app. In order to do this, you will need to work with an ASO tool that will allow you to calculate keywords' traffic and difficulty, know / spy on your competitors, discover new mid-long tail keywords through app stores suggestions… And much more.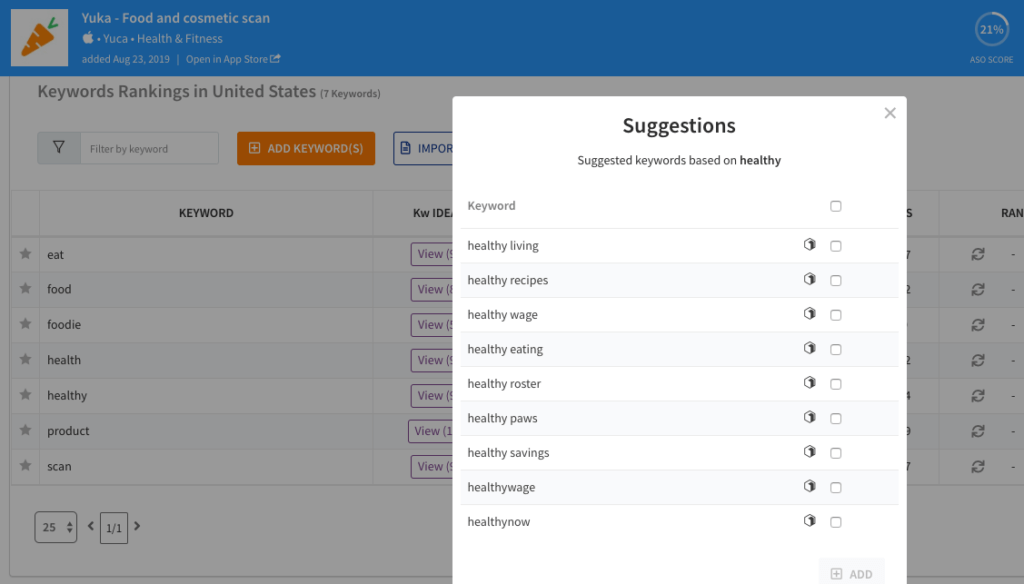 It is true that working on low difficulty high traffic keywords is good for your app (which is not something very common). However, you should also try to work on low difficulty low-mid traffic keywords if your app is new, which would enable it to rank really easily for these keywords.
Also, try to add some mid and long-tail keywords by combining keywords together to increase visibility. Mid & long-tail keywords are KEY in ASO.
3. Know Where to Use Your Keywords
App Name / Title is the field where you need to add the most important keywords. It's important to find a balance there between Search optimization and branding, as this field is limited to 30 characters on the App Store and to 50 characters on Google Play.
Take into account that ASO is different between the App Store and Google Play, so you shouldn't follow the same strategy on both stores:
For App Store, you need to be careful as you have quite limited fields to insert your keywords: App Name (30char), Subtitle (30char), and Keywords field (100char). Keywords in IAP, developer name and subscriptions are also important but they are not fields where keyword optimization is required.
For Google Play, you have a bit more room in the different fields where you can insert keywords, which are: Title (50char), Short Description (80char), and Description (4000char). In this case, we recommend adding keywords at the top, middle and bottom of the long description. Also, we recommend using HTML (bold, H1, color) to highlight the most relevant keywords… It works 😉
The thing is… Add keywords everywhere you can do it 😉 but be careful, don't over-optimize.
4. Localize the Listing to Make Your App Global
To make your app much more visible on the stores and grow, make it available worldwide (all countries), expand its listing and make it available in all possible languages. To do so, do local keyword research in the countries that you want to localize in, and then go ahead. Localize your listing and see the results. Don't forget to adapt your content (visual and editorial) to the country and its culture.
5. Monitor ASO KPIs
Track ASO performance to see if you are going well and if your strategy is effective, or not. To do so, you will have to track, at least, the basic App Store Optimization KPIs:
Keywords rankings
Featured tracking
Conversion Rate to visit
Conversion Rate to download
User ratings & reviews
Organic downloads (Search)
Organic downloads (Explore / Browse)
Organic Uplift (the relation between non-organic and organic downloads)
Revenue (Ads, IAP, Subscriptions, sales…)
Yes, there are a lot of KPIs… You don't know how to measure all these metrics? Use an ASO tool. Check out right below an example of a keywords rankings distribution chart from TheTool:

By tracking all these KPIs, you will be able to know where you have to improve and what you need to do to get better results from your ASO strategy.
6. Visual Assets
Visuals (icon, screenshots, and video) have a big impact on Conversion Rate to visit/download, so it is very important for them to be eye-catching, unique and representing the topic of the app.
It's the case for your icon, the first visual that users see when browsing the stores. You will have to work on it, make it scalable, related to your brand, but above all make it stand out and connect to users.
As for screenshots, they are also very important as it happens that a lot of users take the decision to download just upon checking them. This is why optimizing them is really important for your ASO. To do so, provide screenshots presenting the app and engaging with users. Avoid displaying unnecessary messages on these screenshots and make sure that the background is clear if you include some text for it to be readable.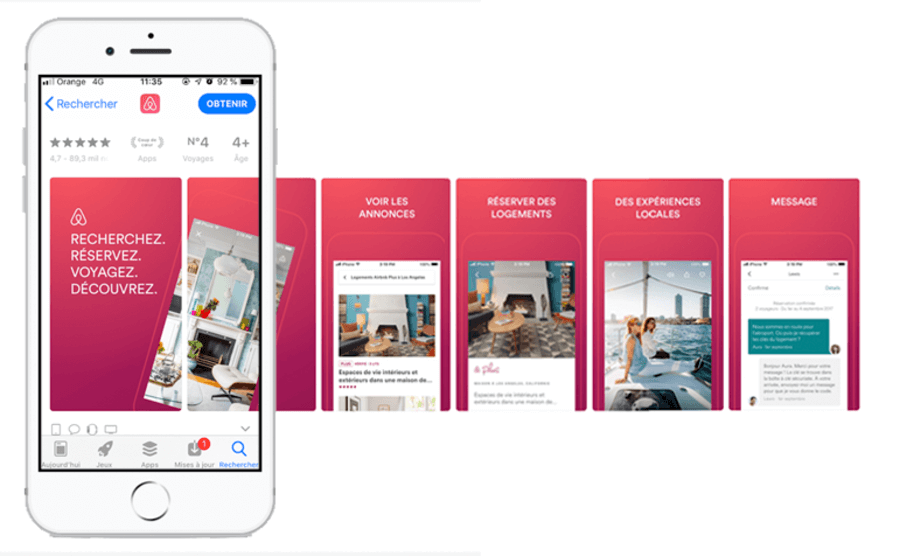 7. A/B Testing
Don't forget to proceed to A/B testing for your visual assets (and for every on-metadata factor in general) to see what works best, e.g. for the icon, for the screenshots. A/B testing is a great way to test different options and find out the most effective one. For example, if you'd like to include horizontal screenshots to your listing, A/B testing is a good way to try different screenshot orientations and see what brings you more downloads.
In order to run A/B tests on Google Play Store, you can use Google Play experiments, which is a great tool inside Google Play Console.
If you want to run A/B tests on the App Store, you have to work with 3rd party tools like SplitMetrics or StoreMaven.
8. Choose the Category That Suits Your App Best
It's important to study which category works best for your app and to choose it to get the highest ranking. To do so, study where users usually browse when looking for an app that is similar to yours. You should also check on the competition and which categories competitors have chosen for their app. As for other factors, you can proceed to testing to see what category can provide your app with the most visibility and downloads.
Later on, we'll explain more about Similar Apps on Google Play, but know that the chosen category has some impact on the algorithm.
9. Users Ratings and Reviews
Take care of your users' ratings and reviews as they have a big impact on visibility and conversion rate. We recommend you to provide an answer to the reviews, most of all to the negative ones to exchange with the users, be aware of what's wrong, what could be improved, and if possible try to make them evaluate your app again later on with a better rating.

10. Update Your App / Listing Regularly + Through the Seasons
Updating your app enables you to keep your users interested, and app stores love updated apps so doing it will also make them happy about your app.
Also, adapting your listing to the season will enable you to stand out from other apps. Update your icon and screenshots during festive seasons like Christmas or Halloween (or even Champions League) and change your keywords in the description field for your app to be up to date.
11. Include Videos
Study and see if adding a video to your listing would be relevant and generate a better CR (Conversion Rate) to download (you can do that with A/B testing). For games, it's almost always the case and almost every game has one, so we recommend you to have one also. The video should last between 15 and 30 seconds and display the app design and its functionalities. As for games, it should present a preview of the gameplay, a really important thing to watch for users. Plus, using instructional videos is one of the best tips for improving app engagement, as it encourages users to try out your app's features.

12. Be Careful With the Size of Your App
Your app should not exceed 100MB for Google Play and 200MB for the App Store. Bigger apps can't be downloaded with 3G or 4G connections, so they are not recommended. What we can advise you to be able to respect this tip would be to compress some of the content or to make some of the app content downloadable afterwards.
13. Work on Similar Apps Visibility (Google Play)
Download volume has a high impact on Similar Apps visibility, as well as on-metadata optimization in general, which means that your app should be fully optimized for it to have the opportunity to appear in the Similar Apps section of other apps.
Visuals are really important when we talk about Similar Apps. If you check on the icons of the similar apps of an app, you'll see that they are usually all pretty similar. Here you will see an example: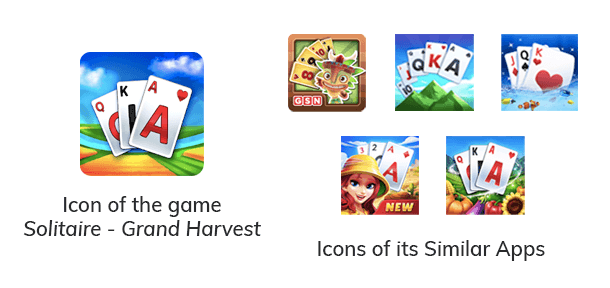 This is one of the many reasons you should always pay attention to the competition and how they work, as we'll develop later on.
You can monitor Similar Apps visibility with TheTool.
14. Organic Uplift
What's Organic Uplift? It refers to the relationship between the number of organic downloads and non-organic downloads. Normally, the more non-organic downloads, the more visibility in the stores and the more organic downloads.
Organic downloads are those which are generated within the stores (Search, Browse…), while non-organic downloads are those coming from paid UA campaigns, owned media, and viral loops.
You can use developer consoles or attribution partners to measure Organic Uplift or you can use TheTool and view it with 1 click, quick and easy.
15. Track Your Competitors
It is important for you to follow-up on what and how your competitors are doing in terms of ASO / visibility. This way, you will be able to see what works on the stores but also how to differentiate yourself and to stand out.
You should track the same (or almost) ASO stuff you track for your apps, as for your competition.
16. Build Backlinks (Google Play)
We proved it 2 years ago: on Google Play Store, backlinks have an impact on ASO so do your best to get them. This will also help with the SEO visibility of your app. To build backlinks, start with adding a link to your listing on your website and try to get authority websites to talk about your app and mention it. It's important that the backlinks are quality ones, which means that your app should be mentioned by a related website. The more high-quality backlinks you have, the higher your app will be ranked in Google Play and Google web search results.
17. Avoid Crashes / Bugs (Focus on Quality)
Finally, don't forget about the quality of your app itself which is most likely, in the end, the most important criteria. You might have the best ASO strategy ever, but if your app or game is full of bugs and crashes, you will not see the results you are expecting. So don't forget about app performance and make sure that you are providing the user with the best experience possible.
💡 Check out these 10 app store optimization (ASO) mistakes you should avoid.
Conclusion
As you can see, there are many ways for you to market and boost your mobile app or game. By working on all these tips, you will be able to see the traffic on your listing increase and the Conversion Rate to download improve, providing you with a higher volume of organic downloads. Still, keep in mind that ASO is a process that requires time so you will have to be patient to see results.
Keep on ASO!
Maud is working as Content and Social Media Manager at TheTool. She is French but came to Spain two years ago and fell in love with the Spanish culture. She enjoys traveling, sports and is always willing to discover new things and find new challenges.
"Promoting my new app with Placeit has been super easy!"
Tonya Chaudry 5/5
---
ASO Is Only the First Step in Promoting Your App
Now that you've learned all about ASO best practices for your app you're ready to promote it and make it successful. Don't forget that having professional images is key to getting noticed, that's why Placeit has AppStore screenshot mockups and digital device mockups for all your needs.
Make an App Store Screenshot
---