So you have developed your android app. I would say that making an app is the easy part. Getting it out there and getting people to like is another journey in itself. In this post, I will be covering ten ways in which you can market your Android app.
1. Develop a Great App
One single app will not be noticed among the millions of applications in the store unless it has something different to offer. Make sure you are developing a great product. It may not necessarily be unique but your app should not have any drawbacks. 60 percent of the apps fail to make money in the market. Try to be in the lucky 40 percent by getting good reviews.
2. Optimize Before Submitting
Check your app multiple times before submitting the app to the store. The app should be complete, ready to use and should have a good user interface. Submitting a partial app in urgency will result in bad user reviews. Your app will find itself higher in rankings if users rate it well. Good user ratings will also increase the number of downloads.
3. Make an Impressive Icon
Most of the smartphone users these days find themselves attracted to great design. Use those small millimeters of space to insert a gorgeous icon. Use your creativity to design the icon. Many of the times your icon will be the mirror of your app. Hence take your time and finish this step. Do not blindly move with this in a hurry.
4. Offer Installs Using Facebook
Another option to get lots of installs is by using the paid advertising channels like Facebook. You can even get users based on their location, age, etc. by using Facebook.

5. Submit Your App to Multiple Stores
There are multiple stores to submit your applications to. Google Play is one of the largest markets to launch your application. You can also go for Amazon App Store, App Brain, Mobogenie, SlideME etc. and make it available easily in many of the markets so that users will feel great about your application.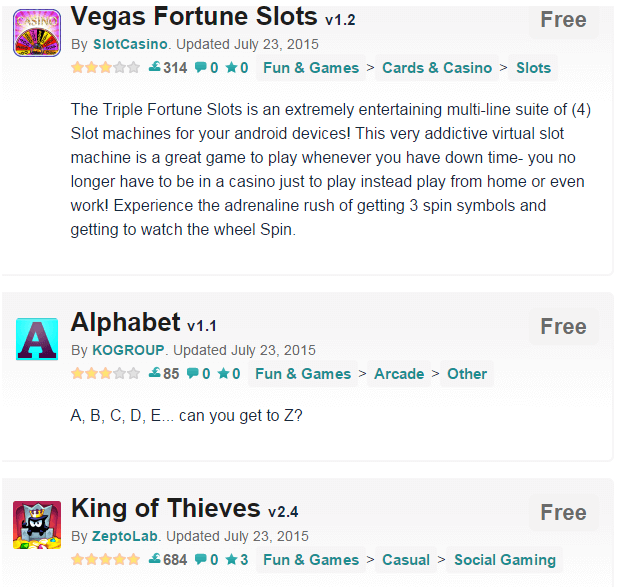 6. Provide It for Free
Users are not ready to waste their time in readily paying for apps without developing a trust. If your application is expensive they may not even bother looking at it. Make your product as an open source so that the users will at least give a try. If your app is not worth the user's time they will move on. Make it a bit addictive so that he should not feel like leaving that app. A freemium model can work wonders.
7. Focus on Outreach
There will be many bloggers who frequently review apps or write list posts about the top ten apps in a category. Reach out to them and see if they can add your app to any of their list posts. To find such sites do a search for "top android apps + niche", "best android apps + niche" and so on. You can also go for paid reviews to promote your app on sites like AndroidPolice.com or Androidrooting.org
8. Make a Video
Videos show different previews of your app. You can create videos for cheap using platforms like Placeit and upload those to YouTube, Vimeo, DailyMotion and scores of other platforms. On the play store you can add a promo video for your app.
9. Provide Updates to Stay in Touch
Keep adding new features to your app by updating it regularly. Provide the different updates periodically and make the app more interesting that it was earlier. This sustains curiosity amongst users and they will stick on to the application for a longer period.
10. Advertise
Online media isn't the only place where you can advertise apps. I have seen many app owners taking to television, newspapers, and magazines to get the word out. Using Android mockups is a great way to advertise your app and let people know what to expect of it.
Even on YouTube, you can promote your app with a 30-second advert. The best thing about the platform is that you need to pay only if the viewer completely watches the advert.
Your videos can also be advertised on Facebook.
Concluding Thoughts
In the end, it all boils down to if you have created an app that's really useful to the customers. Even if you do get app installs and reviews by promotion, if your app isn't good it won't stand the test of times.
Good luck
——
Check out some of our Android Mockups and Videos by clicking on the button below.
---
---