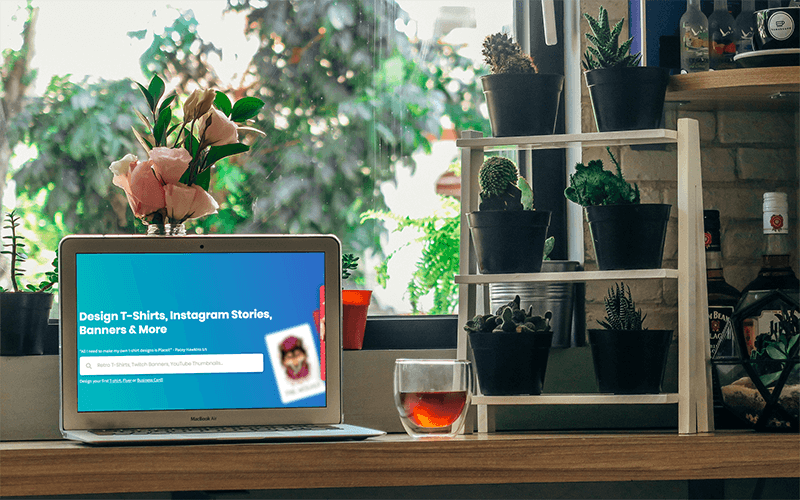 When growing your eCommerce business, you have three options: increase the number of customers you have, increase the number of repeat purchases, and/or increase the price of your products. Using the right eCommerce tools can really help you launch your brand into your goals.
If you increase the price of your products, the result can be that your potential customers will be seduced by your competitor's lower prices. Unless you can offer a much higher quality! 
That leaves you with two options: Increase the number of customers you have and increase the number of repeated purchases. To do this efficiently, without losing your personal life in the process, you need business growth tools.
Rather than just give you a list of tools and leave you to decide where it fits in your growth strategy, I've put these tools in the following categories: 
Choosing the tools you need should be a breeze and allow you to focus on taking action to grow your business. Let's get started:
Ecommerce Marketing Tools
You've got big goals and most likely, your budget isn't that big. Use the tools below to get positive ROI on every dollar you invest in building awareness, nurturing your leads, and converting them into customers:
1. BuzzSumo
Content that performs well both on search engines and social media channels isn't a case of good luck. There's an art (writing) and science (analyzing popular topics) that goes into publishing such content. 
Buzzsumo helps you identify what topics will resonate with your audience and ensures that your content won't fall flat once published.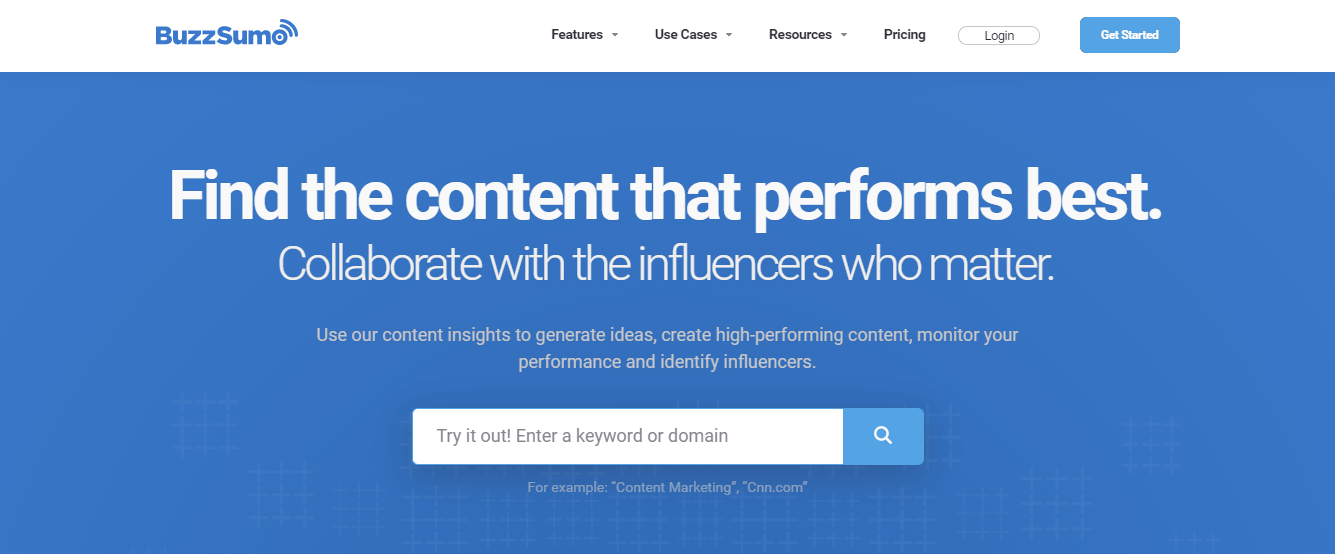 Features that help your business grow:
Enables you to identify trending topics and content that people are sharing, so you create relevant content.

It helps you analyze how your content is performing on the web. 

It allows you to monitor your brand mentions on the internet, so that you protect your reputation.

It helps you identify influencers who create and share popular topics. 
2. Placeit
Given that social media users are spending an average of 74 minutes on social media channels a day, the content you share needs to make a visual impact. Instagram, for instance, is an image-based social media channel, and if you want to stand out, you need to create compelling visuals at scale. 
That's where Placeit comes in. Placeit has a library of images and templates to help you create awesome visuals for social media channels and other pieces of content.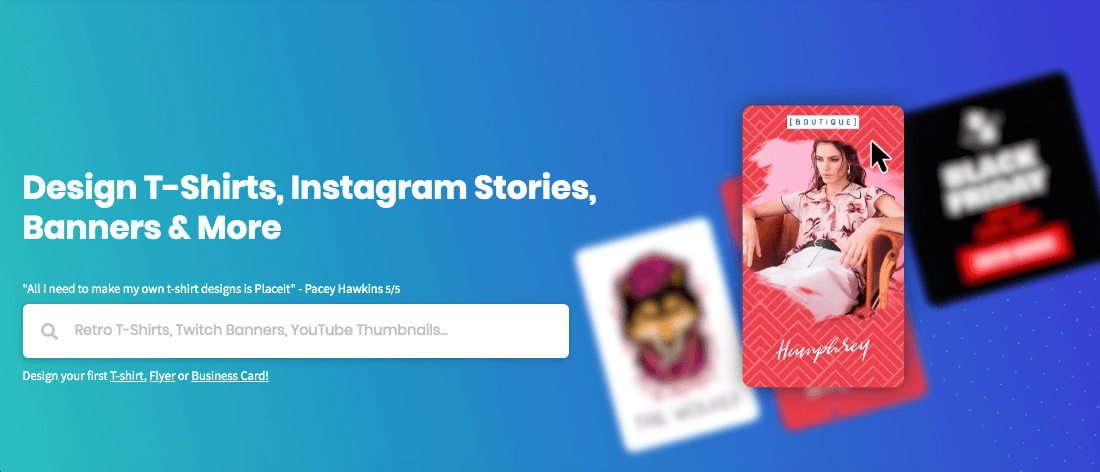 Features that help your business grow
It allows you to drag and drop visuals to help you create images faster.

It allows you to download as many designs as you need.

It has a library of visuals and templates, so you don't have to create visuals from scratch.
3. Buzzsprout
By 2022 more than 132 million people are expected to be listening to podcasts. By using Buzzsprout to start a podcast, you can increase your audience reach and build awareness. 
Besides, 54% of podcast listeners are open to buying from brands that are advertised on podcasts. This means that you can also use it as a sales tool and drive listeners back to your eCommerce store.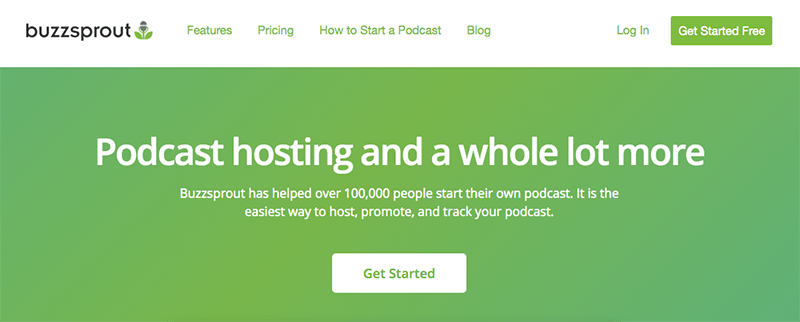 Features that help your business grow:

It allows you to

host your podcast

and submit your episodes to major directories, so it's easier for listeners to find you.

Enables you to provide podcast transcripts inside the tool.

It allows you to monetize your podcast.

It provides you with analytic reports that show you how well your content is performing. 
4. Drift
Sustainable growth requires you to adopt a growth marketing mindset that focuses on every step of your customer's journey.  

Have you optimized your website to provide a great experience? If not, a great place to start is by integrating a Drift chatbot into your website. The chatbot can answer common customer questions and improve the customer experience.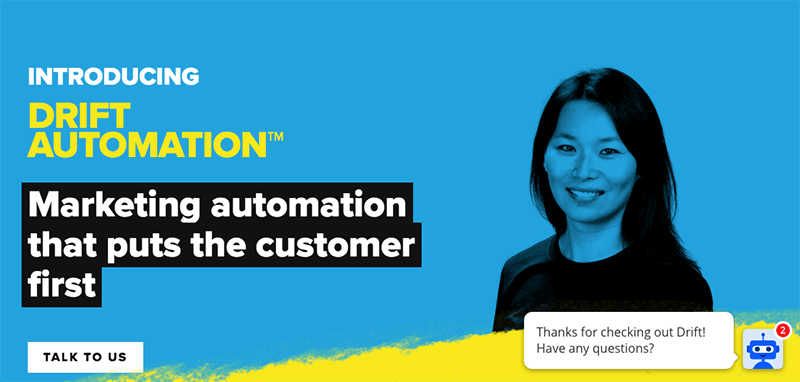 Features that help your business grow
It allows you to design and customize your conversations.

Create relevant chatbots for different pages on your website.

It comes with a popup chat window to notify web visitors of its presence. 
5. Optimizely
Optimizing your marketing efforts puts you on the path to serious growth. For example, knowing the specific color to use on your call to action buttons to increase conversions can make the difference between the success and failure of your marketing campaigns.
Optimizely helps you do this and more, and you don't have to be an expert to set up and run A/B tests or interpret the results you receive.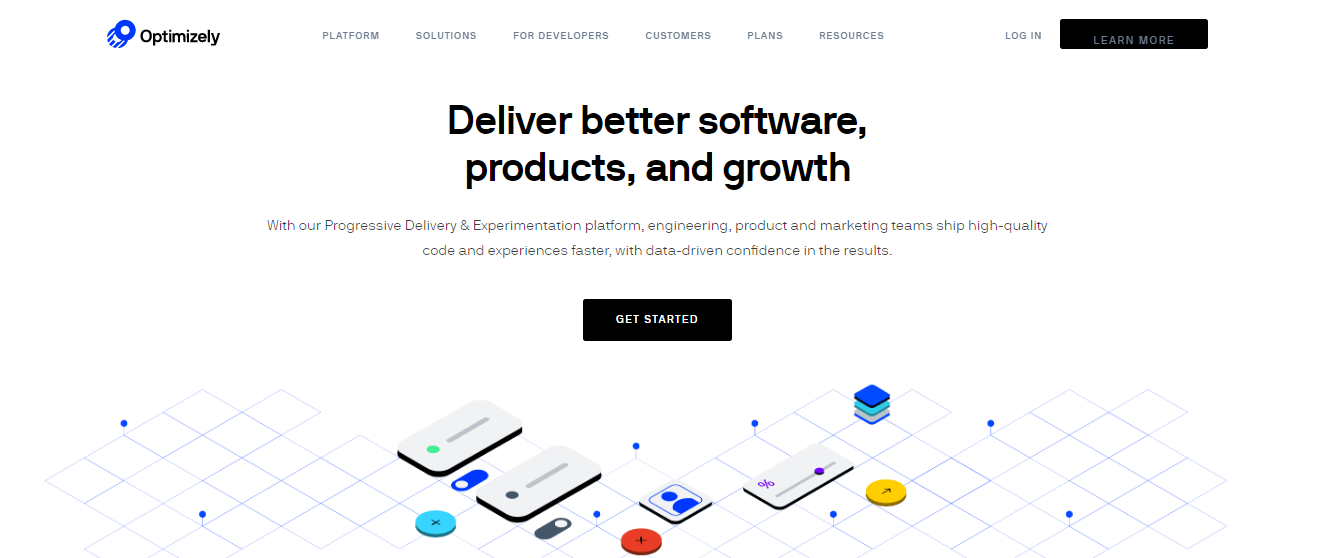 Features that help your business grow 
Integrates with other platforms to help you get more data and insights about your

eCommerce website

.

It has a drag and drops user interface that makes it easy to set up A/B tests.

It has excellent customer service to help you get unstuck when setting up your experiments.

It provides you with real-time stats about your tests to help you make decisions faster.
Website Tools
Website tools offer almost similar features and functionality, making it even harder for you to choose one that serves your needs. In this section, we're going to talk about three tools, specifying what type of business owner will benefit most from it. 
🔥 You might like: Top 10 Best Ecommerce Platforms: Discover the One for You in 2022
6. BigCommerce
BigCommerce is the ideal eCommerce platform for large businesses with a ton of products and that want to focus on SEO as their growth strategy. 

Features that help your business grow
It provides you with SEO tools to help you boost your search engine rankings.

It provides your customers with real-time shipping updates no matter the plan you're using.

Supports different currencies. 

It allows you to sell products on online marketplaces and social media channels from your control panel.
7. X-Cart
X-Cart is ideal for you if you're looking for a self-hosted platform, and you're good at web development. 

Features that help your business grow
Has a community of fellow users to help you gather insights on how to use the platform better.

It provides you with inventory updates to avoid selling what is out of stock.

Has enhanced security features to prevent fraud and notifies you of failed logins to your control panel.
8. Shopify
Shopify is perfect if you're getting started with eCommerce, especially if you're running a brick-and-mortar store and you're expanding to start taking online orders.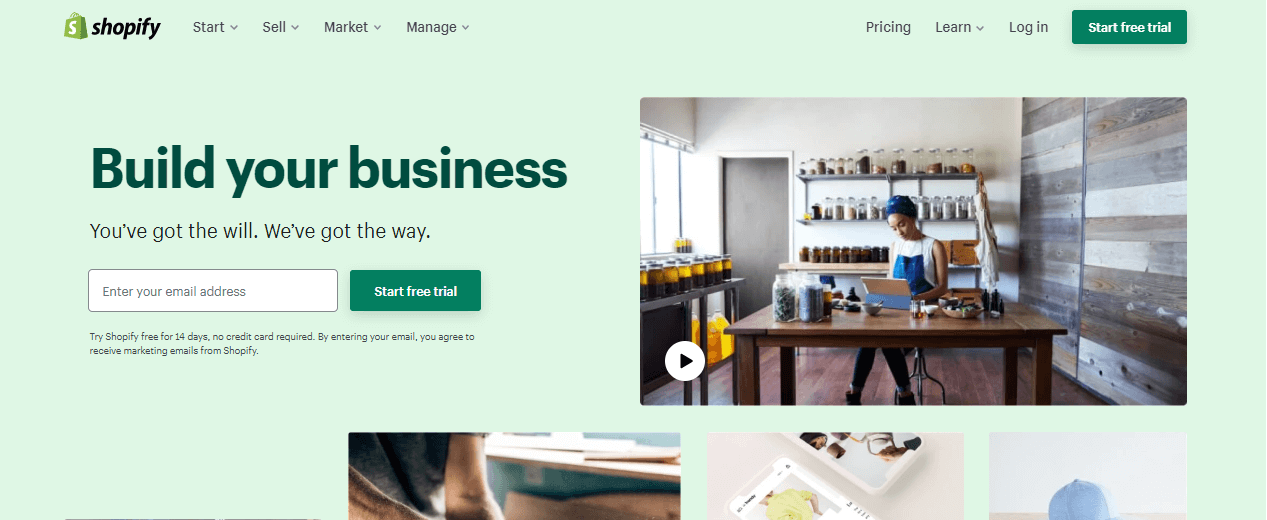 Features that Help Your Business Grow
It provides you with great themes and templates that help you design a beautiful storefront.

It has a drag and drops editor that makes it easy to design your store.

It has more than 2500 apps.
Analytic Tools
Analytic tools track how well your marketing campaigns are doing and help you identify areas you need to improve to get better results. Without good tools that provide you with data you can trust, you'll be flying blind, and that's a recipe for disaster. To avoid that, here are three tools to help you make sound business decisions: 
9. Google Analytics
If you're looking to improve your site's performance, but you don't know where to start, Google Analytics comes in handy by providing you with meaningful insights to help you know what you need to do. For app developers in particular, Google Analytics for mobile apps comes in especially handy since it provides specific metrics related to user engagement within the app itself.
If you're not familiar with how the tool works, sign up for Google Analytics Academy, and learn how to use the tool to get the data you need to make better business decisions. 

Features that help your business grow your business
Shows you the terms and queries people are using to find your site. More branded terms mean your brand is popular as more people know about you enough to search using your brand name.

It allows you to segment your customers, run, and track specific campaigns for them. 

It provides stats about your web traffic, popular pages, and bounce rate. 

It allows you to analyze your competitors' traffic stats.
10. Moz
Moz provides you with SEO analytics that helps you know what you need to improve to earn better rankings.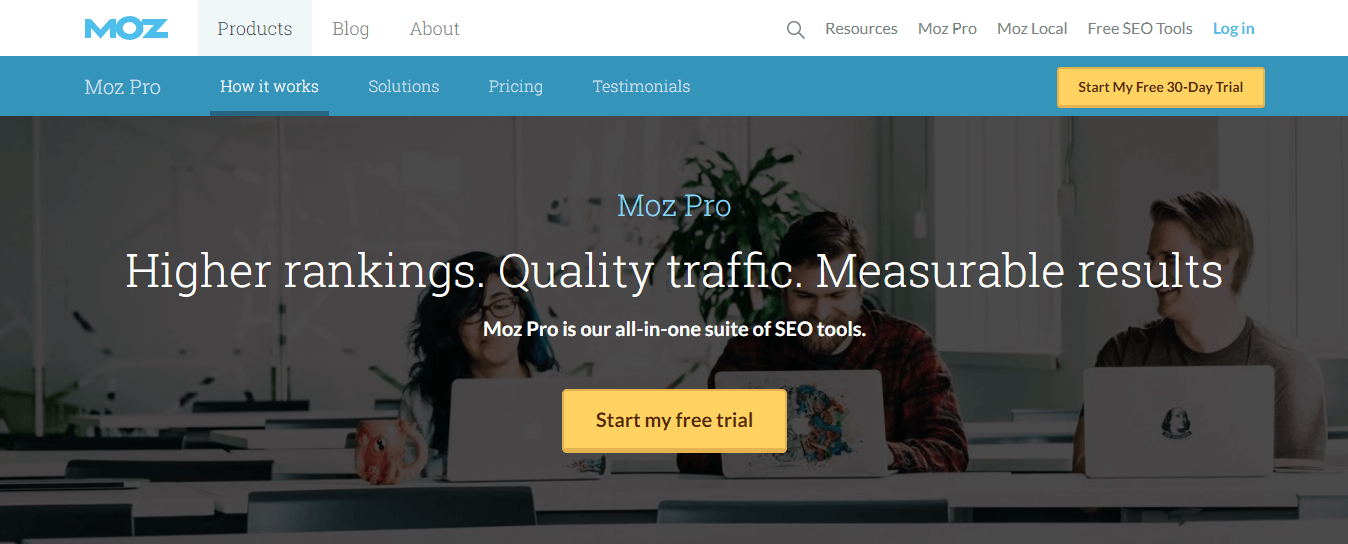 Features that help your business grow your business
It allows you to track how well your keywords are ranking on Google.

Analyze your competitor's link profile to know where to get high-quality backlinks.

Provides you with a report about your on-page SEO, so you know what you need to optimize on your webpages.
11. Clearbit
Your customer's needs vary, and without accurate data showing you how to present your products in front of them, you will struggle to understand who is getting value and who needs help (through content and customer service) to see the value of your products. 
Clearbit helps you collect this data and enables you to analyze it to get valuable insights about your customers.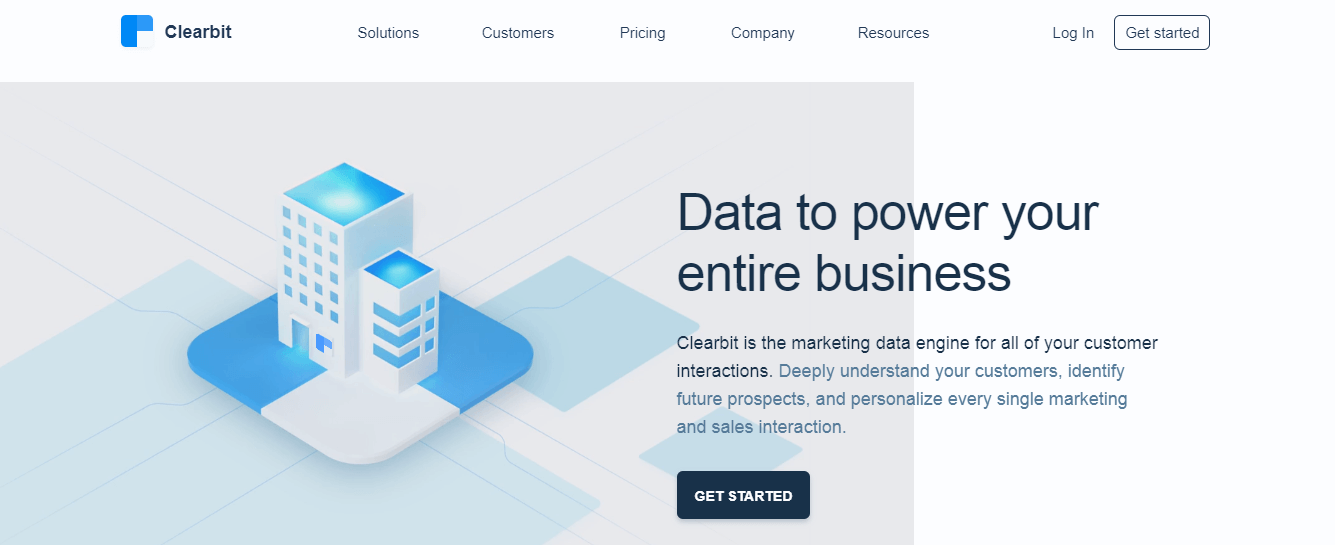 Features that help your business grow
It's easy to use and integrates with other tools for improved functionality.

They have excellent customer service.

It enables you to segment your audience then analyze data from each segment to help you identify the most valuable segment to target.

Gathers data about your leads to help you identify the leads you should focus on. 
Customer Service Tools
According to Trustpilot, eCommerce companies that deliver excellent customer service increase their revenue by 17% over five years. Happy customers are willing to come back to buy more from you. 
Besides, they will refer their friends to buy from you, bringing down your cost of customer acquisition. Use the tools below to delight your customers and watch your revenues grow steadily over time: 
12. ZenDesk Chat
Your customers are on a journey, and they'll visit your store by either searching for and reading your new blog, reading about your products, or buying from you. In case they get stuck — especially while making payments — they're likely to walk away, and that's a lost sale. 
Now, instead of thinking of it as one customer, consider every other customer who visits your store, gets stuck during checkout then leaves without buying from you. Got the idea? 
With Zendesk live chat you're able to avoid this from happening. Through Zendesk, customer service agents are able to answer customer questions in real-time.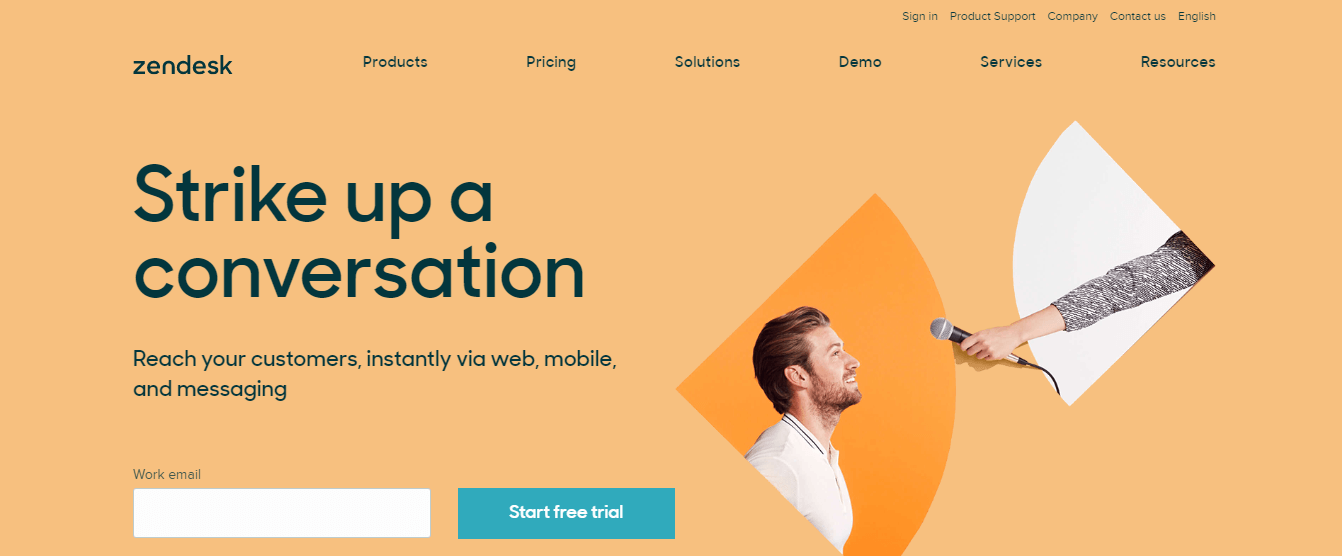 Features that help your business grow
It allows you to customize your chat.

It allows you to use images, GIFs, screenshots on in your conversations to help you solve customer problems faster.

It provides you with analytic reports to help you see how effective you are and identify areas to improve.

It allows you to route chats to the right department to make sure that customers get the help they need. 
13. Smile.io
To grow, you'll need loyal customers. In addition to providing excellent customer service, make customers feel like they own a part of your store by earning loyalty points. Those points can be redeemable at any point in time. 
Use Smile to reward every purchase, account opening, and positive review with loyalty points. 
For example, Swagbucks provides their customers with coupons and cashback. To get more customers redeeming these coupons, they can award loyalty points for a certain number of coupons a customer redeems. 
Features that help your business grow
Integrates with the store you're using for improved functionality.

Provides you with different options to reward customers e.g., social media shares, providing reviews. 

It's easy to set up and use due to its intuitive user interface.

It can be used on both mobile and desktop devices.
14. Yotpo
With 76% of customers trusting reviews as they would a recommendation from family members and friends, it is important to have reviews on your website.
However, collecting reviews from your increasing customer base is going to be hectic, and it's not something you can keep up with. 
Use Yotpo to automate the process by getting reviews during a purchase or a post-purchase email.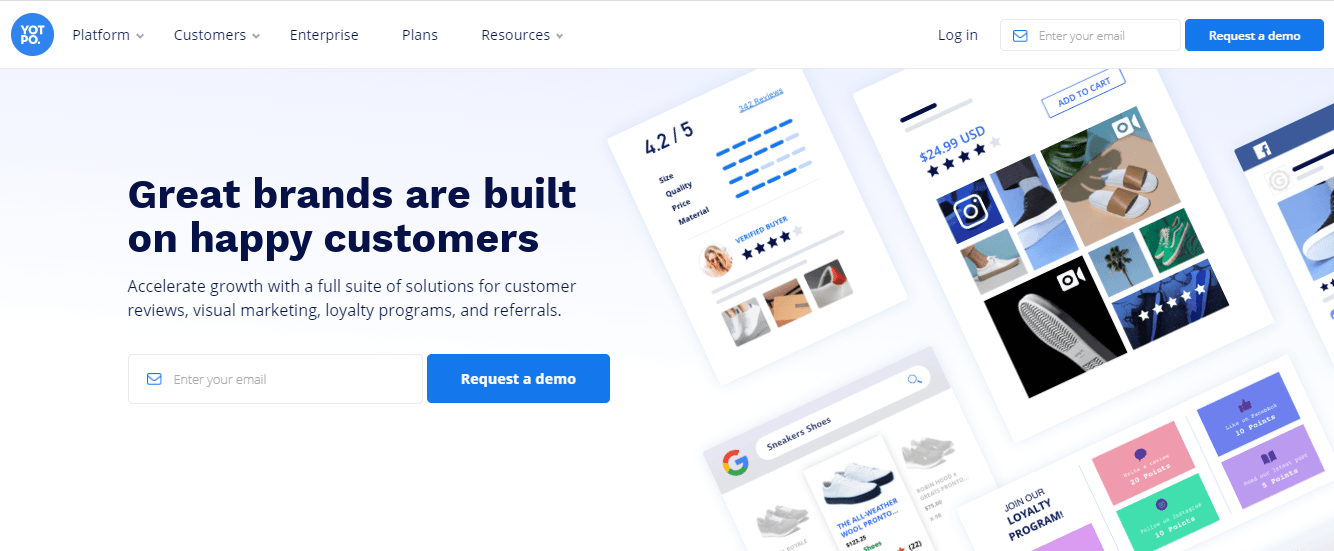 Features that help your business grow
It allows you to customize it for local languages. 

Post your reviews on Google reviews and Facebook for more credibility.

Integrates with different eCommerce platforms for improved functionality.
Business, Finance, & Project Management Tools
Your backend operations have an impact on how well you show up in your growth initiatives, such as marketing. 
For example, without the right accounting solution, you're going to struggle to pay your team on time thus, affecting their morale, and leading to poor performance. 
To avoid that, use the tools below to keep up with your growth needs and ensure things are flowing smoothly in your business:
15. FreshBooks
When it comes to managing your finances nothing gives you peace of mind than streamlined invoices, balanced accounts, and easy-to-read financial reports. 
However, managing finances to get there isn't easy. FreshBooks Invoicing does the heavy-lifting for you, so all you need is to look at your financial reports and make better business decisions that improve growth.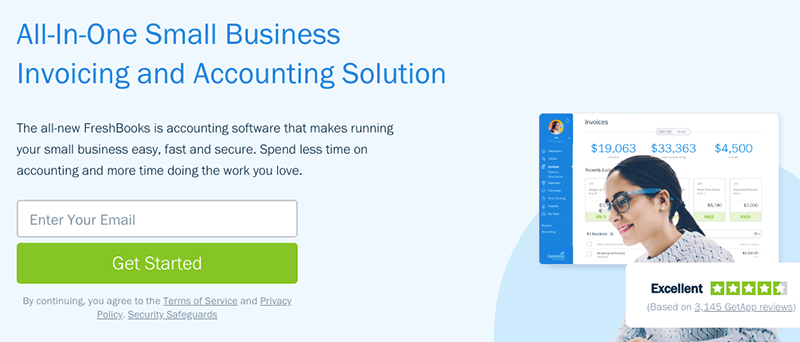 Features that help your business grow your business
Integrates with apps such as Stripe and Paypal, allowing you to make and receive payments with ease.

Generates financial reports for you and shares them with your accountant or tax advisor.

Supports different currencies and languages.

It allows you to customize your invoices for consistent branding.
16. ShipStation
As you grow, you'll find yourself struggling to deliver products on time, because you'll be serving more customers from different geographical regions. 
ShipStation comes in to help make your work easier and delight your customers through timely delivery.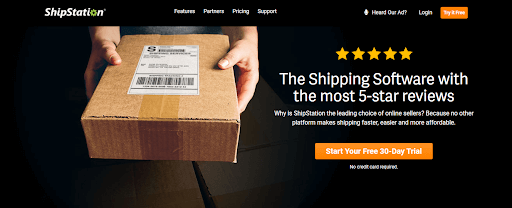 Features that help your business grow
It provides you with custom labels for better branding.

They have live chat, email, and community support to help you during setup or tracking your deliveries.

They manage multiple carriers, so you never have to worry about their ability to deliver to your customers anywhere.

Integrates with your store and other online marketplaces.
17. UpCounsel
How do you find a good lawyer (who won't lie to you) to help you understand things like startup law so that you protect your business against litigation? 
If your network doesn't have good lawyers and you can't hire an in-house lawyer for your business, head over to UpCounsel any time and reach out to any lawyer you want to work with.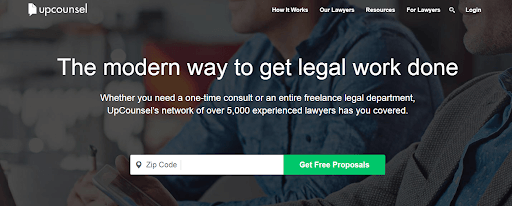 Features that help your business grow
Get access to legal resources for free and learn more about how the law affects your business operations.

Get access to the qualified and experienced attorneys you can find to help you handle cases.
18. HelloSign
If you work with suppliers in a different geographical region or have a remote team, then you want them to sign legally binding contracts and NDAs. 
However, you can't rely on the time-intensive process where you print, sign, and scan documents then email them back and forth to enforce these agreements. 
Use HelloSign to get these signatures in an instant and save time to get more work done.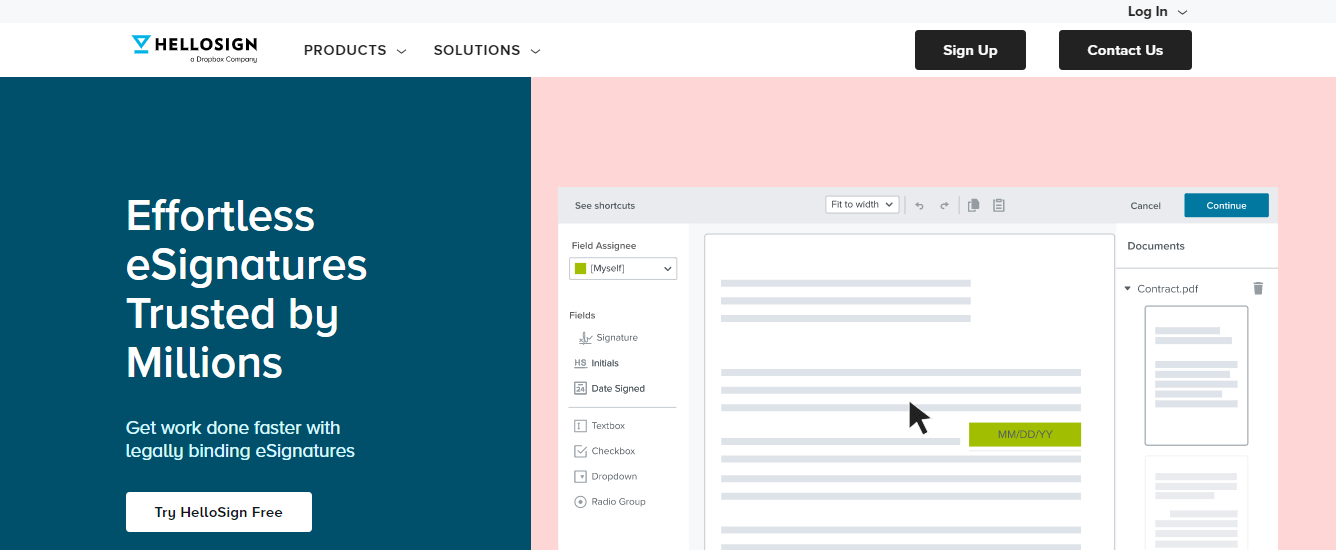 Features that help your business grow
It provides you with contract templates to make your work easier when preparing contracts.

Integrates with other tools you're using such as Google Drive, Evernote, and Dropbox.

It has a drag and drop interface that allows you to create documents faster.

Secures your signed contracts, so you don't have to fear losing them.
Miscellaneous Tools
Well, this last batch falls into the "none of the above" categories, but it doesn't mean they're not going to have an impact on your growth.
The list below contains tools you can't live without: 
19. Pabbly Form Builder
Pabbly Form Builder is an online form-building tool that can help you in creating many kinds of forms for your business. It is the only software that doesn't restrict you to use any feature. You can use all its premium features even in the basic plan.
Moreover, the multiple limitless & custom features will help you follow a hassle-free approach to efficiently reach out to your audience.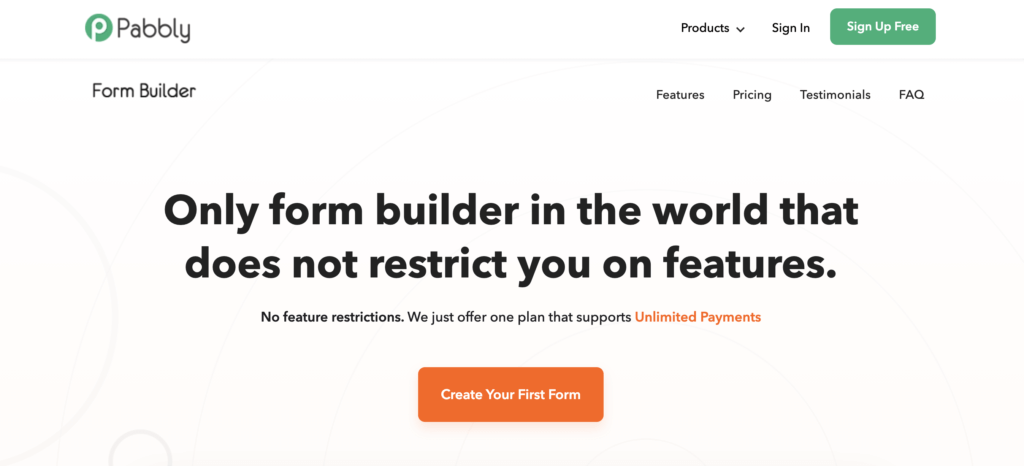 Features that help your business grow
The unlimited features include unlimited submissions, payments, collection, Webhooks, file uploads, users, embedding, and much more so you can work with no restrictions.
There is a large collection of ready-to-use templates along with custom branding, form logics, and form scheduling to save your time as well as to increase brand awareness.
Advance features like partial form submission to boost customer experience and form analytics will help you build strategies to improve your campaign performance.
It also allows integration with 300+ other services to enhance your capabilities.
20. Bloomreach
Customer experience greatly impacts the success of a sale. You want customers to have a seamless experience when trying to find specific products. Bloomreach collects data from the search terms your visitors use in your store, tracks their website behaviors, and uses your CRM data to generate meaningful suggestions.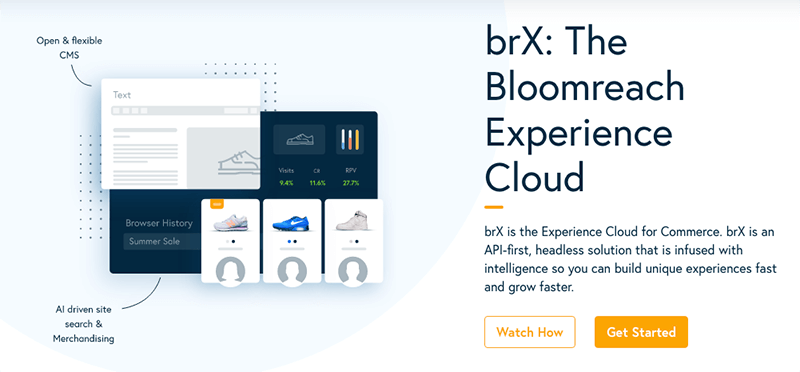 Features that help your business grow
Uses AI to deliver personalized content to your web visitors.

Has a seamless web content management.

It provides you with reports and analytics to help you know what products people are looking for on your site.
21. Woven
Growth requires you to meet with your team often, share your wins, and talk about what everyone else is struggling with. 
With Woven, however, you can conduct a poll to find out everyone's availability for meetings. Yeah, it's that simple.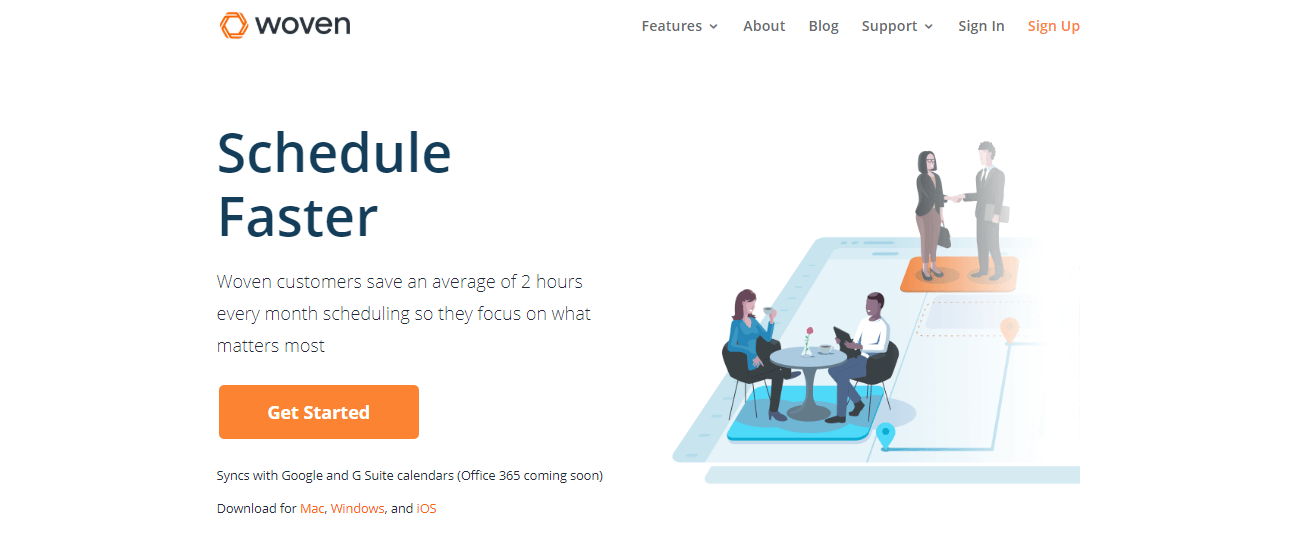 Features to help you grow
Has templates you can customize for regular meetings. 

It provides you with integrated scheduling links to eliminate back and forth emails within your team. 

It allows you to share your availability without letting people know details about your events.

It provides you with time analytics to prevent double-booking. 
22. Forms on Fire
You'll need to conduct customer research to help you understand your customers and serve them better. Forms on Fire provides you with survey and questionnaire templates to help you conduct customer research efficiently. 
The tool is mobile-enabled, meaning that your survey respondents can respond to your surveys through their mobile devices, which in turn increases your response rates.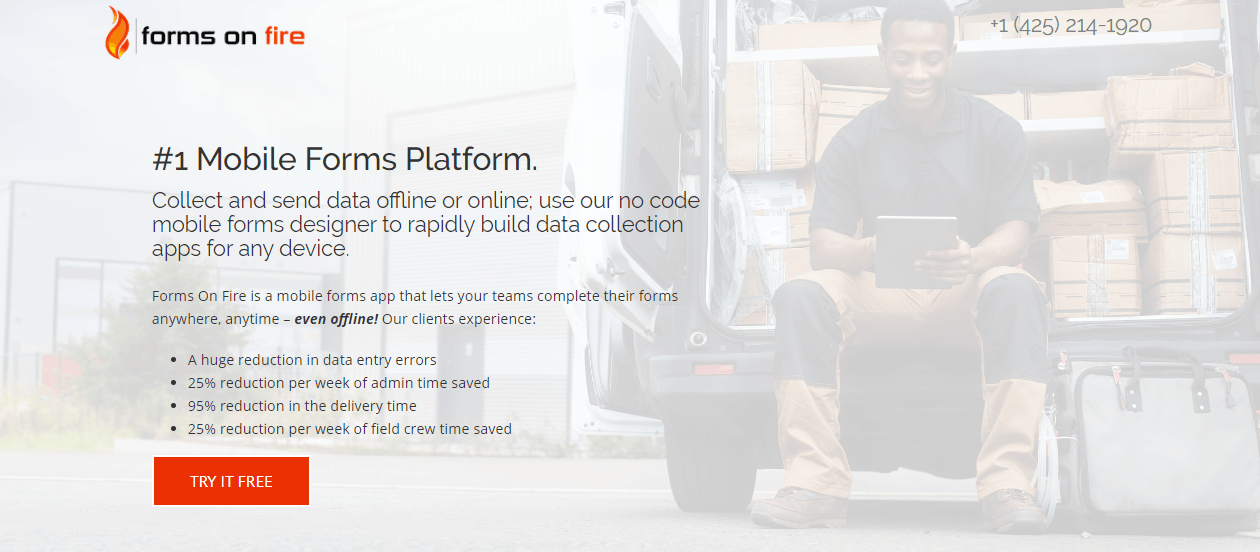 Features that help your business grow
Allows customers to fill forms offline then sync their responses once they get an internet connection so you don't have to worry about losing an internet connection.

It has a drag and drop interface that allows you to design your forms quickly.

Has form templates that you can customize to fit your needs.

Integrates with other apps you're already using.
Final Thoughts
Your search for tools to grow your business will never end. Every day, new tools are coming up with new features to help you work more efficiently. 
While tools can make your work easier, constantly looking for the right tool keeps you away from what you need to do: growing your eCommerce business.
So call off your search for the best tool, identify the most important element of your growth strategy, then choose the tools you need from the list you've just read and start taking action. 
That's the only way you'll make real progress!
If you have enjoyed this post, you might also want to check out our Email marketing for eCommerce businesses post, our How to market your business on Instagram, and also you won't want to miss any important holiday for any eCommerce hustler so check out this calendar and add it to your Google calendar.
---
Author's Bio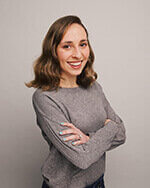 Beatriz Estay is a Small Business Content Marketing Specialist at BigCommerce and the fashion and lifestyle influencer behind The Letter Bea, an Austin, Texas-based blog. She holds a B.A. in Communication and Sociology/Anthropology from Lake Forest College and specializes in eCommerce, marketing and merchandising strategies, influencer and branding work, and social media. When she's not curating content, Beatriz loves to travel the world, share her journey with Type 1 Diabetes, and find Austin's most Instagram-friendly spots.
---
Growing your ecommerce business with the best tools to help you do it is the smartest move! Take a look at this list we've put together for you and help your business grow in no time!
Grow Your Ecommerce Business with The Best 24 Tools
---