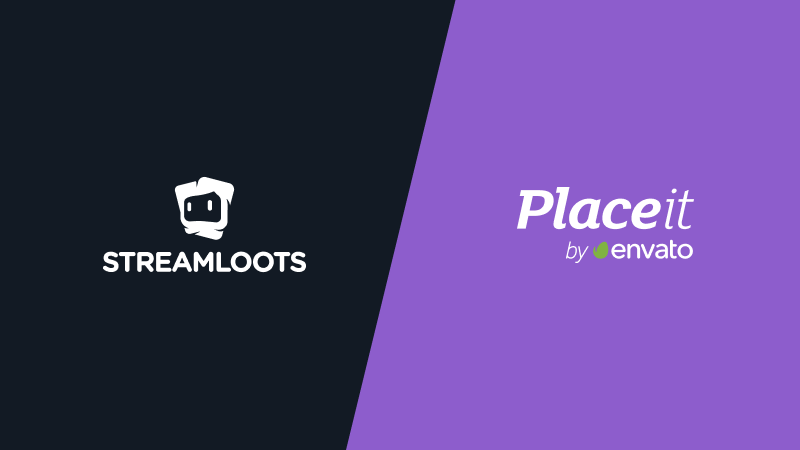 Streamloots and Placeit join forces! Having a great-looking Twitch stream is only one part of becoming a top streamer. Building and maintaining a loyal following is crucial to making sure your streaming efforts go far. However, it's not always easy to do and can become a full-time job in itself. Having an easy and fun way for your viewers to interact with you is critical to keeping that streamer-viewer relationship strong. That's why we partnered with Streamloots.
What is Streamloots?
Streamloots is a marketplace to buy real-time interactions with live streamers. In other words, Streamloots gives you a simple and exciting way to interact with viewers by offering the purchase and redemption of collectible cards. Viewers purchase lootboxes that contain random cards, which can then be redeemed in real time via interactions with the streamer!
This lets you as a creator focus on creating great content, and letting Streamloots handle the monetization aspect. You get paid and your viewers get to interact with you in a fun and addictive way. To kick off our partnership, Streamloots is holding a challenge where you get to try out their service and win some sweet loot for yourself and your viewers!
How Does the Challenge Work?
Taking part in this Placeit x Streamloots challenge is super simple. If you've never used Streamloots before – be sure to check out the Streamloots complete platform overview & tutorial video. Once you've signed up for Streamloots (completely free), just follow these steps to participate:
The only thing you need to do is substitute your current chest logo for this awesome Placeit chest animation. You can see how to proceed in the image below.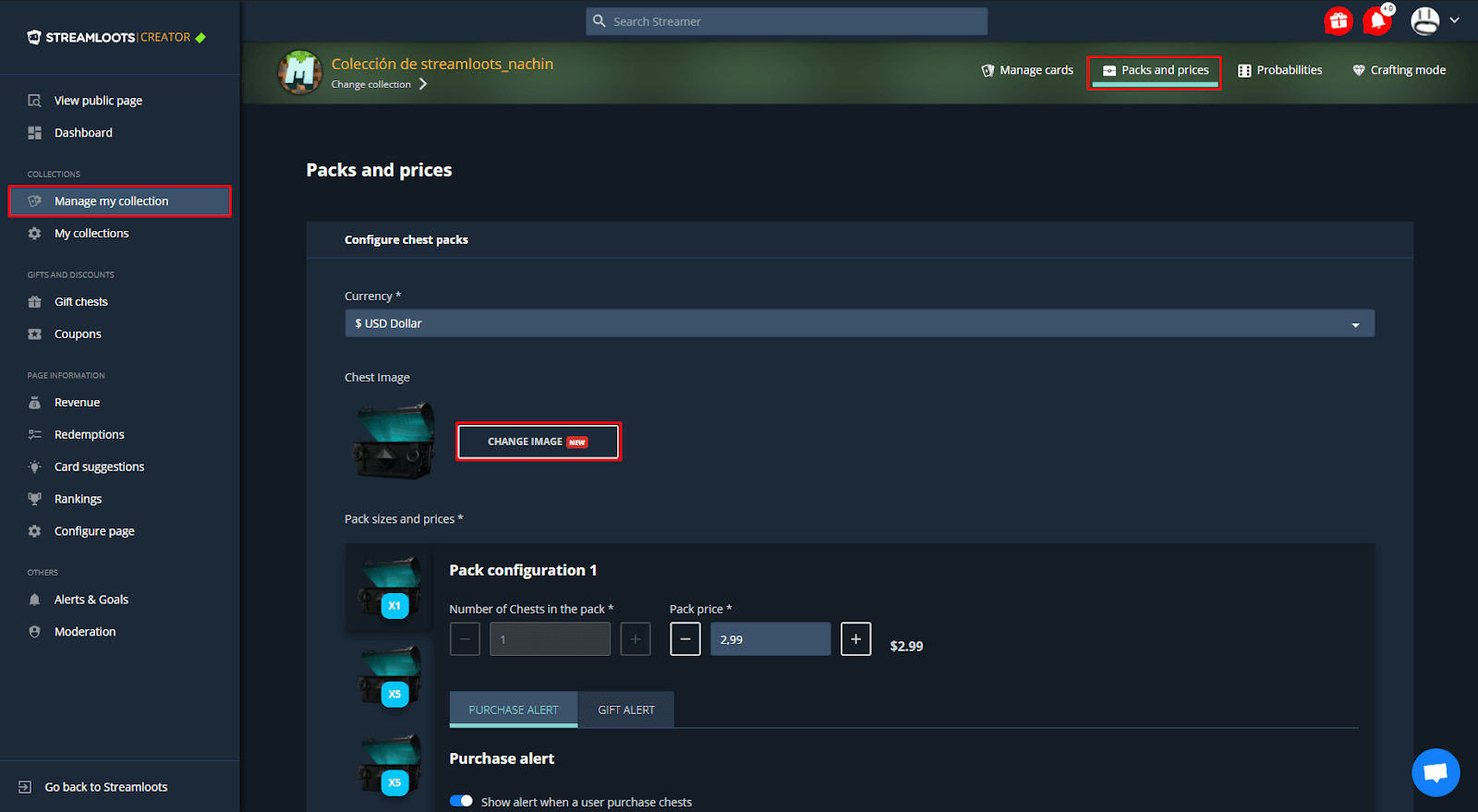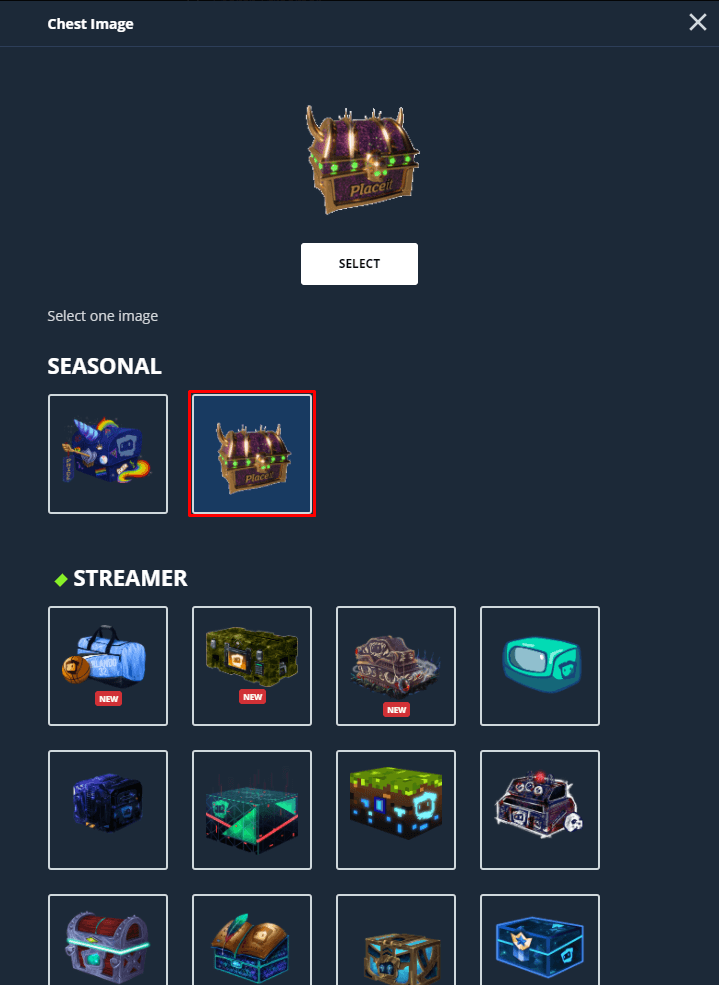 We recommend doing this with EVERY ONE of your collections. I'll explain why in a sec.
I've set the chest, what do I do next?
Now comes the easiest part: keep doing what you normally do, streaming and selling chests.
Once you've selected the placeit chest as an image of your collection or collections (don't change the alerts), the next purchase in those collections should trigger an alert like this one.


This means that you're already participating in the challenge, congratulations!
Everytime someone makes a purchase in any of your collections (reminder this only works for those that have the Placeit chest set), there is a probability that one of these two alerts show up instead of the one above.
Tier S prizes

Tier A prizes

If you see this on screen it means that you've just won the prize shown in the alert! Also, the person that made the purchase won as well!
Requirement: Get a clip of this moment to prove that you've won the prize
Tier S prizes
15 yearly subscriptions in Placeit
15 hoodies customized with the logo of the streamer that you purchased to for the buyer (if the streamer has a merch store and prefers us to buy the hoodie there, please let the Streamloots team know)
Tier A prizes
15 50% off codes on any subscription for Placeit for the streamer
15 10$ amazon giftcards for the buyer
After cutting a clip, the streamer will post it on Twitter mentioning @streamloots under the #streamlooting hashtag and send the post link to Streamloots partnership manager, Nachín vía email (nachin@streamloots.com)
The streamer will have to make sure all the needed information to deliver the prize is attached in that email both for the buyer and for him or herself. For the hoodie we need to know the color, the size, the buyer's address, his or her full name, a telephone number, and a .png file of the streamer's logotype.
This promotion will take place from October 2nd at 17.00h CEST to October 16th at 17.00h CEST
This is a worldwide challenge. Winners can be from all over the world!
A few tips that may help you
This is all about letting everyone know right?
1. Set a new goal with the placeit chest so that everyone can see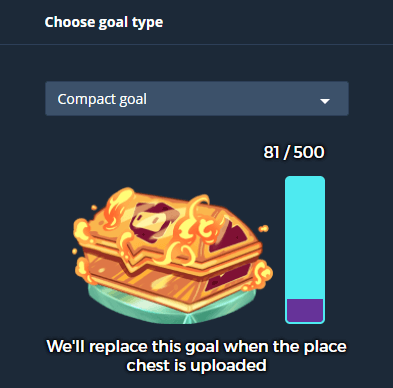 2. Set a command explaining how everything works


3. Create a special event around it with a self created discount code for your community. Put it in your overlay

And that's it! What are you waiting for, sign up for Streamloots and get started to join the challenge!
---
Build a Solid Gaming Channel and Get Ready to Monetize with Ease!
Use Placeit's cutting edge Twitch templates to make sure your channel stands out and looks incredible. Create a logo for your channel, slick channel buttons and so much more!
Use Placeit's Twitch Templates to Become a Top Streamer!
---