Order Your Team's Baseball Jerseys and Uniforms Online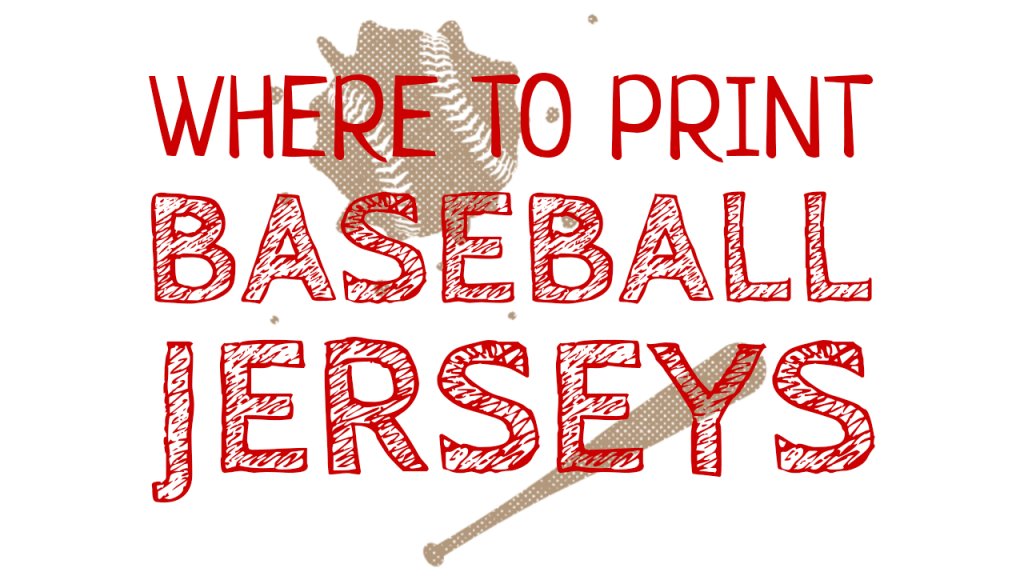 Your adversary might not really know how good your team is, but if at first glance you make them tremble, then you've done half of the job already. Make your players wear appalling baseball jerseys when entering the field! Imagine how fab your players will look like wearing custom baseball jerseys with your team's logo, and the best part is making custom uniforms for the team is not hard, not at all.
All you need to do is find someone who will print your team's baseball uniforms and send them over just in time for opening day. Lucky you! This is the last post of the series on Making Custom Baseball Jerseys, and I will go over the best sites to print custom baseball jerseys so you can make your order right away!
Alright, so now that you made a baseball logo for your team, you've seen how it looks on a real baseball uniform with jersey mockups and you've even shared the uniform mockups with the team for everyone's approval, it's time to make it come to life!
What Logo Customization Options are Available?
First, you may want to get familiar with how each printing style looks like before ordering your uniforms. There are different methods for printing your team's logo on a baseball jersey, but the most popular are sublimation, screen printing and tackle twill. Getting to know these styles before ordering your custom baseball uniforms will be of great help for you (and your printer!)

TIP: though it tends to be the most expensive option for most uniform printers, Tackle Twill is also the most professional looking one. I recommend choosing this method for the main jersey for an All-Star look and printing out raglans, tshirts and other secondary jerseys using more cost-effective methods.
Best Sites to Order Custom Baseball Jerseys
Now that you know what logo style you want for your team's jerseys, let's move on to the different sites where you can print custom baseball jerseys online. Though there are lots of websites out there that offer this service, not all of them allow you to upload your own logo, most offer just the option to add player's names and numbers.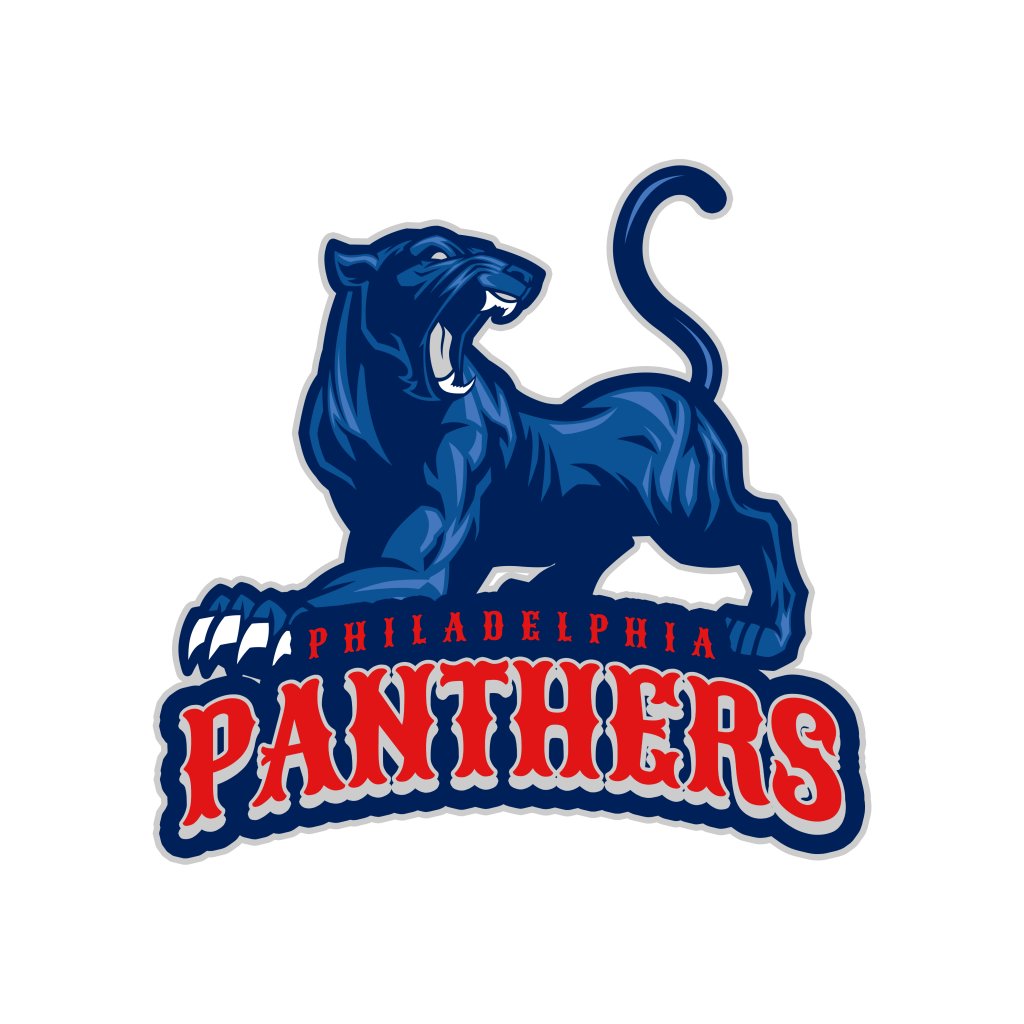 The sites below offer both possibilities: to design your baseball jerseys by adding text or by uploading an existing design, which is what we are interested in since we already created the awesome baseball team logo featured above.

This site lets you customize your own baseball uniforms and order them online, no hassle at all. You can either use their design tool or upload your existing baseball logo to the jerseys. Wondering if you can choose the products you want for your team's uniform? The answer is yes! Team Sportswear is really committed to creating the uniform of your dreams, which means you can customize pretty much every element, from choosing and combining the products you like the most to selecting a printing method that works best with your team's logo.
Besides from the typical full button jersey, you will be able to add your logo to a wide variety of garments. Yes, even pants, caps raglan tees and other accessories!!
TIP: Choose to browse by color, brand or product to find exactly what you need.
Uploading your baseball logo to print custom jerseys is super simple, after selecting a product and printing method, simply choose the third option, which is to "Add Images", this way you can Upload your own image file.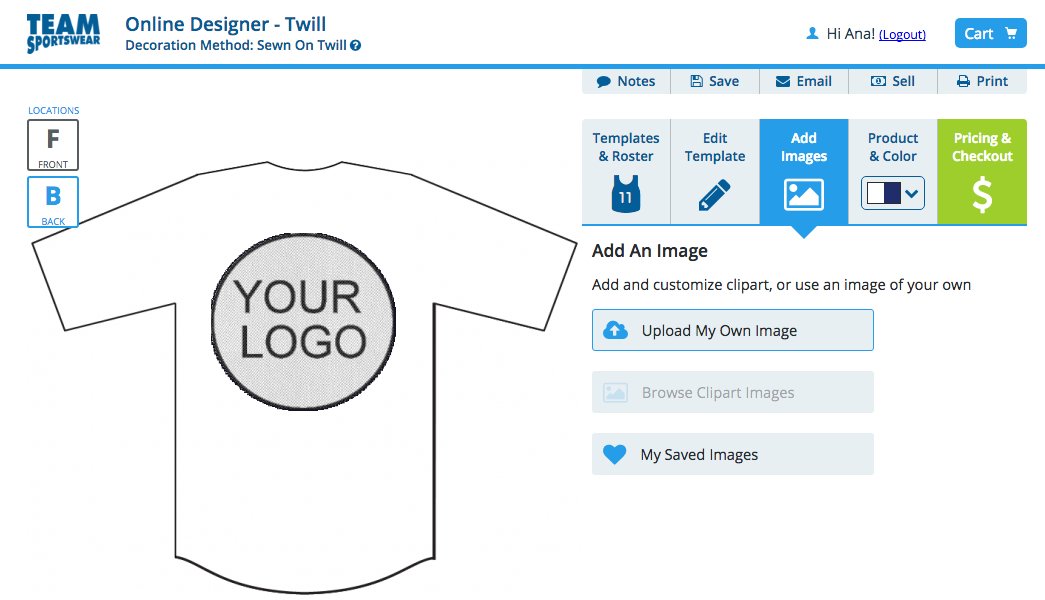 Easy. After selecting the garment and printing technique you want to use, go ahead and upload your design to the template.
Shipping details: they handle both US and international shipping. For US delivery, it normally takes around 2 weeks, while international shipping is 3 weeks depending on customs and how long they want to hold the package.
Yes, besides their tons of amazing apparel, home deco and tech products, Customink also prints custom baseball jerseys! And as all CustomInk products, these jerseys are super easy to choose, personalize and order.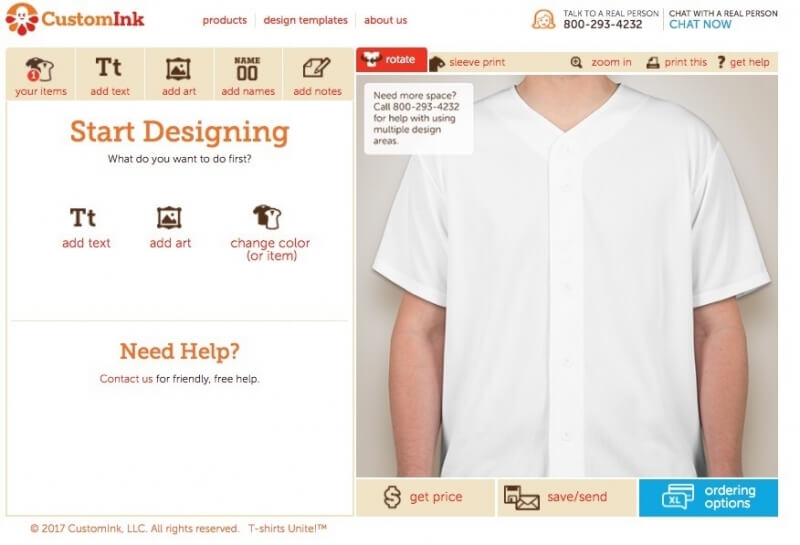 No minimum order needed, you can print just one jersey or enough for the entire team, totally up to you. If you are looking to make baseball uniforms for the whole team, you can choose names and numbers for each jersey, which comes in real handy.
NOTE: Names/numbers may be screen printed or vinyl. I recommend screen printing as it has better durability.
Uploading your own baseball logo to this jersey template is a piece of cake, juts browse it from your computer and adjust it on the garment, that's it, have a look: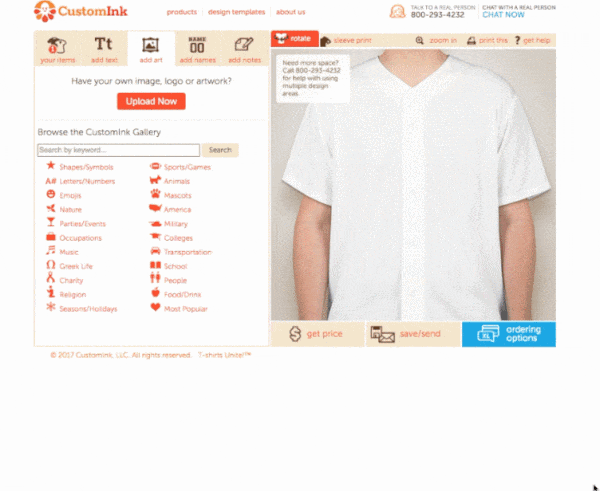 Shipping details: they only ship within the US. Standard shipping is 100% free and it takes 2 weeks. Rush delivery is also an option, it takes 6-8 days and it has an additional cost of 10% of your order total. Need your jerseys right away? You can go for Super Rush delivery, which guarantees the delivery within 5 days. This service is available for an additional cost of 25% of your order total.
This site lets you build your team's entire uniform from scratch at a single place! Really, you can customize jerseys, pants, raglans, caps, jackets, accessories and more at a single place. And their products look amazing, here's a sneak peek at all the different garments and equipment they offer for you to customize: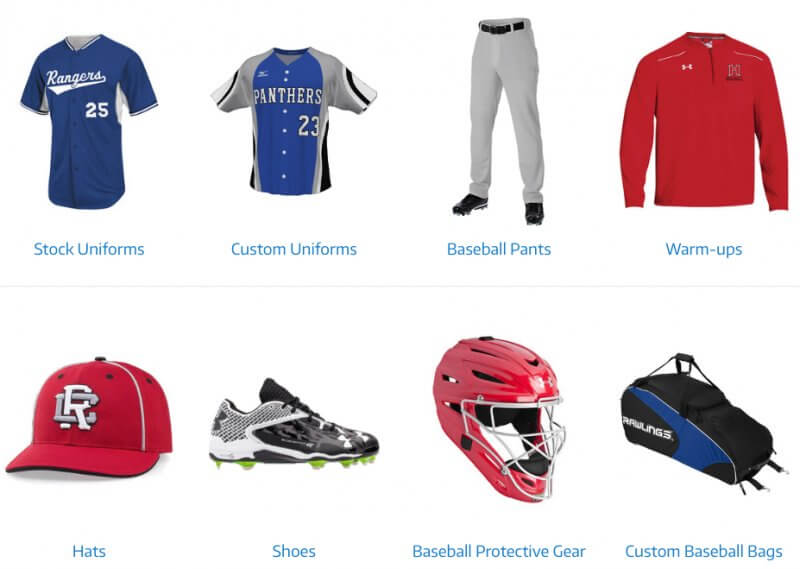 With tons of products, sizes, colors and printing options, there are really no excuses for everyone in your team to get their own custom jersey with the team's logo! This site doesn't have an online designer for you to manually upload your logo into the jersey, to make your order you'd have to email or call them and send over your logo so they can print it on the baseball gear.
Their decoration options are Screen Printing or Tackle Twill, below are the full options. When contacting them, they will be able to suggest the best method based on your own artwork, it's complexity and colors.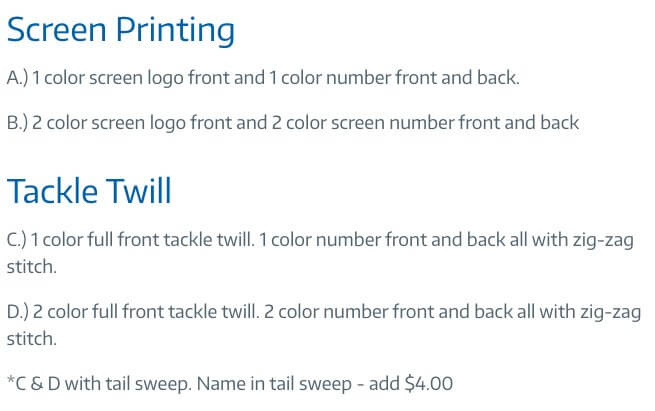 NOTE: They have a 12 piece minimum. However, for additional $5.00 per garment, they'll do between 6-11 pieces.
Shipping details: they only ship inside the US or to an APO US Military address. Shipping times are super quick, between 1-5 business days! As for rates, these are based on weight and number of boxes for UPS ground rates.
This is a pretty straight forward site that will allow you to add your own design to the templates to visualize before ordering. A great thing about My Locker is it lets you browse products by product and then sport, which means you can filter all jerseys and then narrow down your search to just baseball jerseys. There are lots of products in a wide variety of brands for you to choose your baseball gear depending on your budget and your team's demands.
Once you've selected an item, simply click to upload your design and choose the colors of the garment, it will give you a preview right away. In case you don't have a logo design ready you can use their preset templates to get started.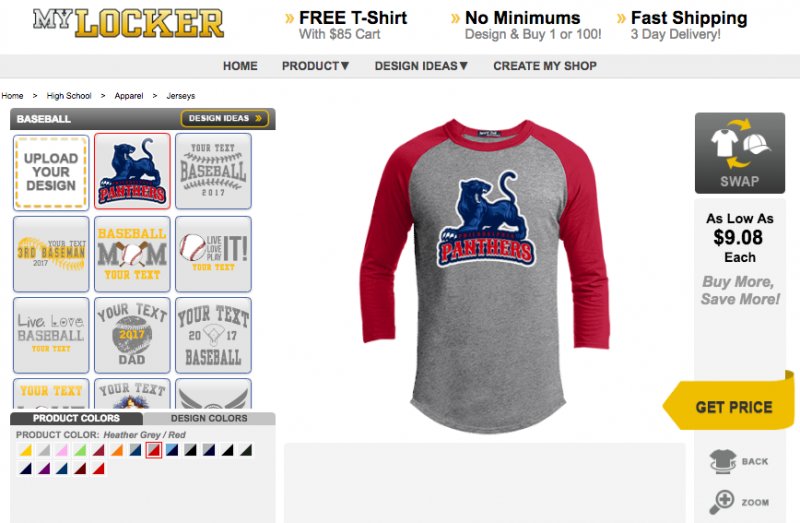 NOTE: The option to upload your own logo is only available for cotton based garments like raglans, tshirts, pullovers, hoodies, etc, not for polyester jerseys.
Besides regular sports gear, you will also be able to customize other types of products with your team's logo, think towels, drinkware, phone cases and more merchandising items.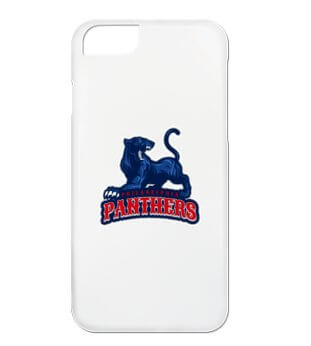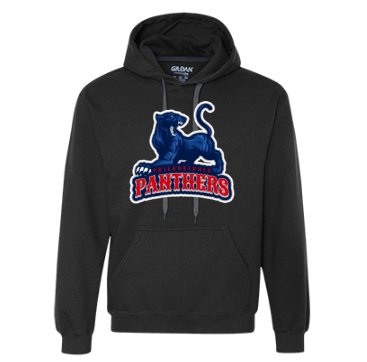 The fact that you can order these items at the same place where you will order your custom baseball uniforms comes in real handy if you are planning on selling custom swag at the games to raise funds for the team, or just to get the players' friends and family all geared up!
Shipping details: customization of your products (the process of printing your logo on them) takes between 2-5 business days. You can choose one of the following delivery options:
Make Sure the Final Jersey Looks Just the Way You Want
Remember those jersey templates you made? These will come super handy as you will be able to send these to the printers as an additional reference of how you want the design to look like when printed on the actual jerseys, raglans, caps, etc.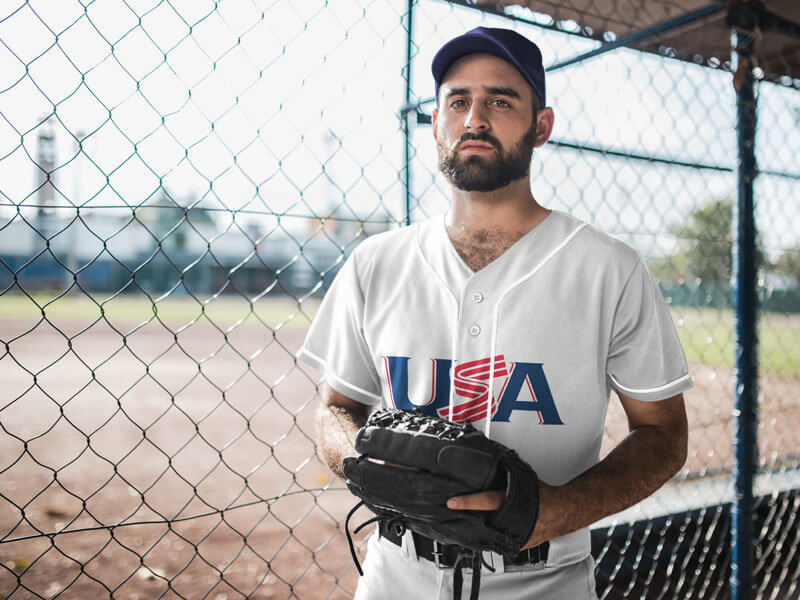 Just attach the uniform mockups to a follow up email after submitting your order and ask the printing site to replicate the size and position on the image you provided when printing your order. This way you will avoid any mistakes such as wrong image placement, sizing or position.
What's better than custom baseball jerseys made just for your ball club? You can now design baseball uniforms your team will be proud to wear! Easily transform your ideas into incredible jerseys with our baseball logo maker, then easily add your team's logo to a jersey mockup and order it to make it come to life! Check our new blog post on fantasy baseball!
Boost Your Team's Confidence and Motivation with Striking Baseball Uniforms!
---
---