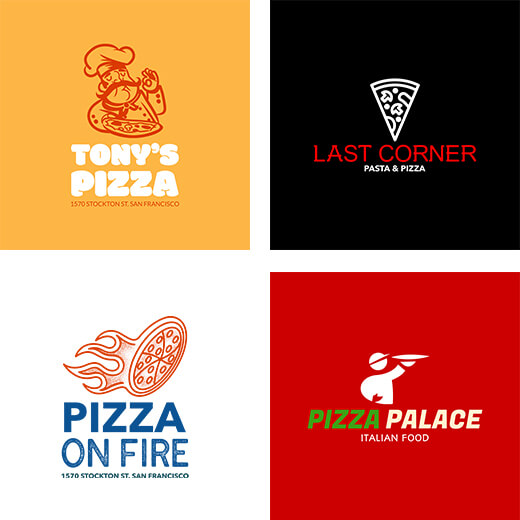 Since Genaro Lombardo requested the first pizza restaurant license in New York City in 1905, pizza has become an American tradition. So, are you thinking of opening a pizza place? Or do you have a pizza restaurant that would benefit from a little revamp? Well, you've come to the right place! Among the many things, you have to think about when opening your pizza place, one that is important and will hopefully set you apart from all the other ones is the feeling and branding you'll place will have. To make it easier for you to nail it down, we've created this pizza logo maker that will help you make that vision you've had since you started dreaming of opening your own pizza shop, a reality! Making a logo with Placeit is super easy and quick, and you'll have a personalized pizza logo in minutes so you can focus on creating the perfect pizza pie!
Get to Know Placeit's Design Templates
Design templates were created for you to make the designs you've always wanted easily and without having to use expensive (and complicated) design software like Illustrator and Photoshop. With Placeit's design templates you can make business logos, but not only that, you can also create social media images, tshirt designs, and even sports logos! 
Customize the Pizza Logo Maker for Your Pizzeria
Open up the Pizza Logo Maker and you'll see a screen like this one:
Write in your pizzeria's name and change the font to one that goes with the style of your Italian restaurant. There are lots to choose from so don't be afraid to play around with them. This design template has a third additional space where you can write your store's address or if you like, maybe your pizzeria's tagline. You decide!
Next, choose what icon you'd like to represent your shop. Again there is a lot to choose from, so play around until you're happy with your choice.
Choose the layout for your logo, you can have the icon on the right, the left, or on top as shown in this example.
Finally, choose what color you'd like your background to be. We suggest you download it with a transparent background for easier application in different promotional materials, as well as social media channels.
Download Your New Pizza Logo
Once you're done creating your logo and you're happy with the results, hit download and you'll get a high-resolution PNG file ready to use in all sorts of promotional materials. The cost for one logo is $39 dollars without a Placeit subscription and $31.20 with one.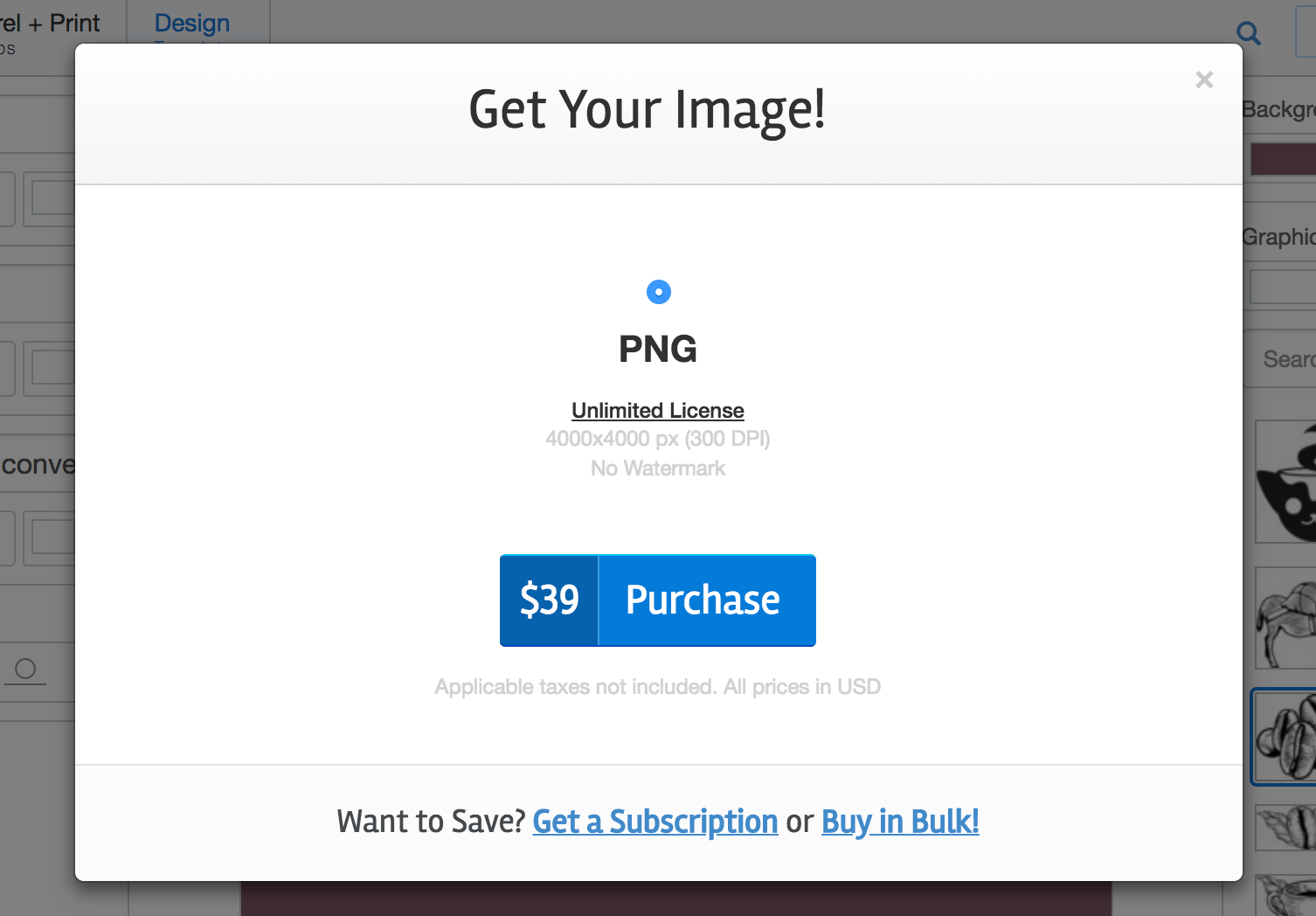 Learn more about what your Restaurant Logo options are in our Design the Perfect Logo for Your Restaurant any kind of food you have in mind, is probably there!
Branding Your Pizza Restaurant
Once you have your logo, promoting your pizza place will become so much easier because a logo is a way for people to quickly identify your brand. There are many applications possible for your pizza logo. From your restaurant's sign to your merch, you can even apply it to your restaurant mobile app.
Make a Sign for Your Pizza Restaurant
Every pizza restaurant should have a sign that people recognize from far away that tells them where to find their favorite Italian restaurant. With Placeit you can mockup what the sign will look like, this way when you take it to production, it will look exactly like you've been thinking. Check it out!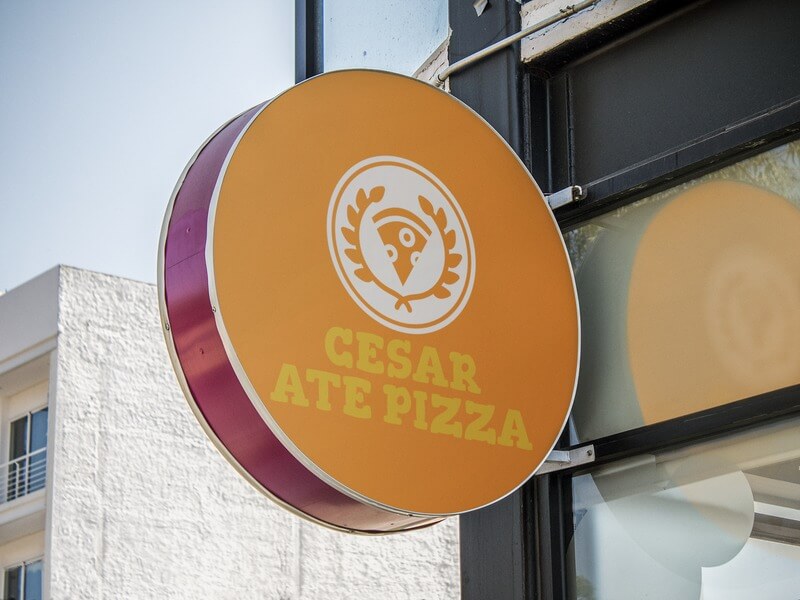 Round Sign Mockup Hanging from Outside a Store by Placeit
Put Your Pizza Logo On a T-Shirt
Another great way to brand your shop is to have your staff wear a t-shirt with your logo on it, this way, staff members are easily recognizable and it promotes teamwork. Make sure that your design looks like what you've got in mind with Placeit's tshirt mockups.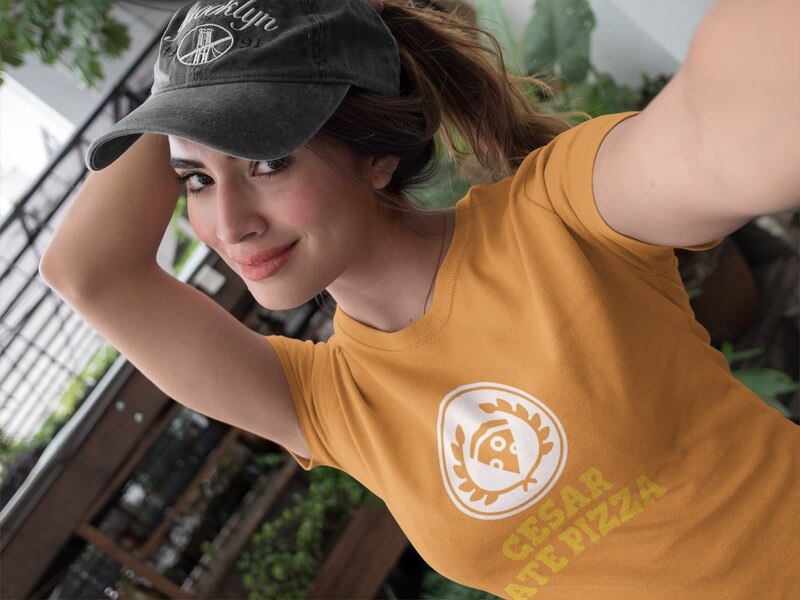 Selfie mockup of a Girl Wearing a T-Shirt and a Hat by Placeit
Make Merch for Your Pizza Restaurant
Once your logo is recognizable enough and you've have some pizza fans loving your restaurant, why not create some merch with your logo on it? You could also give it to regular customers as a thank you for their loyalty or even use them yourself to rep your brand!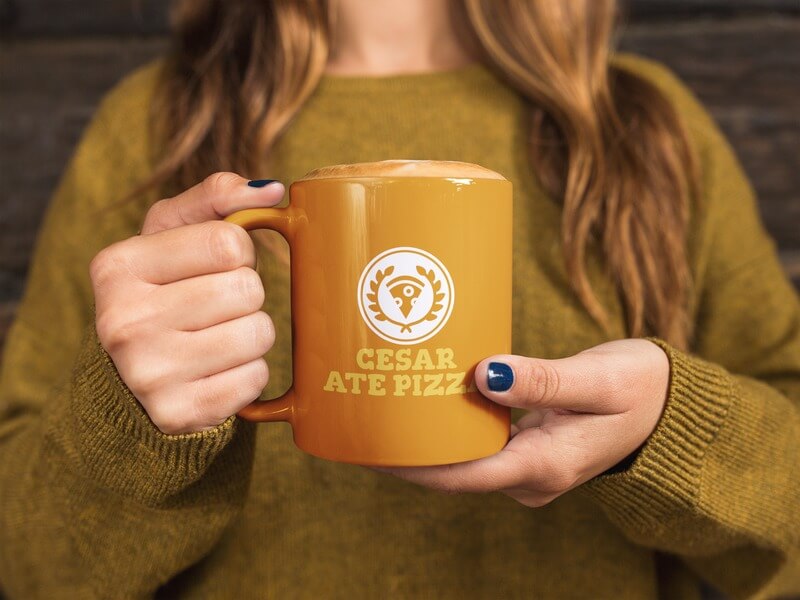 Mug Mockup with Hot Chocolate Held by a Woman by Placeit
---
If you're planning on giving your already existing pizza shop a makeover learn how to create the perfect restaurant logo or even if you're planning on opening one soon, this pizza logo maker can help you achieve your goals! Why stop there? You can also create business flyers to draw in new customers! Remember that is super easy and quick to make a logo you'll love. Feeling entrepreneurial? Check our new coffee shop logo maker! 
"Making a logo for my coffee shop with Placeit was the easiest process, I really enjoyed it!"
Cassie Snyder 5/5
---
Make a Business Logo With Placeit's Business Logo Makers
A successful business starts with an idea which is later on projected onto a logo. In this post, we show you how to use Placeit's pizza logo maker to design your own custom logo. Creating a great looking logo for your business doesn't have to be complicated or expensive. By using Placeit's Pizza logo maker you can create an awesome logo in minutes. Get a professional image for your business and save yourself the hassle. Placeit makes it easy.
Make a Pizza Logo Now!
---