An Easy Way to Make an Etsy Banner & Etsy Cover Photo

Etsy's marketplace is full of opportunities for all types of creatives. From apparel to digital files, you can sell just about anything on Etsy, just be sure it has some personality. To give your shop even more personality and help it stand out, you need to make an Etsy banner or cover photo!
You probably already have an idea of what you want your Etsy shop banner or cover photo to look like, but what if you don't have to tools to make it? This is where Placeit swoops in to save the day!
Introducing the Easiest Way to Create an Etsy Banner and Etsy Cover Photo
Look, we know that image sizes can get confusing, especially when you're creating images for your Facebook shop, another for your brand's Instagram account, and many more for all your social media endeavors. Having yet another image size to keep track of may not sound ideal, but we promise you to have nothing to worry about!
Placeit's Etsy banner maker will always give you the correct Etsy banner size and cover photo size because it provides you with a workspace that adheres to Etsy's preset dimensions, meaning you won't have to resize, shift, or crop anything to get your images properly in place. You'll also be provided with a number of fonts and design elements that you can play around with until you get your design just right. You won't have to worry about things moving around and misaligning with each change you make, ensuring you can focus on the design itself! Feel free to experiment with backgrounds, fonts, colors, and everything else until you get a design that reflects your shop's unique personality.
Etsy Banner Ideas
Not feeling creative? That's alright! Feel free to play around with the different elements in the banner maker until you get a better idea of the look you want for your shop. If you already have a brand, it's best to stick to the same aesthetic, but that doesn't mean your banner has to be the same as your logo. In fact, you can change it up for holidays, sales, and any other occasion that makes sense. Something you want to keep in mind is that your Etsy banner should be able to catch your customers' attention, so do your best to not make it too busy and avoid using too much text. To get your creative juices flowing, check out these Etsy banner examples:



Create a Powerful Etsy Cover Photo
You may be wondering why you need an Etsy cover photo if your products will communicate what your shop is all about. Since most humans are very visual creatures, the more you personalize your shop, the more they will be drawn to it. While, yes, your product images will influence shoppers a lot, a custom cover photo can reinforce a customer's loyalty to your brand.
Your shop's cover photo provides you with a large canvas that you can personalize with not only an image but also text. This space can be used to announce a new collection, a sale, a discount code, or even your top sellers. Think of it as a free billboard you get to use to keep a customer's attention. You can change this image as often as you would like and use it to announce whatever you think is important for your customers to know. Of course, it's important for this image to be very visually appealing so think in terms of photos of products, styled images, and seasonal elements.



What Makes an Etsy Banner Different From an Etsy Cover Photo?
Although many people confuse the Etsy cover and the Etsy banner, these are two different elements you have the option to personalize. While they serve a similar purpose, they are different in size and impact. Using a cover photo can really make an impression on customers visiting your shop because it is much larger than the cover banner. On top of that, customers will be greeted by your cover photo whenever they're viewing your shop's homepage on any device.
With that said, an Etsy banner is still a good way to make an impression on your customers. Keep in mind that your banner will only be visible to customers visiting your shop on a desktop computer or laptop and won't be visible to customers viewing your shop from a mobile device. Although the banner is smaller than a cover photo, it has its benefits. For example, its smaller size allows your products to be visible at the same time as your banner.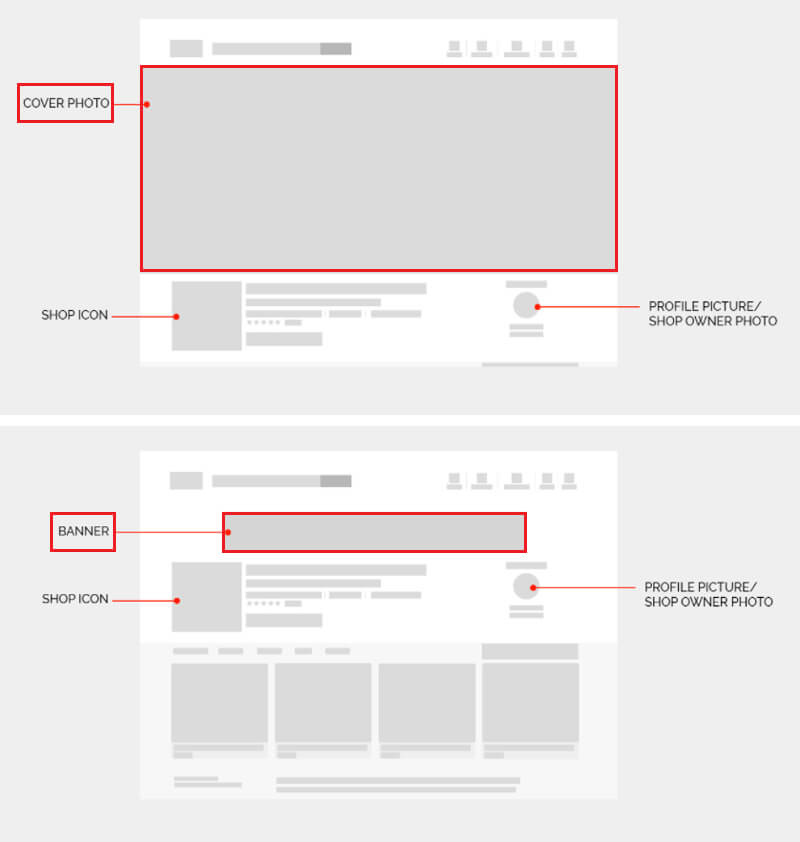 Why Having an Etsy Banner or Cover Photo Matters
You've put a lot of work into building your shop's inventory, so it's best not to let all this work go to waste. By creating a custom Etsy banner or cover photo, you can help your shop stand out above the rest by giving it that extra oomph. Other benefits you can gain from a custom banner or cover photo include:
The ability to create a recognizable brand
Increase Etsy sales
Improve your shop's aesthetic
Increase customer loyalty
Reflect your creativity
Add a personal touch to your shop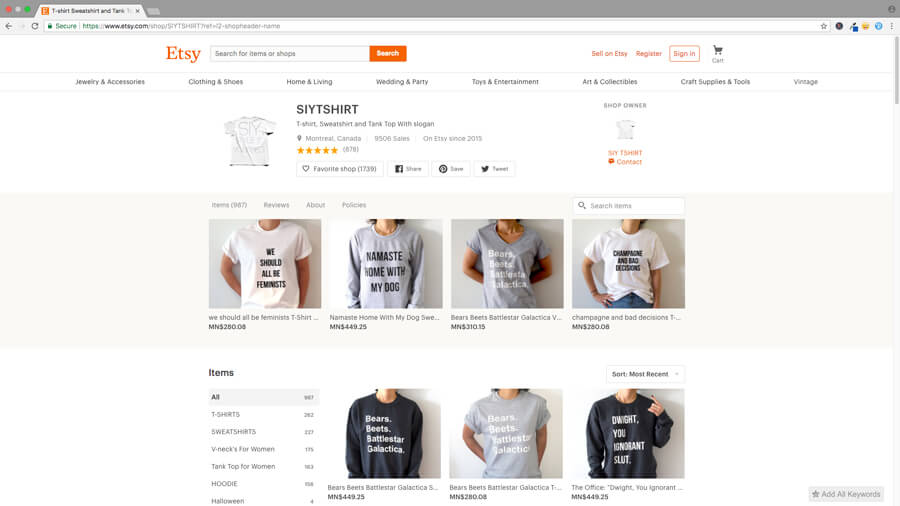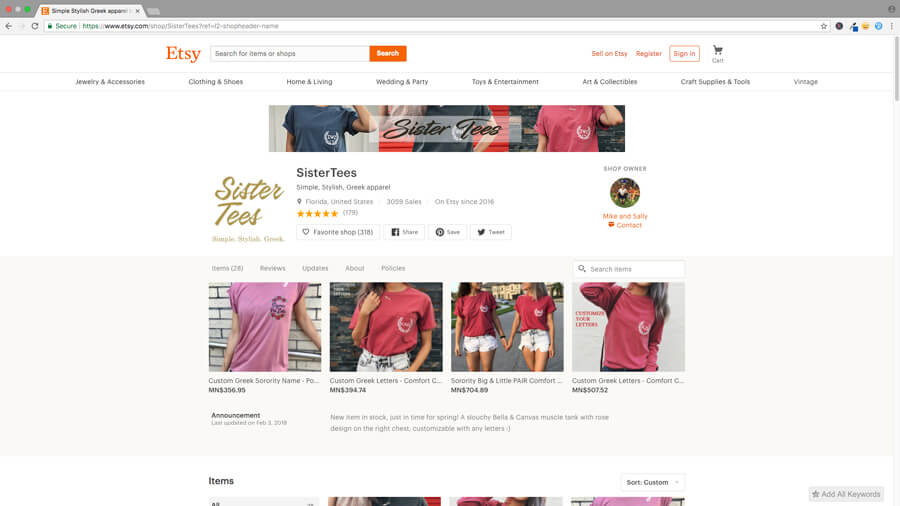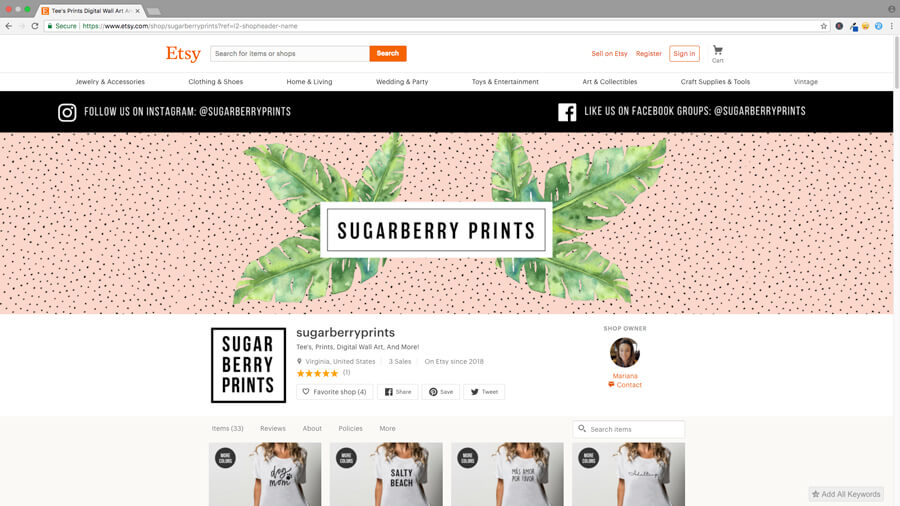 Etsy Shop Without Custom Elements
Etsy Shop With a Cover Photo
How to Make an Etsy Banner and Cover Photo
Making a design from scratch may sound intimidating, especially if you don't have any design experience or the tools for it. Luckily, you don't need design tools or experience to create a custom banner or cover photo that reflects your brand's personality. With Placeit's Etsy banner maker, you can have your banner ready in minutes. We know that this sounds way too easy to be true, but believe us when we say anyone can do it!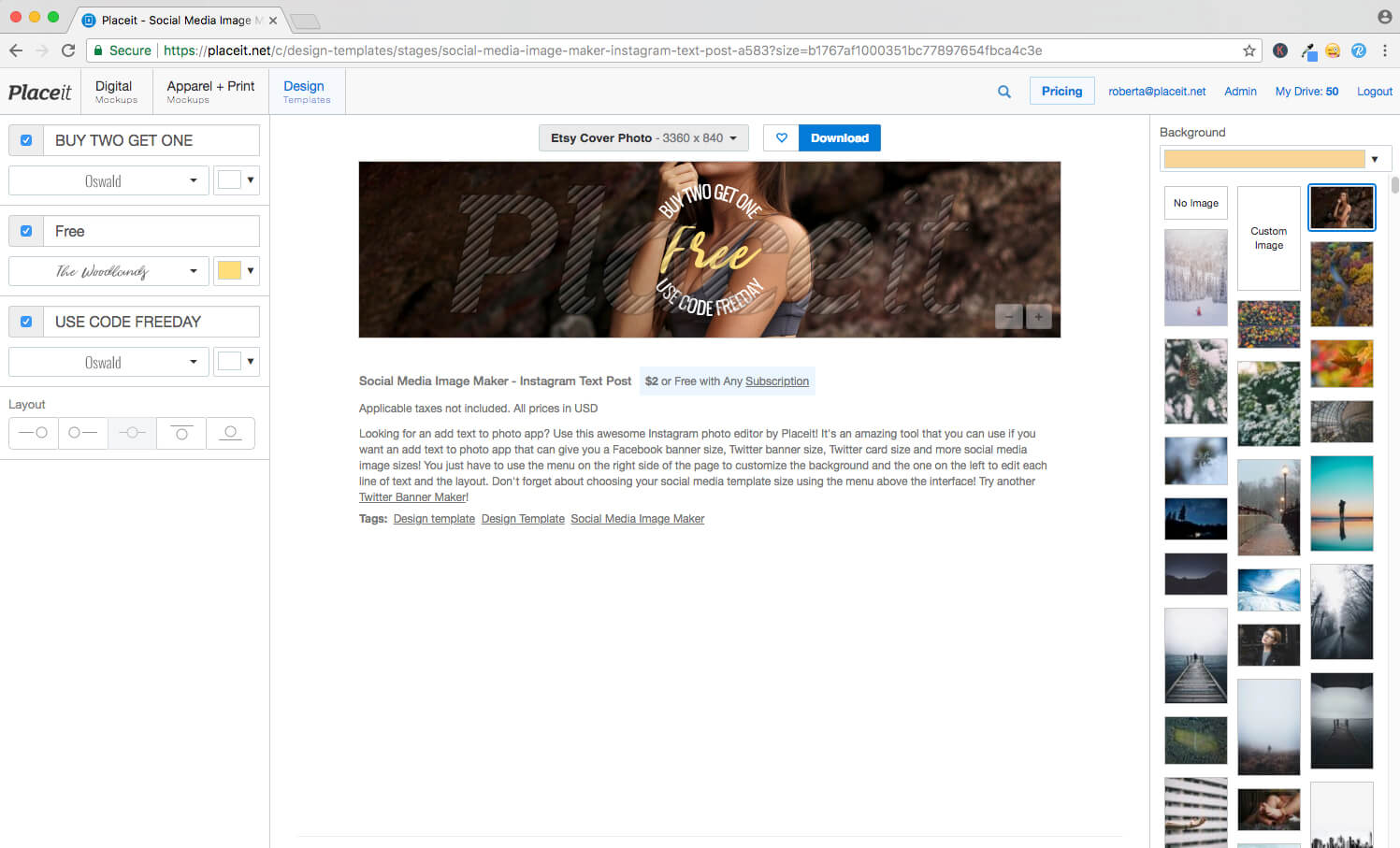 Using Placeit's Etsy banner and cover photo maker you can easily:
Customize the background

Choose an image from the ones provided or upload your own
Select a background pattern and color
Use a solid background color for a more simple design

Select a graphic and choose the color you want it in
Use the text boxes to type in your shop's name
Change the font and font color for each text box
Brainstorm Your Etsy Banner or Cover Photo
If you already have an idea of what you want your banner or cover to look like, it can make this step easier. If you have no idea what you want to be included in your banner, take some time to write down some words that describe your brand, colors that are important for your brand, and the types of elements you want to be included. Keep in mind the size limitation as you brainstorm. Think minimal text, bold colors, and a captivating image. This will put you on the right path so that you end up with something you really like. To help you keep track of the different image sizes you'll need for your Etsy shop, check out this size guide that will definitely come in handy as you start to personalize your shop! If you need to make some size adjustments, check out Placeit's online image cropper which makes it easier than ever to get your image sizes just right!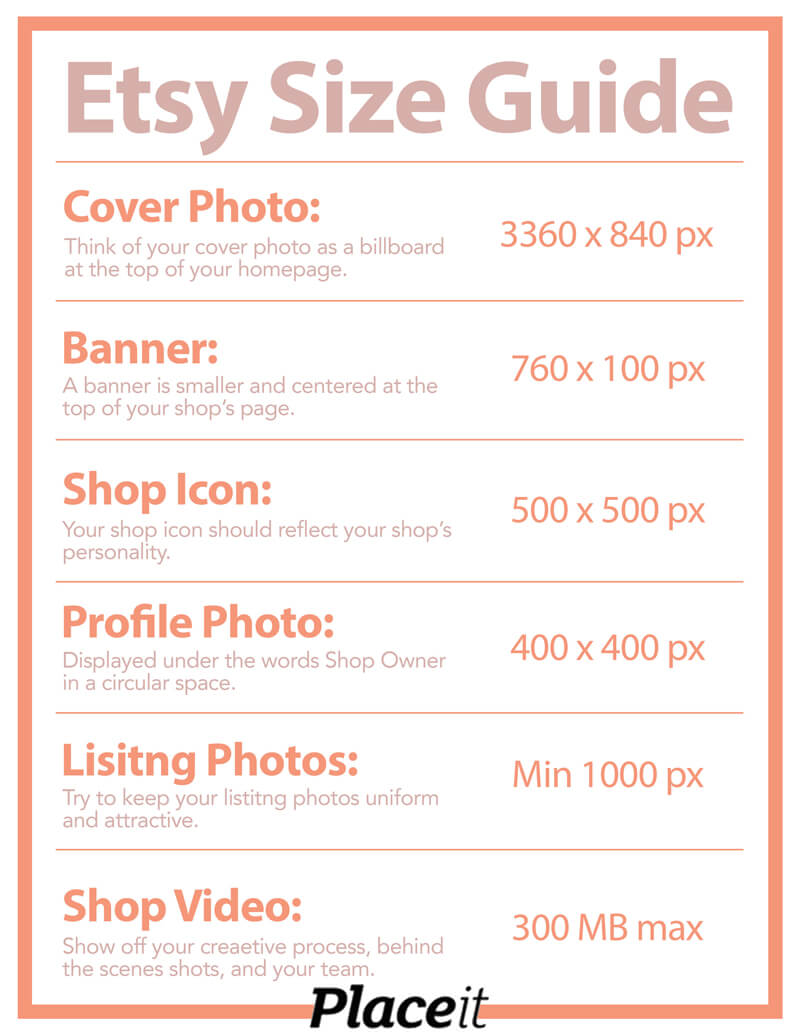 Increase Sales With Custom Shop Elements
If you've already taken the steps to open an Etsy shop, there's no reason not to personalize it with a bit of flair. Although this can sound time-consuming, Placeit's Etsy banner and cover photo maker makes it easy and quick to create custom elements for your shop's homepage! Don't let your Etsy shop blend into the background any longer!
Thinking about special sales? Learn how to market your Etsy shop for the holiday season with Black Friday promotions and more!
"Customizing my Etsy shop was so easy thanks to Placeit's social media image maker!"
Erica Johnson 5/5
---
Customize Your Etsy Shop With a Great Etsy Banner and Cover Photo
Increasing your sales on Etsy can be as easy as customizing your shop! Creating an Etsy banner or an Etsy cover photo is an easy way to do just that. If you don't have any design skills or software, that's totally fine. Placeit's Etsy banner maker and cover photo creator are all you need to give your shop a bit more personality!
Create Custom Images for Your Etsy Shop!
---