Free PSD Poster Mockup – "My design looks super PRO with Placeit" – Christina Heger
5/5
Get This Free Poster Mockup PSD Template

Format: Layered PSD
Smart Objects: Yes
Dimensions: 3300x2475px
Minimum Photoshop Version: CS4
Size: 86.3MB
Graphic designers and people in the printing industry need mockups to show clients how a design could look. Mockups are the perfect asset to have by your side when you need to quickly create a visual representation of a design. Unfortunately, having a design printed and hung could cost a bit too much, and that's when a poster mockup comes in handy. If you are designing a poster, you'll want to show your clients how the final design will look printed as a poster, give them a sneak peek on how it will look on their wall!
Unframed Poster Mockups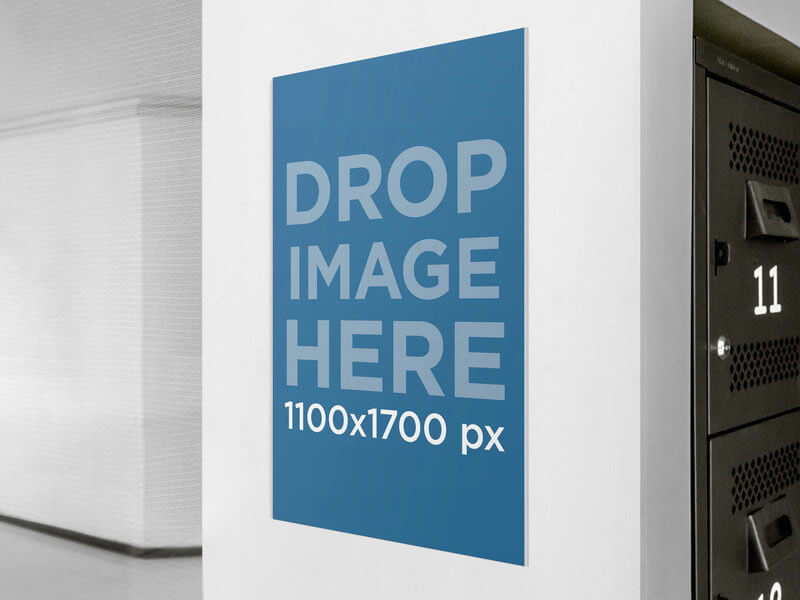 If you are organizing or promoting an event you can also use poster mockups to create buzz about the upcoming event. With Placeit's poster mockups you can make it look like there are posters hung all around town. This will generate a positive feeling in viewers and will help you have more assistants! All you have to do is to upload your design to the mockup and see how your poster design would look before sending it to the print shop.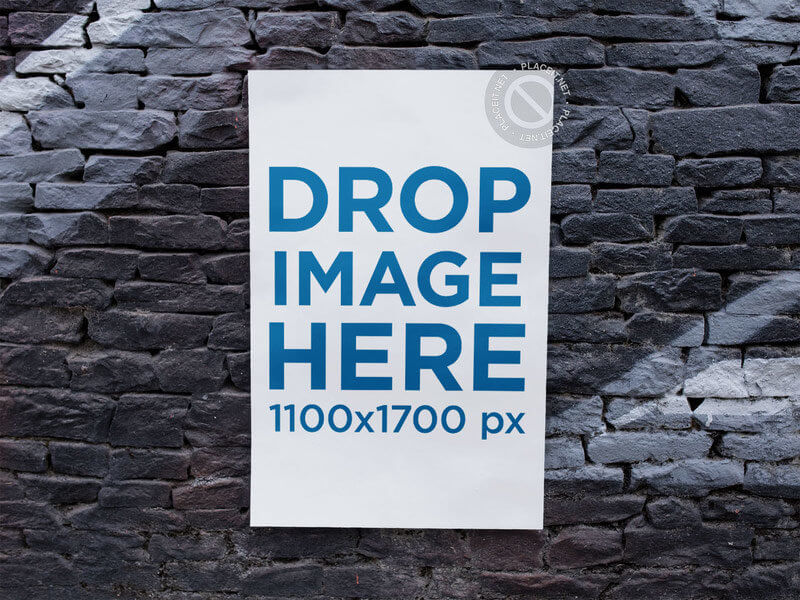 Start showcasing your latest designs with Placeit's beautiful visual assets! This one features a poster on a painted bricks wall, it's black and it has some graffiti on the sides for an edgy feel, it's an excellent choice for you to start selling more. All you need to do is drag-and-drop an image file on the interface, we will merge it for you in just seconds!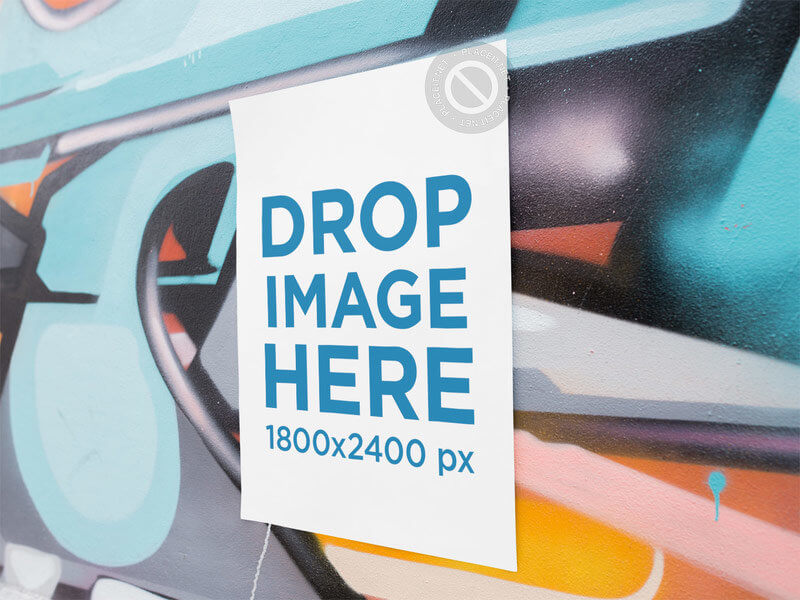 If you are targeting a young audience, you should use this poster mockup on a wall with graffiti art. This is one of our most popular poster mockups. Place an ad inside this poster template to promote your event, fundraiser, concert, party, etc! Great, isn't it?
Framed Poster Mockups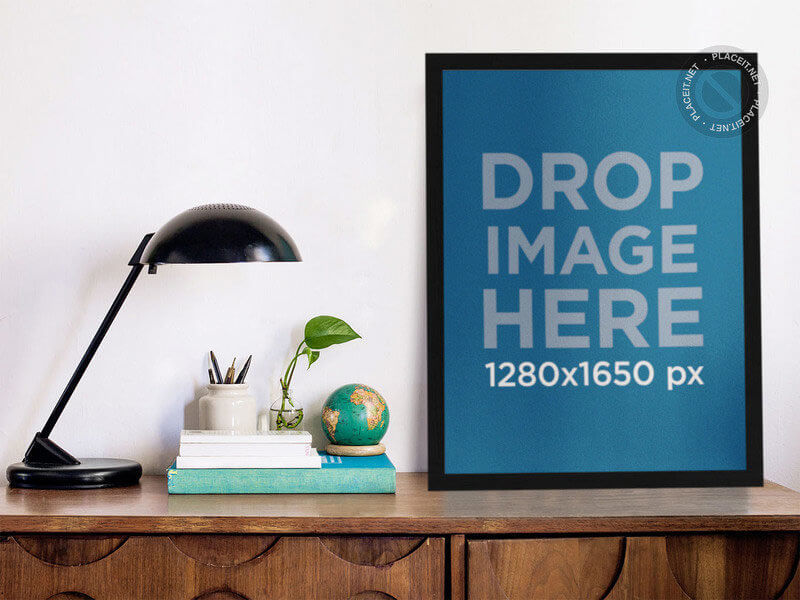 If what you need is to simply add some context to one of your designs, projects or branding campaigns, then choose to showcase them with a poster mockup! Easily replace the contents of a picture frame to create instant visual content, with Placeit all you have to do is to drag and drop your poster design onto a template on your screen and that's it! Placeit will do all the necessary adjustments to deliver a quality product shot that you will be able to use to enhance your branding.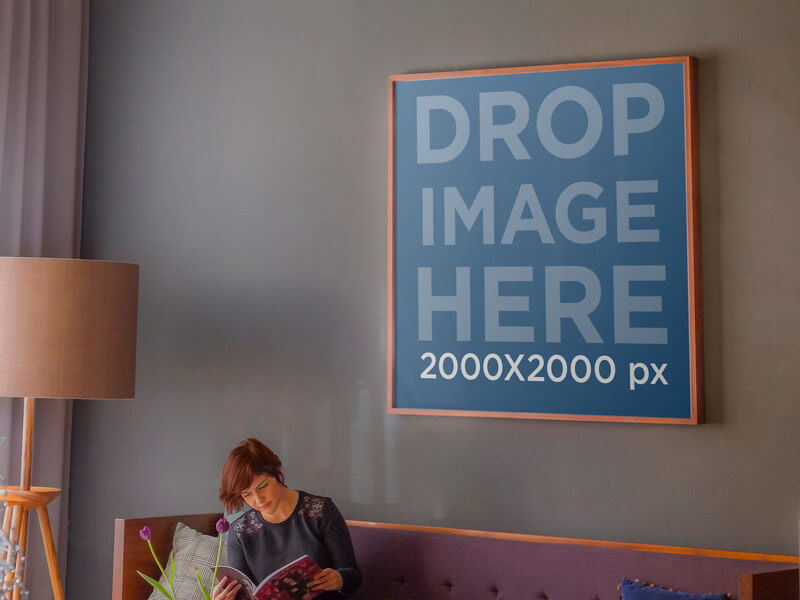 So if you want to promote your artwork in a professional way that really catches the eye of your audience, you will need visuals that convey the idea that your work has been printed, framed and photographed in a room, that it's not just sitting at your desktop. But printing large format posters and arranging a photoshoot is both complicated and expensive, this is why poster mockups are great! Look no more, Placeit has the assets that you need to accomplish this.
Held Poster Mockups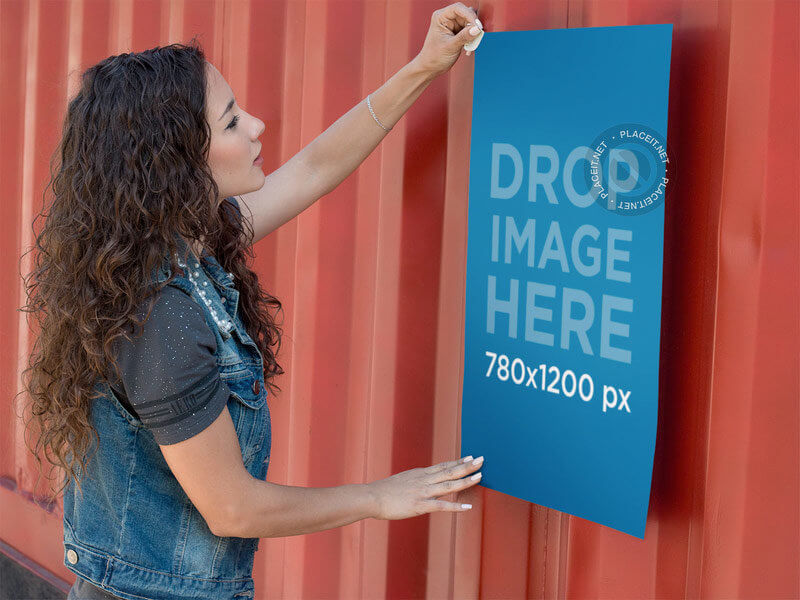 Photorealistic poster mockups also work great for branding purposes. Adding poster mockups to your portfolio will make you look like an all-around graphic designer who can deliver all kinds of work to customers. If you want to catch potential customers' attention right away, use poster mockups to showcase your previous projects in a professional manner.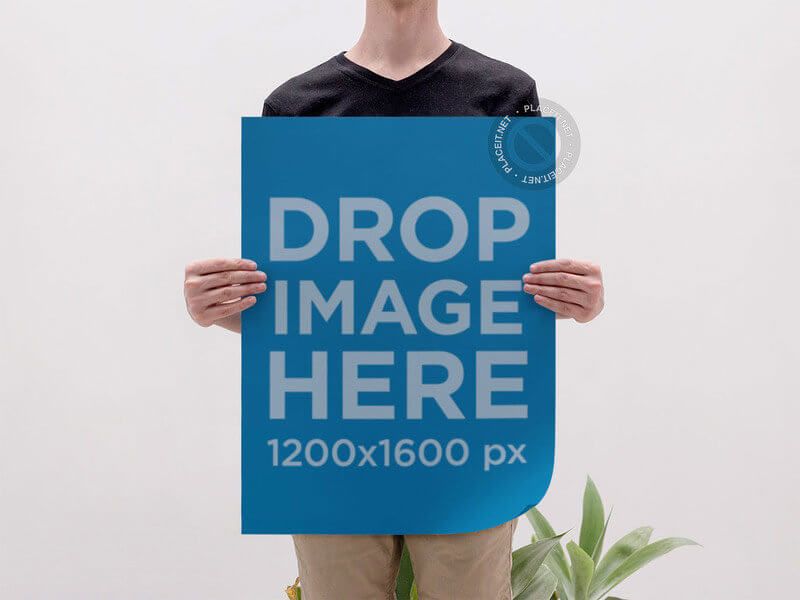 No graphic design skills? No idea how to make Photoshop work for you? No problem! Placeit's free poster mockup templates for non-designers are here to help you out! For your convenience, there are poster frame mockups of different shapes and sizes. Whether you are looking for aa horizontal poster mockup or a vertical poster mockup, we got you covered. Showcase your work to other graphic designers or clients the best way possible. Promote a music event, promote a school event, or even post a job offer. Use Placeit's poster mockups to create brilliant assets that look modern and clean.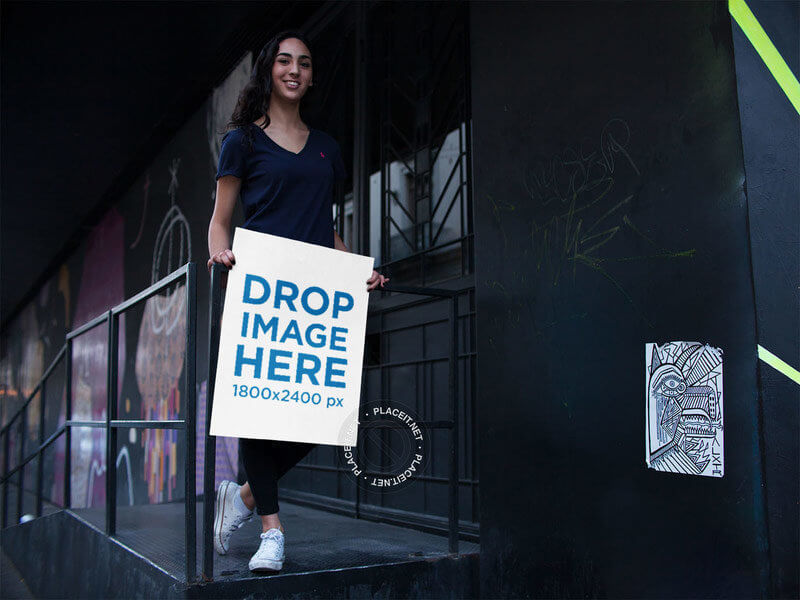 Start showcasing your awesome designs with Placeit's beautiful visual assets. Start now with this mockup of a cool girl holding a poster while in the street, it's an excellent option for you to display an urban environment. All you need to do is drag-and-drop your image design on the interface, we will process it in just seconds. That's right, that's all the work you have to do here. Isn't Placeit great?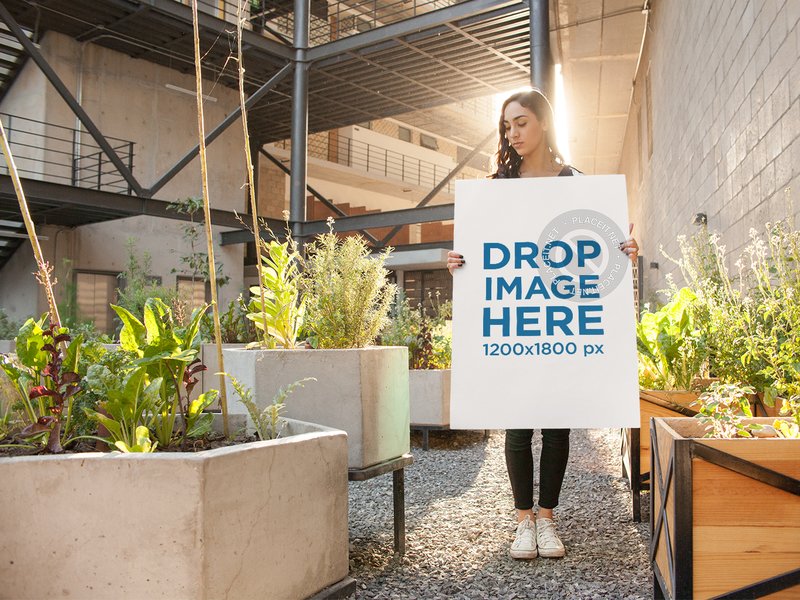 Check out this awesome mockup of a pretty woman holding a poster while in a terrace, it's an excellent option to display creative and smart designs on the internet. Start now! Drag-and-drop your image design on the interface, we will process it for you in just seconds.
Poster Mockup Videos
Do you need a poster video mockup? Placeit can solve this for you. By following the same simple steps to create poster mockup images you can also create a poster video mockup in seconds. Upload your image to create a beautiful video in seconds!
Here's How to Create a Poster Mockup in 3 Easy Steps
1. Choose a Poster Mockup.
2. Upload your poster design in PNG or JPEG format.
3. That's it! Download your poster mockup!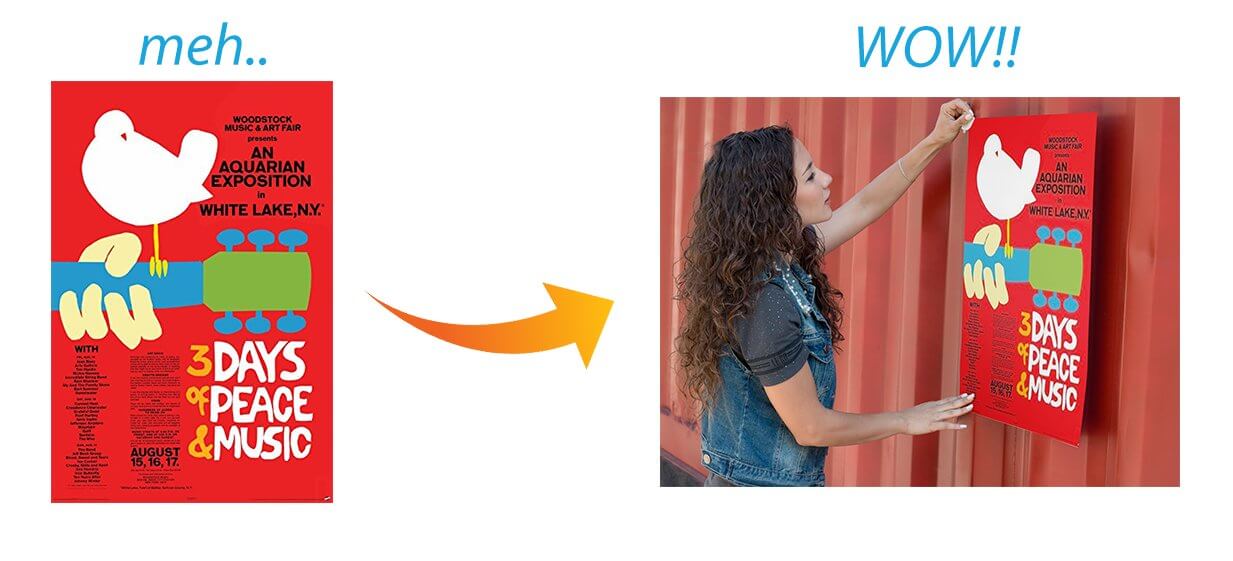 To Wrap-up:
Whether you use poster mockups to promote and sell more of your designs, or you need them to show clients how will an advertising poster design look like, or if you are using poster mockups to show off your graphic designing skills, Placeit's poster mockups will help you create great looking assets in seconds. Also, check out our guide on print sizes to learn what sizes work best with posters and check out the templates included in the post. Now get out of here and start using the best poster mockups on the internet!
---