Make an iPhone 6 Mockup for Your App
To help you improve your marketing strategy, we have selected an iPhone Mockup Template List. With these, you will be able to advertise your app in the best possible way. You can also use it to preview your prototypes in real life situations and get a much more powerful pitch. Placeit is an iPhone mockup software designed to help you create beautiful app marketing collaterals and images. This iPhone mockup tool will generate your final image in seconds. You can choose from more than 1000+ mockups. Placeit also lets you make an app demo video in minutes, complete with hand gestures.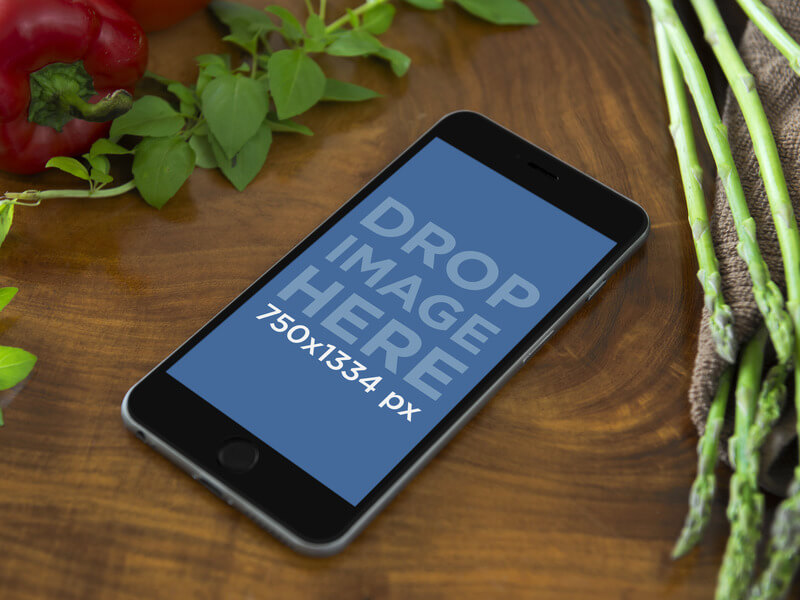 Consumers are hungry for fresh, new, inventive products. Let's check out what your new iOS app is serving up. This black iPhone 6 rests atop a natural wood kitchen chopping block, amid colorful vegetables, at an angled portrait position. This template is fresh and organic just like your newest app. Your target market is hungry and cannot wait to see what you've cooked up for them. Get back to marketing basics with this Placeit iPhone 6 mockup template. Mockups are so easy to create. Simply drag and drop a screenshot of your own app onto the iPhone's screen or type a URL above. Placeit will automatically adjust it and make a winning image out of this template. Your customers will eat it up. Don't miss out of the raw genius of this template. All that's missing is your app or website so get started today. Don't just stand there watching that pot of water boil, get it to and take your marketing strategy to another level with Placeit templates.
Your app isn't just for those who have a conventional business on their minds- it's also for those who are hard at work for their families and friends. With such natural surroundings, the black iPhone 6 in portrait position here provides a stark contrast that will immediately draw a client's eye. Associate your iOS app with the warm and sentimental feelings of autumn in this mock-up template, and customers will not only remember your product but also think of it fondly. Let's make prospective purchasers feel at home and happy! Drag and drop a screenshot of your work onto the iPhone's screen or upload an image by selecting "Grab Screenshot From URL" above the template and typing your URL when prompted! Smiles all around with this iPhone 6 mockup template on a cooking environment.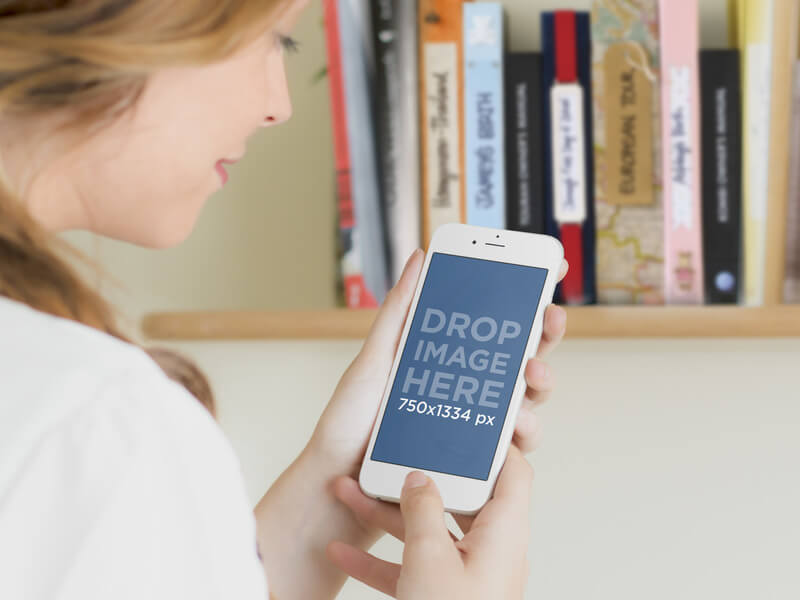 The teacher told her to pick an American novel for her next literature assignment, so she is using her iPhone to search for ideas as she just found a couple of books that might be of use. Do you see the smiling young lady in this scenario? She's deeply engaged with her iPhone 6 and is loving whatever she is browsing on its portrait screen. Plus, the classic background of the bookshelf provides this scene with a real-life feel. This scene has everything needed to create a fun iPhone 6 mockup that will do wonders for your iOS app marketing strategy. The only thing missing from this scenario with bright lights and books on the wall is your new iOS app or mobile responsive website. Well, It's time to change that! Go ahead and add your app's screenshot and let this Placeit mockup of an education environment do its work!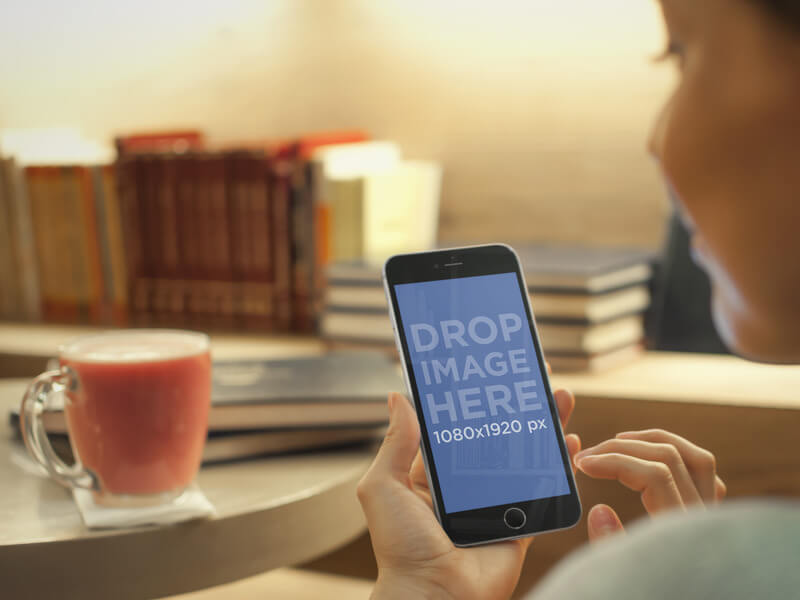 In this iPhone mockup, a young woman is enjoying a cup of tea, while browsing through her Black iPhone 6. The iPhone is held in portrait mode and is the main focus of this scene. You can tell she is deeply engaged with her phone. This mockup would work great for a social app but it's flexible enough, that it will work with just about any app. So go ahead and take this mockup for a spin. And check out what else Placeit has to offer!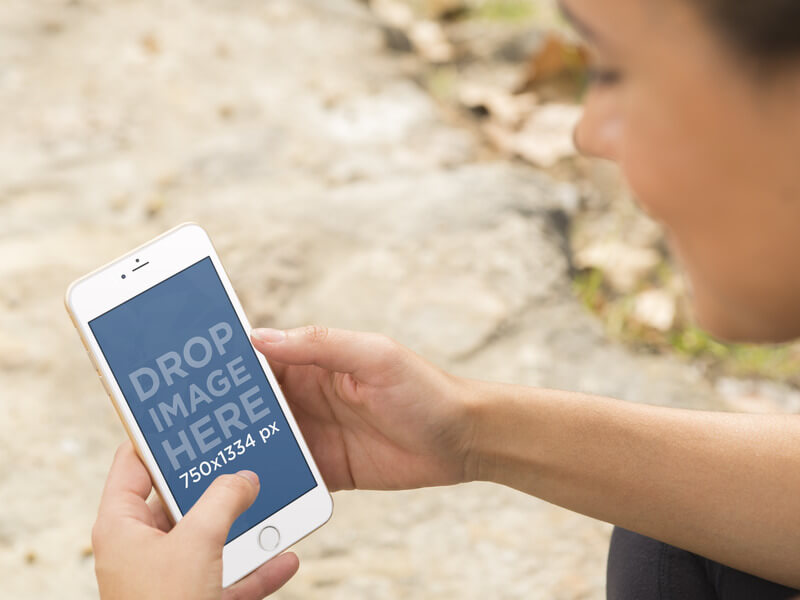 Being productive on the go is important to just about everyone, and so is staying healthy and fit! Which is what makes this scene so appealing to a lot of people. Here we see a young woman sitting outside on a step after completing a quick workout; she is using her white iPhone 6 in portrait position to get some work done. The mobile responsive website she is using means she gets to get out of her stuffy office and enjoy some nice weather. Who wouldn't want to use a site that lets you get some fresh air? So, do you have an app or website that helps people stay productive on the go? If so, why aren't you using this iPhone 6 mockup to help drive that point home to potential users?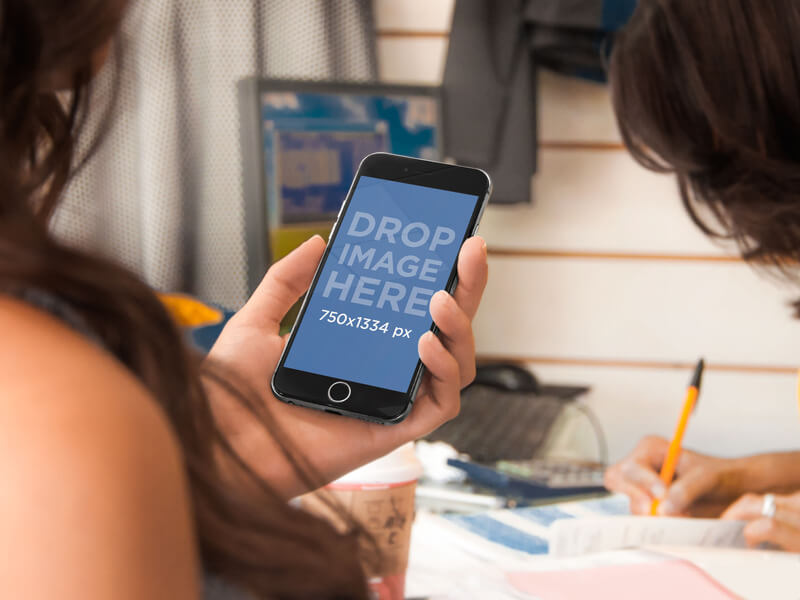 This iPhone 6 mockup shows a young woman holding her black iPhone 6 in portrait position while doing some shopping. We can all agree that shopping can be an exhausting activity, especially because there are so many things one must remember and keep in mind, luckily, technology is here to save the day. Nowadays there are hundreds, if not thousands, of shopping apps that are designed to help us take advantage of the best deals, make lists and even share information with friends and family. You can use this iPhone 6 mockup to display your new iOS shopping app in a beautiful way that provides context and will improve your app marketing. Besides, the black iPhone 6 looks beautiful in this shot.
Looking for a creative new way for marketing your newest iOS app? Then take Placeit's mockup templates for a spin. It's super easy and fun, to turn a Placeit template into an amazing app marketing tool that will showcase your app's new design and features within a relatable context. You just need to pick out a cool scene that will make your iOS app look great; then drag a screenshot from your app onto the iPhone's screen in the mockup, then download the image. That's it, it truly is that simple! And when you're done you'll have a fun new ad, featuring your product in an everyday situation. Like this scene, in which we can see a woman at a busy restaurant, she is completely engrossed with her black iPhone 6 in portrait position. And now, it can be your own app that has her smiling!
This stage will give your mockup great emphasis. Your image will hover above an illustrated iPhone mockup casting a shadow. The stage is a bright blue backdrop which would look best with a color scheme of oranges or reds for the most contrast. A white or green color scheme would also play wonderfully on this. The iPhone mockup is drawn in simple white lines and holds a 640x1136px image. This simple stage will provide a great backdrop for any app mockup, however.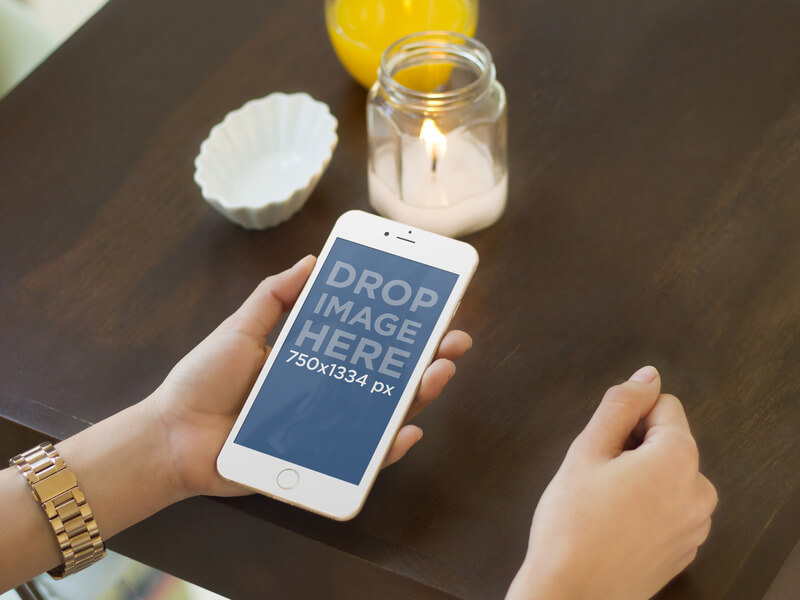 Beautiful iPhone 6 mockup that features a young woman who is using her Gold iPhone 6 in portrait position while waiting for a friend to arrive, they will have a niche cup of coffee after over a year of being apart, she is probably texting her right now. Or she could even be using your new iOS app or mobile responsive website, it's totally up to you. Using mockups is the easiest thing, just drag and drop your screenshot over the iPhone and Placeit will automatically adjust it, go ahead and try it out right away to create an image that you will be able to share with potential users and clients for your iOS app marketing.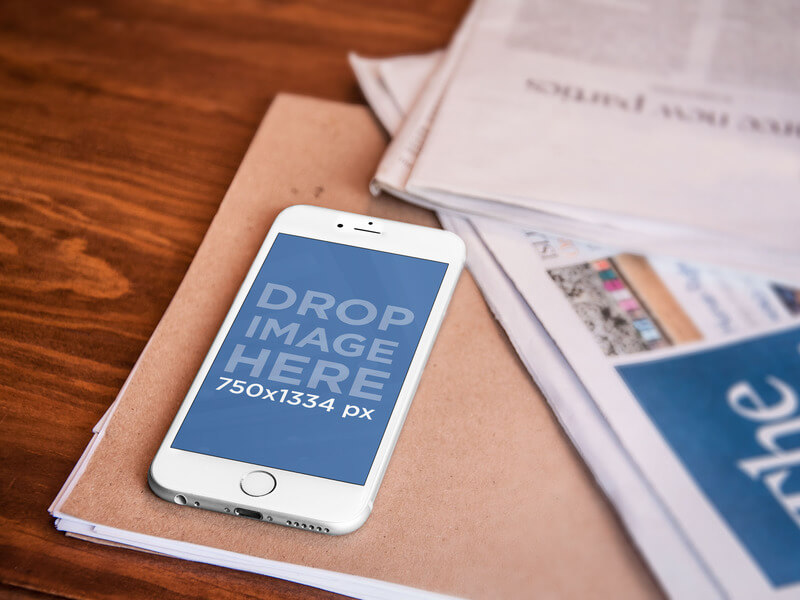 Do you have a great app for a business or home office? You can use this shot of an iPhone 6 mockup set on an office desk. The iPhone 6 lays in portrait view and holds an image of 780x1080px. The iPhone rests on top of paperwork and a newspaper. On the top left corner, you can see the dark wooden desk.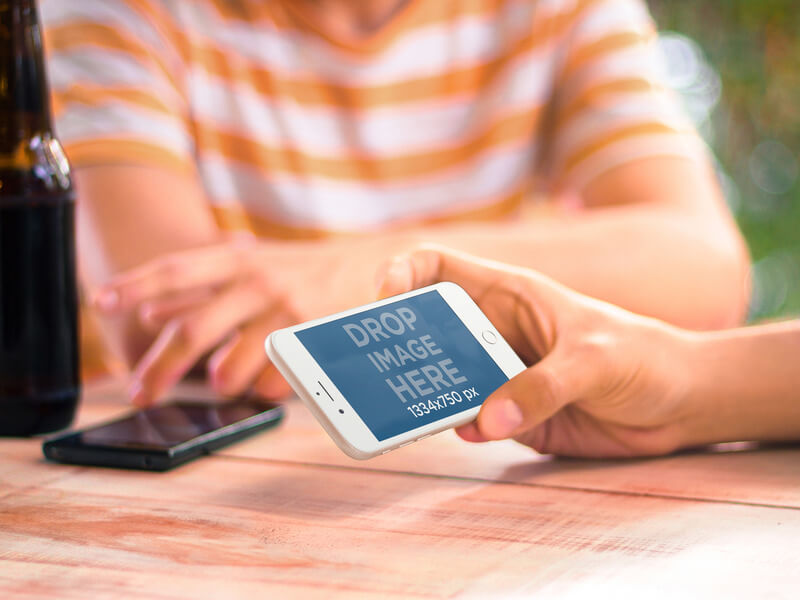 For a perfect social app, you can use this iPhone 6 mockup that is being held up by a man hanging out with his buddy. The man is holding the white iPhone 6 in landscape view. His friend is sitting to the right. The iPhone 6 mockup holds an image of 750x1334px. This is a great place for a social or casual app.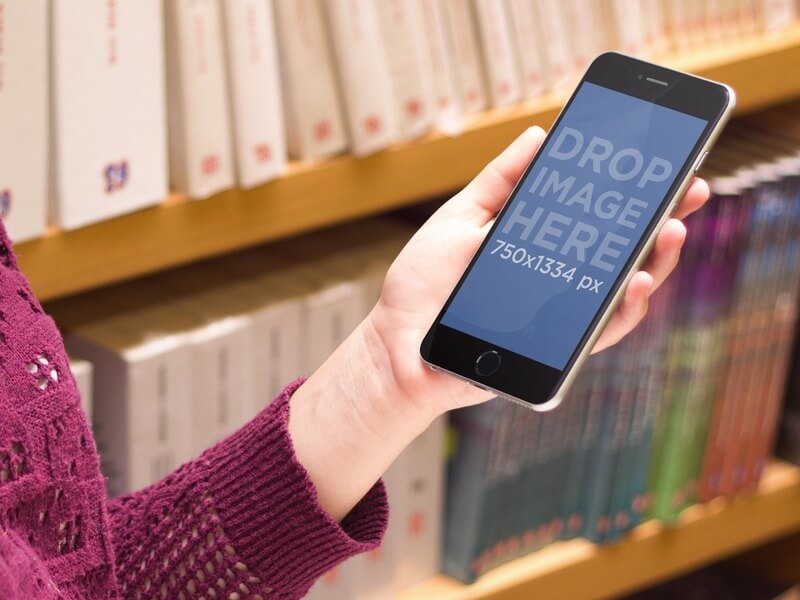 There are lots of very useful education apps out there, they all have different features, but one thing these iOS apps have in common is the fact that they were designed and developed to help students succeed. If you just created an education app of your own, this would be the perfect place to showcase how amazing it is. This iPhone 6 Plus Mockup presents a young woman who is searching for a book at the university library, she is holding her black iPhone 6 Plus with her left hand as she browses an app that will help her get that final project done! This is a beautiful scene that has a great color scheme combination, between her fuchsia sweater, the wooden shelves, and those colorful textbooks, the image builds a nice and warm environment that reminds us of our scholar days. Use this mockup and share the image with potential users and business partners right away!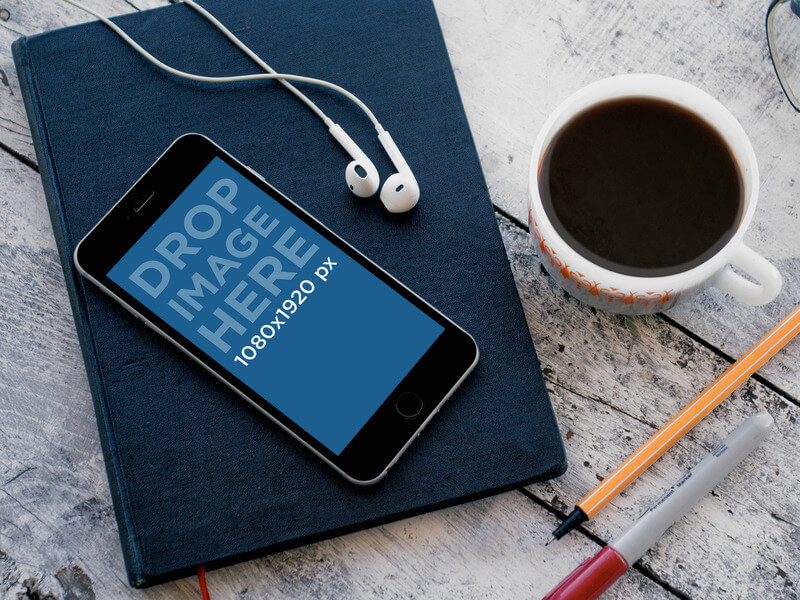 This iPhone mockup presents a very interesting scenario, we can see the black iPhone 6 is laying in portrait position next to a book or notebook, next to it there are other elements that suggest someone is either doing some studying or quick work. There is a fancy red pen, a cup of black coffee and even some white apple headphones that make us think this person is listening to some music for concentration. Imagine your education or productivity iOS app being displayed within this iPhone 6 With Book and Coffee Mockup Template scenario, it would look amazing, right? Now stop imagining and make it happen! All you need to do is drag a screenshot of your own app straight into this iPhone's screen, or simply type the URL of your mobile responsive website above and Placeit will adjust it to deliver an amazing image carrying your app's design and features so you can share it with potential users and clients.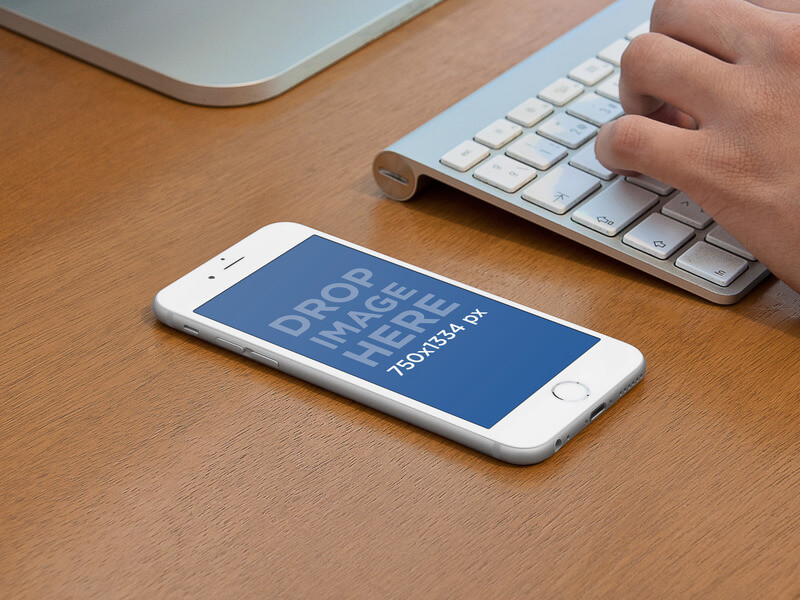 Do you need an iPhone 6 mockup for your business app? Great! Now you can use this stage to showcase your brand new app with this great shot of a white iPhone 6. Your mockup would fit on at 750x1334px portrait image on the iPhone 6 screen. The phone is set next to a keyboard with a man working at his desk. The desk is a light brown wood and creates a great bright spot.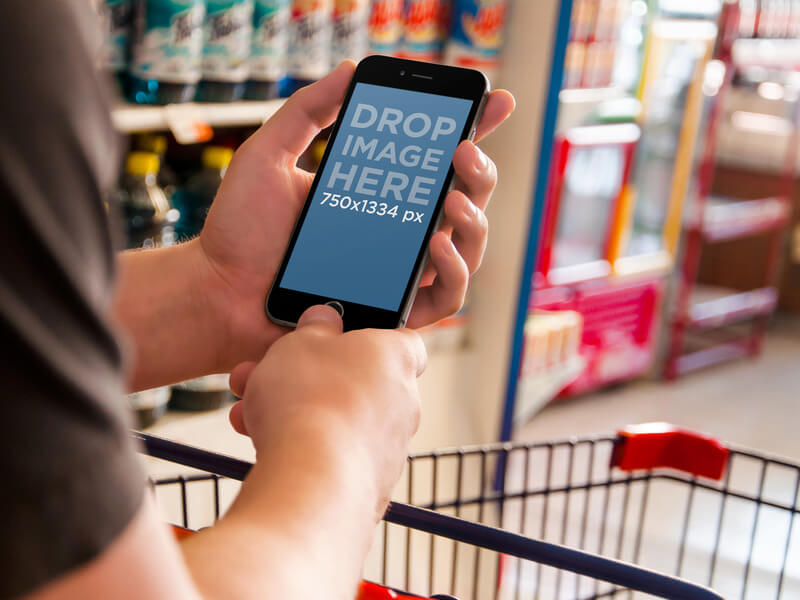 The iPhone 6 can be used for so many things, it allows you to download amazing apps within seconds and you can basically rely on your smartphone to keep your life organized and under control. This is an iPhone 6 mockup that features a young man shopping at the supermarket, he is using his black iPhone 6 in portrait position as he goes through the shopping list. You can display your app or website within this mockup to provide some context to it and show it off in a clever way, just upload your screenshot and Placeit will do the magic, try it out now and see how this iPhone mockup will improve your app marketing.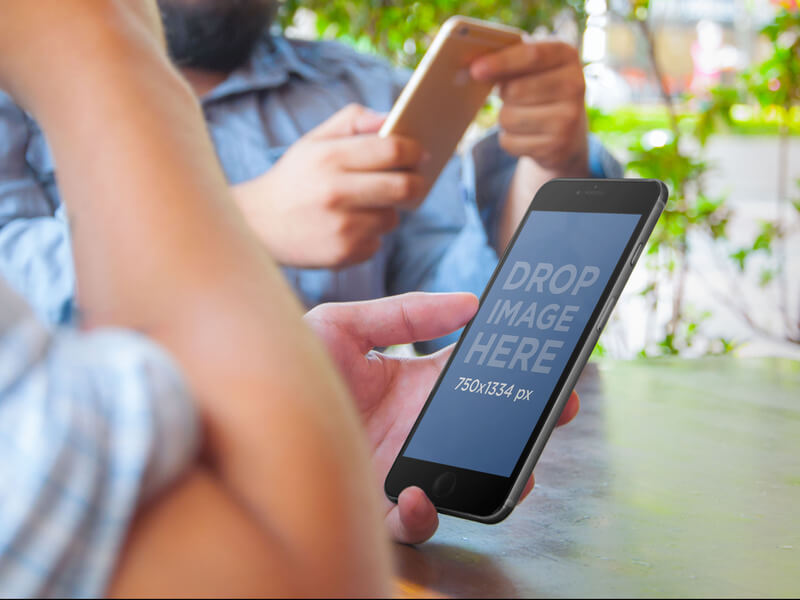 Two friends relax at a wooden table in a garden, one holds up an iPhone 6 mockup for you to show off your app. They talk animatedly over a wooden table. They are dressed casually and are enjoying the sunny day. This is a great place for a social or casual app. The iPhone 6 holds an image of 750x1334px.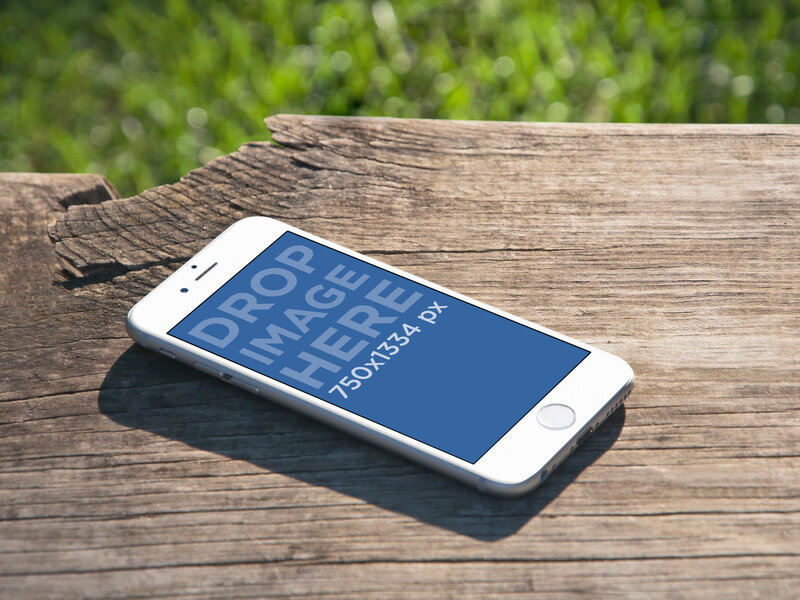 Showcase your app in this beautiful contrasting image. Classic vs modern. An iPhone 6 mockup lays on a bench at an angle. The bench is made of very rough wood. Behind it, sparkles of green grass enunciate the colors in this image. You can use this image for an iPhone 6 app, especially ones for casual use. Drop an image to start using this iPhone 6 mockup.
If your app is targeted for a creative audience, you should definitely consider this mockup. You can place your design into the screen and it will automatically be rendered with the appropriate reflections, glare, and shadows to create a photorealistic mockup to present your design. It is always useful, especially if you are developing an iPhone 6 app, to show your design in context, allowing your users (or clients) to see themselves using your app. Remember you can also input a URL to show it on the device's screen.
An iPhone 6 mockup like this one is very versatile. The brown and green combination goes well with most designs you can imagine. However, if you are looking for different colors, backgrounds or environments, try one of our other iPhone 6 mockups on the left. We have hundreds of mockups ready for use, so make sure to use our filter to choose the ones that best suit you.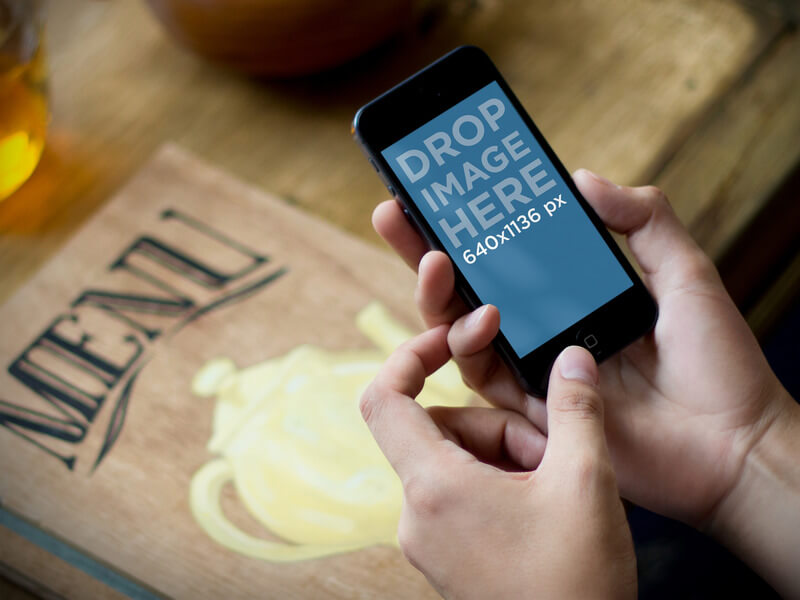 An iPhone 5 is being held over a menu at a vintage coffee shop. The menu is made out of wood and has a cute yellow teapot printed on it with vintage-style lettering. The iPhone is being held up by two hands and is able to hold a mockup image of 640 by 1136 pixels. This would be perfect for a social app or food app. A similar chic vintage-style design would look perfect with this particular stage.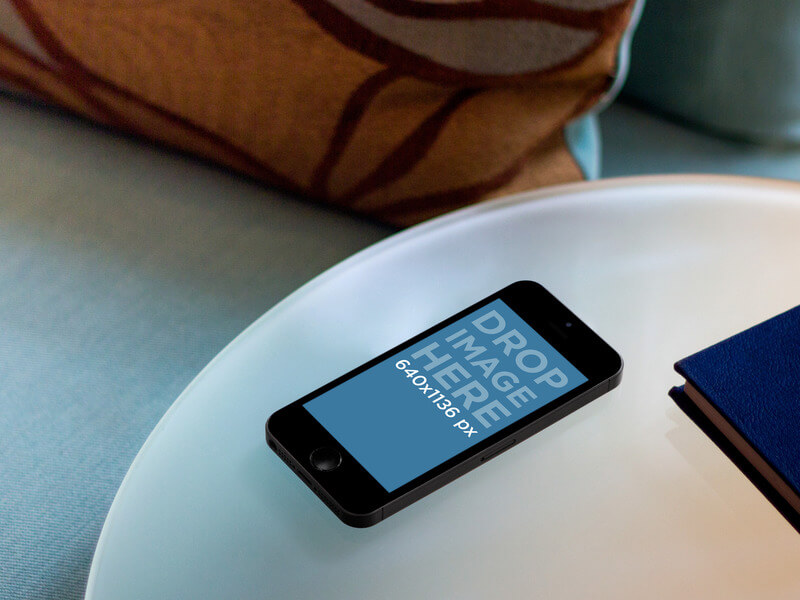 Place your mockup in this inviting iPhone 5s set. The iPhone is on a frosted glass table in someone's living room. There is a soft grey couch shown in the background with a cozy orange pillow. Your mockup in the iPhone 5s would be set next to a blue book that is also sitting on the table. The iPhone holds an image of 640x1136px in a portrait view. The scene gives the impression that someone just got called away from your app. Try it here.
Tip – If you're still not convinced or want to try out a high-resolution iPhone mockup for yourself, check out this list of the best free mockups Placeit has to offer! Once you see how crisp and pixel-perfect these mockups are, you'll be confident Placeit's mockups are second to none.
---
---
---