"Advertising friends, Placeit will save a couple years of pitch life" Diego Zambrano
5/5
Mostly every app developer will launch an iOS version of its app at some point, why? Well, because the iPhone has been one of the most popular mobile devices in the market. A sleek smartphone with a powerful engine, professional camera and intuitive operating system that everyone goes crazy about! If you just created a new app, website or did some major redesigning, you will want to showcase it to your consumer demographic and potential partners, well, good news is you can display your design and features by using mockups, the not so good news is that you need Photoshop knowledge (and software) to add your screenshot to an iPhone's screen. Luckily, since Placeit arrived, creating free iPhone mockups has never been easier! Placeit offers 650+ free iPhone mockups for you to showcase your brand new iOS app or mobile responsive website as a part of your app marketing strategy.
Besides, you won't just be displaying a simple screenshot of your app, you will insert it within context and being used by real people in real life situations, just take a look at these free iPhone mockups to get an idea of your possibilities:

Choose this Placeit stock photo mockup and get you app/website the attention it deserves! This iPhone mockup features a young smiling woman holding her white iPhone 6 in a portrait position. She is lying on a hammock at the beach. The ocean and the light give a peaceful, relaxed vibe to the image. The background is blurry, allowing consumers to focus their attention on the phone's screen in the woman's hand. It doesn't really matter what kind of app you've created, this scenario could really work out with almost any app or website of your choice. To use this mockup, just drag and drop your desired screenshot onto the iPhone's screen in the template or import a screenshot from a URL by clicking the "Grab Screenshot From URL" button and type in the URL so Placeit can do the rest for you. Make an impact on your consumers by making Placeit part of your new visual marketing strategy today! See more Device Mockups here!

Isn't this a stunning visual asset you would like to have as a part of your app marketing campaign? Well, good news is you can! This iPhone 6 mockup template allows you to showcase your new iOS app or mobile responsive website to engage with your consumer demographic, all you need to do is drop a screenshot onto the image and Placeit will deliver a compelling piece of visual content for your business. iPhone mockups here!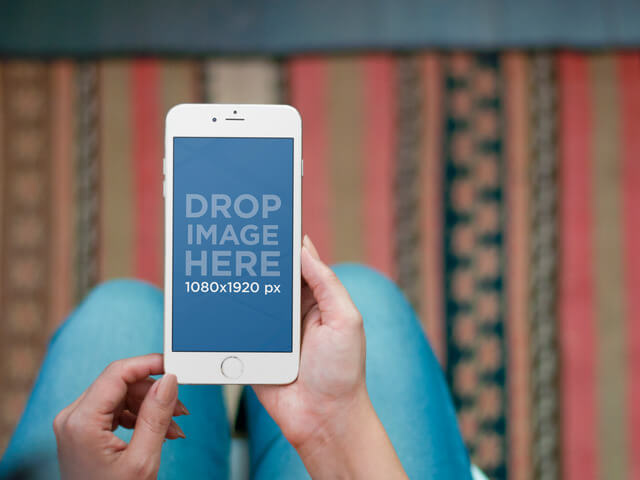 Use this great iPhone mockup to help you advertise a website or newly developed iOS app in a relatable way to potential users and finally get your ideas the attention they deserve. This photo mockup features a woman sitting on a couch in her living room using a white iPhone 6 in a portrait position. Customize this original mockup from Placeit by simply adding an image onto the template or by inputting a URL address, and let Placeit do the rest of the work for you. Your ideas will look great being displayed on a template like this. Creating attractive visual content had never been this easy and fast, but now thanks to Placeit you can say goodbye to all those time-consuming, outdated and expensive marketing campaigns of yours. See more iPhone Mockup here!

This is a beautiful scene in which we can see a lovely couple walking outdoors and using a white iPhone 6 in portrait position, they can be browsing an app or simply surfing the web. You will be able to use this iPhone 6 mockup template as a part of your app marketing campaign to enhance your visual marketing; all you need to do is drag and drop a screenshot of your app straight into the device's screen.

This beautiful, striking image will do wonders for your iOS app visual marketing campaign! This iPhone photo mockup features a woman using her brand new black iPhone 6 in a portrait position, while enjoying a nice breakfast at a local cafe. Make this great image a part of your visual marketing strategy and appeal to consumers at a glance. To use stock photo mockups just type your URL above or drag an image onto the template so Placeit can help you deliver a compelling visual asset right away! See more 
Smartphone Mockups
here!
Placeit is a great tool for creating visual assets like free mockups and app demo videos for your app marketing campaign, especially because of the wide variety of scenarios and devices it offers. These free iPhone mockups are a great way for you to showcase your designs in a creative and professional manner that will definitely create an impact on your audience and investors. To use these
free iPhone mockups
you just need to drop an image onto the iPhone and Placeit will do all the necessary adjustments to produce a quality mockup you will be able to show to the world. Remember all small sizes are free, so you can go crazy and make tons of
free iPhone mockups
to enhance your app's imagery.
Last but not least, don't forget that free mockups can be overused. Invest in original mockups to get the best results for your business!
---
---
Hundreds of High-Res Freebies Just for You!