Whether you are the mom to be, an auntie, grandma or a family friend, organizing the baby shower is heavy duty for whoever is in charge! Planning a baby shower means taking care of a thousand little details that will ensure everything will be in place, like creating baby shower shirts or onesies to commemorate both the mom and the baby! And the great news is once you make a baby shower design, there are tooons of things you can do with it for the baby shower!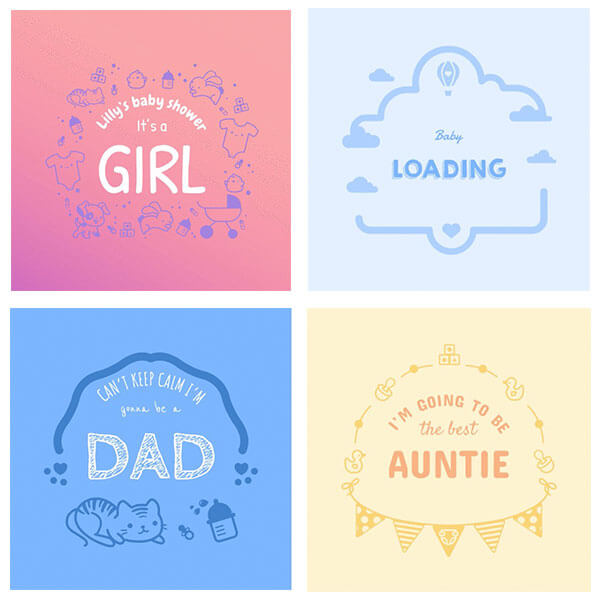 Sounds fantastic but too complicated for you? Not at all, I'll show you how you can design your own baby shower shirts in a matter of minutes without any design skills or complicated software.
Step #1 – Head to Placeit and Choose the Baby Shower T-Shirt Template
Placeit recently released design templates, these allow you turn into a graphic designer in seconds and create beautiful visuals to print on tshirts, mugs, posters, etc, or to use on social media or as event invitations, the sky is the limit!
All you need to do is visit Placeit Apparel and choose one of the design templates, in this case, I recommend you go straight for the Baby Shower Design Template as it's perfect for what we will be creating.
Step #2 – Customize the Template with Text That Relates to Your Baby Shower
See the text fields on the left side of the screen? This is where you can add text lines to customize your design, you get up to three! Notice how after you type your words the design automatically updates to show your words? It also changes the position and arrangement depending on the length of the sentences, all by itself. Like magic!
Once you've typed your words, you can go ahead and change the fonts and colors of each text field, you are given tons of options with different styles so you can pick one according to what you have in mind. After clicking on a font to select it, it will be automatically updated on the template.
TIP: Leave the text white for now, we will be able to adjust this later along the road when we change the background color.
Step #3 – Add a Graphic or Icon to Your Baby Shower Shirts
This baby shower t-shirt template comes with a lot of preset graphics and icons you can use to give it that special touch. You don't need to worry about finding images online or drawing them yourself, all you need to do is click on the icon you like and it will be added to your design, adjusting your text to fit the shape perfectly! These are available on the right side of the baby shower template: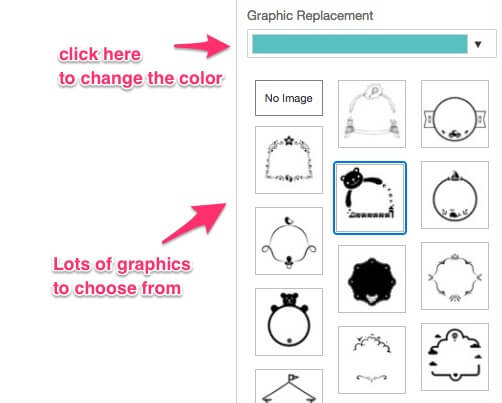 Once you've selected the shape you like, you can also change its color.
Step #4 – It's Time to Change the Background of Your Baby Shower Design!
Our design templates also come with dozens of background patterns and photos you can add to your design, but you need to keep in mind what is the purpose of the design before you add a background to it.
Will you use this design to print baby shower shirts?
If your answer is yes, then you should download your image with a transparent background.
This is easy. Just click on "No image" and then select the transparency pattern option from the background colors. And that's it, you'll get a transparent png you can upload it to a print on demand website that will take care of all the hassle for you, or you can send to your local print shop.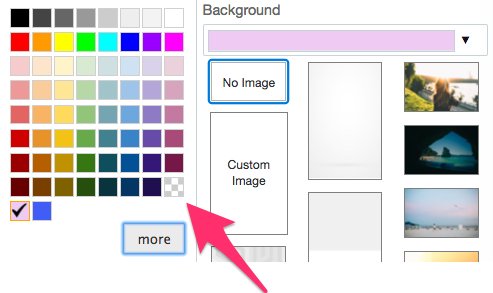 Do you have other baby shower ideas in mind for this design?
Yes? This is great! Then we can go ahead and explore other background options. As all the other options, you just need to click on the backgrounds to apply them to your design. Below the graphics, you will find tons of different backgrounds, from patterns to illustrations and even striking photographs! I suggest you try them out and see which one works best for your design, you can create beautiful visuals to boost the event!
More Baby Shower Ideas of How to Use the Design (Other than Printing Tshirts)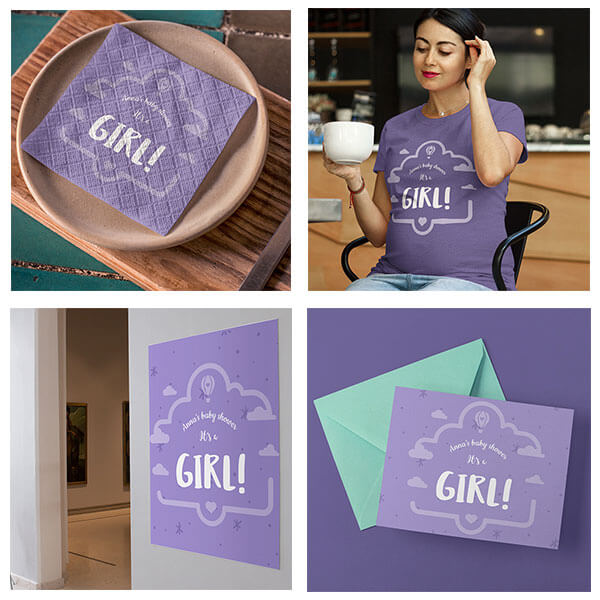 Print it on napkins and centerpieces
Print pins and give them to the attendees when they arrive
Print it on a poster and put it at the entrance of the party
Print small thank you notes for the attendees
Make it the image of the Facebook Event
Use it as a watermark for the photos of the event
There are tons of things you can do with the baby shower design you create using Placeit, the idea is for you to think outside the box and explore your possibilities! Don't be afraid to learn to use a new tool, design templates is as easy as it gets, and in case I wasn't clear enough over here, I made you guys a tutorial video that goes step by step over the entire process of making a baby shower shirt design, have a look:
If you're looking to create your own invitations with graphics from design templates, we made this handy guide to print sizes so you can have a better idea of what sizes you need to have print ready files. Check out our post to get all the information and start creating right away!
And that's it! I told you this would be an easy process! No need to hire a designer or spend hours messing around on Photoshop, all you need is your browser and some good old creativity to make a beautiful design that will steal everyone's attention at the party and will honor both mom and the baby!
---
---