Stand out in the Rink with an Impressive Hockey Logo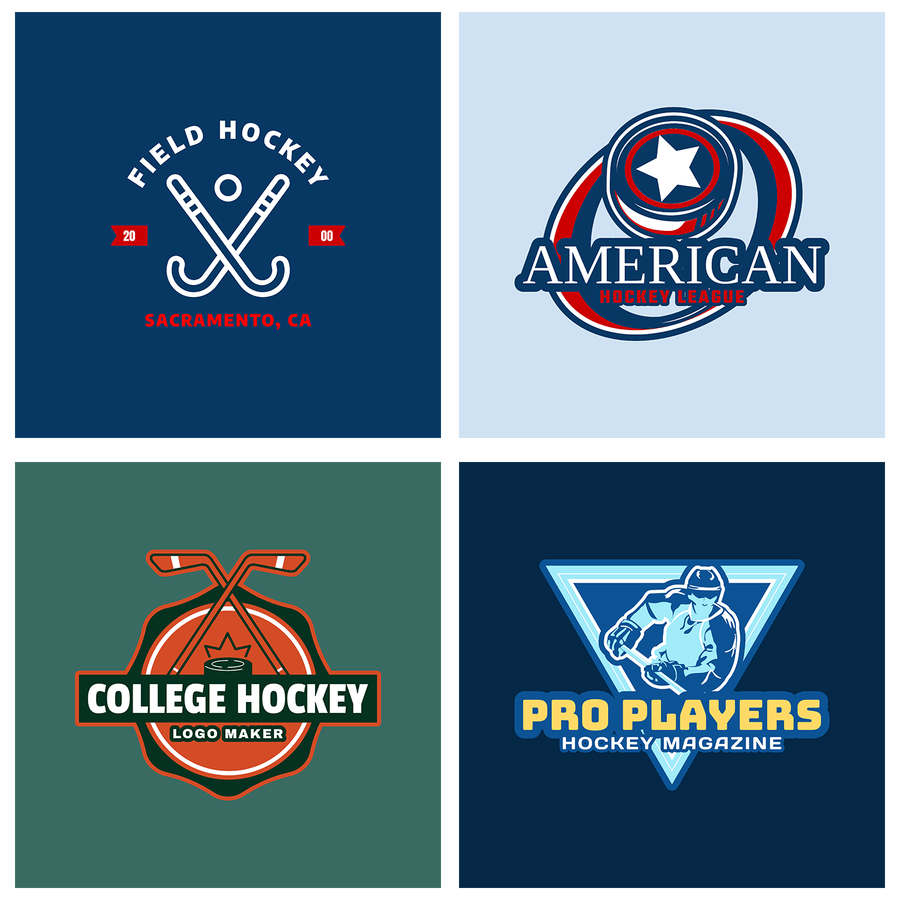 Whether you're a hockey coach, team manager, or you've just entered an intramural league with your friends and need a team logo, you can take care of this yourself with Placeit's easy to use logo maker. Make your team stands out and give them a hockey logo they'll be proud to wear by designing it yourself. Not sure where to get started? Let us help you with that!
Why Your Team Needs a Custom Logo
Does a logo sound like it's unnecessary and a complete waste of time? We promise you it's not! Having a team logo can bring with it great benefits, including increasing your team's morale. Other benefits you'll get from designing a unique logo for your hockey team include:
Create a team identity that sets you apart
Evoke feelings from your team and supporters through your logo design
Gives your team a more professional appearance
Grab the attention of new supporters
Unite your team and give your supporters a unified image to rally around
What Should Your Hockey Logo Include?
A logo design may look pretty basic, but there is some essential planning that goes into it. The elements included in your hockey logo will depend on the message you're trying to send. The most obvious place to start is by making it clear that your team is an ice hockey team or a field hockey team. This will narrow down your choices when it comes time to select an icon.
You also want to be selective when choosing your team colors. Most teams stick to two different colors that are emblematic of their team. If you're in a league with other teams, do your best to choose colors that won't get confused with your rivals.
Next up is deciding what sort of tone you want to set for your team. If you're playing in an intramural league that is just for fun, a fun or funny logo may be what you're after. For more serious leagues, you may want something that looks more professional or even intimidating. Children's leagues may fare better with bright and friendly colors and a friendly mascot.
Of course, don't forget to include your team's name in the logo in a clear font that is readable. Avoid including too much text in your logo since this can make your design look too crowded and busy.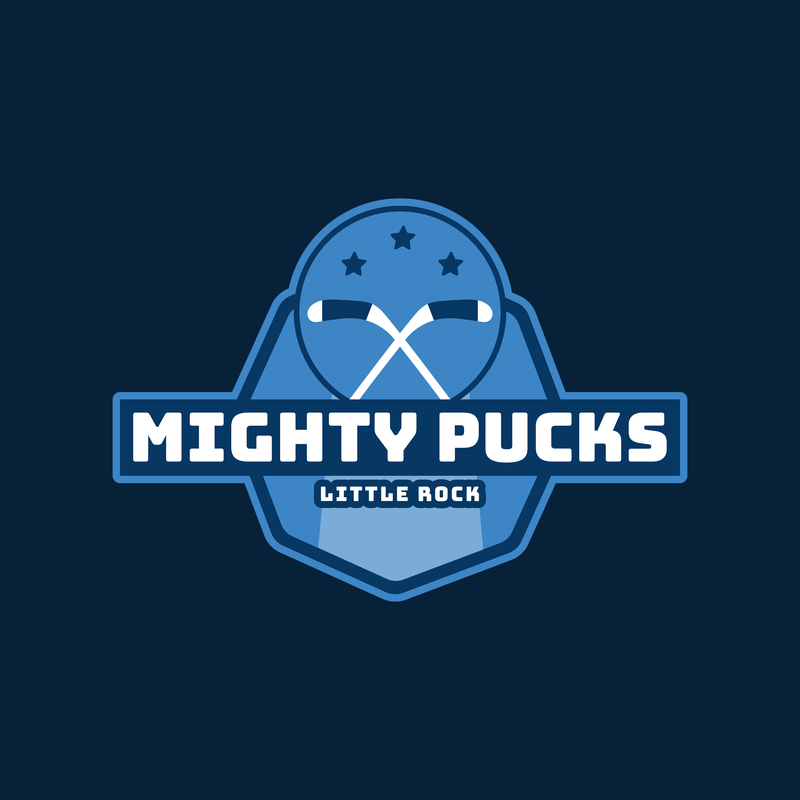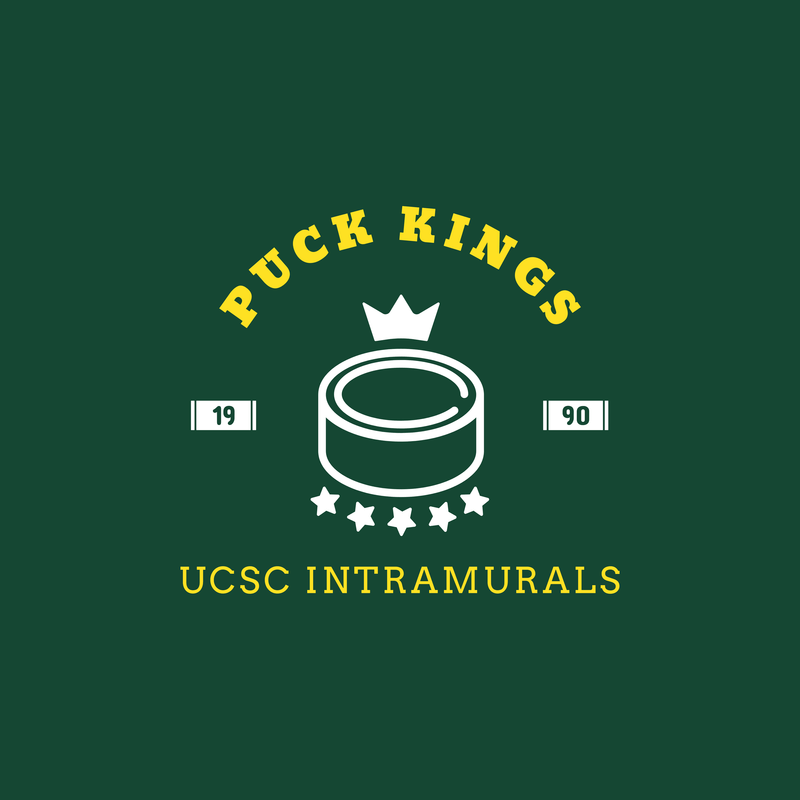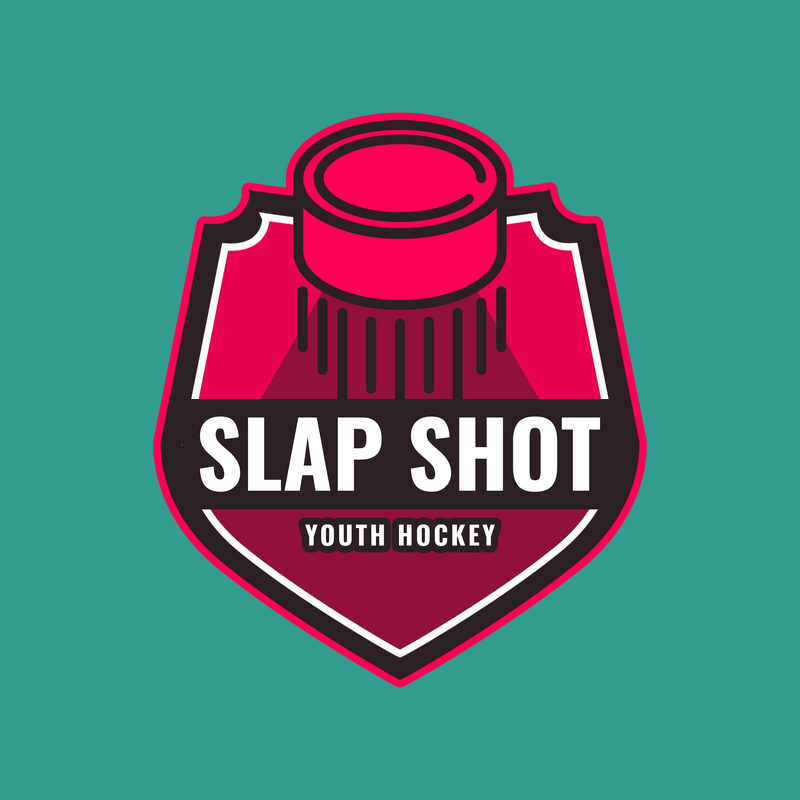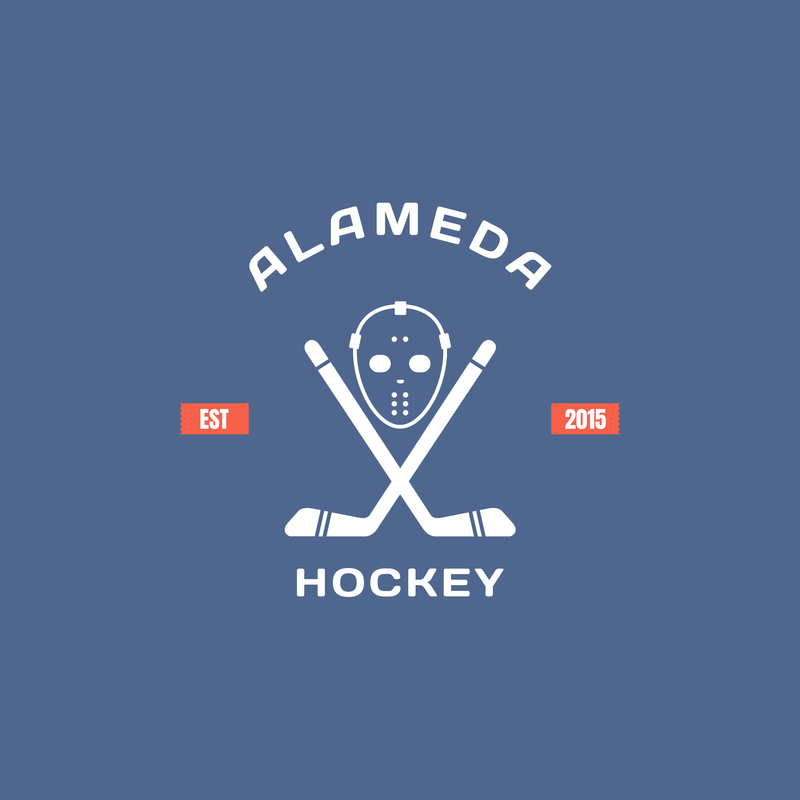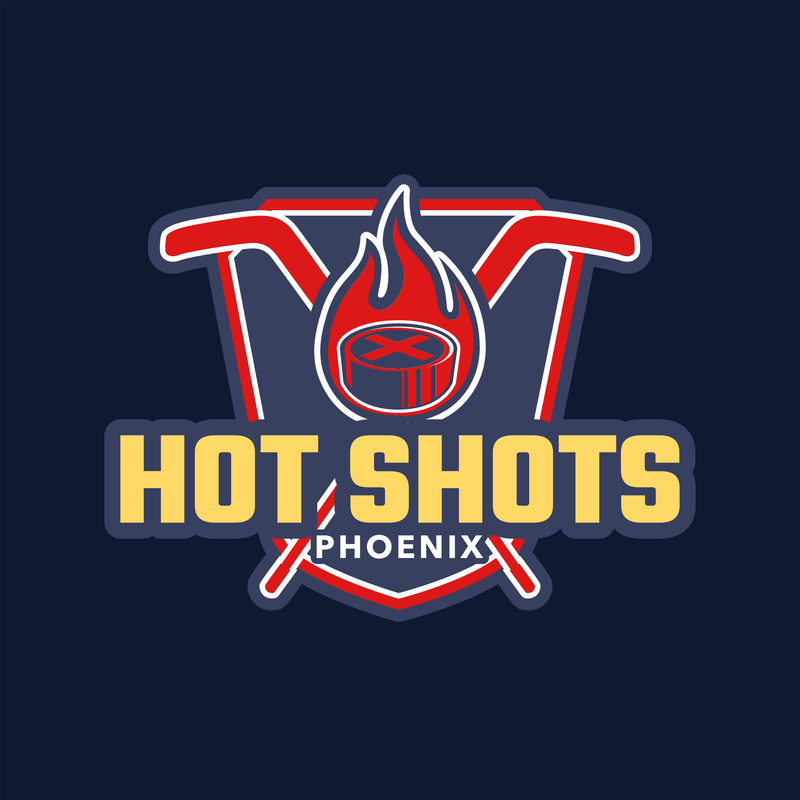 Hockey Logo Creator For A Hockey Equipment Store
Hockey Team Training Club Logo Creator
Hockey Club Logo Template
How to Make Your Hockey Logo with Placeit
If you're worried about how far your design skills can take you when it comes to designing a custom hockey logo, you have nothing to worry about. Placeit has plenty of hockey logo templates that you can use to design a winning logo that looks like it was made by a professional designer. You can create your own logo right in your browser in just a few minutes. It does help to have an idea of what you want your logo to look like so that you have some sort of idea guiding you. Once you know exactly what you're after, check out this video that will show you just how easy it is to use Placeit's sports logo maker.

Different Ways to Use Your Hockey Logo
When you think of a sports logo, you probably imagine it on a jersey during a game. If this is what you're after, you can create a custom hockey jersey using your brand new logo. While this is the most common way a logo is used, you don't have to limit yourself to only placing it on your team's jersey.
Creating custom apparel for your team is another way to use your hockey logo to create a more unified team look. You can create t-shirts, gym bags, and other apparel for your team practices or for your team to wear on the way to a match.
Custom apparel is also perfect for your fundraising efforts. Your supporters will look super cool decked out in your team's logo. Put your logo on tees, hats, hoodies, and other items your fans can wear to show their support.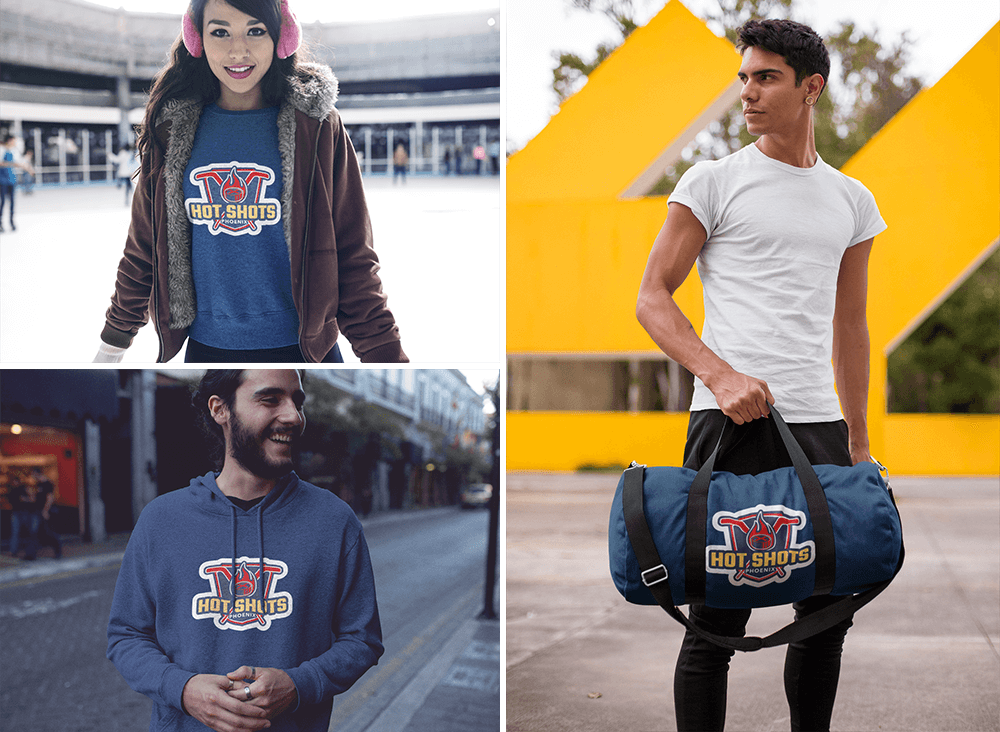 Make Sure No One Misses Your Matches
Having your supporters show up to your matches and cheer you on is super important for team morale. Let them know that their presence means a lot to you by ensuring they know about all of your matches. Make eye-catching announcements, stylish flyers for events, and cool social media images that they won't be able to miss. If you're worried that you don't have the design skills to create these promotional materials, we guarantee you have nothing to worry about. Check out Placeit's design templates to design everything your team will need to get your supporters excited for your matches.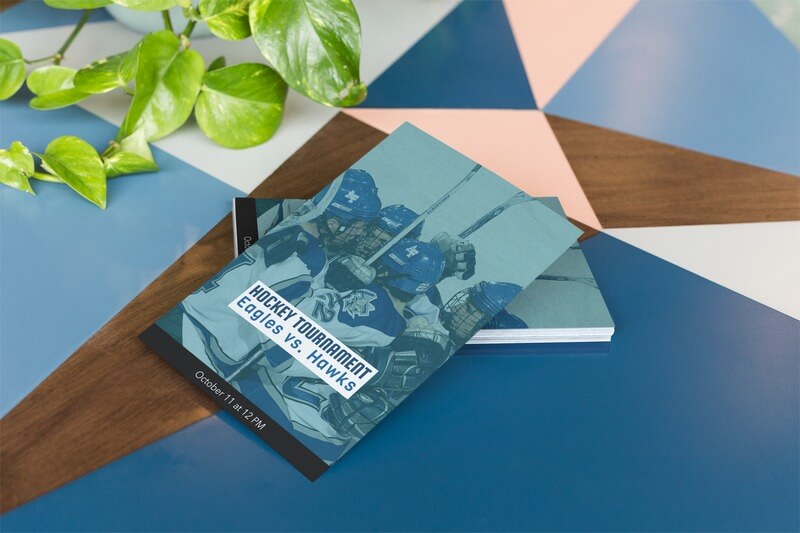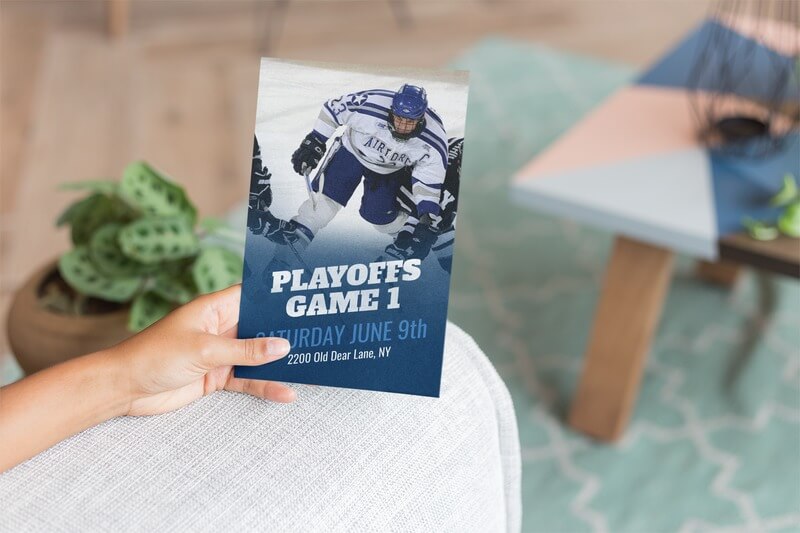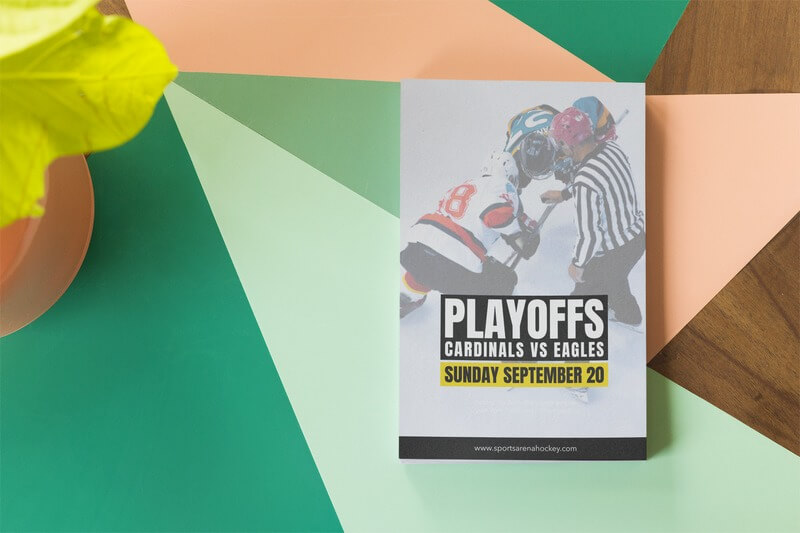 Mockup Of A Flyer On A Window
Mockup Of Flyers On Top Of Each Other
Mockup Of A Hand Holding A Flyer On An Armchair
Mockup Of A Flyer Lying On A Multicolor Table
Pro Tip: For those who can't make it to your next game, keep them up to date using a score graphic on social media.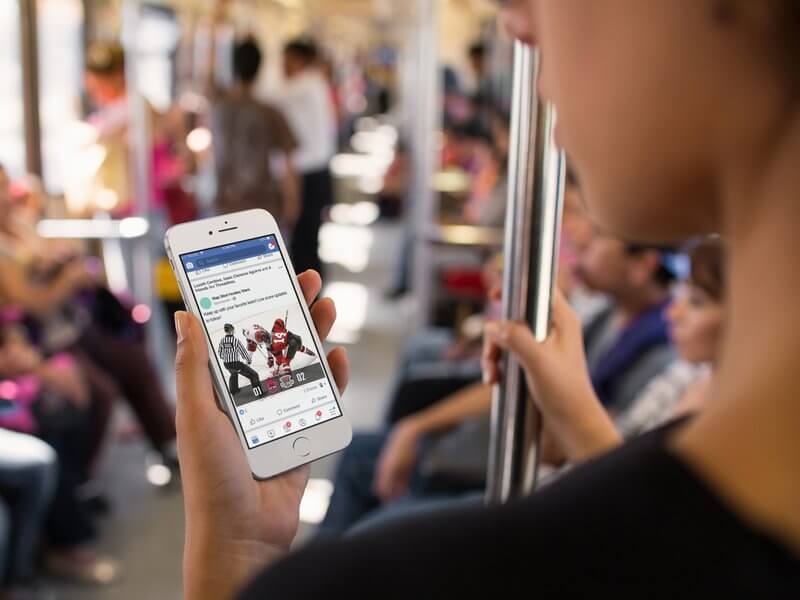 Make All Kinds of Sport's Logos with Placeit
Hockey is just the start! You can design just as easy, all kinds of sport's logos with the same tool. Try our golf logos and keep your branding mode on!
Get Your Team in Formation with Placeit's Many Tools
If you're making your hockey team logo with Placeit, why stop there? With Placeit's subscription, you can create mockups of your merch, and even design promotional materials using design templates.
---
Make a Unique Hockey Logo for Your Team
Don't let your hockey team go unnoticed in the rink or on the field! Design a custom hockey logo that will set you apart from your rivals. Avoid going back and forth with a designer by making your own hockey logo using Placeit's online logo maker.
Design a Custom Hockey Logo
---