October is here, which means it's worldwide breast cancer awareness month! This month's efforts focus on raising awareness of breast cancer, an important cause for all women. At the same time, this cause supports those going through a tough time while teaching people how to detect breast cancer early and treat it. 
You can reach that goal with breast cancer awareness t-shirts and designs! And even raise money for your charity, and with minimal investment, it's possible to create beautiful assets like t-shirts, tank tops, hoodies, mugs, tote bags, and more! But also you can share your story or prevention tips to inspire other women to keep fighting and remind them to check themselves regularly. Let's support the cause and let those going through it know they are never alone. 
Design Everything You Need for This Day
Make a Breast Cancer T-Shirt for Your Cause
Make a custom breast cancer t-shirt using your own fundraiser, charity walk, or event design. You can easily add your text message, create an extraordinary image, and choose different colors for your design. Moreover, it's possible to use your designs on any product you plan to print for a promotion or giveaway, like mugs, hoodies, bags, or anything else you can think of! 
There are tons of breast cancer t-shirt ideas for you to choose from! But how exactly does it work? Check out the following video tutorial to see how to create your own breast cancer t-shirt design step by step.
Finally, let's remember that the main idea behind the t-shirts, designs, and promotions, is to create awareness on the topic and let women know that self-examinations should be part of their regular health routine. Because of this, we made a simple 3-step infographic on how to perform a self-examination.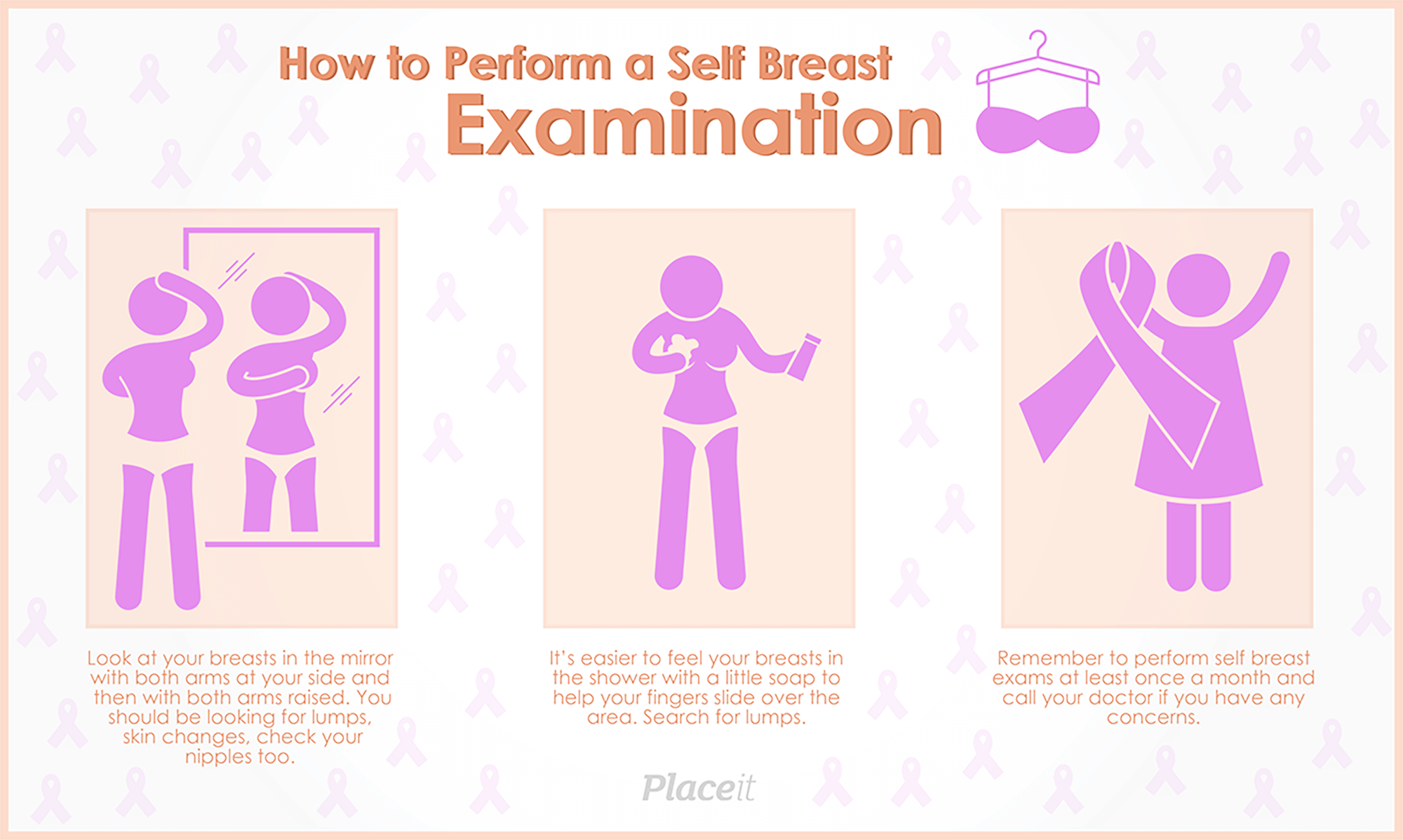 No Models? Use Mockups for This Pink Month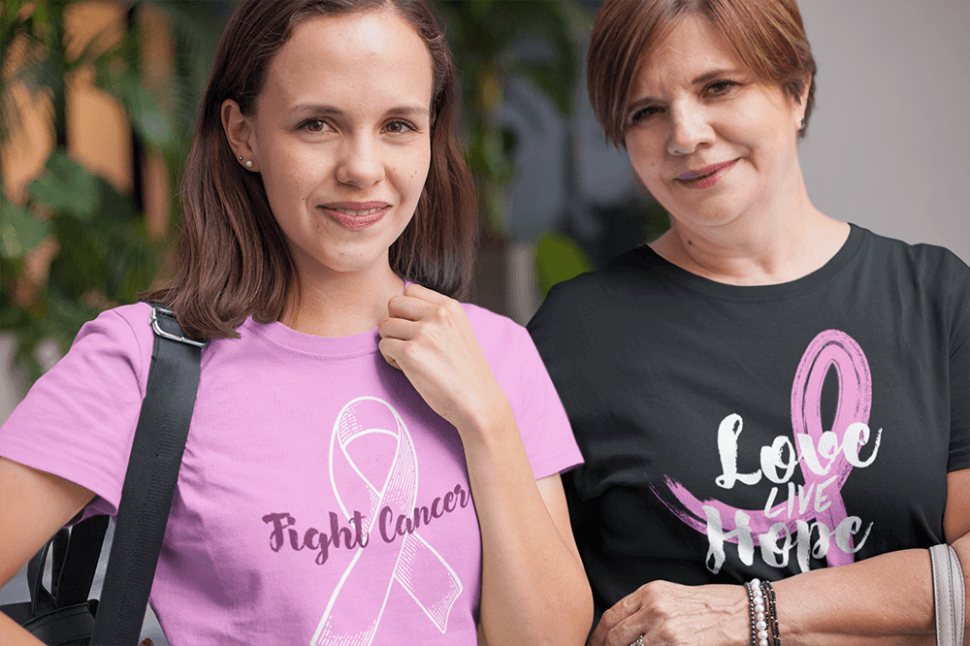 Stand out in a crowd! This is the month for every breast cancer organization to shine and get the attention they deserve. With your customized designs (that you can make entirely on your own with Placeit's t-shirt designer you can bring some extra light to your foundation or charity.
💡 Don't limit yourself, and place your designs into various mockups. Here are some ideas for this breast cancer awareness month. 
Promote Awareness with Cool Breast Cancer Designs
Apparel design isn't the only thing you can do with Placeit. You can make insightful and inspiring posts about this essential topic. From sharing an Instagram story to promote real talk from women who have suffered from this disease to helpful tips on Pinterest to show how to self-explore our bodies in the best way and even promoting on Facebook powerful quotes to raise awareness about this undesired affectation.
Finally, you can create different branding assets to market your organization, like custom flyers, posters, business cards, art walls, and more! The only limit is your imagination! 
Time to Show Off Your Designs!
So now you know! Placeit is a great online tool you can use to create all the designs you could ever need. Placeit makes branding your organization easy thanks to all the design templates, flyer templates, and social media ad makers included in. So, what are you waiting for? Start promoting your best cancer breast awareness messages like a pro!
"I made super cute breast cancer support t-shirts with Placeit's t-shirt designer!"
Emma Williams 5/5
---
Share Your Support with a Breast Cancer T-Shirt
Design amazing breast cancer support t-shirts on your own with the easiest online tool! Raise awareness in your community this month with beautiful branding assets! You can also promote your creations easily with Placeit's mockups, social media images, videos and more. Try this tool and start advertising your campaign like a pro!
Create Awareness with Your Breast Cancer T-Shirts!
---