You've recently come up with a new iOS app or website you would like to showcase to potential users and clients, but feel like your current marketing strategy it's outdated and won't make a lasting impression on them? Don't worry because thanks to Placeit's amazing, up-to-date iPhone mockups, displaying your ideas won't be an issue anymore. iPhone mockups are outstanding marketing tools because they allow you to showcase your iOS app/website within a real-life context, making your ideas more relatable and attractive to potential users and viewers at a glance.
Put screenshot in iPhone frame today and forget about time-consuming, expensive marketing campaigns. One of the other perks of using iPhone frames is that they will allow you to create original visual assets without needing to use Photoshop, pretty cool right? Placeit is constantly adding new mockup templates for you to use to its stock gallery, and here are a few of them for you to take a look at!

This is a beautiful iPhone 6 mockup template in which we can see a young brunette woman holding her white iPhone 6 in a portrait position while having breakfast at a fancy restaurant with a colorful backdrop. Use this iPhone 6 mockup template to showcase your new iOS app as a part of your app marketing strategy right away!

This stunning iPhone 6 mockup template features a white iPhone 6 lying over a transparent table with a yellow terrace chair underneath. This is definitely a great visual asset in which you will be able to showcase your new iOS app within a creative context. Go ahead and use this iPhone 6 stock photo template as a part of your app marketing campaign right away by simply typing your mobile responsive URL above or dragging your own screenshot straight into the device's screen.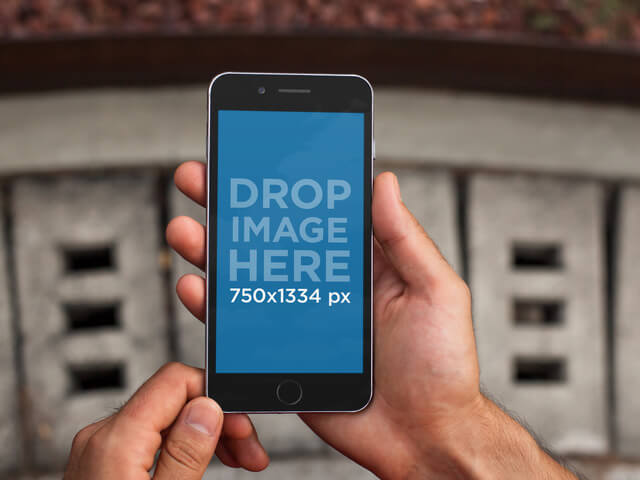 This iPhone mockup features a man holding a black iPhone 6 in portrait position. This image is perfect for you to advertise your newest iOS app to potential consumers. Due to the position of the device all the attention will be focused on the iPhone's screen, making it the perfect marketing tools for you to use. Just drag and drop a screenshot of your new app onto the device on the template or input a URL address so Placeit can do it for you. Do it now and get amazing visual content within minutes. You won't regret making stock photo mockups part of your marketing strategy, believe us!
Never before had creating outstanding visual marketing content been this easy, but now thanks to Placeit's photo mockups you can create original, up-to-date visual assets to improve your marketing strategy within no time! See how your ideas come to life by simply putting a screenshot in one of our iPhone frames and let Placeit resize it and adjust it for you. Thanks to Placeit, now you can say goodbye to Photoshop and all those editing software for once and for all.
It's time for you to start using iPhone mockups to portray your ideas and stand out from the competition. Put screenshot in iPhone frame today and start enjoying fantastic, appealing content now! P.S. You might want to try now our App Store Screenshot Generator.
---
---