Making Registration Easier for Both Players and Coaches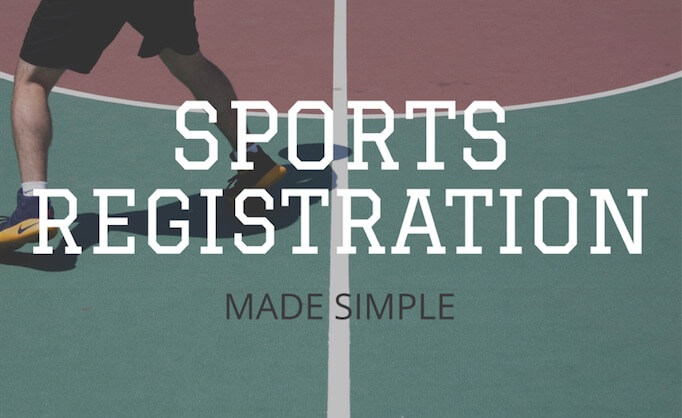 We all know how hectic managing a team can get when your toolbox is empty. Whether you are a little league coach, a parent trying to make the local team get organized for the upcoming season or an amateur team captain who just wants to have a all the players' info in order, we have you covered.
Why do I need a Player Registration Form?
Knowing how out of control the player registration process normally is, we went ahead and built a team sign up form your players can easily fill out and that will automatically send all the collected data to a spreadsheet for you to have a general overview at your team's members.
What Information Do I Need from My Players?
All the fields in this form have been carefully planned and selected to provide useful insights on your players. Let's say you want to order uniforms for the next season, well all of the player's sizes will be right there for you to simply make your order.
Or what about contacting the parents in case you are attending a game out of town, this form will also be a database of all contact information.
Want to plan a new strategy based on your player's position and experience? Their measures and age will also be there for you plan a winning arrangement in the field.
How to Customize the Registration Form
This is an easy to edit Google Form where you can add your team's name, logo and other specifications too, no hassle at all. All you need to do is click the link below and choose to Copy Form, it will be automatically added to your Google Drive account so you can customize it, let's get started:
1. Make Your Own Copy of the Form.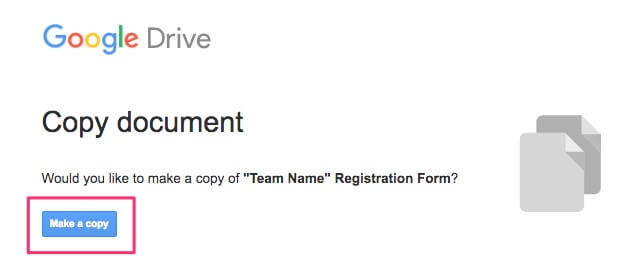 2. Add Your Team's Name and Logo and Important Details
From contact information to practice days and hours, these fields will give your players more info on the team when they decide to join in.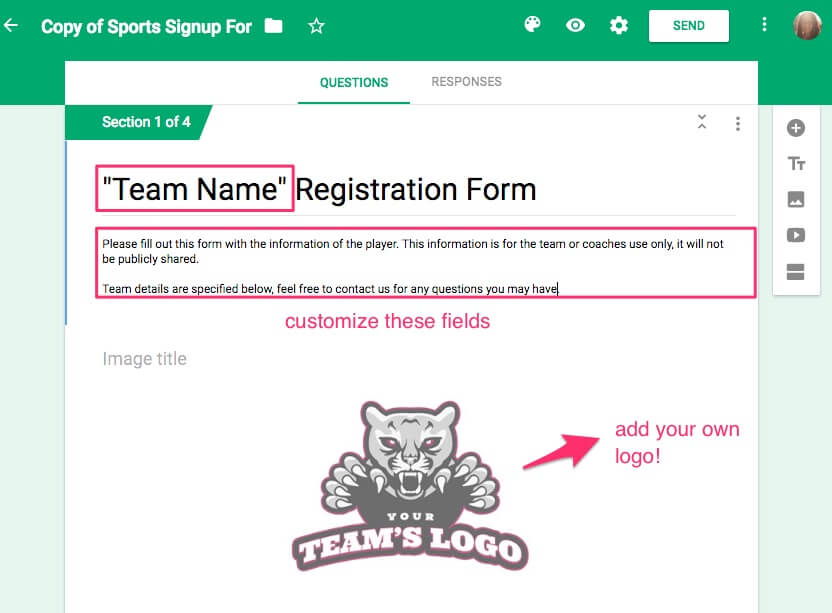 Letting potential players know what the team's practice and game days are is a good idea if you are looking for committed athletes that will take the team seriously.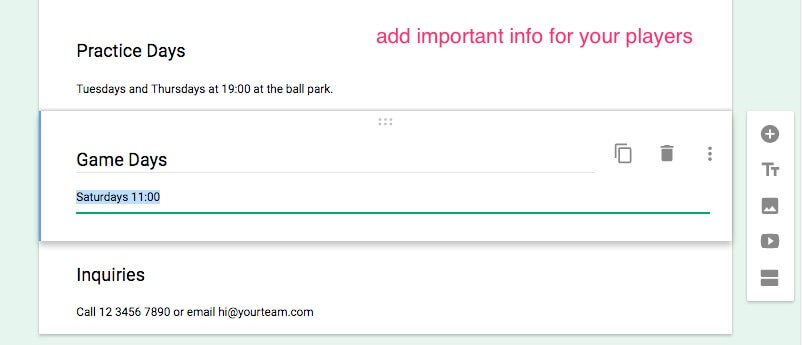 3. Add or Remove Fields
We planned out the fields to provide a useful insight on who your players are, their experience and contact information, feel free to edit these according to what your team is looking for when recruiting players.
4. Share the Registration Form
There are several ways you can get potential or existing players to fill out the form so you can collect their data:
Send a link via email. They'll be able to register straight from their phones or tablets if they are on the go.
Embed to your website. You can decide when to stop admitting registrations so the form can be permanently open or just during a specific time frame.
Share on your team's Facebook account. Let everyone know you are recruiting by sharing the link to the form through social media. A sponsored post to the right audiences will get you a larger reach to potential players that might become great additions to the team.
Direct Sign Up. Pull up the player registration form on any device during the games, or at school on registration week? for them to easily come over and fill in their information, it'll take just a couple of minutes!
5. Analyze Your Players!
The beauty of Google Forms is you can easily have a glimpse at what your candidates are like with graphs and charts that will make visualizing data a piece of cake.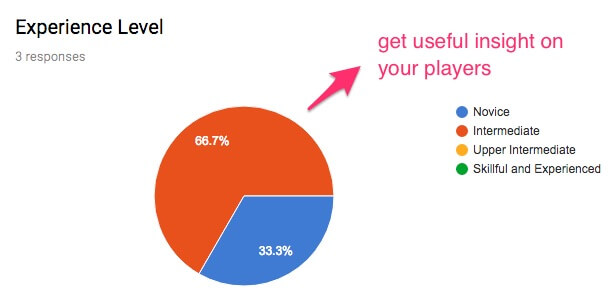 Once the first player registers you can create a Google Sheet that will host all of the data you've collected to work as both a database and a place to filter out candidates when recruiting.
And that's it! Collecting valuable information from existing or potential players has never been easier. Now that we've taken care of that annoying part of the process, it's your job to make the best out of the team!
Looking for other tools and resources to raise funds for your team? Then you'll love this Guide for Building Sponsorship Packages as it tells you all you need to know to find sponsorship opportunities and what to offer in exchange.
Create Your Own Sports Team Logo
Don't have a sports logo yet? What are you waiting for? Designing a logo for your team will only take a minute with Placeit's new Sports Logo Maker. Don't believe me? Don't have to, watch this short video and see it for yourself.
---
---