Promote Your Website with this MacBook Mockup Compilation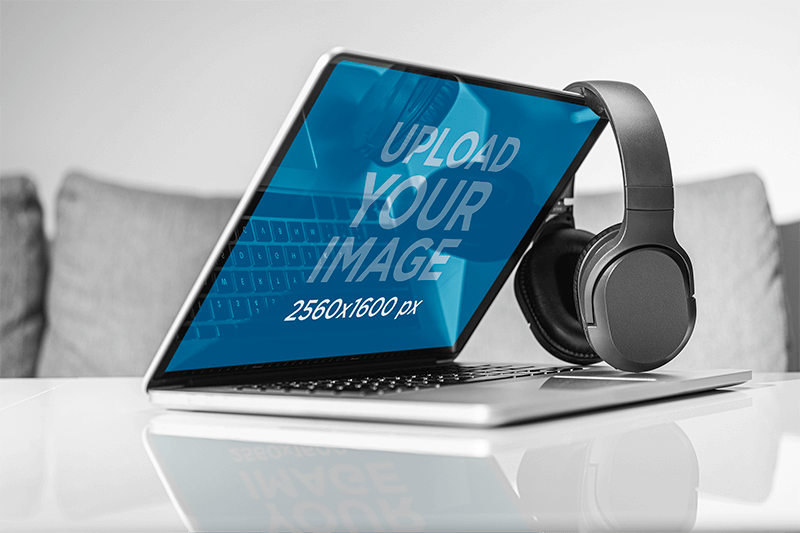 Are you looking to show off that brand-new website you created? Are you a designer that specializes in web pages? These Macbook mockups are just what you've been looking for. Have a look at this compilation of the best Macbook mockups which are really easy to use and that will let you get to design in no time.  Show your clients what their website will look like in real-life situations, from outside settings, to inside. Placeit's Mackbook Mockup generator has them all to help you promote your services in the most efficient and effective way.
Want to learn how to make a MacBook mockup for your latest project? Check out our post on how to make a Macbook mockup without photoshop! The best part about Placeit is that it's super easy to use, just drag and drop your screenshot or paste the screenshot URL and you'll have a professional mockup in no time.
Choose the best Macbook mockup for your project:

This MacBook mockup features a girl sitting on the grass while working on her MacBook. This mockup is perfect for showing your latest web page. The image you upload should be 2304 x 1440px to fit this mockup.
Placeit's Macbook Mockups can picture a lot of different situations. This mockup shows a woman at a desk, typing on her Macbook. The background is also transparent so you can place it in different colored backgrounds.
MacBook Mockup of Two Ladies at the Library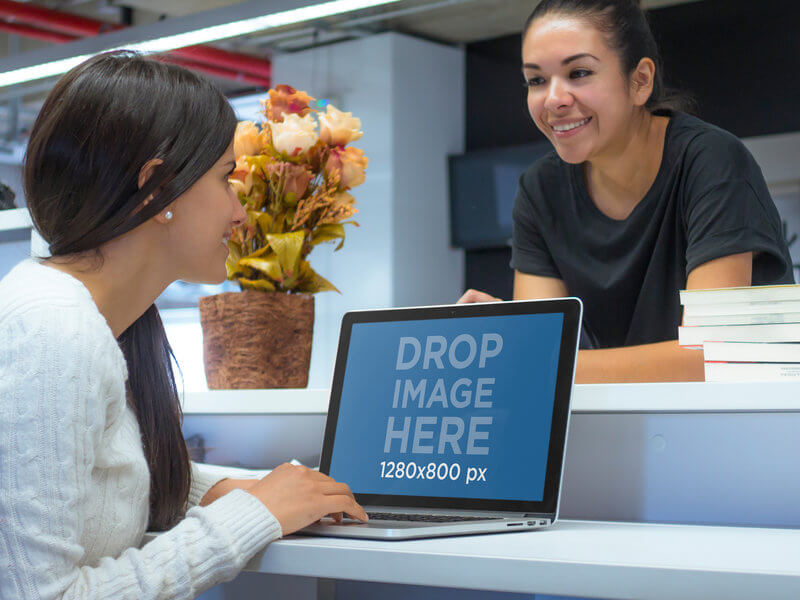 This mockup shows two ladies at a library and it's perfect for displaying your latest website design. Show your clients what their website will look like in a real-life setting with professionally shot pictures.
Taking a picture of your Macbook displaying your website isn't always ideal. There's sometimes glare or other factors that won't let your website be displayed in its full glory. Show the best side of your design by placing it in this professional MacBook mockup.
Show your website or desktop app in this amazing mockup. Created professionally, this mockup will let you present your work in the best way possible.
A mockup isn't just an image to show your customers. It can also be the way to display your work on your website or social media. Don't just show screenshots, show them in context so people can get the full idea of your desktop app or website when they look a the picture.
Use this MacBook mockup to display your latest design and start promoting your business with professional pictures. Have people know the quality of your business with this Macbook mockup
Your web design business deserves the best MacBook mockup to display your work. Use this MacBook mockup to display it and let your clients know you mean business.
When you're a freelancer, showcasing your work in real-life settings can be a pain. Looking for a PSD Mockup, editing it, and uploading it is a hassle you probably don't want to go through. With this professional MacBook mockup, you'll be able to display it in no time and go back to designing.
This mockup is a great way to show your e-commerce client what their new website will look like. Check it out and start creating amazing mockups.
If you enjoyed this compilation then you most certainly must take a look at our iPad Mockup Compilation to Promote Your Travel App or our Minimalists iPhone Mockups Compilation.
"Can't mention this enough: For web/UI designers, Placeit is a great online tool!"
Six Revisions 5/5
---
Promote Your Products With iMac and Macbook Mockups
Powerful visuals can propel your marketing campaign, raise your sales and improve the impact on your audience and future costumers. Placeit makes it easy to display your products with iMac and Macbook mockups, without the need for photoshop or a designer. Showcase your web or app in the proper setting and devices with responsive and transparent png mockups.
Make a Macbook Mockup Now
---