Getting to Know Eugenia Loli
We are delighted to introduce Eugenia Loli and her amazing art story. With an extraordinary art style, Eugenia has been able to succeed selling her designs both on different online marketplaces and offline as art prints and through exhibitions. Eugenia went through several trial and error attempts to figure out which marketplaces were the most beneficial to promote her unique kind of art. She is now a renown and acclaimed artist on Redbubble, Society6, and Curioos and her artworks have been featured on Vogue.com, Wired UK, Medium, Glamour Germany, GQ USA, and Cosmopolitan USA to name a few. She's a modern artist who mainly focuses on Surreal Pop-Art, Meta-Psychedellic, and Abstract Collage Prints and Illustrations.  Without further ado let's pass it over to Eugenia.
What's your story? How long did it take for you to be able to make a living out of your art?
I started out in the tech industry, but due to major health issues I stopped working. For 10 years, I wasn't able to support myself. When I finally found my health in Sept 2011, I started thinking what to do with my life. So I entered the art industry in April 2012.
I was able to make just enough to live out from, towards the end of 2014. It took 2.5 years of relentless online marketing in social media with the right tags/right text/etc, and making a lot of artworks (up to 55 a month!). I was lucky to have recognition almost immediately (within 3 months of starting making art), however some livable earnings arrived 2.5 years later. However, I don't live in illusion. The pop collage art is just a fashion, just like any other type of art. It's already in decline. It has been in decline since late 2015. This is why it's important that artists re-invent themselves every 5-7 years (even Picasso did).
In my case, I might just start doing some Eastern European-style "modern lifestyle illustration". It's currently in fashion among young females (67% of my followers are 16-35 year old women), and hey, I do personally enjoy the style. Unfortunately, art does go in circles in the market. You can't have livable earnings forever with a single idea or art style.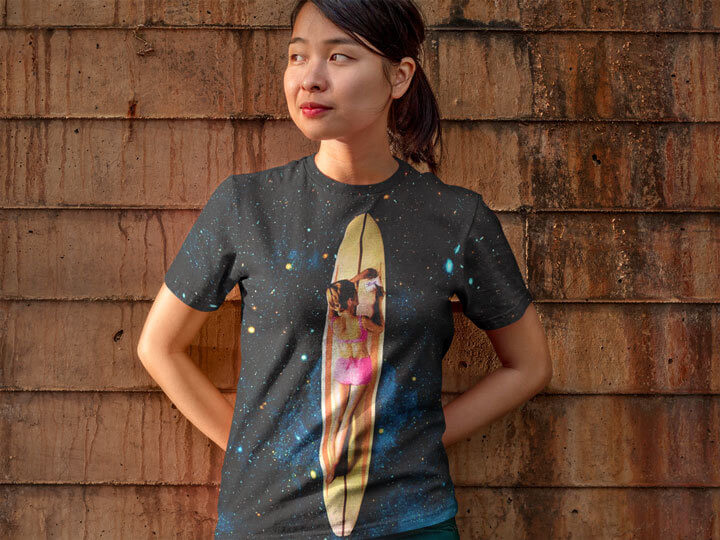 How do you manage your work, did you start working from home, you still do?
Yes, I have a separate room in my home where I work from. Since 2012 I've moved three times, and in each case, I had a separate room to be my studio.
Tell us a little bit about your creative process; do you create collections of your artwork or do you work on your illustrations individually?
I work individually. Whatever image makes sense to me, I collage it. I have 750 vintage magazines to work from.
Selling online is a must when it comes to putting your work out there, please share some insights on how you make the most out of your online platforms and shops.
Sites like Society 6 and Red Bubble allow you to sell just about everything with your designs, what kind of merch do your customers love the most and why do you think that is?
They mostly buy iPhone cases. However, artists still make the most money when selling art prints by themselves, not via merch products. In Society6's case for example, artists make peanuts out of such products (10%).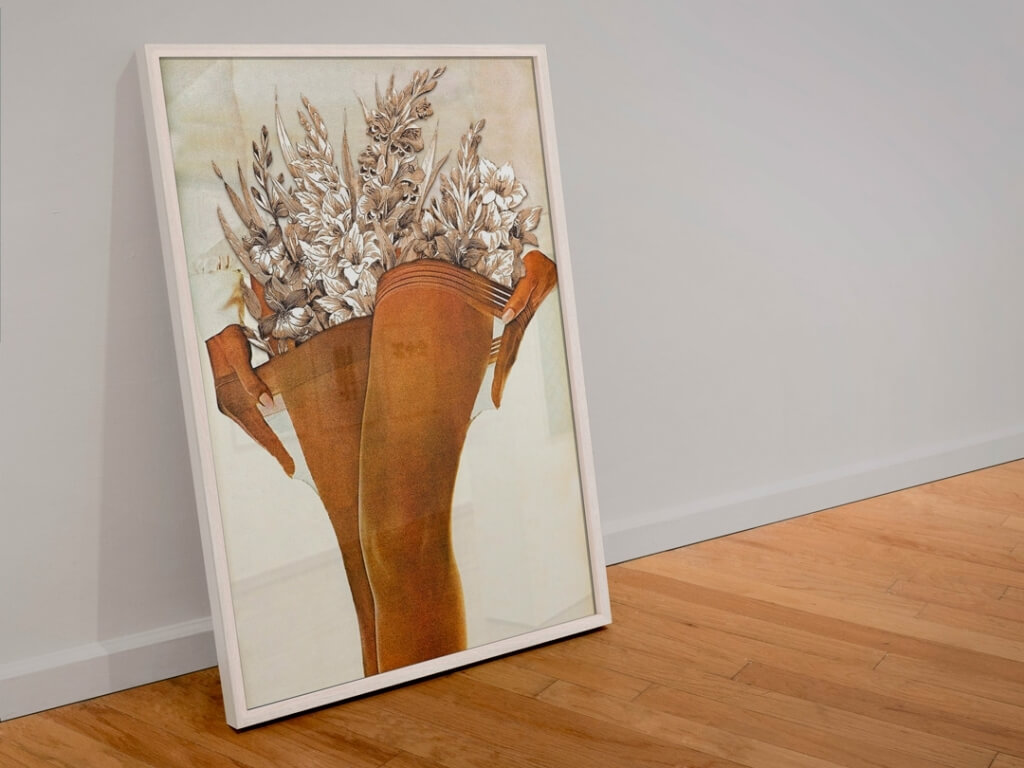 Selling t-shirts online has been trending for a while now, any special tip for making your designs stand out?
There is a single tip for it: only create "all over-print" (also called full bleed) apparel. The ones that the whole of the fabric is getting printed, not just a little part on the front. If something is not full bleed, it won't stand out. Personally, I have disabled all non-full bleed apparel. Especially for collage, they look horrendous, while the full bleed ones they look awesomely otherworldly.
Do you find mockups useful to promote your designs? Or do you go through the process of a photoshoot for every item?
The mockups are made by the stores themselves, not by the artists. They're automatic after you upload artwork.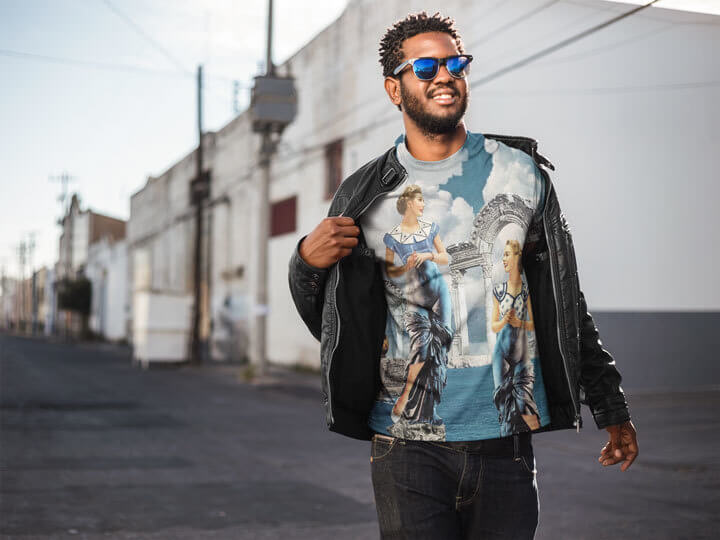 What's the most effective channel for advertising your artwork?
Instagram. It's 5-10 times more effective than other social media.
Social media can be the key to a successful business, is this your case?
YES! 100%
What's coming for Eugenia for 2017?
More psychedelic collages, some illustration I hope.
Any word of advice could to give to artists that want to start selling online both locally and internationally?
Open a Tictail shop, sell directly prints to any country that the package isn't inspected by customs (e.g. within the EU if European, or within the USA if American), and then also link from there to third party shops (e.g. RedBubble, Society6, Curioos) for the international shoppers. Read more on the subject here.
Main Takeaways from our Conversation with Eugania Loli:
Investing time on building your personal brand online and on Social Media pays out! So start early, share awesome stuff, and organically work your way up.
Get to know your audience and make sure to interact with them.
You should be aware that art also follows trends so if your art stops selling, be prepared to reinvent yourself, constantly.
Geographic limitations don't exist when selling art online. Use a tshirt mockup to promote your designs with no hassle and reach different audiences.
Browse Eugenia's Latest Designs at:
Take a look at our collection of Art Print mockups and start showcasing your artwork such as she did.
---
---