The Best Print On Demand Websites to Sell Online this 2021
A List With the Top Marketplaces to Sell T-Shirts

The on-demand production revolution is here to stay, this is why is super important you know which are the best print-on-demand websites. Artists who are not yet part of this movement are missing out on a great opportunity to monetize by exhibiting their art online.
Technology has now enabled creatives to make one-of-a-kind products that can be personalized, printed or manufactured, and be delivered to your doorstep in just a few days. Selling art online gains momentum as artists from every corner of the world go online, upload their designs, and make them available for everybody with no geographic limitations whatsoever.
The best print on demand websites empower savvy and not-so-savvy artists to make extra money and on the other hand, allow consumers to acquire unique designs and fully express themselves through them.
These print-on-demand sites provide a low-cost entry to markets that used to be difficult to access. The best print on demand websites ask for no up-front payments, provide secure financial transaction channels between artists and customers, and guidance for the artist to succeed in making a living out of their work.
Artists and creatives need just a few minutes to set up their designs, upload them and make them available for sale, printed on a coffee mug, a t-shirt, a hoodie, or even on a duvet cover. Day by day more and more users are opting to buy online over traditional shopping.
Consumers are growing tired of making super-rich companies richer, instead, choosing to acquire t-shirts, sweatshirts, iPhone cases, etc, from less industrialized providers, ideally independent artists. Add to this the ever-growing need to express the self by owning original products that few or almost no one else has, it's no wonder why several companies have leveraged a profitable business model that is definitely here to stay.
Print-on-demand platforms allow consumers to browse through virtual art galleries that feature original designs created by the most talented artists around the globe. These web-based artist communities foster artist to artist support which has been the propeller of top-of-the-line art creations.
Creatives can stop worrying about finding material suppliers, distribution partners, and shipping companies; leaving this burden aside allows them to focus on what they do best: creating jaw-dropping art. With no apparent risks and no up-front payments to get in the game, these POD marketplaces are the place to be. Selling your graphic designs, your art, and making it available on all sorts of physical products has never been easier.
Choosing the right store to sell your art can be tough thanks to the wide variety of shops and marketplaces. If you are looking to shop around before committing to a specific site, you might want to check out this post that goes over where to sell t-shirts online. It includes a POD Directory you can use to determine which are the best print-on-demand websites for your business.
Overall, you can go to Placeit and use all the tools you may need to get your art business going! Without further ado, I will now guide you through a curated selection of the best print on demand websites that stand out from the rest due to their long and respectful trajectory, a key differentiator, social media following, web traffic, or superb print quality.
Best Print On Demand Websites Guide
What are the Best Print On Demand Websites?

1. About Bonfire
Bonfire didn't start off like the rest of the print-on-demand sites. In the beginning, Bonfire was dedicated to helping people raise funds for different types of campaigns. Currently, it's a design and technology company where you can create custom apparel and sell your designs.
Their platform is 100% free and makes it super easy to reach your goals, whether these are fundraising or simply selling custom apparel. In their current setup, sellers can design and sell apparel for profit, like with most print-on-demand services.
However, Bonfire also allows sellers to raise money for a cause whether a personal one, a political campaign, or an NGO. Each of these options allows you to set up a verified campaign that will give buyers the confidence to buy and donate to your cause. In the end, you also get a CSV with the information your donors left so that you can continue to contact them about your efforts. The ability to fundraise for a cause is one of their most unique features.
Bonfire is based in Richmond, Virginia, but offers worldwide shipping, so just about anyone can get their hands on your merch.
Artists/Sellers Here's What to Expect from Bonfire's Marketplace:
Selling your designs on Bonfire is easy. You can either upload custom artwork or create your t-shirt designs using their free graphics in their powerful design tool. Once you've created your apparel you can launch your campaign, which can run anywhere from 7 to 21 days.
Once a campaign is launched, you set a selling goal, which you will need to meet by your deadline. To do this, you will have to promote and sell your products to your community. To make this easier, you can create your own store that is customized to fit your campaign or brand.
By enabling fundraising or tipping options, buyers can leave an optional donation or tip on top of their purchase. If there's ever a problem, Bonfire will make it right no matter what, so you know your supporters are always in good hands.
When your campaign ends, Bonfire prints and ships the products, and sends you an easy payout of the profits. And because Bonfire passes on the bulk-printing savings to you, the more you've sold, the higher your profit margins will be. Once your campaign has ended, you can relaunch your campaign automatically or with a press of a button so you never miss a sale.
Bonfire Profit Margin Explained
When your campaign is successful, all of the profits go directly to you. You get to decide how to price your products so that you make the profits that will help you reach your goals. While it's typically recommended that you keep the default prices, you know your community best and should price your products with them in mind.

For a more visual explanation, check out this video:
If you want to keep your base cost low, keep in mind that there are three factors that will affect the base price of an item:
Product Style – Each product style has a different cost to manufacture and source. For example, a t-shirt costs less than a long-sleeve shirt which costs less than a hoodie.
Number of Ink Colors – Each ink color added to your design will raise your base cost. It's recommended that you stick to 1-3 colors to keep costs down, although you can add up to 8.
Printing on Both Sides – For apparel, you have the option to print a design on one or both sides of a shirt. Placing your artwork on only one side of the shirt will keep your base cost low.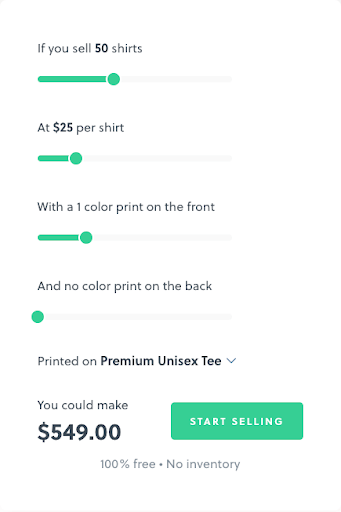 As we mentioned earlier, as the number of items you sell goes up, the base cost of your product goes down. Bonfire passes these manufacturing savings on to you. If you seek to make the highest profits possible, try to keep your base cost low. You can do this by printing on one side of the item and using 1-3 ink colors maximum in your design.
How Do You Get Paid on Bonfire?
Bonfire will send you a payout of 100% of your product's profits via PayPal. If you've enabled the fundraising or tip options, that will also be included in your payout but these will have an 8% processing fee. You can check your available balance and request a payout by visiting your account dashboard.
After requesting your payout, you will receive this in 1-2 business days. You won't have to worry about additional fees that come with your products because Bonfire will take care of these. In the end, the payout amount you see in your dashboard will be the amount that gets deposited into your PayPal account.
Does Bonfire Require an Initial Investment?
There is no initial investment for selling your designs on Bonfire. It's 100% free to use and all of the profits go to you or your campaign.
Design Ownership on Bonfire
Bonfire owns or controls all of the content on the site except "uploaded original designs or other uploaded works of authorship, which are property of their respective owners." Of course, when uploading a design to Bonfire, it should be original or you should have the rights to its commercial uses. You're also required to agree to allow Bonfire to "represent the design or work of authorship in blog posts, remarketing advertisements, or any other marketing materials." You can learn more about this in their terms and conditions.
How Does Bonfire Rank?
To give you a better idea of how users feel about Bonfire and their experiences with the company, check out their score on Trustpilot: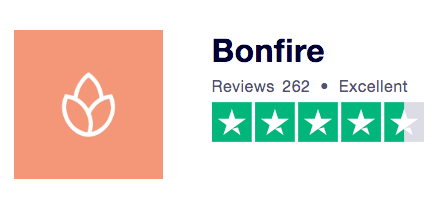 7. About Threadless:
As a designer, Threadless provides you with the opportunity to sell t-shirts as well as to compete in their ongoing design competitions and keep your creativity growing.
For the competitions, everyone can submit designs. Once an artist uploads their design, they come up for voting. Want to vote? Vote here!
Threadless is located in Chicago, but that doesn't mean you have to be based in the United States to sell on their marketplace or to purchase an item. Orders can be placed from just about anywhere in the world since Threadless ships worldwide using different mailing services.
Artists/Sellers Here's What to Expect from Threadless' Marketplace:
To sell your art on Threadless, you simply have to open an artist shop and start uploading your designs. Really original designs are displayed on the marketplace and exquisite talent can be appreciated while browsing around Threadless' marketplace. Artist shops are customizable, if enough time and effort are put into the website design it can end up looking super professional both on desktop and mobile. Your shop can be customized with your logo, color palette, fonts, and you can choose your layout.
If you're wondering what products Threadless has available, you won't be surprised by their huge catalog of items. They have over 100 products that you can put your designs on and start selling.
Once you make a sale, Threadless will take care of everything for you. They will take care of the payment, manufacturing, packing, shipping, and customer support so you can focus on your creative design work.
Threadless' Profit Margin Explained:
As you upload designs and choose what products to sell them on, you can also customize the price of each item or let Threadless choose this for you. Your profit will be the retail price minus the base cost of each sold item.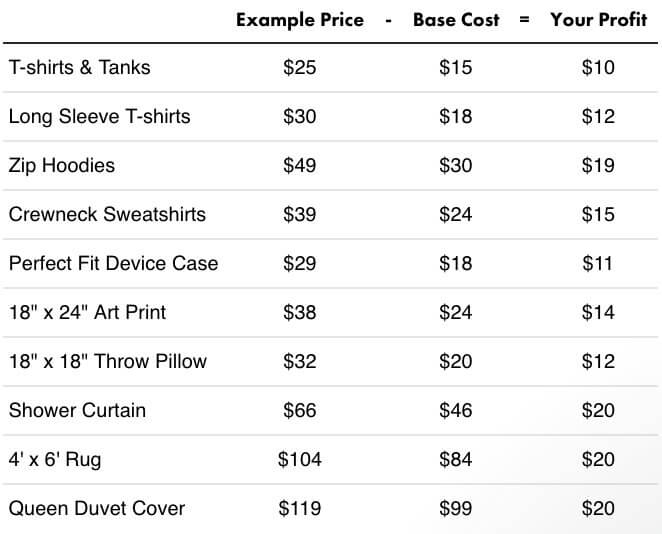 How Do You Get Paid on Threadless?
All artists receive their earning payments via PayPal. It doesn't matter where you are located as long as you have a Paypal account. Cleared earnings generated in the month of January will be paid in the first week of February and so forth.
In Threadless' search for customer's happiness, a 30-day return policy is effective once a customer receives their t-shirt, so artists have to wait for 30 days to pass by in order to receive their well-earned money. Want to read more about Threadless? Good news, we created this 5 step guide for promoting your Threadless Artist Shop.
Does Threadless Require an Initial Investment?
Opening an artist shop on Threadless is 100% free and you don't have to worry about hidden fees.
Design Ownership on Threadless
When you upload your designs to your artist shop, you keep all ownership rights to it, so there's nothing to worry about.
How Does Threadless Rank?
To give you a better idea of how users feel about Threadless and their experiences with the company, check out their score on Trustpilot:



---
I hope you've found this guide useful and that you succeed in selling your art online, be it printed on t-shirts, hoodies, kids apparel, all sorts of merch or art prints. I will continuously update this guide to keep it relevant and will gladly add more tips and tricks for you as I continue with my research.
If you would rather sell t-shirts offline and keep all the profit for yourself, check this article to discover where to buy blank wholesale t-shirts and this other one to figure out everything about the different t-shirt printing methods. Do you have your own website or you are planning to get one? Then you might prefer to dropship t-shirts or start your online t-shirt shop with Shopify!
Update #1: Want to learn about our experience creating and ordering t-shirts from Redbubble, Teespring, Threadless, Spreadshirt, and Society 6? Read about it here.
Update #2: Learn how t-shirts from Redbubble, Teespring, Threadless, Spreadshirt, and Society 6 fit and feel!
Best Print on Demand Websites: Last Words
So there it is! We hope you find this guide on the best print-on-demand websites useful to choose the appropriate marketplace for your business. Remember Placeit is a super useful tool to help you design and promote your print-on-demand products. If there is anything left you would like to know about any particular website, feel free to contact us!
What are your thoughts? Any insight you'd like to share on what has and hasn't worked for you in the past? Leave a comment and let's start a conversation!
*In other news, take a look at this post on preparing your POD business for any contingency that may come.  Keep selling t-shirts no matter what!*
---
Find the Best Print On Demand Websites for Your Shirt Designs with Our Definitive Guide
In this blog post, we've done the legwork for you and laid out the best print on demand websites for t-shirts. Find out exactly what makes each POD site unique and how to choose which one would be best for your art. You don't need to browse around and spend hours researching, we've done that for you. Simply follow our guide to find the perfect POD service for you and your designs!
Make a T-Shirt Mockup Now!
---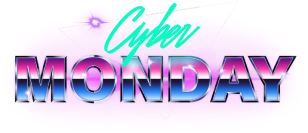 Sale
Cyber Monday Sale
Up to 50% Off
Only Available for New Subscribers