Make Your Own Soccer Jerseys to Display Your Team's Logo and Colors
Are you ready to show off your brand new soccer jersey design? Whether you're a coach who is looking to give a boost in style to your players or you're a designer who wants to show your clients your best jersey design, using Placeit's Custom Soccer Jersey Designer is a great idea because it lets you place your designs in real life settings, with real players without going through the trouble of arranging a photo shoot.
With these jersey templates, you can display your team's logo and colors as they are fully customizable and you can choose between different scenarios and different positions. Best of all, you can do everything straight from your browser.
To use these soccer jersey templates all you have to do is upload your design and change the color of the jersey, shorts, socks and even the ball color to show how your uniform will look once it's printed out. This way you'll have a fully customized uniform design to show your team, clients or fundraising committee. Check out below some of the best custom soccer jersey makers below:
Inspire your youth soccer league team by showcasing their brand new jersey design in this professional action shot. Look at his concentration, he looks like he's about to kick the winning goal. Customize the uniform from head to toe and start off the season right with brand new uniforms.
She looks like she's ready to hit the field! With this custom jersey maker template, your team will have a clear idea what their brand new uniforms will look like. Just upload your logo design and change the color of the jersey, shorts, socks, and ball and start promoting your uniform design business.
Are you looking for an inspiring way to promote your uniform design business? Check out this custom soccer jersey maker where you'll be able to present your design in a real life setting. The garments are fully customizable, as well as the ball. Just upload your logo, customize it and download it! And guess what? No Photoshop required!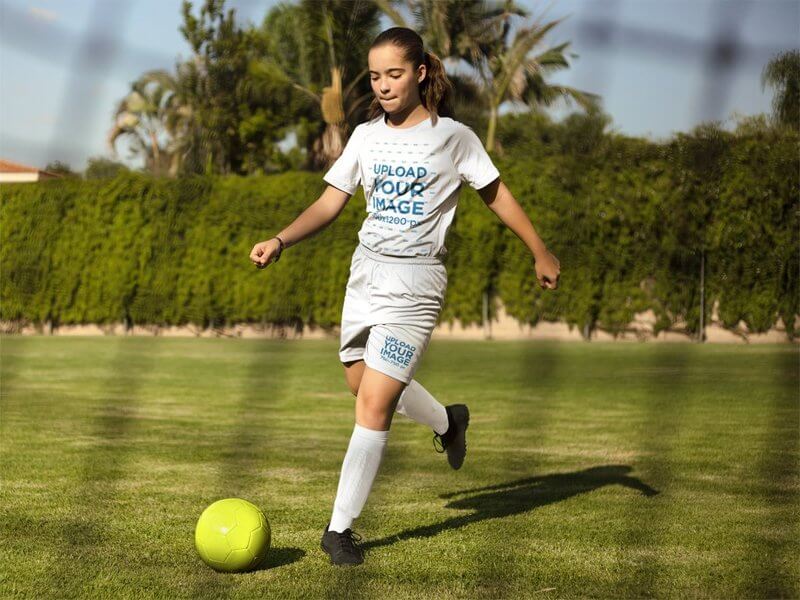 With this custom soccer designer jersey, you'll be able to display your design by uploading and customizing it, straight in your browser. Show your team their new uniform before ordering it so everyone is on the same page. This awesome photo in a real life setting and with a real player is perfect for that fundraising campaign for the next soccer season.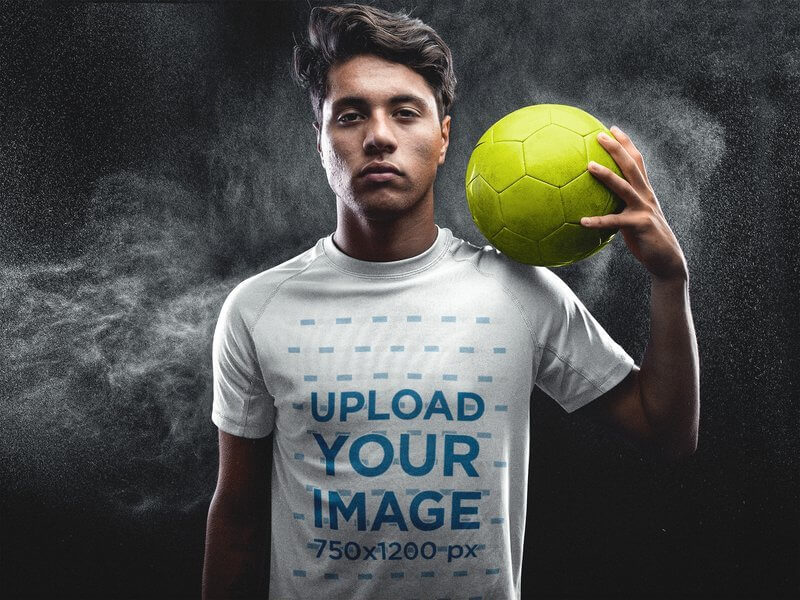 This epic soccer jersey maker is perfect for your next marketing campaign. Imagine your jersey design with this professionally shot picture! The only thing you have to do is upload your logo design, select the color of your jersey and ball and start marketing your designs, as easy as that.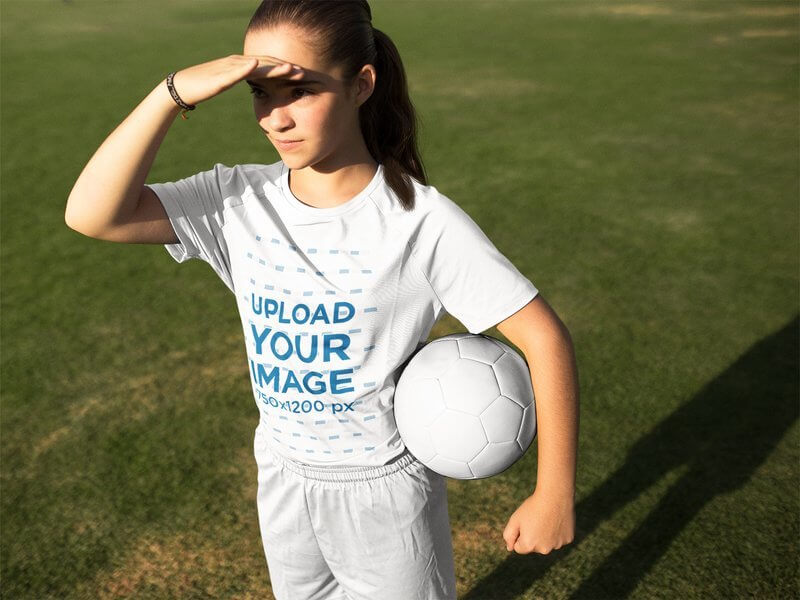 Are you planning ahead for the next youth soccer season? Do you want to show off your new uniform in style? Well, this soccer jersey maker will let you upload your design and display it in a real life, inspiring setting. Doesn't she look ready to will the whole tournament?
Let your design do all the talking and showcase it with these soccer jersey makers. It's fully customizable, even the background color can be changed. By uploading your logo and the corresponding uniform colors you can be sure you'll have an outstanding campaign!
Placeit's custom football jersey maker is the best way to showcase your design in real life settings, with real action shots. Show your designs to your fundraising committee and avoid any confusion before placing your order. Create amazing marketing campaigns where your design is front and center and your clients are amazed by your high-quality pictures.
Try out our soccer jersey designer and start creating awesome images with your designs.
---
---