App Store Screenshot Maker
Follow these simple steps to use our app store screenshot maker and create iPhone mockups and iPad mockups and generate App Store Screenshots in seconds. The one and only tool you need to create screenshots ready for iTunes Connect: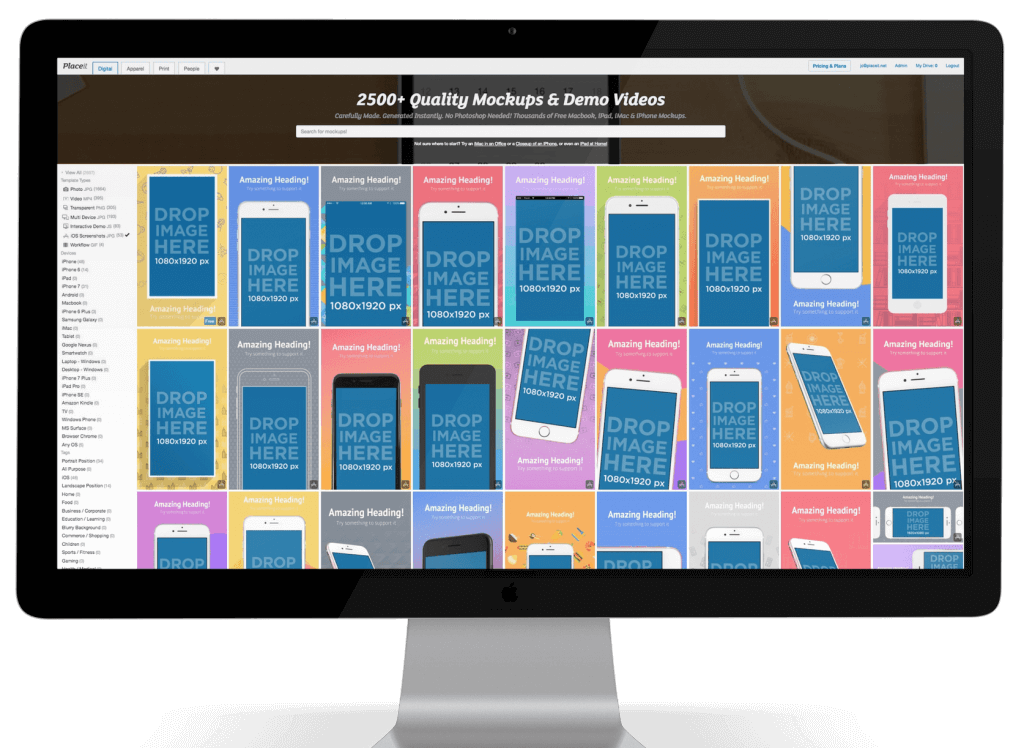 ---
"Advertising friends, Placeit will save a couple years of pitch life" Diego Zambrano
5/5
After months or even years of hard work, your app is ready. You are about to upload to the App Store and realize that you need to make App Store screenshots to go with it. Fortunately, you can use Placeit as your App Store screenshot maker. It's as simple and easy as uploading a screenshot of your app and generating an app store screenshot in seconds. You can also edit directly on Placeit and get the correct App Store screenshot size. Here are the recommended sizes:
5.5in (iPhone 6 Plus):
1242 × 2208px portrait
4.7in (iPhone 6):
750 × 1334px portrait
4in (iPhone 5 and 5s):
640 × 1096px portrait (without status bar) minimum
640 × 1136px portrait (full screen) maximum
1136 × 600px landscape (without status bar) minimum


1136 × 640px landscape (full screen) maximum

3.5in (iPhone 4 and 4s):
640 × 920px portrait (without status bar) minimum
640 × 960px portrait (full screen) maximum
960 × 600px landscape (without status bar) minimum


960 × 640px landscape (full screen) maximum
After this, you'll be able to market your app with a much more solid app marketing strategy. Now, how do you select your template? We have compiled a list of 20 great iPhone mockups and iPad mockups you can use to make your own app store screenshots.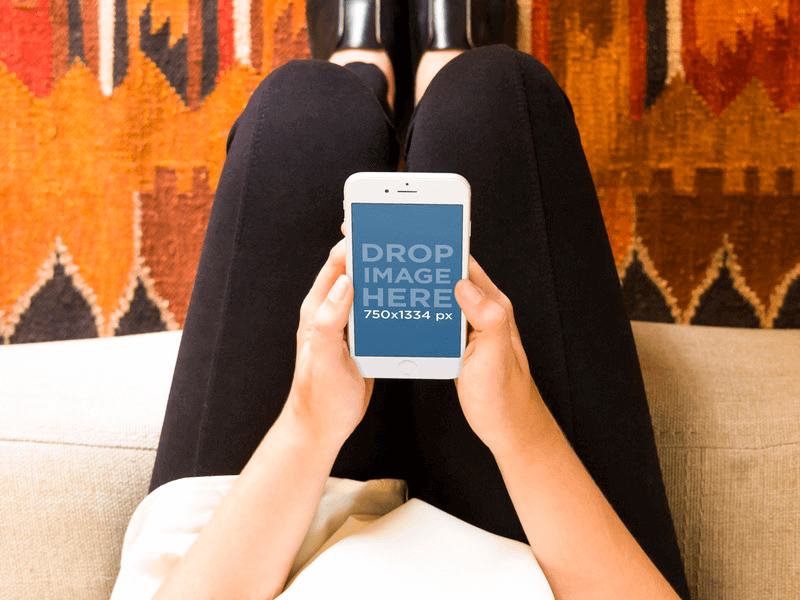 Did you recently launch an iOS app on the App Store? Is it doing as well as you'd hope? Perhaps it's time you take a new approach to your marketing strategy. That's when Placeit's mockup templates come to your rescue. What makes Placeit so effective? It allows you to take real-life scenarios to help promote your product within context. Take this scene, for example, here we can see a young woman using her white iPhone 6 in a portrait position while relaxing on her couch. Who can't relate to this scene? You can easily use this home scenario to promote your iOS app or mobile responsive website. It's quick and easy, try it out right away by simply dragging your own screenshot directly into the iPhone's screen.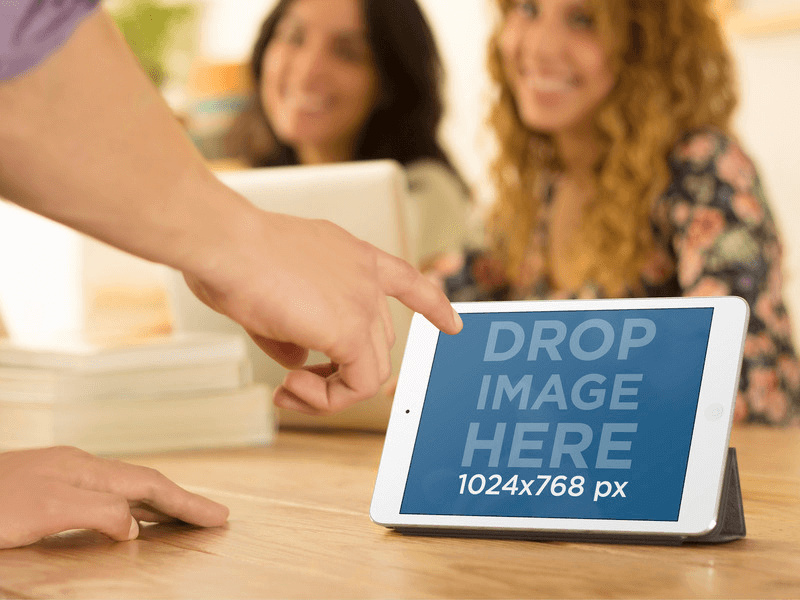 This is an interesting iPad Mini mockup. It works for so many different marketing scenarios, whether you're trying to reach business professionals or a younger crowd, you can't go wrong with this mockup. It features a young professional using his iPad Mini in a business setting. He could be going over his notes, giving a presentation, or checking some important business figures. Or, if you're needed a more casual setting, to sell an app or service to younger people or students. This scene always works well as a group of students working on a project or studying together for an upcoming exam. This Placeit mockup has so many options for you.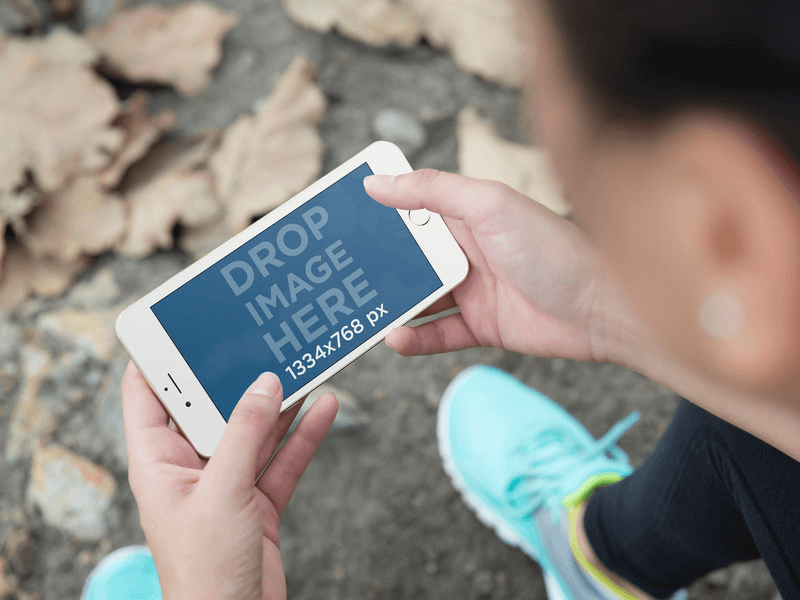 Wanting to showcase your mobile responsive website? Then check out this fun iPhone mockup from Placeit. This scene features a young woman taking a walk while using her gold iPhone 6 in landscape position. You can almost feel how engrossed she is with her iPhone. But what has her attention? Is she chatting with a long-time friend? Tracking her steps or calories with a new fitness app? Checking the latest weather app? Or updating the newest social media platform? She could be doing anything really and that's where you come in. By dragging a screenshot from your site onto the iPhone's screen and then downloading this iPhone template you will be able to turn this fun scene into an effective marketing tool for your iOS app or mobile responsive website.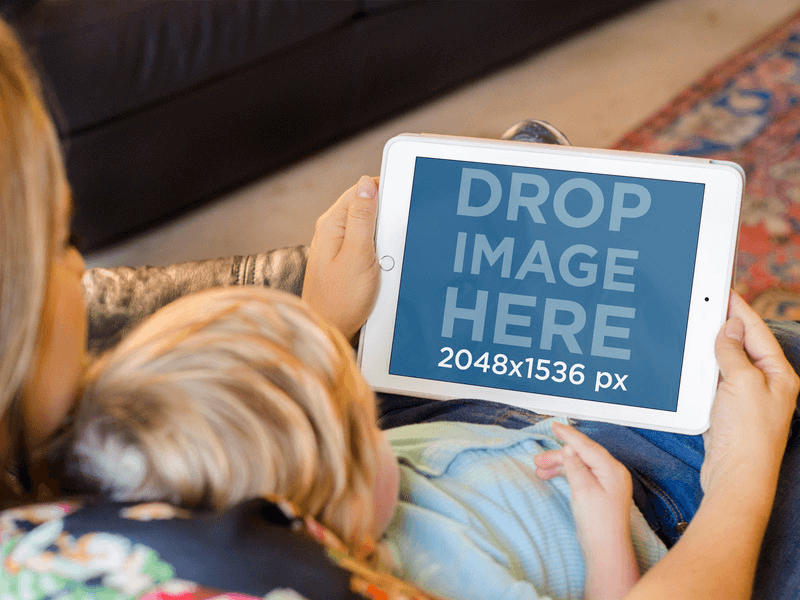 This is a beautiful iPad mockup! The scene features a young mom with her baby boy on her lap, they are enjoying some quality time together as they use a white iPad being held by the mom in a landscape position. They are using a kids app to play games or stream a video on the iPad. This is an excellent scenario in which you can place your own kid's app so you can share it between partners, clients, and potential users, by sharing your app with this iPad mockup you will add a great context to your already amazing design and features. And Placeit makes it really simple for you to use this mockup, all you need to do is drag your own screenshot directly into the iPad, or type the URL of your mobile responsive site above, it will automatically adjust. Use this mockup generator to provide an insight into your new kid's iOS app.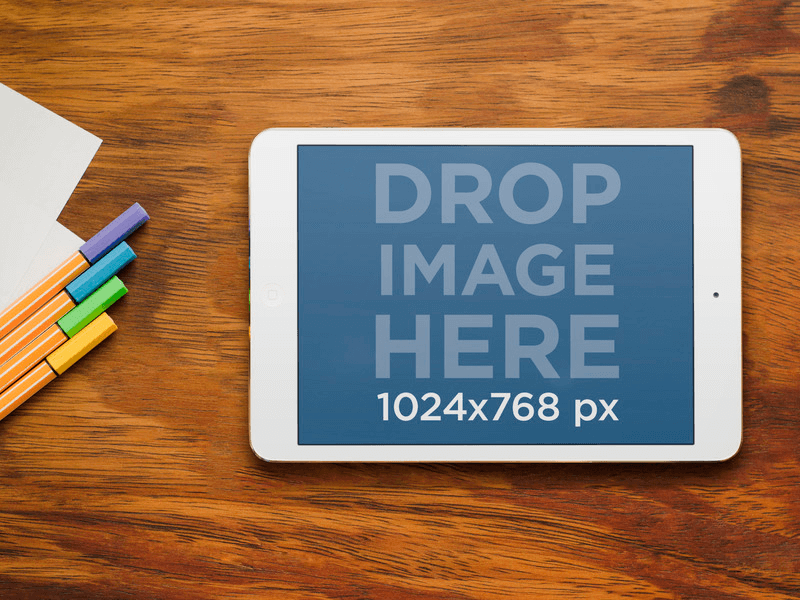 This is a beautiful iPad template! It is definitely the best place for you to display your new iOS design or creative app. Featuring this amazing shot is a white iPad mini laying in portrait position over a wooden desk, the iPad steals the spotlight allowing a screenshot of your image to be the main center of attention. However, we can also notice a small bunch of color markers and some pieces of white paper on the same desk. Altogether, these elements build up an awesome scenario that will perfectly merge with your new iOS app's screenshot. You can use this iPad mockup to deliver an insight into your new creative app within a relatable use context. All you need to do is drag your own image directly into the iPad's screen, or simply type your mobile responsive URL above. Try it out right away and start using mockups as a part of your app marketing strategy.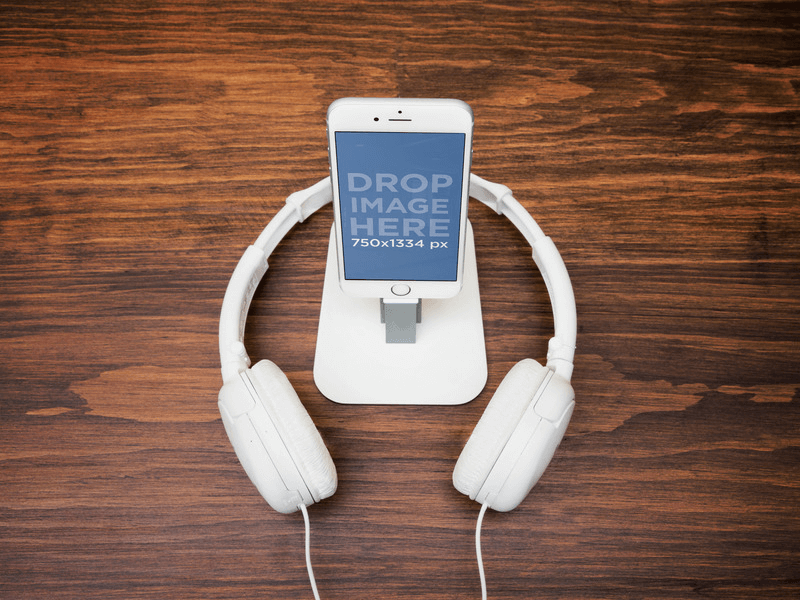 Show off your music app on this iPhone 6 mockup on a stand with white sound-canceling headphones around the base. They rest on a wooden desk that gives a great contrast to the stark white headphones and phone. The phone is being viewed from above, the headphones create symmetry at the base. The iPhone holds an image of 780x1080px. This product mockup will make a great place for an app with a cool modern design.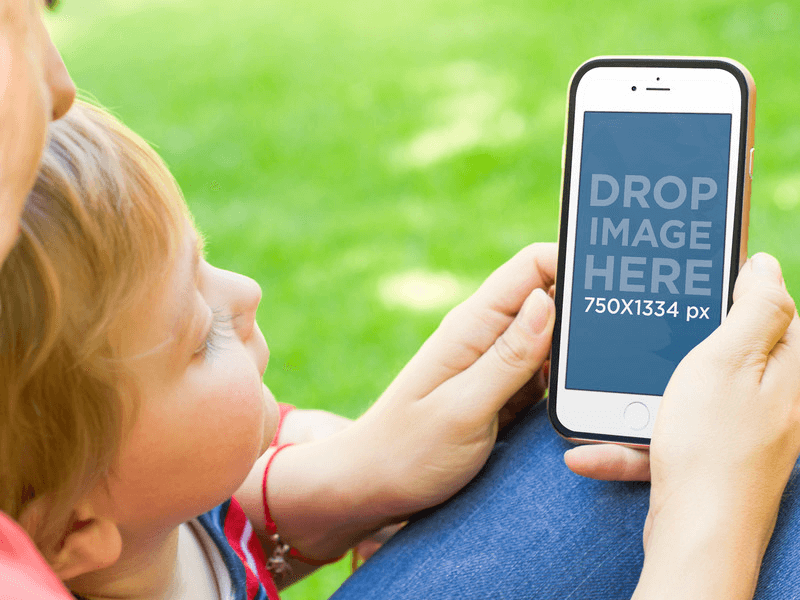 Are you looking for an amazing template to show off your app? Imagine how great your site would look, in a scene where a mother and child are enjoying your app, on a beautiful, sunny day in the park! If you like the sound of that, then this heartwarming template of a mother and son bonding over an iPhone 6, is perfect for you. You can use this template to showcase your family and kid-friendly app or mobile responsive website. The position of the iPhone 6 is perfectly angled, so you can upload your own image. You simply need to drag a screenshot or logo from your site and place it over the iPhone 6 screen. Then suddenly, that adorable little boy is smiling up at your site. It's that easy! By using this mockup template from Placeit's mockups, you can demonstrate your product in a way that's both personal and professional.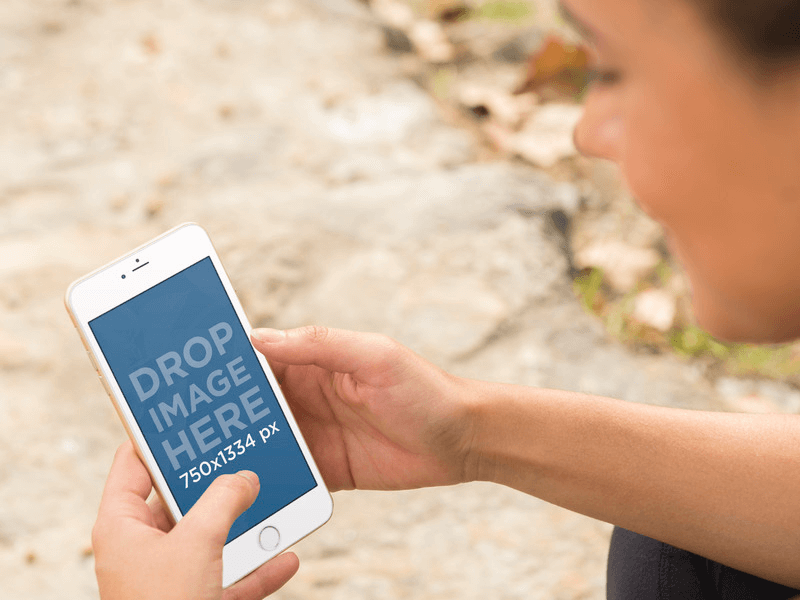 Being productive on the go is important to just about everyone, and so is staying healthy and fit! This is what makes this scene so appealing to a lot of people. Here we see a young woman sitting outside on a step after completing a quick workout; she is using her white iPhone in a portrait position to get some work done. The mobile responsive website she is using means she gets to get out of her stuffy office and enjoy some nice weather. Who wouldn't want to use a site that lets you get some fresh air? So, do you have an app or website that helps people stay productive on the go? If so, why aren't you using this iPhone 6 mockup to help drive that point home to potential users?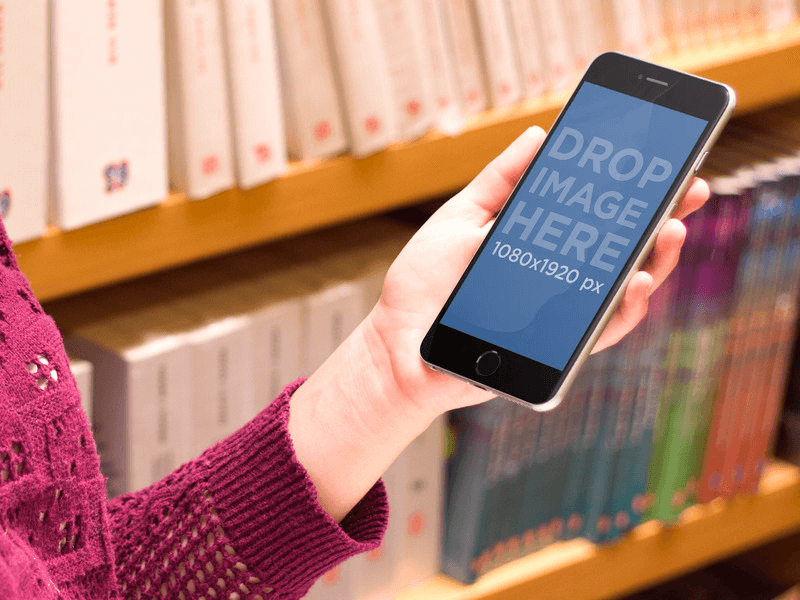 There are lots of very useful education apps out there, they all have different features, but one thing these iOS apps have in common is the fact that they were designed and developed to help students succeed. If you just created an education app of your own, this would be the perfect place to showcase how amazing it is. This iPhone 6 Plus Mockup presents a young woman who is searching for a book at the university library, she is holding her black iPhone 6 Plus with her left hand as she browses an app that will help her get that final project done! This is a beautiful scene that has a great color scheme combination, between her fuchsia sweater, the wooden shelves, and those colorful textbooks, the image builds a nice and warm environment that reminds us of our scholar days. Use this mockup and share the image with potential users and business partners right away!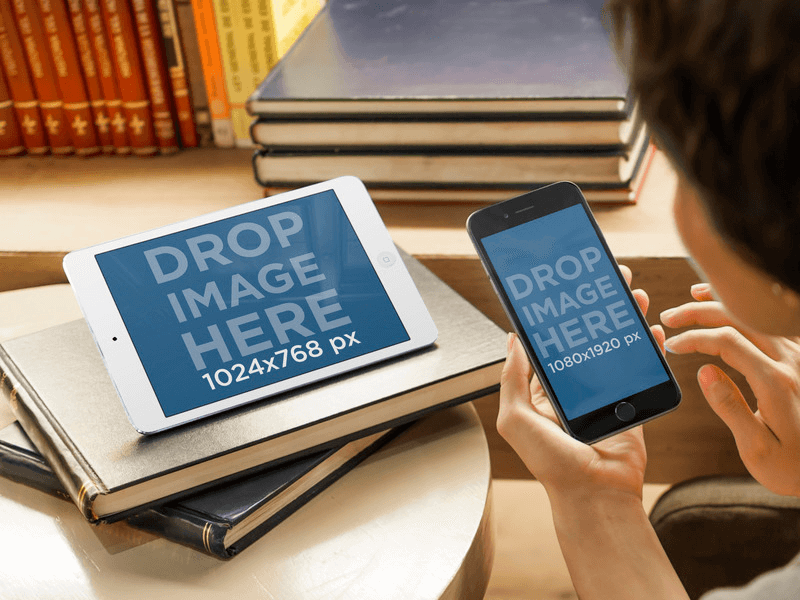 This mockup offers a lot of possibilities. This scene features a young woman, working hard. Perhaps she's a student studying at the library or maybe she's preparing for an important business meeting. But the best part about this mockup is that it contains two mobile devices which means you have double the options for promoting your app. This mockup is an iPad mini in landscape mode, which means you can show a detailed screenshot from your site. And the iPhone 6 screen in portrait mode, means you can showcase your mobile responsive website. This Placeit mockup is the perfect marketing tool for you and your business.
Present your app with this photorealistic mockup of an iPhone 6 laying on a wooden table. It is beside a light golden draft that is beautifully backlit by the sun. The bright afternoon brings out the table and the beer's soft golden tones that complement the iPhone 6 mockup. The iPhone 6 is white with a silver edge that stands out against the light wooden table. In the foreground sits a metal can that is serving as a pot for a leafy green plant. These elements make for a great social setting for your app. The iPhone 6 mockup holds a screenshot of 750x1334px.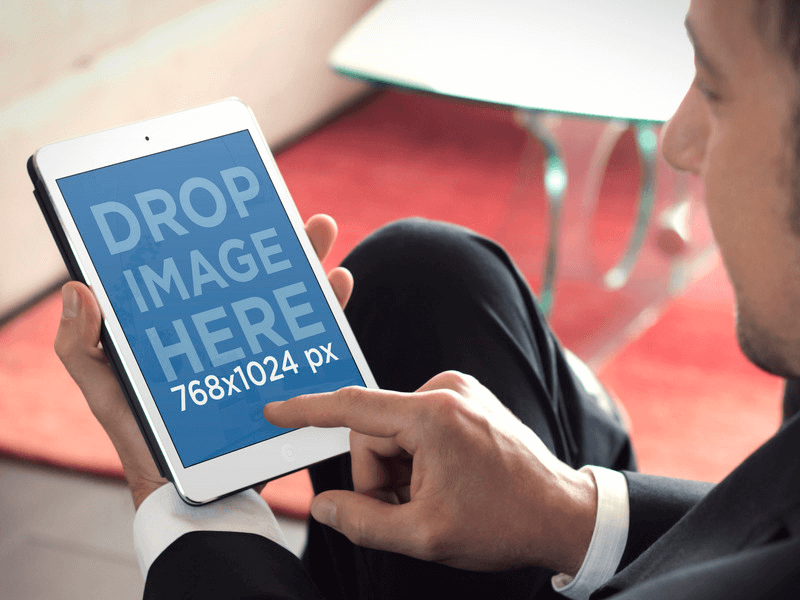 A businessman, wearing a nice black suit and white shirt, holds an iPad in this iPad Mockup. This device mockup has a very corporate and slick feel to it. It's shot over the shoulder, so you can see the warm reaction the businessman has to your app or website. You can drop your screenshot and generate an iPad mockup instantly. Browse our large library of mockups if you are looking for other types. We have casual, work, fitness, education, health, and more types of templates. You can try it out for free.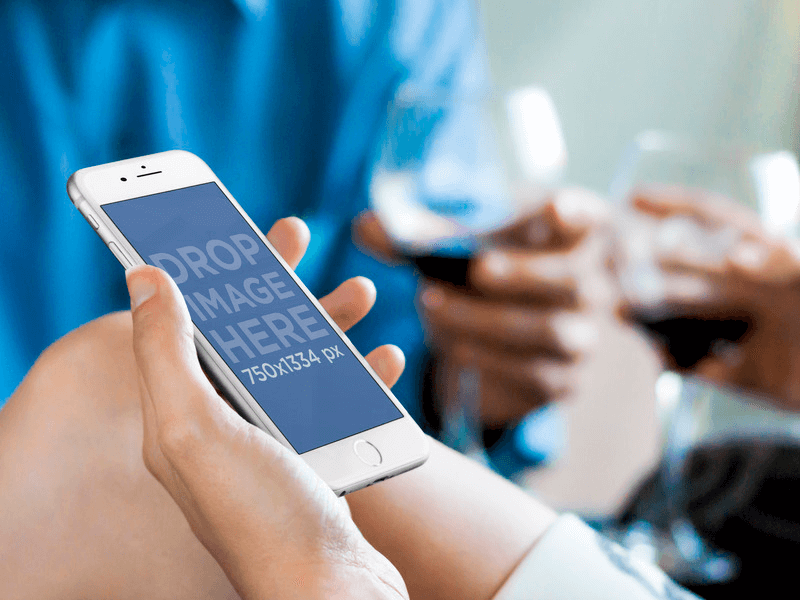 If you're in need of a casual template, in order to market your newest app, then look no further. This scenario showcases a couple enjoying some wine on a date. The young woman is casually flipping through her iPhone. Maybe she's checking out the latest social media app, looking up movie times or checking on their dinner reservations, etc. She could be doing anything, the options are endless. You only need to add a screenshot from your own site onto the screen of her phone and suddenly, the world sees her using your app!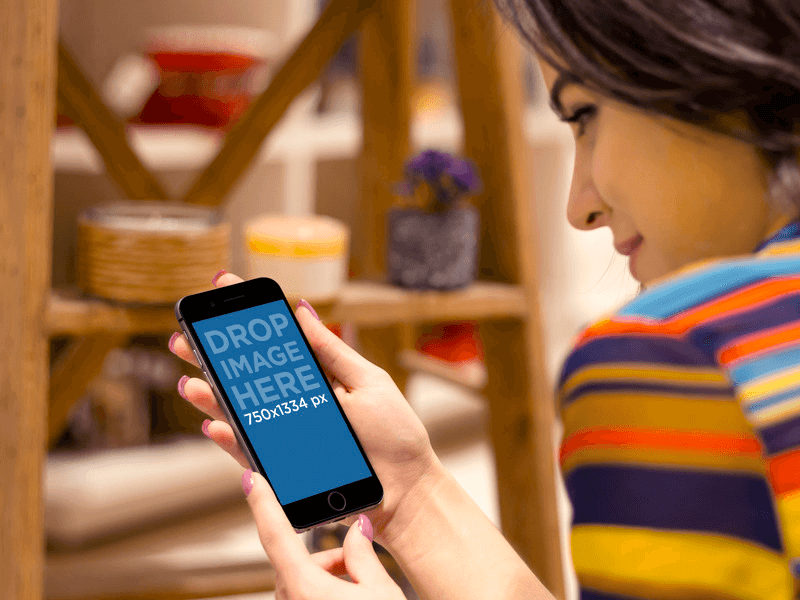 A girl, wearing a multi-colored sweater, looks at her iPhone 6 while shopping. The store she is at has brown undertones that contrast perfectly with the colorful sweater she is wearing. She smiles as she looks at… your app or design! This iPhone 6 mockup is ideal for any commerce, fashion or even social app. Her natural stance and smile really make this a perfect iPhone 6 mockup to show your app in context.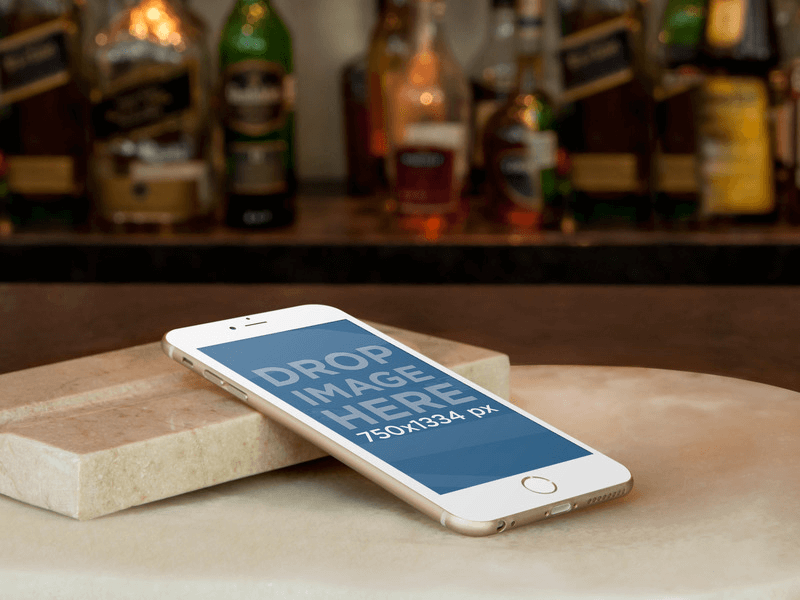 This iPhone 6 mockup set on a bar counter will be the perfect place for your screenshots. The bar counter is a beige marble and the iPhone is leaning against an extra slab. The counter has light curves in it that give it a natural look. The background is dimly lit with light highlights. Several bottles of alcoholic beverages rest on shelves in the backdrop. The iPhone 6 mockup holds an image of 780x1334px. This is the perfect place for a social app.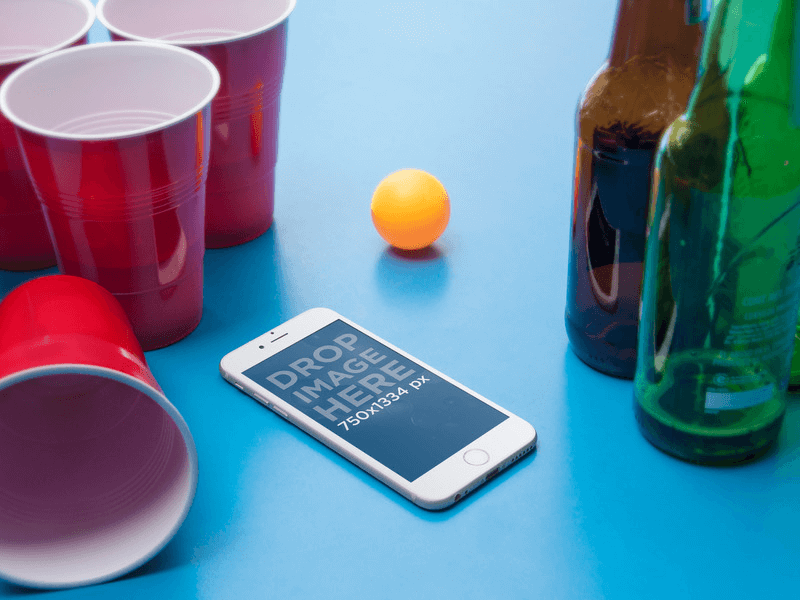 This awesome iPhone 6 mockup is set on a ping pong table that has been set up to play an exciting round of beer pong. The iPhone 6 lays between the iconic red party cups and bottles of beer. Nearby, a bright orange ping pong ball rests on the table. The two bottles of beer are brown and green. One of the red cups lays on its side. The iPhone 6 mockup holds a screenshot of 750x1334px. This is perfect for a social app.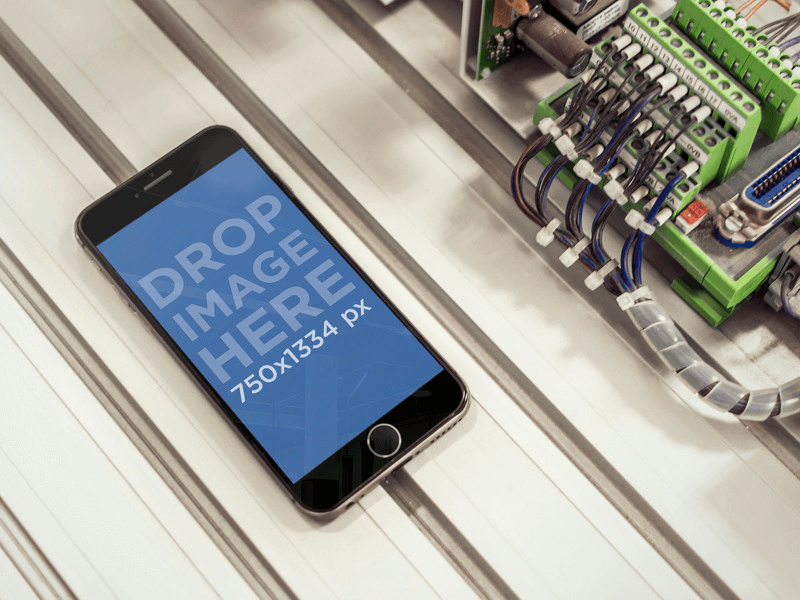 This iPhone 6 mockup presents an industrial scenario in which your new high-tech app or mobile responsive website would really look within context. This iPhone 6 mockup features the black iPhone 6 laying in a portrait position over a shiny metal table and next to some wires that seem to be part of a computer or other electronic device. This mockup would really work for your new web designing app or computer programming software or app. You can use iPhone mockups to enhance your app marketing strategy, and it is pretty simple, all you need to do is drag and drop a screenshot of your app over the smartphone, or simply type the URL of a mobile responsive website above and Placeit will deliver an amazing image that will carry your app so you can share it with potential clients and users to get an insight on your design and features.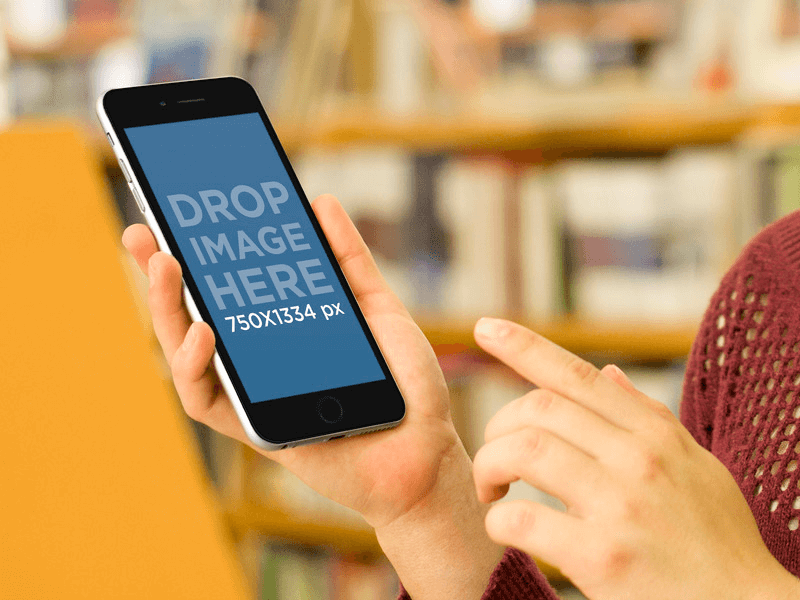 This is a beautiful iPhone 6 mockup that presents an amazing scenario in which you can choose to display your app to share a real-life insight into its amazing design and features. This iPhone mockup features a young woman who went to the local library to search for a new novel as she needs to write a review for her English Literature class; she is using her black iPhone 6 in portrait position to open up an app that suggests different novels based on specific search criteria, this could be your app instead! All you need to do is drag a screenshot of your new iOS app directly into the screen of the amazing iPhone 6 and Placeit will deliver an amazing image for you to share your app being used in context, and let the whole world know of it, and increase your downloads by using Placeit mockups as a part of your app marketing strategy.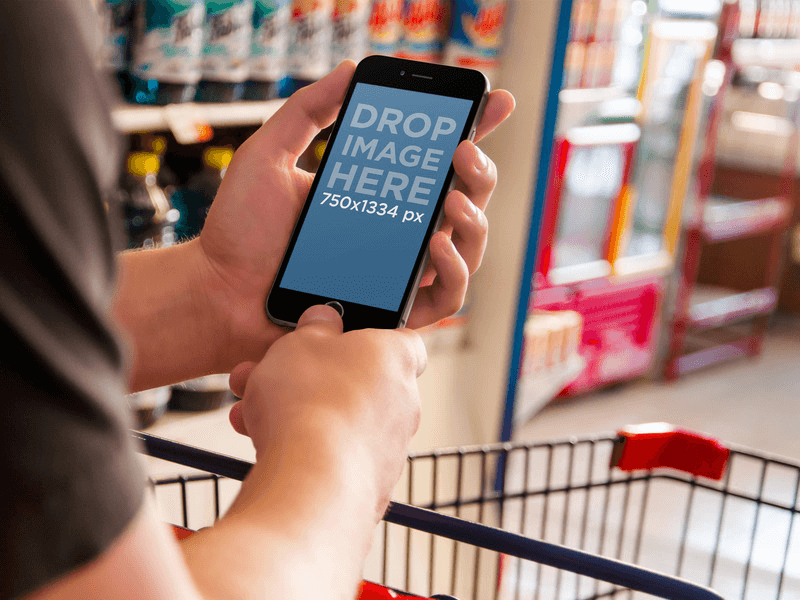 The iPhone 6 can be used for so many things, it allows you to download amazing apps within seconds and you can basically rely on your smartphone to keep your life organized and under control. This is an iPhone 6 mockup that features a young man shopping at the supermarket, he is using his black iPhone 6 in portrait position as he goes through the shopping list. You can display your app or website within this mockup to provide some context to it and show it off in a clever way, just upload your screenshot, and Placeit will do the magic, try it out now and see how this iPhone mockup will improve your app marketing.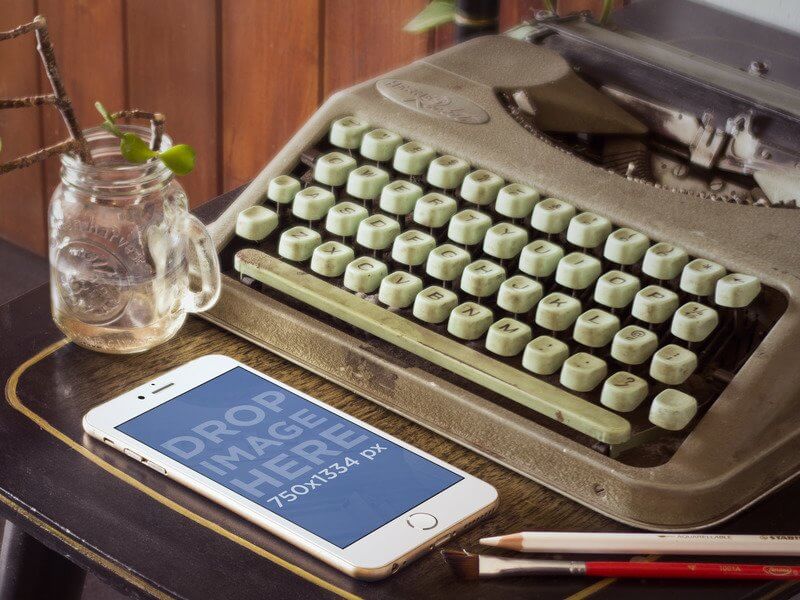 Take a look at how beautiful this iPhone 6 mockup is! We can see the amazing Gold iPhone 6 laying in portrait position next to a vintage typewriter in what seems to be an antique store. You can display your ios app or mobile responsive website within this beautiful mockup to create a hipster atmosphere that will draw attention to your app's great design and innovative features. All you need to do is drag and drop a screenshot of your app within the amazing screen of this iPhone 6 and Placeit will deliver a great image you will be able to share with co-workers, business partners, and potential users to enhance your app marketing strategies.
Looking for more mockups? Try our Print Mockups to show off your print designs or our Minimalist iPhone Mockups.
---
---