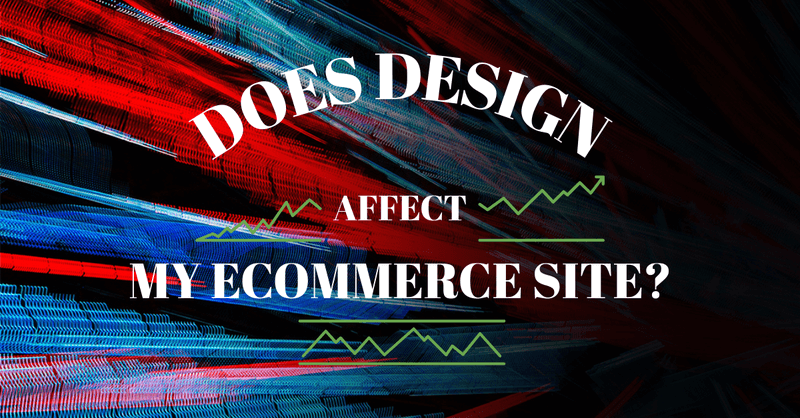 Imagine you're walking down a busy street and are looking at shops as you pass them by. What is the first thing you notice about them?
What they sell? The price? How friendly the staff looks? No, it's the look of the store – the branding, the design, the identity.
Then questions start popping into your mind: Is it fancy? Will I be able to afford it? Do they sell what I'm looking for? The same goes for eCommerce. No matter how good your products are, how cheap they are compared to your competitors, and so on – it's the design that plays the most important role in your customers' decision-making process. Your website design can make or break your eCommerce site.
According to Smart Insights, 38% of people will leave a website if they find the layout unattractive. This, combined with the fact that most people only ever look at a website for 15 seconds before clicking away says a lot about your site's design. That's how long you have to capture their attention – 15 seconds. And if they don't like something, finding another store is only a matter of seconds.
It's the first impression that matters and has a long-lasting effect on your leads. You can never get another chance to make a first impression – so, it has to count. Customers listen to their gut – hence why the design is so important. That's the judgment they go by and the metric they use to evaluate your whole site.
You might think that's unfair and that they're judging a book by its cover – but that's the harsh reality. If you want to get a sense of how your site's design affects your eCommerce store – be sure to read on.
1. Credibility
Above all, your site design builds credibility.
Did you know that 93% of consumers consider visual appearance to be the key deciding factor when making a purchase?
Visual appearance here means your product images, your advertisement, your branding and most of all – your website design.
The first thing people process when they look at your site is the design. We as humans process visuals 60,000 times faster than text. That's why we respond to images and videos so well.
Starting from your logo down to the images you use – you need to have a consistent theme. One that looks appealing and signals trust. Aside from design, having multiple payment options is also a good way to connect with your visitors.
So, keep this in mind when designing your website theme. Make sure to keep things clean, consistent, and professional. High-quality images and consistent branding go far with your customers.
2. User Experience
User experience, or UX for short, is all about the usability of your website and the details.
Essentially, you want to make the navigation through your website as user-friendly as possible. The last thing you want is for a customer to go on your website and not know how to make a purchase or find what they're looking for.
Being mobile-friendly is another essential part of the user experience. You need to make sure your website runs just as smoothly on mobile because that's where most of your customers are. In 2018 alone, 62% of smartphone users have made a purchase online using their mobile device.
The most common issues in poor user experience include:
Unclear pricing.
Lack of trust when making a purchase.
Insufficient payment methods.
Site errors.
Unclear site navigation and more.
A lot of abandoned carts happen because of the above reasons.
Of course, there's not much you can do about visitors who leave for reasons outside your control (e.g. not being interested in your products), but for those who are just learning about your brand – UX matters.
3. Products Lists
Of course, your product listings are another important part of your bigger marketing and branding strategy.
As mentioned above – everything has to be consistent. This also includes your product listing: the images, the fonts, the description and more.
Once you have your design ready, effective SEO product description is the next best tactic for attracting and converting your customers.
So, what goes in a product description exactly?
Well, depending on your niche your approach to product description may vary. But for the most part, it's the tone and the language that have an impact on your customers.
Be unique, be memorable and have a strong copywriting call-to-action and your clients should be well on their way to making a purchase.
How you write your description should also be consistent with your branding and depends on your buyer persona.
A lot of your product listing is all about knowing your target market. So, don't be afraid to experiment and do A/B testing until you perfect your product page.
4. Loading Times
This is an often overlooked part of your website design. Your website speed is also part of your bigger user experience design but is important enough to have its own spot on the list.
Not convinced? 47% of consumers expect a web page to load in just under 2 seconds. And if this is not the case, they'll just abandon your site and look for another solution.
Page load speed has also become a ranking factor in Google's algorithm and can even affect your ranking. Fast page load times are ideal, of course, but having interactive and rich content on your page is also important.
So, how do you manage to strike a balance between having rich content on your page while also having a fast load time? It might seem paradoxical but it's possible. Here's how:
Through technical elements and careful optimizing, you can attract more visitors to your website.
Identify key landing pages which you'll target for reduced load speeds.
Consider a different web host with a dedicated IP that guarantees faster response during high traffic spikes.
Remove any unnecessary third-party scripts that might be slowing you down. Sometimes, they're under higher load than usual and there's nothing you can do about it.
5. Standing out from the Crowd
Finally, no matter how good your design is if you want to leave a long-lasting impression on your customers – focus on standing out.
A lot of eCommerce sites pick a template and call it a day. While there's nothing wrong with that, if you want to stand out from your competitors – you should strive for originality instead. eCommerce is a highly competitive field as is, so, even the smallest edge can help you drive sales.
From your website layout to your branding all the way down to your images, there is a lot of wiggle room to experiment with your design.
What's important to note is that you can get easily distracted when thinking of new ways to stand out. So, if you don't want to get sidetracked or go too wild when trying out new ways to stand out – be sure to keep user experience in mind. In short: keep it simple.
If done well and you manage to incorporate all of the above steps into your site – the design of your site and the usability should go hand in hand.
🔥 Hey, before you leave, why don't you check out our top 10 Best Ecommerce Platforms in 2022?
---
Uwe is the Founder of online invoicing software InvoiceBerry. InvoiceBerry helps small business owners and freelancers to create, send and manage professional-looking invoices online. In his free time, Uwe loves exploring new cultures and cuisines.
---
The Best Tool for Your eCommerce Site
When creating an eCommerce site, having good images is super important as this is the only approach your clients will have to your products before purchase. You already have the right products, pair them with the right promo tools to take your business to the top! With Placeit you can get every logo, mockup, and video with our Subscription for only $14.95 USD a month!
Get a Subscription
---