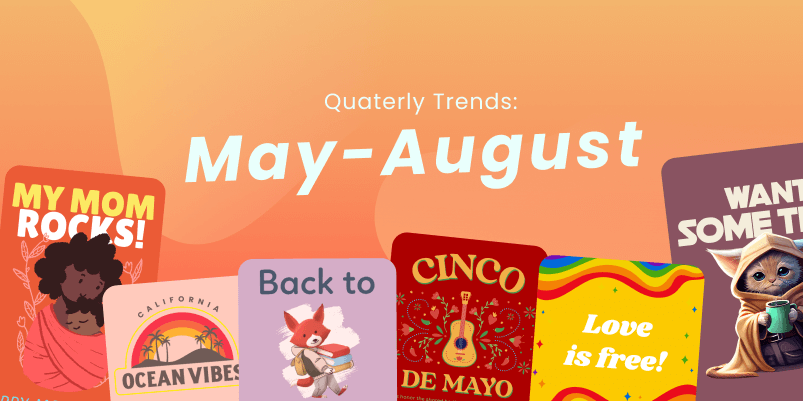 With the end of the year's first quarter approaching, we're ready to welcome and prepare for the most refreshing quarter that goes from May through August. Thinking of preparations might be challenging and overwhelming, right? Luckily, we've prepared a complete guide focused on summer sales, packed with all the relevant holidays, trendy designs, and some of the best marketing tips, ideas, and social media trends to rock this second quarter! 
🌴 Add Some Vitamin Sea to This Summer Sales Quarter:
To start the second quarter of the year on the right foot, you'll need to keep an eye on the calendar to decide which dates are a big yes for your business and take action to make something outstanding and profitable. But before moving on to the important dates of this quarter, here are some powerful reasons to make this calendar your best friend. 
It helps you plan and organize your seasonal campaigns, events, product lines, and promos with more time and accuracy. 

It shows your audience you're up-to-date and relevant, which makes them more likely to stay interested, engage, and connect deeper with your brand.

It makes you stand out from your competitors. 

It allows you to transform the slowest months into ones with increased sales and revenues. 

If you do it consistently, it creates a sense of expectation and excitement.

It lets you explore your creative side and launch unique product lines, promos, and whatever you can think of to benefit your business. 

It lets you keep your existing customer base happy and reach new customers.
The 5th month of the year brings a refreshing breeze and popular events to kick off the year's second quarter. Along with the start of graduation season, here are some of the most significant May dates you shouldn't miss:
World Mental Health Month
1 - International Workers' Day
4 - Star Wars Day
5 - Cinco de Mayo
5 - National Space Day
14 - Mother's Day
22 - Victoria Day
26 - Buddha Day
29 - Memorial Day
30 - National Creativity Day
31 - National Smile Day
🏄‍♀️ If you want to keep track of more exciting days, don't forget to dive into our ecommerce calendar to access all essential days for your business.
June is the month that announces the beginning of summer, pride month, and also the wedding season. But there are so many more June dates to keep in mind for making your brand shine during this second quarter. Let's jump ahead: 
Pride Month
2 - National Doughnut Day
5 - World Environment Day
8 - Best Friends Day
11- International Children's Day
14 - American Flag Day
16 - Neurodiversity Pride Day
18 - Father's Day
19 - Juneteenth
21 - First Day of Summer (Northern Hemisphere)
21 - World Music Day
July was the least busy month in the second quarter. But now, it's considered the anti-boredom month. So take advantage of this twist to celebrate so many fantastic dates that are coming with the lovely summer weather.
Anti-boredom Month
1- Canada Day
1 - Tour de France
1 - World UFO Day
3 - Wimbledon
4 - Independence Day USA
14 - Bastille Day
17 - Emoji Day
20 - FIFA Women's World Cup
21 - International Friendship Day
To close this quarter in the best way, here comes the August calendar, which is well-known for being the back-to-school month. However, more fabulous dates should be considered before moving to the next quarter. Here are some August dates to look forward to.
Back to School Month
4 - International Beer Day
8 - International Cat Day
9 - Book Lovers Day
26 - International Dog Day
13 - International Left-Handers Day
19 - World Photography Day
✨ Luckily, if you want to know more about any of these dates, we have so many resources on our blog to stay informed and make the best out of this second quarter and summer holidays. 
T-Shirt Template Inspiration for This Quarter
If you own a print-on-demand business, here's your chance to get creative and use our colossal library of design templates to launch the coolest t-shirts ever. Simply click on each month to see our updated t-shirt calendar for this year!
At Placeit by Envato, we're always creating awesome content for you to stay trendy according to the relevant events, holidays, and themes, so let's check out together our recent additions: 
Prepare Your Business for a Successful Summer Sales Campaign
Ready to heat up your summer sales strategy? Here's everything you need to know to tap into the season's spirit and boost your sales! 
This Season's Design Basics
Sun-Kissed Shades to Color the Season
Briefly, we're checking some of the most vibrant and popular summer colors to freshen up your designs. According to some fashion gurus, the perfect shades for this season are light, colorful, and energetic. So your colors are white, green, blue, pink, yellow, pastel purple, and even neutrals like sand or beige.
Tropical Motifs You Can't Miss
Get some inspo by looking at our freshly created summer designs to customize our ready-to-use templates for your summer sales. All of them include different allusive elements such as palms, rainbows, waves, marine animals, flip flops, inflatable pool floaties, swimsuits, umbrellas, glasses, flowers, sun, surfboards, aquatic activities, and ice creams. Remember to incorporate fresh fruits like pineapple, watermelon, lemon, grapes, mango, papaya, strawberries, and grapefruits. 
🏖️ Make a splash into our favorite summer templates for every occasion! 
Font-Asctic Styles for Your Designs
To get in the summer mood, we've prepared a couple of incredible and refreshing typographies ideal for any summer design. 
Summer Sales Marketing Actions to Implement
Now, let's talk about some powerful actions you can implement regarding strategy to cover the most meaningful aspects of your campaign.
Create Limited Edition Products and Promos
There's no doubt summer is a golden opportunity to reinvent and give your brand a colorful and refreshing twist. Launching seasonal products/services and promotions is a great starting point to attract new and existing customers. 
For example, if you're a POD seller, you can squeeze the summer lemon tree to launch a seasonal product line inspired by the elements of this hottest season. Complement this action by offering special discounts, hot deals, and even freebies. Whether it's for freeing up your store from last quarter's stock or incentivizing these new seasonal launches. 
Dress Your Brand With the Summer Breeze
Using seasonal themes on your website and social media channels is a great way to catch your customers' attention. With Placeit, it's easier than ever to go from drab to fab in no time, thanks to our beautiful collection of ready-to-use summer templates ideal for any format and platform. You won't even have to worry about the right dimensions for a Facebook Cover, YouTube Intro or Instagram Highlights, as we've done that for you. 😉
Online Marketing Efforts Are Vital to Boosting Your Summer Sales
Well, now you've got in mind what seasonal products and promos you're going to offer, it's time to spread the word online about them. 
Start by creating a sense of anticipation among your target audience. For example, you can publish some mysterious posts about upcoming launches and include a countdown and special discounts for the ones who join early. Then move to the preparations of making relevant and helpful content. Whether it's summer-themed blog posts, seasonal emails with special deals, or social media posts that will refresh your channels. 
Last but not least, remember to include in all your online materials summer-themed emojis, words, phrases, and hashtags -on social media- to reach a broader audience. 
Still Need More Summer Sales Inspo? Ask AI for Some Ideas
This 2023 Artificial Intelligence has positioned itself as a design trend and a reference for many professionals, creatives, artists, content creators, and more. Taking advantage of this tool could lead to new and innovative ideas for your summer sales campaign. No matter if you're looking for catchy email subject lines or an ingenious way of making stunning designs related to summer, AI can do it for you. 
If you're willing to try it, we recommend ChatGPT for creating texts and all kinds of requests; think of it as your personal assistant. And Dall-E for making new-fangled images related to one single concept. 
💡 Learn all about the AI tools being used by Placeit to create the templates you love!
Check Out What Worked for You in Previous Years
In case you've implemented a summer sales campaign in the past, taking note of what worked and what did not might be helpful to enhance this year's campaign. Ask yourself: how much anticipation did your campaign require? Was the timing good, or did you need more time to execute all the actions you wanted to achieve? Overall, how was the performance of your campaign? 
By analyzing your data from past events, you can get clarity regarding this new planning process. Plus, it'll guide you about the holidays and campaigns worth investing your time, money, and efforts in and which ones are best to leave behind. 
Even if this is your first year planning a summer sales campaign, no worries! It's a great chance to keep track of these events to know how to handle them in the upcoming year. 
What Social Media Trends Are Hot Right Now?
These are the most relevant trends to follow while they're still popular. However, as months go by, we'll keep updating this section so you know what's currently popular. 
Barbie Post
With the new Barbie movie release just around the corner, the company is trying to promote the film with catchy visuals. This time, what's trending is a simple but cute Instagram post that replaces Barbie's illustration with a picture of thousands of users worldwide, which means Barbie has different styles and ethnicities. 
Check out some inspiring and funny examples: 
Not sure whether you need to incorporate TikTok into your summer sales campaign? Think again. According to data.ai, TikTok overtook Instagram as the most downloaded app in the first quarter of 2023. So here's your dose to keep conquering one of the preferred Gen Z social media platforms.
This is such a cute and emotional video to let your loyal customers know that you value their support, even if it's one person seeing your videos or creating something magical thanks to what you offer. In other words, this trend is dedicated to anyone who's always believed in you and is on your side to cherish your process and goals. 
This catchy sound is a popular track on TikTok. It's super cool that so many brands are using them to promote any can of content. Like tips and tricks, walk-throughs, behind-the-scenes, a routine or tutorials. Just make sure you do it quickly as it's a brief sound. 
Let's Summer-Ize This Second Quarter!
Planning ahead for the second quarter, including your summer sales campaign, is a fabulous way to keep evolving as a brand, maintaining your customers happy and interested in what you do, and attracting new clients. 
To guarantee your success, keep an eye on this blog post, which contains all the relevant holidays and significant events from May through August. As well as new design content #madebyplaceit that will help to stand out in whatever niche you're in and whatever creative goal you have in mind, we surely have the visuals you need. But it doesn't stop there; you can come as many times as you want to become a design and marketing guru to nail these months in the best possible way. 
And remember, good things require time, so be mindful of how you focus your monetary and timing efforts that benefit your brand.