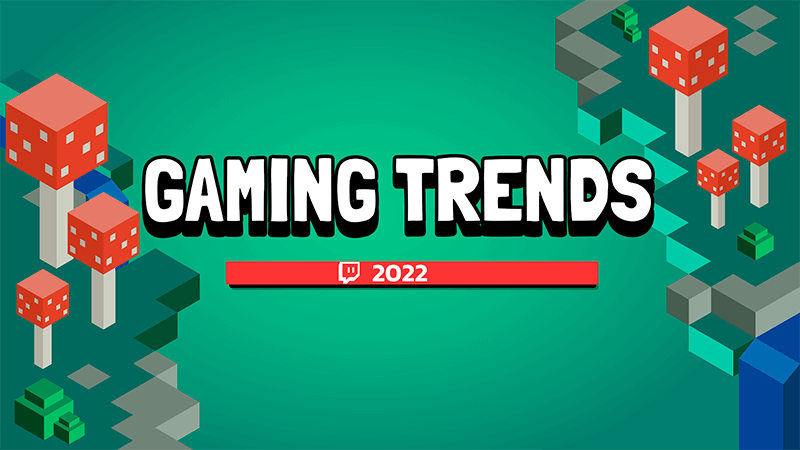 A new year is just beginning, and we can already see how the future of gaming is looking thanks to the clear trends that are booming right now. Do you know what these gaming trends are? Take a look and see how you can get on board with them!
Some Context: Where Do These Trends Come From?
Gaming during COVID made 2021 the best year for gaming in decades. When the pandemic sent us all home in 2020, we had to find ways to entertain ourselves to avoid falling into madness. As a result, many of us started gaming the night away. The gaming industry boomed even higher in 2021 with hundreds of new gaming streamers and content creators creating a more extensive and more substantial online gaming community. Many people found that online gaming is a great way to stay in touch and have fun with their friends while staying at home.
Technology became an intrinsic part of our daily lives during 2021 as we needed to find ways to communicate and work while staying home. Gaming during COVID became a way to unwind and have fun. The communication technology and gaming industry worked on finding ways to evolve in order to make our lives easier; this is where most of these new trends come from.
1. Augmented Reality Ideas Everywhere
Pokémon Go! was a huge success when it launched in 2016, getting thousands of people playing with Pokémon worldwide. The Pokémon company doesn't usually stray from their formulaic games. Still, they did it with Pokémon Legends: Arceus, and they did it too with Pokémon Go! that year.
Was the popularity of the Pokémon franchise or the use of augmented reality what brought so many fans (old and new) to this game? Maybe it was the combination of both. As its name suggests, augmented reality is a way to expand reality with technology. Today, many companies in the gaming industry are investing in augmented reality ideas to bring gaming to everyone's homes and lives.
2. Virtual Reality Gaming Takes Over
While augmented reality takes games to the player's reality, VR takes the player to the gaming world. Virtual reality gaming has been around for a while, but it made a big comeback a couple of years ago. It looks like it's here to stay since many companies outside the gaming industry are betting on this technology as well.
Even though Tim Sweeney and Mark Zuckerberg announced the metaverse will arrive many years from now, the seeds planted by these companies will begin to sprout in 2022. Companies worldwide have realized they don't have to be physically together to work and collaborate. Virtual reality gaming offers a way for team members to meet and actually see each other.
Several technology brands have VR headsets in their future catalog of products already, from Sony's PS VR 2 to Apple's VR headset, and even Meta's Cambria. There are even some already on the market, like the Oculus Rift. Virtual reality gaming is and will be a reality for gamers all around the world.
🔥 You might like: What is the Best Gaming Gear Every Gamer Should Have?
3. Fans Hold the Future of Video Games
Saying people got into gaming during COVID doesn't just mean they got into online gaming; it also means many people started getting interested in game development. Spending so much time at home got us looking for ways to entertain ourselves and ways to invest that time into something practical like learning new skills and producing something on our own.
That's why many people started taking online courses to learn about the video game industry. Some companies took advantage of this to create easy-to-use software anyone can use to produce their own video games from home. Roblox is a platform where you can design and program your own games and share them for other people to play; you can also play games created by other users. For these reasons, Roblox grew in popularity with users.
Technology is here to make people's lives more accessible, and the video game industry knows it and wants to take part in it. The video game industry producing games that help people make their own games is a bet on this trend. People want to build their own things and make something of it by selling gaming merch, for example.
4. Play-To-Earn Games as a Business Model
Gaming streamers making money by playing on Twitch is nothing new; it's a practice that has gained strength for years. However, the arrival of NFTs has added a new layer to the business model of online gaming: player-to-player trading.
The crypto scene is willing to take part in the video game industry. Despite the rejection by a significant portion of the gaming community, you can already see play-to-earn games all over digital stores. The video game industry is looking for ways to ban this to protect the community. However, many gamers seem interested in player-to-player trading, so we may see this in the near future of video games.
💣 Don't miss out on the Best YouTube Video Ranking Tips: Gamers Edition
5. Transmedia Boosts Video Game Industry IP Value
Some years ago, thinking about a video game adaptation in film or TV was doomed to fail; today, we can see that's not true anymore.
With the success of the two first seasons of Netflix's adaptation of The Witcher and Arcane (the League of Legends series), we see video games can genuinely work in a TV format. Sonic The Hedgehog and Detective Pikachu proved they can also work as movies. An animated Mario Bros film with colossal star power is in the works by Illumination and is set to be released later this year, as is the sequel to Sonic.
But this gaming trend doesn't stop there. Gaming characters are making crossover appearances as a strategy to promote their franchises. Jix from League of Legends appeared in Fortnite to promote Arcane, and Jill Valentine and Chris Redfield also appeared in Fortnite to promote the Resident Evil movie last year. Alloy appeared in Genshin Impact, Fortnite, and Fall Guys to promote the new Horizon game. Nathan Drake was also in Fortnite for the Uncharted movie campaign, as Fortnite crossovers never seem to stop.
Fans love to see their favorite characters everywhere, and we can expect to see more of these crossovers and movie adaptations in 2022 gaming and in years to come.
6. 2022 Gaming Content for Multiple Platforms
Even if Nintendo is not known as a trendsetter nowadays, it's been a pioneer in the video game industry when it is about mobile gaming. From Pokemon Go! to Mario Kart World Tour, and now Pokemon Unite, Nintendo is creating one successful mobile game after the other. It's reasonable to consider why the gaming industry is aiming towards mobile since almost every one of us has a smartphone within reach.
On the other hand, Steam will release Steam Deck to introduce portability to PC gamers (and PC games to the handheld console audience). So, it seems portability and mobility we will see more in 2022 gaming.
7. Inclusivity in AAA Trending Games
Video games have become a great source of mass entertainment. The video game industry has found a way to reach younger audiences and expose them to the beauty of being different. AAA games have presented main characters with different ethnicities, shapes, and sexual orientations in the last years. From Overwatch's rich character rooster to The Last of Us Part 2 protagonist and antagonist.
We can expect trending games to have more of these characters normalizing differences and helping to fight racism, homophobia, xenophobia, and hatred in general.
8. Indie Gaming Industry Is Spreading
Thanks to the growing number of people getting into game development, the gaming industry has made it easier for all of them to sell their creations and has helped them reach their market by removing barriers. However, while the indie gaming industry is growing, it is also spreading thin. There's too much being offered, leading to all the platforms being inundated with new products every day.
As developers find it easier to get to gamers, they also find it harder to be seen by them.
9. Lumberyard Improves Online Gaming Community and Experience
Lumberyard is a freeware cross-platform game engine developed by Amazon that's helping developers start creating their own companies within the gaming industry.
Gamers creating their own games and streaming them on Twitch is something we may start seeing more and more. An exchange of original creations with gaming streamers playing each other's original games and doing reviews for YouTube will create a whole new experience for the gaming community.
10. "Feel Engineering" Renewing the Gaming Industry
"Feeling First" is a development approach that focuses on feelings as a goal when producing a video game. This approach creates a totally new way for the video game industry to work, as emotions dictate the gameplay, visuals, and story.
Funomena is a company totally focused on "feel engineering," creating games with gamers' emotions in mind.
Wrapping It Up
Gaming during COVID put video games in the daily lives of many people around the world. Video games are not only a form of entertainment anymore but are also an expression of creativity as more gamers get into developing their own creations. The future of gaming is now shaped by fans who want to be represented in the games and who want to feel and experience reality in new ways.
2022 gaming has begun by giving us many surprises and establishing what the near future of the video game industry will be. Still, we can already see that future is bright. Want to get the best of 2022? Don't forget to read our 12 design trends compilation to succeed this year.