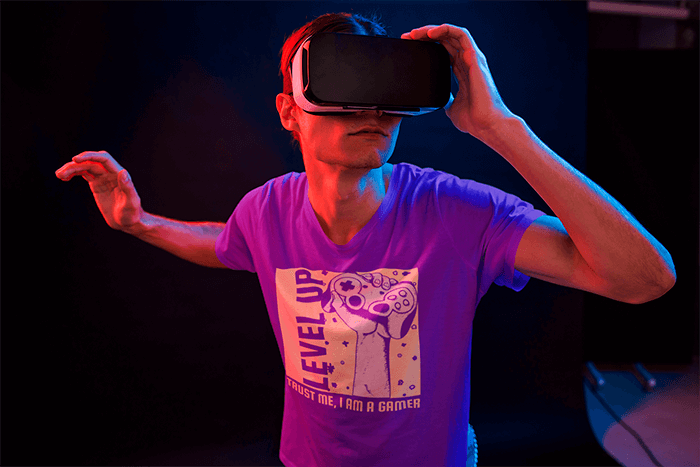 Gaming is an expensive hobby, but by choosing just the right equipment you can really make your money worth it. We are here to discuss your gaming essentials such as headsets, mouse, keyboard, laptop, computer, controllers, and some others that are also nice to have!  In other words, the best gaming gear to get yourself to the next level. 
Avoiding lags could be the difference between life and death in a virtual world. This is why its super important you choose top-notch equipment that has your back. You need the best of the best for those long gaming sessions. 
There are tons of gaming brands to choose your gear from  ASTRO, Alienware,  Asus, Corsair, Creative Sound Blaster, Gigabyte, HyperX, Logitech, Plantronics, SteelSeries, Razer, and more. We've gathered some of the top equipment for gamers according to web listings. 
We made some research seeking cool gaming gear to help gamers get their ideal gaming set up ready for some awesome playing. Getting the perfect devices and gadgets can really make your gaming experience even more enjoyable. 
Let's have a look at our top picks!
Best Gaming Equipment Essentials
Gaming Headset
A good gaming headset is essential for gamers, it gives more realism to your gaming and also allows you to communicate with your friends with its integrated microphone. 
Kingston HyperX Cloud Alpha
Wirecutter's pick
With thousands of reviews, the Kingston HyperX Cloud has been quite a popular choice of headset. They are super comfortable, light-weighted, over-ear design, with noise-canceling technology. Detachable microphone to communicate with your team. You can find them for a reasonable price and they are compatible with any console and PC. 
Kingston HyperX Cloud headset supports true stereo sound and 7.1 simulated surround sound. This is a wired headset which means you will have to be connected at all times. However, this also ensures you will not have any sound lag. 
Price: $69.95 USD
Sennheiser GAME ONE
The Sennheiser game on a headset offers clear sounds in a light-weighted headset for pro gamers. These are a bit more pricy than our previous pick. Incredible sound quality! 
Price: $118.00 USD
Corsair HS60 Pro
Wirecutter's best price pick
Hear your games with great quality, volume controls integrated, and integrated microphone. This is the most affordable option while still offering great quality. This headset has a non-removable cable, which means you need to keep yourself connected. Get a great immersive gaming experience!
Price: $69.99 USD
HyperX Cloud Flight S
Wirecutter's wireless pick
Best wireless option for those who hate being connected. 
Price: $104.98 USD
Gaming Mouse
What mouse do pro gamers use? Well, when choosing a mouse to have a more fluent gaming experience you need to consider speed and precision because this will definitely make a difference in your results.
Logitech G900 Chaos Spectrum
If you are either a PC or a laptop gamer, you will most definitely need a mouse simply because it makes a better gaming flow. This mouse has 8 programmable buttons, it's a high-speed mouse with great precision. You can keep it wired or go wireless. 
It combines two technologies: Delta Zero technology and a fusion engine hybrid sensor, which allows you to reach super high speeds with ultimate precision. This is why this is considered a highly advanced mouse for players and one of the top gaming pieces of equipment. 
Price: $99.95 USD
Logitech G402 Hyperion Fury
Similar to our previous example, this is too a high-speed mouse and one of the tops picks for gamers due to its optical sensor technology combined with Logitech's custom-built fusion engine hybrid sensor for high speeds. With this mouse, you'll get an upgrade for your gaming. It is a little more accessible than our previous options. 
Price: $48.99 USD
Logitech G502 Hero
Wirecutter's pick 
Precise sensors, multiple buttons, comfortable even after hours of gaming. Comfortable for most hand sizes, and adjustable weights. This mouse is a great option!
Price: $62.99 USD
Razer Basilisk Ultimate
Wirecutter's pick 
Best wireless gaming mouse, comfortable shape, optical switches, and a decent battery lifetime. 
Price: $130.00 USD
Gaming Keyboards
SteelSeries Apex Pro Keyboard
Adjustable switches, OLED display, and RGB backlighting. This Steeelseires is a Great mechanical keyboard for a great gaming experience. Super easy setup. It is a bit pricier than others but totally worth it. 
Price: $199.99 USD
Razer BlackWidow Chroma V2
This is one of the top-quality mechanical keyboards you can get. This is an award-winning keyboard that works great with both PC and Mac. Wrist rest features and it lights up as you press the keys. Plus, it is more affordable than our previous options. 
Price: $113.00 USD
Cooler Master MK730 – Cherry MX Blue
Wirecutter's pick
Simple, durable, and easy to use. Vibrant lighting. Works great with or without extra software. 
Price: $157.95 USD
Corsair Vengeance K70
Key by key lighting, easy-to-use mechanical keyboard, full-key matrix anti-ghosting mechanism for accuracy, and anti sticky keys. Light-weighted. 
Price: $129.99 USD
The CORSAIR K100 RGB Optical Keyboard is great too!
Gaming Computers
A pretty piece of essential equipment for any gamer is of course owning a great computer! Choosing your gaming PC gear is an important step to leveling up your arsenal. 
What PC should I buy? What is the best gaming PC brand? How much does a decent gaming PC costs? When choosing your pc you should consider RAM capabilities, video card capabilities, you need to make sure you are choosing a PC fit for gaming.
Let's discuss a few top options we've found that are very popular out there.
Corsair One
When struggling to choose a version of the Corsairs (most of them are great) think of this: 16GB of RAM, at least an i7 processor with 3.0 Ghz+, how much hard drive memory you need (1 TB should suffice), and a video card to hold it all together (something like an NVIDIA GTX).
The Corsair One promises to keep you going for not only the present gaming but for many years to come!
Price: $3,399.99 USD
HP Envy Desktop TE01-1165
Wirecutter's pick 
For an incredibly affordable price, the HP Envy Desktop PC offers an Nvidia GeForce GTX 1650 graphics card, which allows you to play at 1080p and medium to high settings for the next few years. Plenty of storage to save large games. 
Price: $749.99 USD
MSI MEG Aegis Ti5 Gaming PC
The NVIDIA RTX 3080 graphics card gives you images that come to life before your eyes. It has an Intel® Core™ i9 processor and a robot-styled design. It is a bit pricy but common, it looks super cool! 
Price: $3,999.00 USD
Gaming Monitors
Dell SE2417HG
This monitor is compatible with well, everything, crafted with 1920 x 1080 resolution at 60Hz as well as containing a 2ms response time. Superior vision, clarity, and resolution
Due to its response time, it is often referred to as a gaming monitor. 
Price: $300.00 USD
Acer XR342CK Pbmiiqphuzx
Wirecutter's pick 
It's important you have a high refresh sync monitor to keep up with your gaming and this Acer promises to deliver! This is a 34-inch, curved monitor. FreeSync compatible and has a 100 Hz refresh rate, and ultrawide screen. 
Price: $ 649.99 USD
Asus TUF Gaming VG289Q
Wirecutter's 4k pick
Super affordable 4k monitor, it has great quality and supports FreeSync. It does lack, however, the USB-C port and USB hub of other pricier picks.
Price: $329.00 USD
ASUS ROG Swift PG279Q is great too!
49″ Odyssey G9 Gaming Monitor
This is a futuristically designed monitor with a curved 49-inch screen for immersive gaming. QLED resolution. A bit pricy compared to the other monitors but it does look amazing!  
Price: $1,699.99 USD
Gaming Laptop
Asus TUF Gaming A15
Wirecutter picks
This is the best quality-for-price gaming laptop. It offers great performance. It maintains cool while long gaming hours. Comfortable RGB keyboard and high refresh rate on screen. 
Price: $999 USD
HP Omen
If you are more of a laptop gamer then this is definitely a great option for you! When choosing a specific model you need to keep in mind which screen size you are looking for, processor, video card, and hard drive, among other things. The HP Omen offers amazing performance for your gaming. 
Price: from $999.00 to $1700.00 USD
Razer Blade 15 Base Edition
This laptop features a 10th Gen Intel Core i7 processor that reduces interruptions and lets you multitask for the best performance. With a 15.6-inch 1080p screen, six-core i7 processor, a massive 16 GB of RAM, 512 GB SSD, and RTX 2060 graphics.
Price: $1,499.99 USD
Gaming Controllers
Sony DualShock 4 Wireless Controller
Wirecutter's pick
Many games will work best if you are using a controller. This controller is the most popular being super comfortable and works great with Steam. It requires a few setups for some games. 
Price: $109.99 USD
Razer Wildcat
Whether you are playing on your Xbox or on a PC, you can never really be fully equipped until you get a decent gaming controller and this is one of people's top picks. Fully reliable great reputations, ergonomic shape. It will definitely give you an advantage over your competition. 
Price: $129.99 USD
Microsoft's Xbox Core Controller
With a standard layout, two analog sticks, four face buttons, four triggers, and a directional pad (although it is a little less responsive), this controller is amazing! It pairs wirelessly using Bluetooth and can last up to 30 hours of charge. Great comfort too!  
Price: $54.98 USD
Logitech Wireless F710
This controller is a great multi-platform device. Feel the game in your hands with its dual vibration system. Wireless connection, completely programmable, compatible with Android TV. 
Price: $49.99 USD
Gaming Webcam
Logitech C920S HD Pro Webcam
Wirecutter's pick
A good quality webcam is a must if you are a streamer. Full HD video with a lens cover to shut your camera whenever you are not using it. 
Price: $69.99 USD
Razer Kiyo Streaming Webcam
Wirecutter's pick
The Razer webcam comes with an integrated light ring. It gives you a flattering image with a 720p resolution.
Price: $85.35 USD
AUKEY's Full HD Webcam
USB Webcam for widescreen video and recording. Compatible with both PC and Macs, super affordable, 1080p Live Streaming Camera with Stereo Microphone! Works great on both desktop or laptop. Great price too!
Price: $25.49 USD
Gaming Chairs
Steelcase Gesture
Wirecutter's pick
The Steelcase Gesture is a high-end chair is designed for your comfort. Improving your posture. Adjustable arms, this chair promises, and ergonomic support for 8 sitting hours.
It molds to its user no matter which body type. The most adjustable chair available!
Price: $999.00 USD
Andaseat's Jungle
Great ergonomic features like adjustable armrests, headset pillow, lumbar pillow, and more for your comfort. 
Price: $299.99 USD
Herman Miller Aeron Chair Ergonomic Gaming Seat
Great ergonomics, super comfortable. Fully adjustable arms, innovative comfort, posture adjustment. This chair is the most pricy of our top options.
Price: $1,445.00 USD
Gaming Desk
Arozzi Arena
This desk is pretty affordable. It is a lightweight desk you can easily move anywhere. You can choose from tons of colors. It offers cable organization and overall, it looks pretty cool! 
Price: $449.99 USD
A Few Extras
You can also find other helpful equipment for your game like external microphones, speakers, feet resters, gaming consoles, gaming mouse pads, virtual reality headsets, features and gadgets to play on your phones like a mobile controller, and more.
Western Digital Call of Duty: Black Ops SSD
Reduce the loading time of your games. It can help your load time speed up to  2,000 MB/s. 
Price: $249.99 USD
Last Words
Choosing your gear, in the end, is always about personal choices. Keep in mind your budget and make choices to make your money count. 
If you liked this post you will probably enjoy our How to Start a Gaming Channel post or our How to Become a Professional Gamer and Get Paid post to get more helpful tips for your gaming career!
Leave a comment for us!