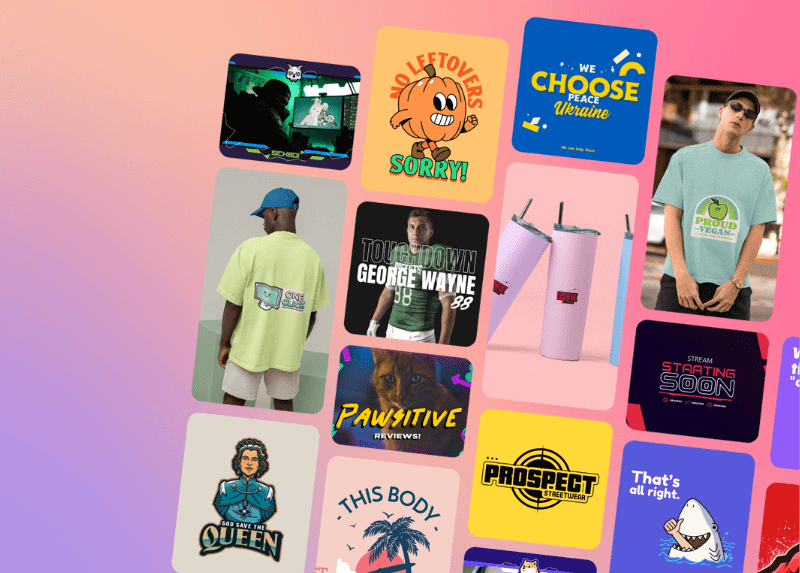 The countdown has officially begun! We're about to close another great year and to remember all the good things that happened to us, we've decided to create a great compilation of our best templates! So get ready for a bunch of inspiration because this list covers everything Placeit has to offer! From mockups and designs to logos and videos of all kinds. 
Let's discover together which were the favorite templates of our Placers! ✨
Our Most Downloaded Placeit Designs
Placeit hosts a massive collection of designs, but the ones that always stand out are our t-shirt and social media designs. But that's not all! This 2022, our Twitch templates were one of the most acclaimed by our online community. So let's take a look at the collections that were a 10 out of 10 for our users!
📅 Need some t-shirt inspo for this upcoming year? Then head over to our t-shirt calendar to find so many ideas to shine in 2023! 
• This 2022 brought some historical events that marked the year, such as the passing of Queen Elizabeth of England, a theme that caused a commotion and became the best-selling design in Placeit's t-shirt designs. 
• Next on the list, another event that caused a stir was the controversial war between Russia and Ukraine that unfortunately continues to this day. For this theme, the t-shirts with peaceful quotes were a hit to show support and compassion.  
• On the other hand, leaving out the world events, we also found the summer designs, which were a big success! And in keeping with the relaxed vibe, many users made cool and casual-themed t-shirt designs that include short phrases as their favorites. 
Social Media Design Templates
• The highlights in our best templates list were mainly YouTube thumbnails focused on gamers and virtual reality. Some of them had as protagonists adorable felines, which makes us wonder, do they have any reason to be or go great with any theme? 
• And continuing with the best templates of the year regarding social media, we found ourselves again with the historical events we mentioned previously. In this case, the Queen's demise and the controversial war, for which our designers put their hands to work to create Instagram posts that reflect genuine support and comfort for those difficult moments. 
• Also, within the top 10, we found popular posts to celebrate the popular green event in Ireland: St. Patrick's. And continuing with the green colors, we had an informative post about the side effects of cannabis, a topic on which you can find many more designs here! 
• Finally, informative posts are among the most acclaimed templates. In this case, the star template that took the ovations was an LGBT-themed one. 
💡 P.S. Some Instagram posts are a bundle. This means it's a series of posts that emulate Instagram's famous and popular carousels so that you can have a consistent style in each of your slides. Have you tried them yet? If not, click here to explore our bundles' collection. 😊
Since 2020, this popular streaming platform has been in the spotlight. Not only for gamers but for artists and creators of all kinds. Therefore, we decided to include this section that took first place in our design category. For example, starting soon screens were very popular this 2022! Webcam frames, alert boxes, back screens, and OBS webcam frames were some of the favorite templates of our gaming users! However, Placeit's gaming collection is still huge! Check it out all here to brand your Twitch channel this coming 2023. But in the meantime, discover the best templates of 2022:
Top 10 Record-Breaking Logos of the Year
As for logos, once again, the Queen took the headlines, and this logo creation was phenomenal to honor her majesty. However, there was also a big boom in streetwear, urban, vintage, and hip-hop styles. Everything related to the world of gamers was very popular as well. Gamers also need to have an outstanding logo to be noticed, differentiate themselves, and build a compelling brand.
Finally, let's also highlight the logos designed for basketball fans, business owners, and the LGBT community. 
The Best 10 Mockups Templates During 2022
Ah, mockups! A great tool that came to revolutionize the business of physical items. Previously, you had to send a product with your brand to the printer to get a sample. Or you had to invest a lot of money to hire models to pose your business' designs. But now everything is way easier with Placeit! In 3 simple steps, you can have a prototype of how your brand would look. So without further ado, let's see the best templates for the mockups category during 2022. 
We found that skinny tumblers were a hit during the year! But also, as we mentioned before, this year was all about good vibes & chill; this is why our mockups with smiling models wearing sunglasses showing very cool poses were a favorite.
Finally, the best templates list will always include the essential and classic mockups that will get you out of any trouble. We're talking about those templates that only have a plain background.
The 10 Coolest Videos Throughout the Year
And to close this year with a flourish, let's review our video collection! This top 10 is focused mainly on football and soccer sporting events. The latter event can be attributed to the 2022 World Cup, which concluded this Sunday. 
Additionally, Twitch was once again the protagonist, as in all previous listings! So if you want to start on the right foot this 2023, we recommend you to read our super guide on Twitch. 
And leaving out these events, other videos that turned out to be very popular were corporate videos, travel videos, and those inspired by famous companies and brands like Netflix and Star Wars. We have a huge collection of video templates with thousands of different themes, styles and formats like instagram post videos, Twitch starting soon screens, intro videos, slideshow videos, and much more!
Make Placeit Your Design Tool for This 2023
To make each one of your projects full of style and life, Placeit by Envato is what you need! As this best templates list showed, you'll find tons of logos, mockups, videos, and designs for any idea, campaign, event, or business you have in mind. 
Not sure yet? Here are some powerful reasons to have Placeit on your side: 
Crafted designs made by professionals but with 100% of your style

Without the need to be a design expert or learn sophisticated design programs

Amazing and top-notch looks in less than 5 minutes! 

Available anywhere, 24/7. You just need an internet collection. 

Endless templates for every business niche, season, and event on the calendar. 

A massive library of graphics with a single subscription. 
All you need to design is available in one single place! 
And with that, 2022 comes to an end! Thanks for being part of this journey. We see you in 2023 to keep creating together hundreds of wonderful graphics to make your life easier! And remember, anyone can design like a pro with Placeit.
FAQ Placeit's Best Templates