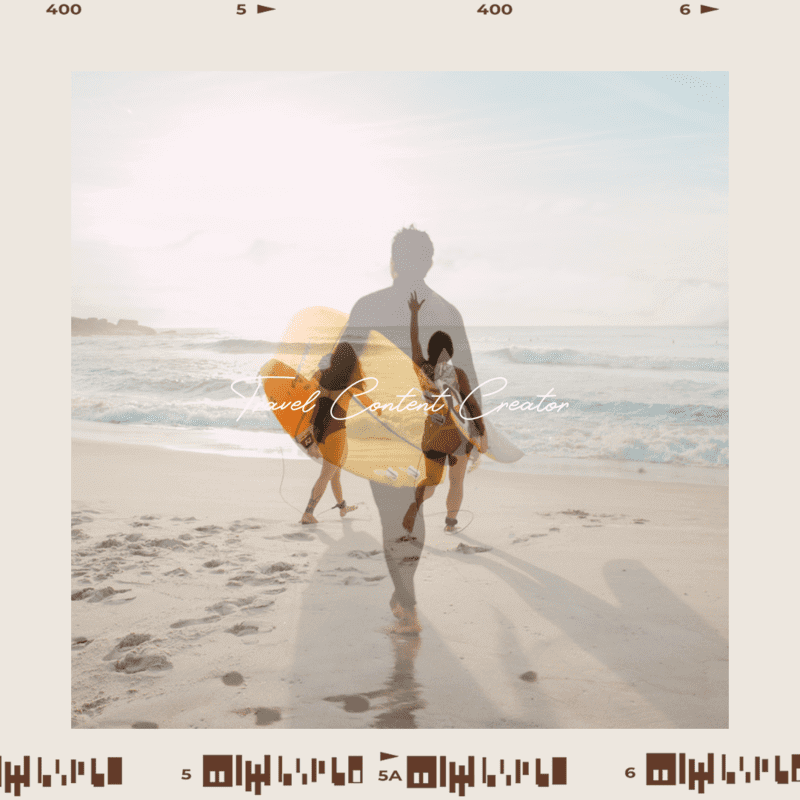 Imagine having the world as your office. Wouldn't it be great? If the thought of leaving your 8 to 5 PM job to become a travel content creator sounds like a plan, you're on the right track!
This guide will be your map and best ally to turning your travel passion into a profitable and successful career. So, let's spill the details on how to make it happen!
What's on This Bucket List? ✈
What Is a Travel Content Creator?
A travel content creator is someone who specializes in producing content for various platforms, including apps, blogs, and videos, with a strong focus on travel.
Whether it's sharing personal travel experiences, offering tips, or showcasing different destinations, you can turn your passion into a source of income by creating travel content.
As a travel content creator, your main tasks will involve:
Researching and developing new content ideas within the travel industry.

Crafting and proofreading content for blogs, social media, video scripts, podcasts, infographics, and more.

Editing and creating eye-catching graphics, photos, and videos.

Producing audio content, whether in the form of podcasts or voiceovers.

Managing and maintaining active social media accounts and a travel-focused blog.

Analyzing content performance and metrics to gain insights into its effectiveness.

Exploring opportunities for monetization to generate a sustainable income. We'll delve deeper into this later on. 😉
Your primary objective is to provide value (through content) by inspiring, informing, entertaining, educating, and engaging with people who share a love for travel.
Your role involves creating highly engaging content, whether through the written word, audio, or video, to help others plan their trips, discover new destinations, make informed travel decisions, and contribute to promoting tourism and exploring diverse cultures worldwide.
💡 Related Concepts to Look At
You might wonder if a travel content creator is the same as a travel blogger or influencer. While they're closely related, there are some key differences. Let's take a closer look at each:
Typically, a travel blogger specializes in creating written travel content through a blog or website. In this format, the author shares their views and provides insights into travel experiences, tips, destinations, recommendations, stories, itineraries, reviews, and more.
On the flip side, a travel influencer primarily focuses on social media platforms like Instagram, TikTok, or Pinterest to create content. Their main goal is to influence people through their travel experiences and promote products/services related to accommodations, airlines, tourism boards, and cities.
Zero to Pro: 6 Steps to Becoming a Content Travel Creator
To be successful, you need to play your cards right. When you do it right, it's very likely that by this time next year, you could find yourself working from the stunning landscapes of Australia or crafting captivating content about Ireland. The key to achieving these dreams is planning and having a structured approach.
So, love traveling and want to live from it: ✅ checked. Now, let's move on to the next steps.
1. Pick a Niche and Sub-Niche to Specialize In
The first step in your exciting journey as a travel content creator starts here, yay! This is the most important step since all your content and work opportunities will revolve around it. 
In other words, your niche and sub-niche will determine what kind of travel content creator you will be. 
Here are some of the most popular travel niches. Read on and choose wisely; later, you'll become the go-to guru for this niche. 😉
As its name suggests, this niche focuses on top-notch travel experiences. From luxury destinations, 5-star hotels, and resorts to Michelin-starred restaurants, exclusive transportation, and activities.
Some of its sub-niches include luxury cruises, high-end resorts, and gourmet dining. So, if you're ready to enjoy a luxurious life while traveling, this is your niche!
When it comes to solo travel content creators, they're undoubtedly brave souls! If you choose this niche, get ready to explore the world on your own, uncover hidden gems, share tips on staying safe, and discover yourself along the way.
Sub-niches within this category include solo female travelers, adventure seekers, and budget travelers.
These content creators are money-saving gurus, proving that traveling and exploring the world on a small budget is possible. Including low-cost destinations, accommodations, transportation, and activities. Who said world exploration can't be accessible to everyone?
The main sub-niches within this budget travel category are backpackers, travelers specializing in hostels, and budget-friendly places. So, if you're under a tight budget, this might be the great niche to start in. 
Unlike solo adventurers, these awesome content creators are like the real-life "Cheaper by the Dozen" squad! Following the "better together" mindset, they focus on crafting content and discovering destinations, activities, and accommodations that cater to every family member—considering that safety and fun are their top priorities. 
Within the family travel niche, you'll find various sub-niches, including specialists in traveling with kids, single parents, and multigenerational families.
Are you a thrill-seeker at heart? Look no further! This is the niche to choose for all the adrenaline enthusiasts out there. These intrepid travelers fully embrace life by seeking adventurous destinations and unforgettable experiences.
The most popular sub-niches in this category focus on extreme activities, outdoor adventures, and sports.
Are you a foodie with a passion for travel? Then, the food traveler category is tailor-made for you! Food travel content creators specialize in exploring a world of flavors, whether it's through street food or fine dining, while also uncovering culinary traditions and unknown food paradises.
If you're ready to savor the best of both worlds, you can choose from these sub-niches: street food, gourmet dining, or wine routes.
We know that travel can leave a mark on our planet. But there's this travel niche for those who love travel and focus on Earth preservation. This proves you can explore the world while being a responsible Earth steward.
Within this category, you'll discover green sub-niches—for example, wildlife conservation, sustainable tourism, and eco-friendly adventures.
Art and culture enthusiasts who love traveling, this one's for you! This type of travel focuses on discovering the world through culture, art, people, traditions, and historical landmarks.
In this niche, you're not just exploring the world but delving into more than just its physical beauty. You get to create content that's not only engaging but also incredibly informative, revealing the hidden facets of the world's most popular destinations. 
Plus, within the sub-niches for this category, you can opt for specializing in historical sites, cultural immersion, and arts or traditions.
Now it's time to see the world in real life and admire the beauty of the wildlife. These travel content creators have a strong passion for animals and nature. It's common to find them exploring national parks, going on safaris, visiting wildlife sites, and simply discovering the natural wonders of our living planet. 
To become an expert, dive into the Safaris, Underwater life, and Birdwatching sub-niches.
If you're seeking a spooktacular job while exploring the world, this niche might be the perfect fit for you. It specializes in paranormal experiences, including exploring abandoned houses, cemeteries, public places, and more enchanted spots worldwide. 
Calling all DINKs (dual income, no kids) who are in love with love! They often specialize in adventures and dreamy romantic destinations for couples. For instance, The Alcalloughbys are a world expedition couple sharing breathtaking destinations. 
🌴Location as a Sub-Niche Too!
Seeing the array of travel niches and sub-niches gives you a lot of possibilities to choose from.
So, after reviewing the most popular travel niches and sub-niches, you might know the best category for you as a travel creator. But hey, there's more (about sub-niches), and it's all about location! 
For example, if you're a solo female traveler, you could be zooming in on all things Southeast Asia or exclusively exploring the wonders of the US. Or even start in your city and live life like a tourist. 
The possibilities are endless, but it's essential to understand what you want and make it clear from the beginning for you to make everything easier. 🙌
2. Create a Personal Brand for Yourself
Once you've picked your niche and sub-niche, it's time to start touching down some concepts related to you as a travel brand.
🕵🏼Identify Your Target Audience
Understanding your audience is the core of your success as a travel content creator! Therefore, to connect with your viewers and craft content that truly resonates with them, the key is creating buyer personas representing your target audience. 
Start by asking yourself essential questions about your audience. For example, their age, location, lifestyle, personality, interests, habits, needs, and preferred online platforms. You can even go a step further and create detailed personas, giving these "characters" names and faces to make them feel real. 😉
This in-depth audience analysis is the secret sauce that will help you create content that meets their specific needs and desires, making your content engaging and valuable. After all, your audience is a big part of your growth as a travel content creator. 
⭐ Develop Your Brand Identity
Let's talk about building your captivating brand identity as a travel content creator! Think of it like this: your brand identity is what sets you apart, makes you irresistible, and keeps you relevant in the world of travel content. 
✏ So, grab your notepad and get ready to establish your:
💡 Value proposition. What makes you different from other travel creators in the same niche or sub-niche you are? For this section, you must look for other travel creators and identify their strengths and weaknesses. This will give you an idea and help identify gaps or uncovered needs in the selected travel niche market. Also, apply our above steps about niches and target audiences, as they'll be your guiding stars.
🌟 Personality. As you're the travel content creator, you'd need to list the three adjectives you want to be associated with. Additionally, consider what will be the tone of your brand. Your brand's tone sets the stage for your content. Whether casual, humorous, or respectful. 
🏷️ Your brand's name. Here's where you get creative! Your brand name can be your name, last name, or even a clever play on words. Just make sure it's short, memorable, and not taken.
🌈 Visual identity. This is probably one of the most fun parts as we're going to develop your visual style, AKA travel graphics. Here is all about color schemes, font pairings, your logo, and other assets for your brand. For instance, your Instagram aesthetic, Pinterest pins, travel itineraries, your travel portfolio – you name it!
Luckily, our talented Placeit by Envato team of designers has designed templates for travel content creators like you to make this easier than ever.
Take a look at some travel templates that you'll love.
3. Select Your Platforms to Establish Your Online Presence
When you're starting this exciting journey, one of your key moves is to select the online platforms where you'll shine.
We all know the temptation to sign up for every available platform can be real 🫣, especially when you're just starting. But we advise focusing on just 2 to 3 social media channels. 
So, what should you keep in mind when making this choice? Here's the scoop:
Where your audience is.

Find out where your potential fans hang out and what platforms they prefer to consume travel content. 

The type of content that is most consumed these days

. During the last few years, short and snappy vertical videos have been all the rage. Does that ring a bell?

Where your potential network, collaboration, and business partners are.

It's essential to identify in which social platforms there's every likelihood that business partners and travel content creators are to make alliances with them.
Therefore, if we were starting from scratch, we would choose two stellar choices (focused on video content). However, you should never discard a blog to boost your reach. 😉
It's the king of short vertical videos, especially popular among Gen Z. Additionally, you can find new leads and reach a broader travel audience using this platform.
Many travel content creators swear by Instagram for building relationships. Travel brands commonly promote their destinations, accommodations, and other travel services on this platform, making contacting them through direct messages easier. Instagram is also your go-to platform for building an online presence and nurturing your travel community.
🌏 Pro Tip: Before reaching out to travel brands, make sure you stand out from the crowd by actively engaging with their posts through likes and comments. We'll dive deeper into this topic later. 
4. Produce Consistent and Top-Notch Content
A big part of starting and evolving as a travel content superstar is undoubtedly creating content, also known as your golden ticket. But here's the thing: it has to be top-notch to make people flock to you.
So, the previous steps will guide you to know what kind of content you should create. But hey, we get it – as a beginner, figuring out what to post online can feel a bit overwhelming. But here are our top recommendations: 
Get inspired by other content creators
Explore travel trends and insights
Collect and document information from various sources about your selected niche, sub-niche, and target audience
✏ If you're still a bit lost, here are some ideas to post content entirely related to travel:
🤿 Ideas for Posting Content
Social media VS reality
A day in your life as a travel content creator
Restaurants on Earth that feel unreal
X things in my suitcase
Hidden gems in (location)
Come shopping with me in a (country) market
Traveling from (origin) to (destination)
Top spots to explore in (destination)
Maps and travel tips for (your niche target audience)
Bucket list destinations in (city/town)
The real side of exploring (spot)
How to spend (x days) in (destination)
(City/town) during (season)
x things you should know before visiting (country)
You arrive in (location), and this is your view
x weeks itinerary in (destination)
What ($number/money) per night gets you in (location)
So, no more roadblocks when it comes to generating content ideas! 😉
Consider your target audience and your passion for travel.

Think about what you'd like to see as someone who loves to travel.

Remember that you're pursuing your dream to make your travel passion profitable, so create content you enjoy and inspire you on this journey.
🛟Life Savers When Recording and Editing Videos
Also, consider these recommendations if you're a UCG creator and need to edit your videos. These travel video recording and editing tips will save you a lot of time and stress:
🎤 Talk to the Camera and Show Your Personality. What better way to infuse your personality than by showing yourself and speaking directly to the camera? This helps your audience feel more connected to you.
🪩 Integrate Trends (But Don't Make It All About Them). Trends are fantastic, but they shouldn't be the sole focus of your content strategy. Mix things up, including informative, educational, funny, relatable, and inspiring content.
📽️ Learn How to Edit Videos and Capture Great Shots. A common mistake made by newbies is filming only from left to right or vice versa. Additionally, to add variety, try capturing moments like sipping wine, enjoying delicious pasta, recording ocean waves, and incorporating this dynamism into your videos. Finally, avoid long pauses to keep your audience engaged.
🤫 Reduce Background Noise. Another critical consideration is eliminating background noise from the beginning, which can disrupt your video's impact. You can also include a pleasant soundtrack or add a voiceover message.
✏ Polish Your Writing Skills for Captions and Copy. Video creation also involves honing your writing skills, whether you're adding text to your videos or crafting captions for your social channels.
With these tips, you're all set to level up your video game and keep your audience returning for more. Check out some real-life examples:
🧳Essential Tools to Include in Your Suitcase
Creating content is such an adventure! Your witty mind is your trusty guide to brewing up those fantastic ideas. And when it's time to add that extra touch of style and professionalism, don't hesitate to team up with some helpful outside resources. Here are your must-use: 
Your favorite design tool from now on! At Placeit, you can find a wide array of gorgeous and aesthetic travel-oriented design templates. Including logos, mockups, videos, and, indeed, designs for social media. 
The best part is that all our templates are crafted by professional designers who have done their work by diving into the travel world to bring you exactly what you're looking for – whatever it may be!
When it comes to giving your images and videos that extra special touch, these online editors are here to make this task easier. And the best part? They've got a bunch of cool templates (including trends) to make your graphics look aesthetic.
Your future ally in the making! While you're still building your online presence and gaining followers, keep Wetransfer in your back pocket. This free tool lets you send large files, such as videos, documents, presentations, or portfolios, to your clients.
These tools allow you to create a unique link for your travel content creator account. This way, your instagram bio looks cleaner while concentrating all the resources you need. For instance, links to your portfolio, affiliate links, digital products, coaching calls, ebooks, and more. 
AI tools are all the rage right now and can be a powerful idea to equip you with content and collaboration ideas for your travel posts. And even help you write your pitch when you're trying to approach the travel brands or tourism boards you want to work with.  
This advanced tool works like a floating app to read lines when filming a UGC video. Say goodbye to the stress of memorizing every single line and focus on what matters the most. 
Finally, remember that this travel content creation journey involves developing and honing your skills. Whether it's writing, editing, designing, or managing platforms, these skills are vital for creating top-quality content and strengthening your online presence.
📌 Last Tips on Travel Content Creation
Aim to post between 1 to 3 times per day, but always prioritize quality.

Take a moment to sit down and brainstorm the type of content you'd love to share. Organize it into categories to add delightful variety to your travel content. This not only keeps your content fresh but also simplifies the organizing process for you as a creator.

Finally, ensure you use relevant hashtags and

SEO on platforms like Instagram

. This way, you'll attract the right kind of visitors who share your passion for travel. As your follower count starts to grow, remember to interact with them. Building a tight-knit and beautiful travelers' community involves listening to their feedback, answering their questions, and creating content that excites them to see.
5. Learn How to Monetize Your Content to Find a Profitable Way of Living
Wondering how to turn your passion for travel into income? Well, here's the scoop: diversifying your income sources is a game-changer. However, if you're immersing yourself into this travel content creation world, consider that it might be possible to earn 0 dollars; that's why the above steps are extremely important to build a successful travel career.
Plus, remember, even as you become a travel pro, you're not going to be traveling all the time. So here are some ways to make money from traveling as a content creator. 🤩
🤑 Sell Digital or Physical Products
A great way of passive income is by selling digital or even physical products on a virtual store that contains all the resources to offer to your target audience. Some good examples can be:
Ebooks
Online Courses
Portfolio Templates
Printable Templates
Merch
Travel Ugc Pitch Templates
Tourism Board Lists
💡Note: They call it 'passive income' for a reason! You can be scaling a mountain in Bali, and these content gems or physical products can fly off the virtual shelves without you lifting a finger.
🤩 Get Into Affiliate Marketing
Amazon favorites, for instance, are a sensation among the online community in the travel industry, especially on sites like TikTok. So, if your niche involves travel gadgets or must-haves for those long journeys, you can recommend these products through a link and earn a commission for talking about the products you love.
The good news is that many travel and non-travel brands have affiliate programs to help you earn money. Including Placeit with our affiliate program. 😉
In today's world, social media platforms are much more than just places to share content. They're a great ally when it comes to getting some dollars from it, and of course, thanks to your job as a creator. Whether you're a travel content creator, travel blogger, travel influencer or UGC creator. 
✨How to make money off Instagram: Turn your passion into profit by collaborating with brands, getting sponsored, opening your Instagram shop, and monetizing with video ads. The opportunities are endless!
⚡How to make money on Twitch: Take the stage as a Twitch affiliate or partner, sell merchandise, seek donations, and go after sponsorships. Your Twitch journey as a travel content creator awaits you! 
🌟 What about YouTube: On YouTube, you can earn from brand ads that appear during video views, join the new YouTube Creator Fund, and become a YouTube partner. 
💡Lastly, regarding making money on TikTok: You can get direct traffic to your online store, use TikTok shopping to promote your products, or create engaging branded content.
In the following step, we'll reveal two more ways, so stay tuned! 🚀⤵
6. Network and Collaborate With Travel Partners and Other Creators
This step is a cornerstone in building your presence and unlocking a world of opportunities in the travel industry. 
Here, you can have the chance to connect with other creators and reach out to industry professionals, hotels, airlines, and travel brands. So, be sure to follow the steps we've outlined above and also the next ones:
✈ Travel UGC Opportunities
This is a fantastic opportunity for aspiring travel content creators like you! User-generated content (UGC) can be text, video, or images and helps brands promote their products, often incentivizing sales. 
In the online world, real people frequently upload authentic videos of themselves trying out or showcasing products from brands they love. The difference is that this content can be freely shared, either for the joy of recommending a product to their audience. Or to earn extra cash, receive free items and services.
This approach is highly popular because sometimes brands can't create such content in-house and seek talented content creators who align with their purpose, values, and brand fits. Even if you start from free, you gain visibility and the attention of the brands and travel boards you want to work with.
🤩Did you know you can land a sponsored hotel collaboration even with just a few thousand followers? The real secret lies in the value you bring to the table. And often, the quickest way to get noticed is by becoming a user-generated content (UGC) creator and crafting top-notch content.
🤝 Brand Deals or Brand Collabs
And finally, the most juicy and gratifying way to live life as a travel content creator: partnering with your dream travel brands for sponsorships and collaborations.
This is the ultimate goal, where you, as a creator, work closely with a specialized travel brand to create content that promotes destinations, accommodations, transportation, activities, or anything related to the travel niche. Like UGC, you can receive monetary compensation, complimentary stays, or a combination of both.
✨ Therefore, to achieve this way of monetizing, you'll need to:
🌴 1. Create a Beautiful and Professional Travel Portfolio
Surprisingly, many travel content creators overlook this crucial tool, yet it's essential when pitching to hotels, tourism boards, and travel brands.
Your travel portfolio will include information about yourself as a content creator. But mainly, it'll focus on providing real travel examples of your trips and some statistics of the properties or brands you've worked with. 
Now, you might be wondering, 'But what if I haven't even started yet?' Here's the secret – even if you're starting from scratch, you can create a compelling portfolio with the 'fake it till you make it' mindset. How? Simple! You can build case studies based on trips you haven't been sponsored for – perhaps your next holiday. Imagine any upcoming journey as a paid opportunity and use it to create fantastic travel content that you can proudly showcase in your portfolio. Even a local long weekend getaway or a tourist-like exploration of your own city can kickstart your portfolio journey. 
😊💡 Pro Tip:  For helpful visual inspo for your portfolio creation, check out TikTok. Regarding templates, consider browsing Envato Elements. 
🤩 2. Send a Great Pitch to Your Dream Companies to Get Sponsored Deals
Now that you've created and got your trusty portfolio in hand, it's time to craft a pitch in writing or video format. 
A pitch in the travel world is your golden ticket to show why you're the perfect fit for that specific travel company and how you can bring value through your content.
😎 Here's what your pitch should include:
Your name and contact information

Subject line

About yourself

Details about your audience

Why you want to work with them

Collaboration ideas

Benefits for the brand through your work

Deliverables in terms of content pieces

Promotion and amplification strategies

Timeline

Compensation and terms
Pitching to your dream travel partners and not hearing back immediately is perfectly fine. But here's the key – don't give up! You can follow up and might need to send a gentle reminder 3 to 4 times, as sometimes their accounts are flooded with messages. 
But there's more to it! Make yourself visible, not just in their inbox but also in their feeds. Interact, comment, and show some love by liking their posts. You want to be on their radar. 
And if, despite your best efforts, you're still not getting the responses you desire, it's time to re-evaluate your pitching strategy. Showcase and highlight the incredible value you bring as a travel content creator. And create a pitch that lets them know why they can't afford to miss the opportunity to work with you.
🌍 3. How Do You Find Your Next Travel Board or Travel Partner?
It's 100% sure that browsing the web, you'll find some seasoned travel content creators generously sharing these valuable resources on their TikTok pages for free. But if you're searching for a quick and easy solution, we've got your back!
Head to Instagram and look for the destination you're interested in. Look for the official accounts – they usually start with "Visit" or "Explore"—for example, @visitmelbourne. 
Or, take a virtual trip to Google and search for "Melbourne tourism board" and open the official page, and they have all the official accounts at the end. 
⭐Pro tip: focus on cities rather than whole countries – it's a smoother ride when reaching out. But remember, before you reach out to travel brands, ensure to: 
Pick a niche and a sub-niche

Create your personal brand

Pick your online platforms

Produce consistent and top-notch content

Work on building a loyal travelers community

And prepare to network and collaborate with travel partners
And that's it! You're ready to approach those dreamy travel brands, whether it's an official tourist site, a hotel, an airline, or anything related to travel and tourism. 
Working full-time as a travel content creator might seem easy, considering there's no need for a degree or qualification. However, while the idea of traveling the world and getting paid for it is indeed exciting, the truth is that it requires a lot of effort, dedication, research, and knowledge.
No one said it was going to be easy, but it's worth it. You need to trust the process and remember that all the prominent travel content creators were once in your shoes, earning nothing in the beginning and even for months. The key is consistency, keeping up with your postings, and maintaining quality throughout your work. In the end, all your efforts will be reflected and pay off. 
In the meantime, continue developing your skills, staying informed, and remaining up-to-date to demonstrate that it's possible to have a job that doesn't feel like hard work. ✨😊✈