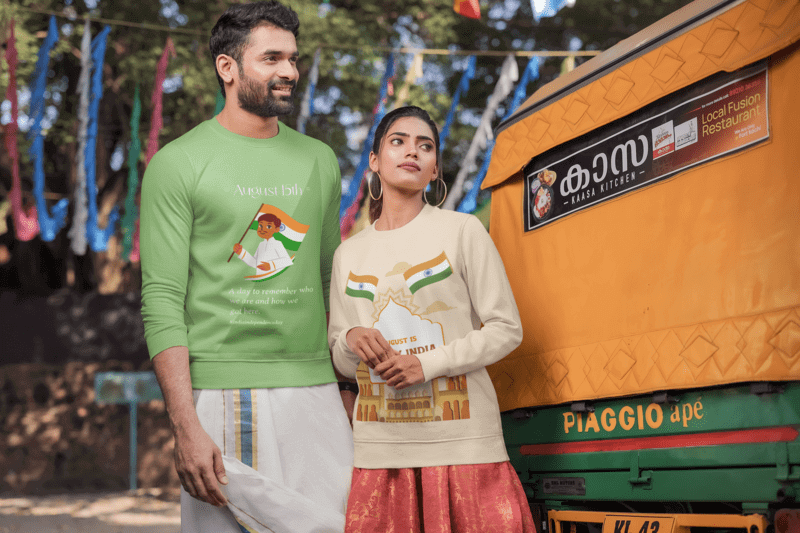 Placeit, in pursuit of inclusivity and diversity, has taken great pride in designing different collections that represent a wide array of cultures and countries. Today, to celebrate India's Independence Day, we proudly present a beautiful, high-quality, and diverse collection of Indian designs.
In this blog, we present you our favorite graphics, which have been carefully designed to capture the essence, culture, and beauty that characterize India.
So get ready to dive into this great compilation of Indian designs to represent your roots with pride and in an exceptional way, regardless of whether you are a small business owner, print-on-demand seller, or content creator.
🇮🇳 Discover the Indian Designs You're After
Celebrate Freedom With These India's Independence Day Designs
India's Independence Day is swiftly approaching, and to make this 15th of August more special and remarkable, we've got a wide variety of designs available. In this section, you can find Instagram posts, stories, greeting cards, and even bundles to convey your message effectively. Whether creating a celebration post, educating about this historical event, or simply sharing a quote you love and feel identified with. 
Best of all, these Indian-inspired designs come almost ready to use, as our team of designers carefully crafted these resources with the vibrant colors of India and added beautiful and representative motifs to make these designs truly authentic. So, all you need to do is browse our gallery, pick a template, customize it to your needs, and download it to celebrate India's Independence Day with our stunning and easy-to-use designs!
Beyond Independence Day: Exploring Other Indian Festivities
India is a country rich in traditions, festivities, and celebrations that are deeply ingrained in its culture. Luckily, Placeit by Envato is well-prepared for all these special occasions and has a stunningly wide array of Indian designs. All our templates can be easily customized in no time for any personal or professional goal you might have.
Additionally, one of the best aspects of our templates, designed by our talented creative team, is that each of these Indian design templates has been researched carefully and in-depth. The goal is to offer you an incredible and true-to-life collection of designs. In this way, it's easier than ever to convey a genuinely authentic look that embraces traditions while blending with a modern and professional touch.
So without further ado, let's look at our Indian design templates for some of the year's most beloved and popular festivities.
💡 To find out these celebration and festivities templates, head over to Placeit and look for the specific keywords on the search bar. For example, type: "Holi". In this way, you'll discover all the available assets we've created.
✨ Not feeling like using templates? Then design from scratch in our Blank Canvas tool. Here's a quick Blank Canvas guide you might like to read before you adventure into this design journey.
Capture the Essence of India Through These Authentic T-Shirt Designs
Looking for more Indian designs? Wish granted! Browse this mini collection of Indian t-shirt designs that embrace the true essence of India through unique, colorful, and captivating designs. Whether you seek a patriotic, inspired by a historical event, celebration, or even a food-themed shirt, we've got you covered! Check this variety of templates, which are suitable for any style. 
Design an Indian-Inspired Logo That You Feel Proud Of
Those who want to represent their country can get a realistic Indian design for your logo. Whether for a restaurant, an apparel line, a beauty salon, a dance academy, a coaching center, or any other business you have in mind, our renewed logo maker can serve all your needs. Discover how easy it is to create a high-quality logo that reflects the essence of your brand and its values.
Get inspired by these inspiring examples:
Elevate Your Indian Designs with an Authentic and Professional Mockup Collection
Whether you've customized amazing images with Placeit or created your own masterpieces, it's time to showcase them with total style. 
With our massive collection of mockups, you can always display your designs in the most captivating way possible. However, this time, with our carefully curated collection, you have the opportunity to infuse an authentic, realistic, and cultural touch into your creations. 
In our ever-growing gallery, you'll find a variety of models who will professionally pose and showcase any design you have created. So get ready to choose your favorite template from a wide range of models, poses, angles, locations, and items. That's right; this India-inspired collection now allows you not only to upload your designs on t-shirts or any apparel but also to customize everything you need for your print-on-demand business. For example, mugs, water bottles, bags, phone cases, tote bags, pillows, wall art, and much more!
Here's a sneak peek of our favorite mockups:
Wrapping Up Our Indian Design Collection
These beautifully crafted Indian designs mark just the beginning of a remarkable collection of graphics that promises to keep growing. Placeit has put so much love, effort, and dedication into creating realistic, authentic, and distinctive templates that capture the real essence of a majestic country like India. 
This time, to commemorate India's Independence Day celebration and other special festivities, we wanted to showcase the richness and beauty of this incredible country. Our extensive collection of images and videos includes everything you could ever need for any personal project or your small business.
We hope you can enjoy and make the best of these templates to make a positive difference within your country and the rest of the world.
📅 Don't forget to check out our Ecommerce and t-shirt ideas calendar to stay up-to-date and relevant throughout the year.