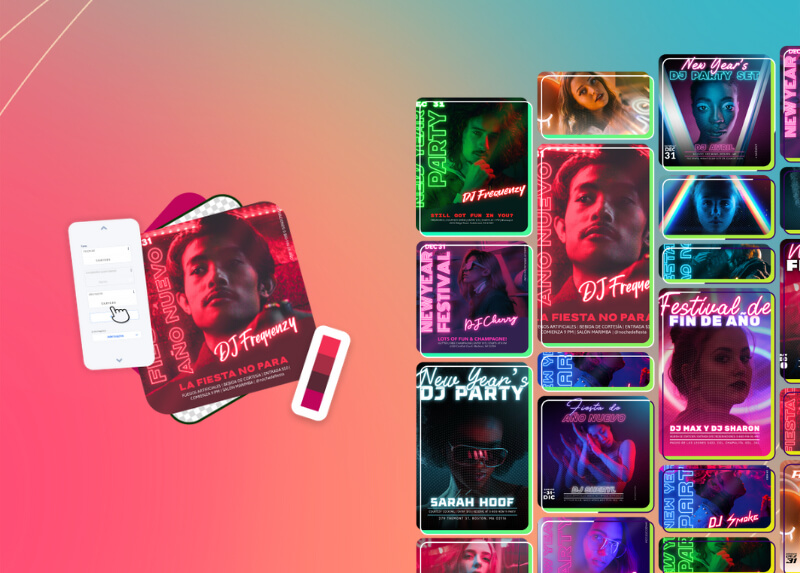 For non-designers, design templates are the best ally in creating incredible graphics and standing out from the crowd, but without having to learn how to use sophisticated design programs. However, even though it may all seem like sunshine and roses, some people may worry that others who use the same design will get the same look or a similar look or that their design will simply lack originality. But this post will show you just how wrong you can be. 
So get ready to read our winning tips to transform a template into a unique piece of art!
Let's Get Our Hands on Some Templates!
To Use or Not to Use Design Templates
Nowadays, design templates often cause controversy about whether they should be used or not. We believe that anyone can take a template and create something unique with it. 
However, if you still need to decide if design templates are for you, here are some benefits. 
Professional designers craft all

Placeit by Envato

design templates. 

Templates have an infinite variety of styles and themes.

Each graphic is super flexible and 100% customizable. You decide how much you want to give your personal or business touch to each visual.

Anyone can use them. They're super easy to edit. 

They're constantly innovating to provide the elements you want to achieve the best look.  

Designed for different purposes, whether

t-shirt design templates

,

social media templates

, or more, each one comes with the proper measurements. 

Design templates are a lifesaver for those who don't have the time, knowledge, experience, or even interest to create a stunning asset from scratch.
So, if this sounds good to you, then it's time to give you the 5 best hacks to get a unique and unrepeatable result. Let's get to it! 
🌈🤩✨ Want to know the creative and artistic minds and souls behind each stunning Placeit template? Then read our 'What do graphic designers do' post.
5 Tips on How Your Design Templates Can Be Unique
1. Get Inspiration and Understand the Templates
Before starting with the tips to transform a design template, it's important that you reflect or think about what you want to communicate or the elements you want to incorporate into your design.* This way, it'll be easier for you to select a template that aligns with your goal. 
*Get inspired by other templates, your pets, hobbies, favorite movie or series, everyday life, a trend or meme, and even Pinterest or Behance. Remember that inspiration comes from everywhere!
With that in mind, let's approach two different ways you can edit your template. 
First Scenario: A Template Like Your Desired Result
Placeit has tons of different design templates to choose from. You might have in mind an avatar design, for instance. So to find similar templates, use our filters located on the left-hand side of your screen. Or simply go to the "Design" section and type a keyword into the search bar to find related results that fit this theme. Here, all you have to do is browse the different available templates and choose the one that most closely resembles the result you want to achieve. We assure you this alternative will make the editing process easier. Here's an example: 
Second Scenario: Give a Twist to an Existing Template
On the other hand, let's say you've found a template that visually catches your eye, but it's different from the theme you want to communicate. You can also edit it and adapt it to your needs. 
For example, this feminist template has a great design foundation. So, if you want to evoke a distinct message, it's 100% possible! Here's proof of how you can modify certain aspects to get a completely different new look. 
2. Give Your Essence to Each Piece of Text
When editing a design template, the texts are the first things we change. In this case, we change the default texts for the words or phrases we want to communicate. So whatever your message is, change it first. It can be a sales message, a promotion, an inspirational or funny expression, or even a how-to-cover post. 
Then, your next step is to play with font types, colors, sizes, text lines, and alignments. We cheer you up to have fun and add more text boxes. Just keep a balance to avoid losing the consistency of the original canvas. 
🔥 We highly recommend creating your first free brand kit on Placeit to customize tons of templates in a breeze! 
#ProTip: Explore other design templates if you need some help with lettering or color combinations. This way, you can be sure that everything will look stylish, as our graphic design professionals have carefully selected each font and color. 😉
3. Explore and Play With Color Combinations
This is one of our favorite parts because color can change the whole meaning of your design. If you're a newbie, we recommend reading this color scheme guide to learn the basics and get some inspo for your following pieces. 
✨ But keeping up with our main topic, we have a couple more hacks to find the right colors for your unique design. Check them out: 
● Below each Placeit design template, you'll find a collection of preset designs. There are different designs and styles applied to the same template. Select one or hover the cursor over each graphic to see the other color combinations.
● Moreover, if you want endless options, head over to our design templates library! There, look at all templates to find tons of incredible color combinations.
● Additionally, if that isn't enough, draw on color tools such as Coolors and ColorSpace. These websites are perfect for finding palettes or complementary colors that go well with your desired primary color. 
● On the other hand, if you're designing for professional or business purposes, you can definitely bet on incorporating your brand colors. On Placeit, each design element is customizable! Just copy once again your HEX code from your brand kit. Select the part you want to modify on Placeit. Click the color square and go to custom to enter the HEX code. And that's it! Your design template will have the consistency of your brand.
● Last but not least, it's great to highlight that if there's a color on the original design that aligns with your message and style, don't change it. You don't necessarily have to change every detail. 😉
4. Have Fun Adding Different Graphic Elements
● These are another big key when it comes to transforming a template. You can get stock images directly from Placeit's free library or upload your own files, whether they're from sites like Unsplash, Pexels, Pixabay, or pictures you've taken. By doing this, your asset will have a really unique look. 
● With all graphics, we encourage you to use the guidelines for each template to ensure your design components are centered or aligned.
● Make sure there's a good harmony between the background and the graphics, don't limit yourself and try different colors and sizes for the elements.
● Finally, we recommend doing various tests to determine what works best for your design. Try to add new details to give a twist to your unique design. To create multiple looks, grab a Placeit template and select make a copy. In this way, you'll have the same template with a different style. 
#ProTip: if you ever need to make a small change or rebuild your template, you can always come back to each design template and customize it. You can go to "MyPlaceit" to check your edited templates or create a special folder with all of them. 
5. Be Careful Not to Oversaturate Your Designs
While it's fantastic to keep adding many more elements and not limit your creativity, be careful not to oversaturate your canvas or undo the original foundation. Don't get us wrong, but remember that professional designers have crafted each design. So, if it's wholly broken up, it may look less stylish or be challenging to understand. 
However, if you have an artistic and free soul and want to redesign completely, remember to read our graphic design principles to get a stunning result. 
More examples? You Got It!
To cheer you up to transform a design template, our team of creatives took various graphics to twist them and turn them into completely different assets. Would you guess they're the same template?
Hungry? Take a Look at These Foodie Templates
Give a Colorful Twist to a Music Album
Turn an Astronaut Into Whatever You Want Him to Be!
A Dark Academia Template Can Be Something Mystical or Not, You Decide
🏳‍🌈✨ Take your design journey one step ahead and get ready to learn how to keep unleashing your creativity with our new feature: Blank Canvas, to create anything you want from scratch but with the best Placeit assets! Let the magic begin. 
Let's Wrap These Design Templates Up!
Although the above tips are a guide to give endless styles to a template, as we always say, we're free to experiment and test our creativity. As one of our designers said, the creative process can take you down many paths, so don't be afraid to change course and do something different from your original idea. And if things don't turn out as you expected, fortunately, you have a reverse button to correct and start over. At the end of the day,  anything is valid!  Whether you want to change a few details or give it a total makeover, it's up to you! The important thing is to be happy and proud of the final result. So enjoy every part of the process and have fun playing with all your design elements to create something truly unique. 
Now it's your turn to experiment and put these tips into practice!
If you decide to take the challenge of How to make unique design templates not look like templates, upload your design to Instagram or Facebook with the hashtag #madewithplaceit. We'd love to see your creations!