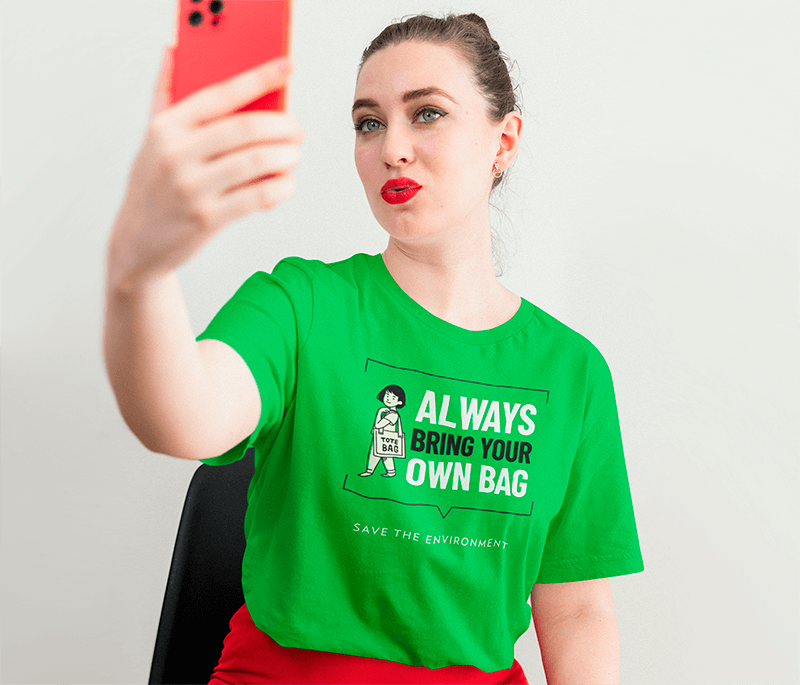 Advertising is not the only way to go about increasing sales for your t-shirt store. Considering the number of ads we encounter everywhere we go online, you should always think about widening your marketing strategy. Using PR strategies is a great way to promote your shops too! 
Enter the world of PR (public relations) where the ultimate goal is to create trust with your audience. It consists of a large array of practices that improves effective and meaningful communication between you and your audience. The ultimate goal is to instill a positive and trustworthy brand image from you in the minds of your audience and as a result, drive traffic to your stores and increase sales. 
Let's see how PR works for your t-shirt business.
What You'll Find
What is PR & How Does It Work?
According to the Public Relations Society of America (PRSA):
Public relations is a strategic communication process that builds mutually beneficial relationships between organizations and their publics
In other words, it's a strategy to communicate how valuable you are to your audience. 
While advertisement and PR are both parts of a comprehensive marketing strategy, they're different in one major aspect: advertisement relies heavily on paid media, and its content is labeled advertisement. 
PR, on the other hand, takes advantage of earned media, that is it convinces media owners to talk honestly about your business through their native content, rather than ad placements. The content that PR promotes is more natural and audience-oriented rather than brand-oriented.
PR functions through various channels or media outlets such as public gatherings (meetings, speaking events, etc.), TV or radio (e.g. interviews), social media platforms (Facebook, Instagram, YouTube, etc.), newsletters, websites, and blogs (e.g. owned websites, third-party niche blogs or popular news websites), and more. 
Each of these channels needs separate strategies and rigorous management to have ideal results. Guest speaking, events and seminars, sponsorships, social media marketing, email marketing, SEO and content marketing, guest blogging, etc. with their various approaches and methods are all considered part of a comprehensive PR strategy.    
PR Strategies for Your T-Shirt Store
It's widely believed that a PR strategy is more or less confined to reaching out to journalists and placing content on news websites. This holds true to some extent. News websites are still popular among people. However, because of the popularity of other media outlets these days, it's important to consider a multichannel approach. 
Obviously, for a t-shirt store, social media seems to be the trump card. Your t-shirt-seeking audience is more interested in scrolling through images of your models on Instagram than reading a story about you on a news publication. So you need to have an active presence on social media and cater to your audience there.    
Social Media
You're probably already an expert in using social media, especially Instagram. So I don't need to emphasize the importance of image quality on social media. Professional image quality is a deciding factor in attracting the attention of your audience. 
Use Mockups for High Image Quality
The traditional way to produce high-quality images for your t-shirts was by setting up a photoshoot. You needed a well-lighted set, professional photographers and models, and spent a lot of time and money on editing and producing images. 
A cheaper and more practical way to produce high-quality images for your social media posts is using mockups. Placeit is a professional platform that offers templated mockups that could easily be customized with your t-shirt designs. So you'd only need to choose a template from our library and upload your t-shirt design to produce a professional image. 
Encourage Use-Cases & Positive Reviews
PR is all about forming meaningful communications with your audience and proving your value for them. The best way to do so is by encouraging positive reviews and use-cases by your happy customers. 
Third-party reviews are more trusted by customers than brand-generated reviews.
According to BrightLocal, 87% of customers read online reviews, and "79% of consumers say they trust online reviews as much as personal recommendations from friends or family.
Here are some steps you should take to encourage positive social media reviews: 
1. Get Better at Customer Experience Management
Product quality and customer service are at the core of customer experience management. 90% of Americans consider a company's customer service reputation before deciding to do business with them. So you need to prioritize customer service at all costs. 
2. Improve Engagement on Social Media
Keep in mind that the most important metric on social media is the level of engagement (likes, shares, comments, mentions, etc.) your posts get rather than the number of followers. Address your audience's pain point by sharing great content, taking part in conversations in your niche, and responding to customer queries in a timely manner to improve engagement on social media. 
As Mentionlytics explains, in order to increase engagement with your posts you need to follow the 20/80 rule where 80% of your content should be addressing your audience's concern and 20% should be promotional.
3. Form Partnerships
One of the ways to increase your reach on social media is by forming partnerships with other brands and influencers. Partnerships with brands could be done in the form of collaboration on content creation, a practice that's sometimes referred to as "co-branding". Co-branding on social media allows you to use the expertise of your partner in content creation and at the same time reach your partner's audience as well. 
3 Part Media Outreach Formula
A great part of your PR strategy relates to reaching out to media owners and building relationships with them in order to easily secure media placements when needed. By media owners, I mean anyone in charge of publishing content on a particular media outlet. This includes social media influencers and managers, website owners, bloggers, content writers, managers and editors, journalists, etc. 
A successful media outreach for a t-shirt business has three main parts: Prospecting, Pitching, and Maintaining Relationships.
Prospecting
Prospecting is the process of finding the right people to reach out to. This is the first step in any outreach strategy and probably the most important one because it guarantees that your message reaches the relevant people. 
During prospecting, You need to define exactly who you are looking for. As part of your PR strategy, you're looking for content creators such as journalists, bloggers, content managers, video creators, photographers, etc. The main question you need to answer in this step is "does their content reach the kind of people you want to sell to?" If the answer is yes, then you're a step closer to the right candidates. 
Now here's the catch. There are two approaches to prospecting: 
1. Search Directly for Your Ideal Candidate Based on Your Criteria
You can use a LinkedIn search to extract a list of contacts. There are also some websites that sell contact lists. This mass approach to prospecting has some issues. First off, you have no idea if the contact they publish is the right fit for you. You can't risk your reputation by partnering with low-quality content creators. Second, your pitch will not be personalized and will probably be neglected by top content creators.
2. Look for the Right Media Outlets & Only Look for the People Behind Them
Contrary to the spray-and-pray approach, the second approach finds people through the content they publish. You need to look for the note-worthy content in your niche and reach out to their creators or owners to get yourself featured. This way, you can reach out to the right people and personalize your pitch to attract their attention.
Here's how I suggest you should do this: 
List the Media Outlets You Know   
First things first, you should list the media outlets you know and want to be featured on in your niche. This includes listing personal or business blogs, news websites, top social media channels, eCommerce newsletters, and in general, any kind of media outlet that has similar content to you and that you think you can be featured on. 
Search Google for Relevant Keywords
Google has an important place in a prospecting strategy obviously because it's the greatest source for finding relevant websites. You can find these websites through search queries or keywords that these websites are trying to rank for. 
Make a list of these keywords and enter them in a Google search. Sift through search results to find the right fit for you. Some of the relevant keywords that could find t-shirt blogs and news websites are "t-shirt design trends", "top t-shirt brands", "t-shirt for men/women", "how to buy cheap t-shirts", etc. You should be looking for opportunities to get yourself featured on these blogs. So search the keywords that you think blogs and news websites, rather than shops, target. 
Let's go with the keyword "t-shirt design trends" and see where it leads us.  
Any of these blogs seem to be the right fit for your t-shirt business to be featured on. You can even go a step further and check out the news section of the search results. Search different related keywords to find as many websites as possible. 
Find Contacts
Now that you've found websites that could reach your ideal audience, it's time to extract contacts and build relationships with them. This is the actual process of prospecting. 
In some cases, you can find a specific place (a page or an email address) dedicated to queries about PR submitting your request. These pages typically explain how you can contribute to their content. To find these pages, you first need to check out their website's menus or homepage footer. 
If you couldn't find any links there, you can open their "contact us", "about us", or "partner with us" pages and see if there are any guidelines for contributing or pitching stores there. Typically they encourage you to inquire about media-related issues through a particular email address. You can go ahead and send them an email asking about their guidelines.
In some cases, you might have some luck with searching for their guidelines pages. Some publications do have these guidelines, but they don't make them accessible easily. You might have to search through their website to find it. Here's how you should search through their website: 
In the Google search bar type this: 
Site:website.com "contributor guidelines/pitch a story/writer's guidelines/ write for us etc."
You can also reach out to people responsible for content published on these websites (website owners, content managers/specialists, editors, copywriters, or anyone with the word "content" in their title). To do this, you can check out their "about us" or "our teams" pages. If you can't find anyone there, try searching their company's LinkedIn page and see they've listed people working for them. 
Explore their blog posts and see if one particular author name is being repeated in most of their articles. Chances are that person is in charge of content production for the website, and should be reached out to.  
One tactic I've been using recently is checking out a website's blog section and seeing if the authors are mentioned. Chances are a few people running their blog also write for it so you can easily find them and reach out to them. 
A quick tip for finding email addresses. Here's how I find the business email addresses of the people I want to reach out to (if I can't find them on their websites, i.e. "contact us", "about us" or "our team" pages). 
I open my Gmail page and click "compose". In the recipient section of the compose window, I test one of these email formats: 
first@company.com
first.last@company.com
firstlast@company.com
firstinitiallastname@company.com
firstlastinitial@company.com
Each time I type one of these emails there, I hold my cursor on them to see if it's associated with a Google account. If it shows an image (a headshot or whatever), it means that the email address is valid. 
Go Beyond Google
Google could be your best source for finding related websites, but it's far from the only place to find other media outlets or journalists. As explained above, a PR strategy for a t-shirt can benefit a lot from social media. Find pages related to apparel/clothing/fashion on Instagram and reach out to their managers to form a partnership with them. Twitter is also a great place for finding bloggers or journalists that share content frequently in your niche. 
Youtube is ideal for finding video creators that could review your products and increase awareness about your brand.
From time to time, you might stumble upon an article, social media post, or video that piques your interest. Why not research a bit about the website and its authors to find more prospects to reach out to? Some content marketing tools make it easy for you to manage this process. 
Pitching
Once you find the contact information of your prospects, it's time to send them your proposal or pitch. These are some ideas: 
Ask them to review your products

Pitch them a story. This could be an opinion post, a how-to guide, etc. 

Offer them to interview you. 

Offer a partnership idea for content production or promotion (you help them create/promote their content and they help you create/promote content). Guest posting is a popular PR practice that falls into this category. Check out WebCEO's

ultimate guide to guest blogging

to learn more about this. 

Or any relevant pitch based on the kind of content they publish frequently. 
Relevance is Key
Relevance of your pitch is the next most important factor in the success of your PR campaign. So you need to make sure your proposal is actually what they're looking for. 
Before designing your pitch, take time to analyze the content that they produce and what contributions they accept from others. For example, you might find out that they frequently publish interviews with other business owners. This would be a great opportunity for you to pitch in and find out if they're interested in interviewing you. 
Conversely, if you find out that they almost never publish interviews, it's not a good idea to send them the interview pitch. They might be interested in publishing your content as guest posts, reviewing your products, including a simple quote or a study, image, graph, etc. by you in their upcoming post, featuring your success story, and so on.
Design Your Email Effectively
The way you design your emails is extremely important. A professionally-designed outreach email builds trust with your recipient and increases the chances of getting a response. 
First off, consider how your emails look to your recipient. An email in a person's inbox has three main parts: sender's name, subject line, and email preview. 
Personalize the sender's name. The sender's name is arguably the most recognizable element that a reader will see when scanning a list of emails. I personally prefer the combination of your first name + your company's name.
Honest subject lines work best. Avoid deceptive and clickbait subject lines at any cost. If you can't come up with a clever (but honest) subject line, a description of what the email's about is a good choice. 
Pay special attention to the first few words of your body copy. People are going to judge your whole email based on the few words that are visible in the preview part of your email. Spend time to make them interesting and engaging.
Remember to add a professional-looking email signature. An email signature boosts your email's credibility and will provide the recipient with the necessary information. Include your full name, job position, social media handles and the name and your company's website. Don't forget to include the logo to enhance your signature visually. 
Offer Incentives
It's important to note that PR pitches are quite common these days and that recipients would respond to those that have the most benefits for them. Plus since the ultimate goal of a PR outreach is forming long-term relationships, you need to make sure you're proposing a partnership that could benefit both parties in the long run. 
Take time to consider what kind of benefits you can offer your partner. What's popular in the world of PR is partnerships in content creation and distribution. So you can offer a great piece of content (one that they don't have on their website and are interested to have), 
More often than not, I receive emails asking for a link placement or guest posting opportunities without offering any real incentive. This email is one of them. 
He asked me for a link placement or a guest post on my blog and offered to share my post on his social media profiles – not a good incentive because I'd probably get no traffic from it. 
If I were to rewrite the email to offer a good incentive, I'd do it this way: 
Hi [name],
My search for valuable content headline topics lead me to your site's post here: [URL]
Very impressive — congrats! I was thinking of including your post (with a do-follow link) in one of the future guest posts. I've written for [the publications I've been featured on]. I'm sure it adds a ton of value to my guest post and my audience will love it.
In return, do you think you can do me a favor? Recently we published a post about [topic] and I think it adds a lot of value to your audience as well if you include it in your post. Check it out here: [URL]. Alternatively, I can prepare a guest post for you- you have my writing samples above.
Let me know what you think.
Thanks,
[name] [LinkedIn/Twitter] [website]
Maintaining Relationships
Your relationship with your contacts does not end with one content/link placement. You need to see this as a long-term relationship that needs nurturing continually. At the end of the day, these relationships can lead to more opportunities and bigger accomplishments.   
Connect with your contacts on social media and engage with their content there. Promote their content frequently or try to help them in any way possible for you. By doing more collaborations with them, you can gain their trust and expand your reach to their network as well. 
In the End, Trust Beats All
The biggest difference between your PR campaigns and ad campaigns is the high level of trust and engagement that your PR campaigns will produce with your audience. What you want to achieve with your PR campaigns is promulgating a positive brand image – a brand that is completely trustworthy and that cares about helping its customers more than anything else. 
This is done through native content placements on relevant and trustworthy media outlets. Some of the content types that could be used for this purpose are product reviews, how-to guides, relevant achievement stories, case studies, interviews, guest posts, etc. 
For a t-shirt store, the most effective media outlet would be social media (especially Instagram). Set up your business page, produce high-quality model pictures of your t-shirts (using Placeit's mockups if you want to save time and money), engage with your audience, and partner with influencers to produce valuable reviews and how-to guides. 
Other important media outlets include relevant news websites and blogs that publish content about eCommerce. Reach out to their content team (blog manager, editor, content manager, content writers, etc.) and propose a beneficial partnership idea to them using the techniques explained in this article. 
Finally, maintain your relationship with them over time and expand your reach to have an effective PR strategy. Building these relationships might seem to be a lot of work at first, but as you build your network and gain more experience, you'll find it quite easy.    
Author Bio
Mostafa Dastras has written for some companies such as HubSpot, WordStream, SmartInsights, LeadPages, and MarketingProfs. Over the past years, his clients have primarily relied on him for increasing organic traffic and generating leads through outreach campaigns. Visit his blog, LiveaBusinessLife, or connect with him on LinkedIn to get him to work with you.