Take Your Team to the Next Level with a Top Dog Volleyball Logo Design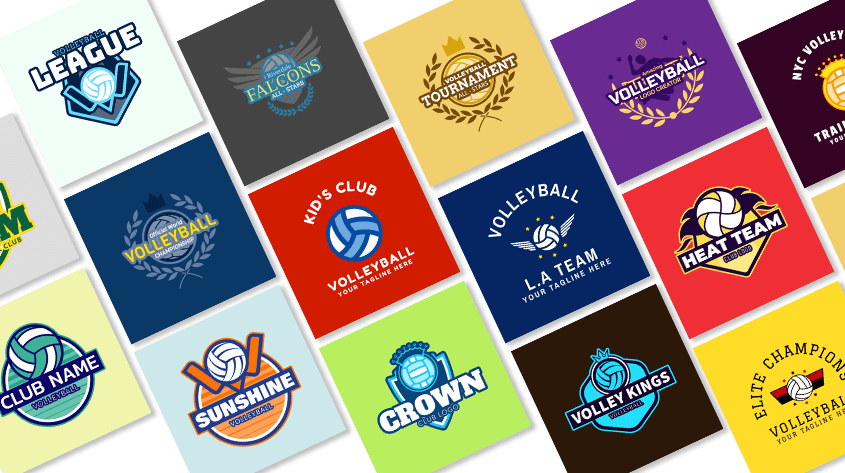 Making a logo for your volleyball team is very important! Your logo goes on your uniforms, your advertisements, your cheer posters, and you'll need it when you are looking for a new sponsor. This is why it's so important to have a solid branded image. If you are coaching a team or if you're training to join a league or any other competition, this tool will make your life so much easier! Placeit's Volleyball Logo Designs allows you to create your very own logo in just a few clicks!
If you are designing uniforms for a sports team, this online design tool can save you valuable time. Making a volleyball logo design is as easy as breathing. You can also make amazing beach volleyball logo designs using the same tool! Using a logo design template will take your mind off the work of designing a complex and professional logo for your team so that you can focus on your game!
Why Is a Logo Essential for a Sports Team?
Any true fan knows their team's logo, colors, and mascot. A team's logo is everything for its players, fans, and family. A good team logo is a key to helping your team stand out! There is more to a logo than what just meets the eye. It accompanies your team's name, it gives you an identity, in other words, it plays a huge role in the sports world! You can evoke feelings and sensations with your logo. Are you looking for a sweet volleyball logo or a fierce image? Design a volleyball logo that encourages support from all your team members and your community.

A logo gives you weight and importance. This is how you get people to take your team seriously! A great sports logo garners attention. So where to start? Before making your own volleyball logo design you can gather some logo inspiration to get an idea of what you are looking for. You can visit sites like Pinterest, Behance, and Logopond to get more design inspiration.
How to Design a Volleyball Logo in 3 Steps
First, choose a template that you like from our library of volleyball logos!
Customize that template by adding your team's name and the graphic you like the most. Next, change the fonts and colors, and voila!
Click on the "download" button and get your brand new high-quality logo.
The real magic about making a logo with Placeit's sports logo maker is that you can choose from hundreds of templates and customize them as much as you need in order to ensure your design is original! It is very easy to do and when you are done you get a high-quality professional sports logo that you can freely use everywhere. You can be sure it will look sweet anywhere you put it!
Want to Make Your Team Even Cooler?
Market your team with all the tools available! You can create promotional volleyball flyers to announce next season's opening game or a really important game. As a modern volleyball team, you must have your own social media networks to keep your fans updated on your latest news with eye-catching social media images, videos, Instagram stories, posters, and more!

Use Placeit to Pump Up Your Volleyball Team's Game
With this online design tool, you should be good to go. Start branding your volleyball team like a professional! Create a volleyball logo design and then brand away from your whole team! Get your game on today!

You can also design all kinds of sports logos, like running club logos, hockey logos, boxing gym logos, and wrestling logos with the very same tool! Are you about to start a business around swimmers? Dive in this swimming logo creator.