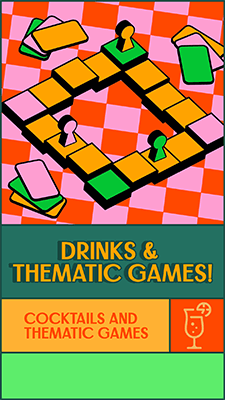 Nowadays, Instagram is one of the world's favorite social media sites. Therefore, it's no surprise that the competition is fierce! So what can you do to stand out? The answer is simple: create Instagram graphics that are stunning and can catch anyone's attention.  Remember that at the end of the day, it only takes a few seconds for a user to determine if a picture/video is appealing or not, so the clue is visuals! So, today we'll show you how to create beautiful Instagram graphics.
Take a Look at What You'll Find Here:
---
Why You Should Create Compelling Instagram Graphics?
There's no doubt that Instagram is a growing platform. Simply in 2022, earthweb mentioned that according to the latest reports, there are almost 2 billion monthly active users, which is impressive. But do you know what else is growing due to this? Advertising on Instagram!
So, how seriously do you take your Instagram advertising? Do you create ads with eye-catching visuals that will get the attention of your audience and translate likes into purchases? If not, you are losing a great opportunity on this network, since 80% of the users follow brands or companies. And since it's a visual platform, your visuals should be amazing. We understand that not everyone is a designer or has a budget for one. So you have landed on the best post ever to learn how to make the most of your Instagram strategy with the right visuals. Let's get started!
---
How Do I Make Great Images for Instagram?
Designing beautiful images can be pretty hard, but for Instagram, sharing beautiful visuals is a must! If you have a startup, you know hiring a designer might be pretty expensive. The alternative would be to buy Photoshop and set some time apart to learn how to use it to create your own images. Sounds too complicated? That's because it is. But we have a wonderful solution for you. All you need to do is to find the right social media templates for your branding campaign, and luckily Placeit has a bunch! With these templates, you don't even have to worry about figuring out the correct size for your Instagram images  since the sizes are provided!
Check out Placeit's feed for a sneak peek…
Customize Your Own Instagram Templates
Following Instagram's best practices to create eye-catching visuals to promote your brand or business has never been easier. These templates allow you to create images on your smartphone or desktop by simply choosing a graphic, background, font, and colors to put together a striking image your followers will love. Don't worry about figuring out the right size for Instagram images, each Placeit template has preset download sizes based on each platform, so you'll be able to download it at a ready-to-use size.
Placeit has different types of templates you can use to design your own images for Instagram, we will show you how to make the most of these. You can use our assets or even upload your own custom images – just make sure you have the rights for them.
Stories Are All the Hype
It's all about stories. Stories on Facebook, Instagram, and even WhatsApp! Visual storytelling makes a huge impact on the way your followers perceive your brand or business. Make the most out of this thrilling new feature by creating well-thought content in advance. Of course, stories that are created in the heat of the moment are great, but you should also consider planning ahead as a big part of your Instagram strategy. And these templates allow you to make your own Instagram stories with a design that will stand out from the norm and drive your users to your page, website, or feed. Make sure you make it easy for them to purchase whatever product or service you are highlighting at the time. If you're including videos in your Stories, be sure you know what the Instagram video length requirements are so you get it all just right.
You must know that Instagram marketing is about creativity and consistency. The key is keeping things consistent. Consistency is persuasive. It will sway more people than any intelligent artificial bot. Don't fight it. All you need to do is find the right Instagram Scheduling Tools for your Instagram stories and voila! You're on your way to building a consistent brand that resonates with people daily. Discover how to bulk schedule your IG stories, conveniently save your hashtags and learn how your followers consume your content using some of these tools!
Use Our Quote Maker to Create the Perfect Post for Engagement
Quotes are still a hit on social media. A good reminder to keep calm and enjoy your day will always be well received. Since these graphics can be easily re-shared by your audience, you can gain some new followers and potential customers along the road. The good news is that Placeit has an Instagram quote maker! Make sure you design your quote posts in a way that they become attractive visuals, not just catchy messages. And of course, this will also help your audience relate to your brand on a more personal level.
User-Generated Content Motivates the Audience to Be Featured
Use your customers' images to share them on Instagram and get more attention from potential customers, but give these images a twist using our templates. You can simply upload your existing photo and add some text and graphics over it to give a whole different look and feel. This will show your audience the engagement you're generating and you never know, but you might end up receiving pictures or being tagged on others' posts with the hope of being featured on your brand's official Instagram.
Make Your Own Ad Banners for Giveaways and Promos
Banners are perfect for sharing promos or giveaways with your audiences. Placeit's banners and ad templates are super easy to customize as well and you can use these graphics to promote your brand on the GDN, Facebook ads, Instagram ads, and more! We have a recommended number of words, so try to keep it simple and be really clear with the message you want to share so it can have a greater impact.
---
Speaking of Instagram Ads…
Here are some tips on how to design Instagram ads according to Instagram's best practices and the field you belong in. We have incredible Lifestyle Mockups that will let you express exactly how to live and enjoy your creations. Placeit is the easiest platform you'll find online to create beautiful images for your ads. Here are some examples of the type of images you can use to promote your business depending on your niche and audience.
If You Have a Clothing Brand
You'll find all sorts of different models, locations, and scenarios to make your brand look professional online in minutes. Forget about wasting time and money searching for the right model, photographer, and locations, all you need to do is browse through Placeit Apparel and select the right mockup for your clothing brand. Displaying your designs on apparel mockups has never been easier. Take a look at how using mockups can really save some golden time in our post Using Mockups to Save You Time!
🔥 TIP: Use your finalized mockups as background images for your Instagram posts for a custom feel.
If You Are Opening up a Restaurant or Coffee Shop
This has been your dream forever? We can help you materialize it. You can create your own logo, your images, and then use our Instagram text post maker to announce that grand opening. You are so gonna enjoy creating your new business logo with no software to download, just use your imagination.
🔥 TIP: If you want to learn the basics about logos, read this guide on how to make a restaurant logo.

If You Are into the Real Estate Business
Start making those extra details your clients will love like custom t-shirts and mugs. Not only you can design them using our templates but you can also use our cool mockups and create amazing Instagram images for your social networks. For sure you'll get tons of recommendations. Start by creating your trustworthy real estate business card, it'll only take a few seconds!
Basically, Placeit's Instagram templates allow you to create the perfect graphic to promote your brand online with beautiful assets that highlight your business' benefits and features while catching the attention of existing and new customers.
Learn all about setting up your first paid Instagram ad with this video and get started right away!
Now that you know how to create your own Instagram images, go ahead and rebrand your social media networks to meet the platform's standards, and boost your brand like the pros. You can always take a step back to build or refresh your brand with a new Instagram logo. Learn more about how great content can uplift your follower count here.
---
What Makes Placeit's Social Media Templates So Great?
It's as easy and quick as it gets. First, of all, you don't have to use Photoshop, like at all. Placeit allows you to create gorgeous images to share on your social media feeds straight from the browser and in seconds, no need to hire or be a designer. Already have your images? Make sure they're the right size with our online image cropper.
Download as many as you want. If you are a Placeit subscriber you get access to unlimited downloads from these social media templates so you can create a bunch of graphics for your Instagram feed – remember that posting three times a day is a best practice!

New templates are posted daily. Placeit's design team is constantly creating new content based on the latest trends and platform updates so you can have fresh templates to use for your social media campaigns all the time!
Do you have any questions or suggestions for new templates, or simply want to share your story on what has worked for your Instagram campaigns in the past? Leave a comment down below!
Check out our Step up Your Insta-Game with Fabulous Templates to get inspired with amazing content for your Instagram account. Why not make your life as a social media manager easier with this list of the best social media tools? Want to hear something great? You can also design your Instagram videos with this very same easy tool and post right away! Want other ways to promote your business?