Create Beautiful YouTube Banners with Placeit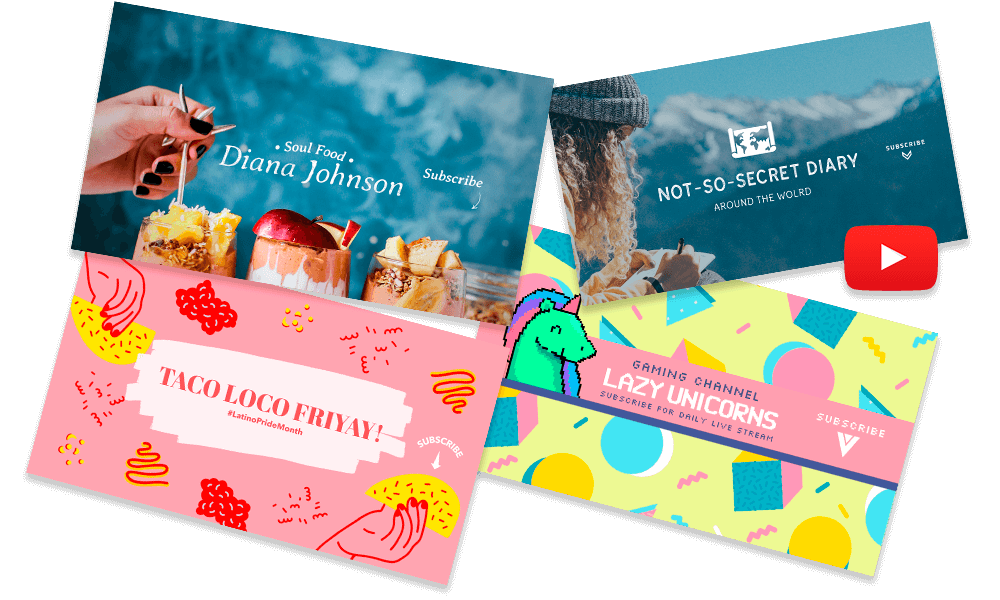 YouTube is an excellent platform for people that want to share their content with the world!  If you already have a YouTube channel and you're uploading your videos, you should get the professional look: add a YouTube banner that brands your channel and helps future subscribers easily decide if you are what they are looking for.
What You'll Find:
Is My Channel Art Important?
An excellent YouTube Banner or Channel Art combines great design with brand presence. You are probably thinking, "How exactly do I do that?" Here we give a little insight into the design world of YouTube Banners. 
What Makes a Good YouTube Banner?
First of all, YouTube Channel Art will take different dimensions according to the platform that is being used to view it, TV, desktop, lap, Mobile, etc. Placeit already downloads your YouTube Banner Template with the right dimensions. If you already have a banner but it's not in the right sizes, use Placeit's image cropper to scale it.
When designing your YouTube banner, use the same colors you use in your branding materials. That will help keep your brand consistent across all channels.
To make a charming banner that is completely yours, play with the fonts, the color, the pictures everything till you get a banner that totally talks about you!
Finally, you should keep a balanced design but you don't have to worry about that, we already took the time to make every template perfectly balanced.

Example of a Tutorial YouTube Channel's Banner:

So get started! Having a consistent upload schedule is hard enough, making banners for your channel shouldn't take too much time. With Placeit's YouTube banners you can get it done in seconds. Let's grow that channel and get those viewer numbers going!
How to Make a YouTube Banner: A Step by Step Guide
1. Choosing the Right Font
To start with your YouTube Banner choose what your message will be and section it on the windows for words. In these templates, you have separate windows to use and you can use a different font in each, although we would recommend up to three different fonts, no more. You can also select the color of your fonts. Remember to use high contrast color in relation to your background color.
2. Selecting the Main Graphic for Your Banner
Choose your main graphic. In this YouTube Banner Template, you have lots of gaming options or other sober designs. You can also travel through Placeit if you think these graphics are not what you are looking for. You can select and change the main color of your main graphic.
3. Icons for Your YouTube Banner
You can decorate your YouTube Banner with other icons, change their color, or decide not to use them, it's your choice! Whatever makes your banner cooler!
4. Choosing a Background
You have tons of options for your background, you can choose a solid color, add a pattern, choose an image, or upload an image from your device! This works great for everyone, for example, if your YouTube channel talks about travel then you can upload your favorite outdoorsy pic and use it as your banner's background.
5. Last Step: Download Your Banner
You are almost there! Now you only have to click on the "Download" button on top of your YouTube Banner and in just a few seconds you will get a high-quality banner-sized image ready to use! P.S. You might want to take a look at the YouTube End Cards.
Placeit is a great design tool with many templates to choose from. You can find amazing YouTube Banner designs and get your own to customize in seconds! Your channel will look professional on any device. Why? Because we have beautiful fonts, super fun graphics, amazing photographs, and professional design templates.
There are tons of other design templates you can use for social media images, mockups, logos, and more.
Don't Forget About Your Thumbnails
Creating thumbnails is a super important part of branding your channel and lifting your videos with the right assets!
In fact, 90% of best-performing videos on YouTube use custom thumbnails.
Not only are thumbnails important for driving clicks and views (the lifeblood of your channel), but they can play a big part in building your brand awareness on YouTube.
If you use a consistent look in your thumbnails, as your channel becomes more and more popular, people will start to recognize your branding and be more likely to click on your videos.
Create thumbnails that attract clicks,  are eye-catching, and have a consistent layout, color palette, and color contrast. If you're in the early stages of your channel's development, this is a good time to test out different thumbnail styles to see what works best.
Placeit's thumbnail maker makes it super easy to create high-quality thumbnails in seconds, so make sure to check it out.
Remember that with Placeit you can create all kinds of amazing videos for your channel, YouTube Intros, Tutorials, and much more! Try using this Slideshow Video Maker and be amazed at how easy it is!
Learning how to SEO optimize your gaming YouTube channel can be really helpful to up-rank your videos.
"My YouTube art channel looks incredible with Placeit's YouTube banner templates!"
Diego Diaz 5/5