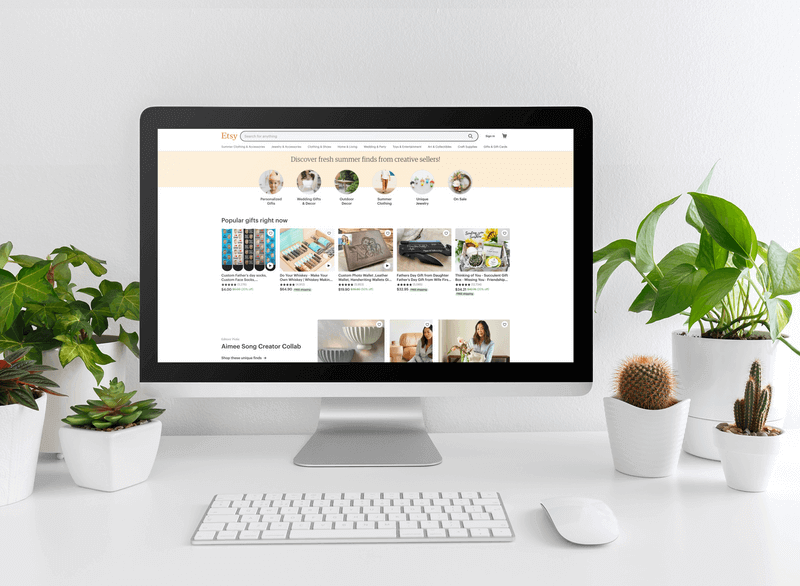 It can be super hard to decide where to start an online store, especially with the number of online selling platforms available. If you're trying to choose between an established marketplace, like Etsy, or creating your own eCommerce shop, this is a serious decision that will take some research.
But don't worry! We're here to help you make the best decision for your business. Get all the info you need to start your shop confidently with these tips.
What You'll Find in This Post:
An online marketplace is not that different from an in-person marketplace. Think of it this way: a farmer's market is owned by a single entity and sells space (booths or stalls) to individual vendors who have products to sell. As a consumer, you can stop and purchase items from a number of different vendors or brands in one location.
This is also how online marketplaces work with the main difference being that an online marketplace puts sellers from all over the world within reach, no matter where you are.
When you navigate to an online marketplace, you can browse the suggested items on the homepage or use the search bar to look for the specific product you want. Your search results will display products offered by various sellers within that marketplace so that you can compare items and make the best decision for your needs.
The three parties involved in a marketplace transaction are:
Marketplace Administrator: the person or entity that owns the marketplace
Vendors: the individual or third-party sellers who sell their goods in a shop hosted by the marketplace
Customers: shoppers who pay vendors for the goods being sold
Some popular marketplaces you may be familiar with include Amazon, eBay, and Etsy.
There are many advantages associated with selling in a marketplace, including the varied audiences these bring in due to the range of products for sale and the ease of use of many of these types of platforms, but we'll get more into this later on.
What Is an eCommerce Platform?
Where a marketplace hosts different sellers and shops, an eCommerce platform lets you build an online store where you are the only vendor.
This is common for big brands who want to open an online storefront where customers can easily find their catalog of items. It's easier for these bigger brands to find success using an eCommerce platform because they often have a built-in audience already.
If you're just starting out, you'll have to market and promote your shop to slowly build up your audience, which can sometimes take a bit. It's not impossible, but it is something to consider.
Using an eCommerce platform for your shop means you are in charge of just about every aspect of your shop. You have more flexibility when it comes to things like the look and feel of your store, but this comes with more responsibilities. Things like your inventory, customer service, payment processing, taxes, etc all fall on your plate.
It's not hard to get your shop up and running thanks to the number of eCommerce platforms that exist to make this process easier. Sites like Shopify and WooCommerce have a number of templates and features that will make it super easy to operate your shop successfully.
Check out these tips on how to manage a successful eCommerce clothing store.
Marketplace vs. eCommerce Website
Deciding between selling your goods in a marketplace or utilizing an eCommerce platform can be tough because both are attractive options. It's worthwhile to take the time to research both options and understand what sets them apart.
Going in with a clear list of what you need and want will make it easier to pick the option that is best suited for your business.
Keep reading to see how these two options measure up against each other.
Marketplaces make it easy to get your shop up and running because they already have everything in place. There's no need for coding because you'll basically be using a template that's already in place.
This process may simply look like signing up for a seller account, answering some basic questions about your business, giving your shop a name, and listing your items.
In most cases, a custom domain isn't an option. For example, if you open an Etsy shop, your domain would be something like: https://www.etsy.com/shop/YourShop
It can be a bit more complicated to start an online store using an eCommerce site because there are a lot more decisions to make.
You'll need to secure your custom domain (and hope it isn't already taken), pick a website template (if the platform you chose provides some), ensure you have an SSL certificate for safety, choose payment methods, configure taxes, select shipping options, and finally list your products.
Although it can be more work, this option allows for almost endless customization which means a lot more space to really scale your shop and brand.
TL;DR: Opening a shop through a marketplace is easy and quick, while an eCommerce platform will require more work upfront.
Marketplaces make it easy to open a shop, and part of this is due to the fact that they don't have a lot of customization options.
You will have to work with their basic layout, design elements, and assigned domain.
Some things you can customize are:
-Shop name
-Shop description
-Shop banner
-Profile picture (logo)
-Product-related data (names, images, descriptions, prices)
Most marketplaces also offer you a space to add your social media links where people can find you outside your shop.
An eCommerce shop gives you complete control over what your shop looks like and how you represent your brand. You have tons of customization options and can change just about every aspect of your shop.
You can choose a template you like and customize things on it like fonts and colors. You also add things to your shop like:
-A branded homepage
-Category and product pages
-Custom menus (with site hierarchy)
-Header and footer
-Contact page
-Favicon
You can even benefit from tools like a country/region selector, language selector, and currency selector for your international shoppers.
This is just a basic rundown of  the customization options, but there are even more for you to test.
TL;DR:  A marketplace won't allow for much customization since you will have to use the marketplace's layout. On the other hand, an eCommerce platform gives you almost endless customization options which will allow you to create a unique and branded shop.
Another great benefit of marketplaces is that opening a shop is usually free. So then how do marketplace owners make money?
Added fees and commission:
-Listing fees: you will have to pay a small amount for each item you list in your shop.
-Transaction fees: the marketplace will take a percentage of each transaction made on their platform
-Payment processing fee: these fees are for handling credit card and bank transactions
While these fees may not seem like a lot, they can add up fast for larger transactions or for larger volume sellers.
In fact, marketplaces rely on having a huge number of sellers and a large quantity of listed items on their site to make a profit.
When you first open a shop using an eCommerce platform, your wallet will have to be ready.
Some things you will have to pay for right away include:
-A custom domain name
-eCommerce hosting fees
-SSL certificate
-Payment processing costs
-Store theme
-Plug-ins
There are ways to save some money if you're going the eCommerce platform route. Look for free trials wherever you can, explore free plug-ins, opt for a free store theme, and compare plans so that you don't overspend.
As you grow your shop you can re-invest in it and make upgrades to the design functions. Keep in mind that you don't have to go all in right away.
TL;DR: While most marketplaces won't charge you to open a shop, they do make their money from charging listing fees for each item listed and they will take a percentage of every sale you make.
Opening a shop through an eCommerce platform will require an initial investment, but you won't have to worry about listing fees or losing a portion of your sales to a marketplace.
Marketing and Brand Awareness
Marketplaces have a huge built-in audience, which can be a major plus for new brands and small businesses.
If the marketplace has a great reputation and is trusted by the general public, then buyers are more likely to return and make more purchases. You just have to make sure that you use the right techniques to ensure your products show up when they search for them.
The downside is that building brand awareness isn't easy in a marketplace. The focus is on the marketplace's reputation and not so much on the individual sellers and shops. You might gain some loyal customers, but you're more likely to get one-off purchases from new buyers.
Another downside is that you can't collect customer information, like email addresses. This may not seem like a big deal, but it's actually crucial for driving marketing campaigns.
If you can't create email lists, then you can't email customers about new products or promotions, leaving you to rely solely on fresh sales.
When you open an eCommerce shop there is no built-in audience. You have to do the work to build brand recognition, establish a following, gain customer trust, and retain shoppers. You may already have a social media presence or some customers if you're migrating your shop from a marketplace, so do the work to get them to visit your shop and browse.
On the plus side, your shop is all yours, meaning you have no onsite competition like you would in a marketplace where your products are literally displayed right next to those being sold by another shop.
With a custom shop, you have way more potential for building brand awareness and you have the ability to collect customer data. This means you can build email lists and gather more customer info (onsite behavior, cart abandonment, etc) that will help bolster your marketing efforts.
Direct access to customers also means you can provide them with better customer service and even get feedback about your products or shop experience so that you can make improvements where customers are getting frustrated.
TL;DR: Marketplaces come with a built-in audience, and those with a great reputation will see heavy streams of traffic. This makes your shop easier to discover, but the downside is that there is a lot of competition within the marketplace.
Shops created using an eCommerce platform may have more success if your brand already has a loyal audience because you're relying solely on your brand for traffic. You won't have direct competition in your shop and you will have access to customer information that you can use to run marketing campaigns and get feedback.
Plugins aren't usually available for marketplace sellers. The marketplace itself may use plugins to offer certain features to sellers, but, as a seller, you won't be able to add on any new features.
Depending on the marketplace you're using, you can usually find apps that you can link to your shop.
There are tons of apps available to help you run your shop more efficiently. For example, some apps are designed to help you stay on top of inventory and shipping. Others will help you find keywords for your listings to make them more SEO friendly. There are also some to make editing your listing photos easier.
While these can help your run a more effective shop, they aren't directly tied to your store.
No matter what eCommerce platform you choose to host your shop, you won't have trouble finding plugins for it.
You can find plugins for just about every step of your operation. There are great ones that add design features to your website, like a free shipping bar or customer reviews. You can find plugins that focus on upselling by suggesting related products to shoppers. Others monitor site speed and cart abandonment to help with your marketing efforts. There are even plugins to help with your content marketing, SEO, and influencer marketing.
The downside to using too many plugins is that they can slow down your site's loading speed and most of them will charge you, so they can add up.
TL;DR: There are no plugins for marketplaces because you're restricted to the marketplace's interface. You can use apps to help you stay on top of your shop, but they won't be linked to your shop.
eCommerce platforms offer endless plugins that you can use for every aspect of your business, from storefront design to marketing and even SEO. You will have to pay for most plugins, but they can be worth the investment.
 If you need awesome product images for your apparel designs, check out Placeit by Envato's apparel mockups! 
Popular Online Marketplaces
Online marketplaces are popular all over the world because of how easy they make the shopping and selling experience. You may have even bought things from marketplaces and didn't even realize it.
They're not exactly the same, so it's worth taking your time to figure out which one makes sense for your brand. Some are more geared towards handmade items while others focus on fashion, etc.
Below are some of the most popular online marketplaces where you can start an online store:
This is one of the most recognized global marketplaces out there. You can sell just about anything on Amazon, from food to apparel and even electronics. A huge perk of selling on Amazon is its massive base of users who return to the platform to make purchases of all sorts.
The biggest con to selling on Amazon is how saturated it is for sellers. You will be up against tons of competition and more established brands who have been selling on Amazon for a while.
This is another massive global marketplace with a huge built-in customer base in over 100 markets. You can sell just about anything on eBay, whether your items are new or used. They offer a global shipping program, giving you an even larger market to sell to.
With that said, there is a lot of competition on eBay, including major dropshipping businesses that can afford to have extremely low prices.
Known for its independent sellers and its focus on handmade items, this marketplace is all about unique, custom, and one-of-a-kind finds. Some of the top selling products on Etsy are even digital downloads. 
The marketplace has expanded to allow less unique items, but it is still ideal for artists, designers, crafters, and vintage sellers. Shoppers will understand the higher price points since they are supporting independent artists.
Selling in Walmart Marketplace is a bit more exclusive since it's by invite only. You have to fill out an application and get approved before you can get invited to participate.
Since the marketplace is more exclusive, it's less saturated than Amazon. This along with Walmart's built-in online audience means that getting discovered by shoppers is easier.
Take advantage of the gaps in Walmart's inventory and market those items shoppers aren't finding in Walmart's main store.
List of eCommerce Platforms
Deciding to start an online store through an eCommerce platform can seem intimidating at first, but it can also be a very exciting moment for your brand. There are a number of platforms out there for you to choose from, and it's best to take your time to review what each one of them offers.
Since you'll have almost complete control over what your shop looks like and how it operates, it can be easy to ignore the smaller details. Before you make the jump, explore some of the top-rated and most popular eCommerce platforms.
Below are some of the most popular eCommerce platforms where you can open your shop:
This is one of the most well-known and respected eCommerce platforms and for good reason. It offers everything you want and need to build a branded online shop and even has tools that allow you to sell not only from your shop, but also through social media, marketplaces, and even a brick-and-mortar location.
 Before you commit, check out what the best products to sell on Shopify are and start with a free trial to get a feel for the platform.
Magento is a great option but it is known to be a bit more complicated than other eCommerce platforms. If you have some eCommerce experience under your belt, it's worth the learning curve. It offers advanced SEO options, is spacious enough for a massive catalog, and offers third-party integrations to grow your shop.
Magento can be very pricey for larger enterprises, but if you're just starting out you can take advantage of the basic version – which is free!
This eCommerce platform also has a bit of a learning curve, but they have plenty of documentation and access to support to get you through it. This platform is ideal for those looking for B2B and B2C solution as it allows for different price lists depending on situation.
You can choose from a number of plans depending on what you need, and they offer 15 day free trial.
This platform is a bit different compared to the previous options because it's actually a plugin that allows you to create your shop on WordPress. This option is very easy to use, especially if you already have WordPress experience.
The plugin is free but you will have to pay for extensions that can help grow your shop. Like plugins, extensions can help with things like marketing, shipping, design, payments, and much more.
This is a great option for beginners because it's easy to use and the pricing isn't steep. Do keep in mind that too many extensions and a large library of products can slow down your shop, so have a growth plan for when you reach this threshold.
Pros and Cons of Each Option
✅ Low or no initial investment
✅ Easy to start a shop (no coding or additional skills)
✅ Access to a large built-in audience
✅ Recognition and trust associated with the marketplace
✅ No maintenance is needed
✅ Security included
❌ Hardly any customization options for your shop
 ❌ Highly competitive and saturated
 ❌ No customer information or analytics for marketing purposes
❌ Brand awareness and loyalty are harder to achieve
❌ Added fees and high commission add up
❌ Payment delays and thresholds
 ✅Fully customizable storefront
 ✅ Tons of plugins to customize your shop experience
✅ Customer information and analytics for marketing
✅ Establish and scale your brand
✅ Build customer loyalty
✅ No commission on sales
✅ Direct payment
❌ Start-up costs can add up fast
❌ Customization requires time and money
❌ More technical aspects to take care of
❌ More complicated navigation
❌ Plugins can slow down your shop
❌ Harder to reach your target market
❌ Maintenance will be needed
If you still can't decide which option is best, keep in mind that you can start an online store in both a marketplace and an eCommerce shop.
This means you can reap the benefits of both options at the same time. Of course, taking this decision requires some serious thinking and planning because it can also mean more work. You will have to set up both options and create listings for all of your items twice, which can be time-consuming.
With that said, many businesses opt for this option because it gives you access to two different groups of shoppers. In fact, you can start your brand in a marketplace and then open your own shop once you start accumulating sales and growing your business. You can keep your marketplace shop operating in order to still keep that source of traffic flowing.
Remember there are no limits to what you can do. Take your time to consider your options and develop a solid plan, no matter what option you choose.
At first glance, marketplaces and eCommerce platforms may seem very similar. After doing some digging, it's clear that they have significant differences.
Before you start an online store, be sure you know what you're getting into. This is especially true for eCommerce platforms because of their high startup costs.
Don't feel rushed into anything and take your time to make the best decision for your brand. Keep your current needs in mind as well as future plans.
What other marketplaces and eCommerce platforms are you considering? Let us know in the comments below ⤵️
👚 Before you go, do you have your clothing brand logo yet? Get inspired to create a great one with Placeit!
FAQ: Marketplace vs. eCommerce