Every Design Template You'll Ever Need!
Save tons of hours designing by using Placeit's smart design templates! Make every design your business needs in just a few clicks and completely on your own! This is a super easy tool that is 100% accessible for anyone, no matter what's your expertise on design. Implementing Design Templates on your business will help you standardise your brand through all your assets.  
Design Templates can get you professional-looking images that will look amazing on your social media, your website, your online shop, emails or even printed!
Why Use Design Templates?
There is no need to hire someone else to do the work you want to do on your own. You can create all kinds of graphic designs with no need to spend on expensive software. In fact, Placeit's unlimited subscription is literally that, UNLIMITED downloads for as much design as you need. 
Also, this tool is just an amazing asset for any marketing team; it can really automize your workflow and save time! Never miss a deadline again.
You can make the same design over and with a few alterations, to keep in line with your brand design alignments. This means, they help you keep your branding image consistent over all your assets. You can make hundreds of designs for big projects in minutes! Design Templates are simply super convenient for any business.
How Do Design Templates Work?
You choose a template, make it easier by filtering for your category. Make customisations for your template. You can choose fonts, colors, graphics, pictures, backgrounds, layouts, anything to ensure you get an original design. 
When you're done customising you simply download. You will receive in a few seconds a high-quality file ready to upload or print.
Let's see what Placeit's Design Templates have in storage for you and what you can do with your new brand designs.
This toll is great because here's the catch, it's a t-shirt designer but really you can make designs for any product! Hoodies, pants, underwear, anything. Also you can find a Design Template for anything there is: cats, politics, LGBT, cute designs, outer-space, green movements, and much more.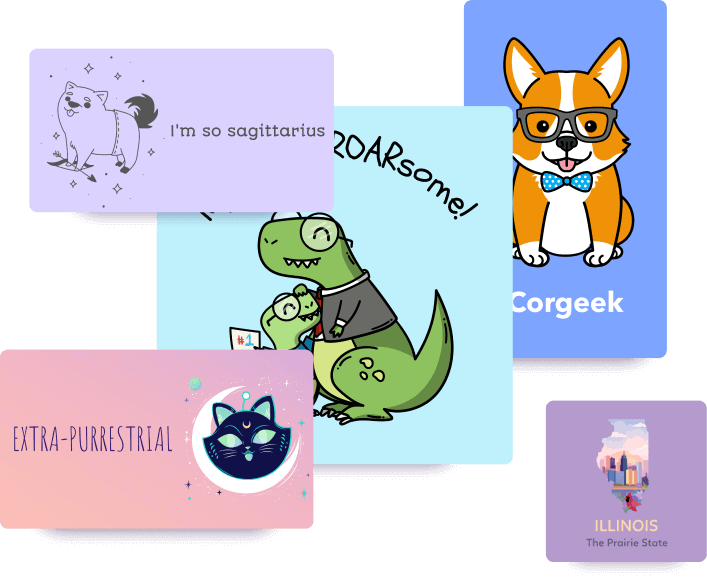 With t-shirt label templates you can design your brand's label in a second and brand all your products at once! Label templates allow you to add some information like the products size, washing instructions, and more. 
Keep making awesome design to sell your products! You can use these phone case templates to create stunning designs from pre-made templates. 
Make also beautiful phone grip designs using Placeit's phone grip Design Templates. Find all kinds of cute designs: fantasy characters, cute aliens, unicorns, and much more. 
You can find Design Templates for tons of social media and streaming platforms like Facebook, Instagram, Twitter, Pinterest, Etsy, YouTube, Twitch, and more.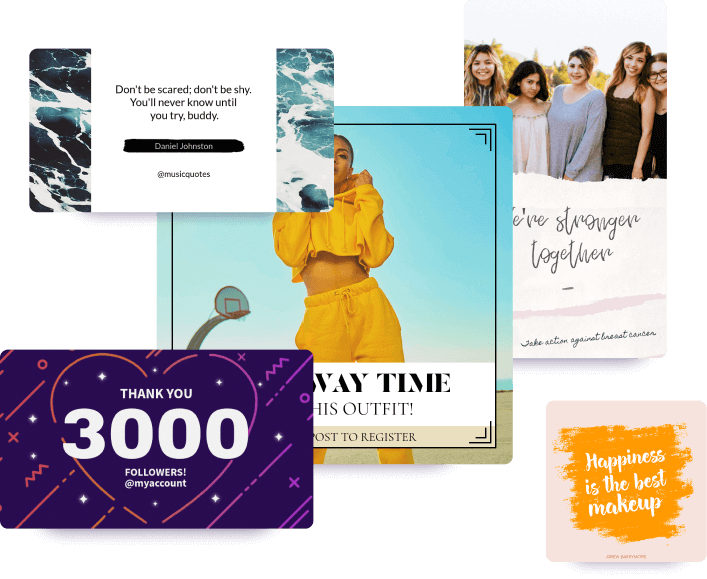 There are hundreds of templates to choose from for you to post on Instagram. Engage with your followers easily with attractive posts. 
Make daily Instagram story posts with these Design Templates. Post a sale, a giveaway, a this or that story, a quote, anything that your follower love to see. 
Design Facebook posts and Facebook Ads in a few clicks! Choose a Design Template that goes with your intentions and customize!
Tweet all your brand's news with awesome images to make your followers stop at your post when scrolling the feed. 
Share the best tips and tricks for your audience and post your products with amazing Pinterest pin templates.
Brand your social media platforms with your logo, your slogan, or even a seasonal banner that you can update every now and then. 
Use YouTube profile picture templates, YouTube thumbnail templates, YouTube ad templates, YouTube banner templates, and YouTube end card templates to brand completely your channel.
Promote as often as you want with easy to make banners that are actually engaging. Make your audience stop at your banner with flashing designs. 
Whether you want to design a digital flyer or you want to print it, this tool is great for you! There are flyer templates for any business industry. 
Make a super professional business card with your brand with these templates. There are tons of templates to choose from. 
You can design an awesome cover for your album using these Design Templates. Add your band's name, your album's name, and the edition to your custom cover! Don't forget to check out our Mixtape Cover Maker! 
About to publish something? Make the design of your book or your e-book easily by using these Design Templates. There are styles for all genres: fiction, romance sci-fi, terror, and more. 
Great-looking designs help you keep your audience for a longer time, which makes you look good for the search engines. They get your messages through in a clear way and with memorable images. Professional looking graphics increases the quality of your brand. 
Try a few designs completely for free. These templates change with time so if you see something you like to use it right away!