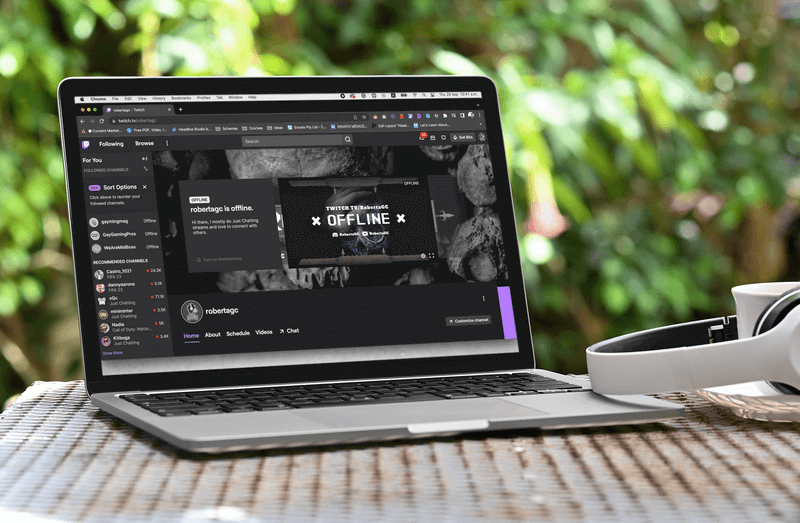 This Halloween, give your audience a scare with some seriously eerie horror templates for your Twitch stream and gaming YouTube channel! If spooky season is your favorite time of the year (same), then this is a great way to get your viewers excited for Halloween-themed streams and videos.
Let your creativity flow as you create an impressive and on-theme stream your followers will love!
Find Halloween-Inspired Gaming Templates
Horror Logos for Your Gaming Profiles
Ready to update your Twitch profile with a spooky logo variation? Get your followers in the Halloween spirit with an on-theme logo that will bring a smile or fear to their faces!
Check out Placeit's horror logo maker to create a spectacularly eerie design. There are many scary characters to choose from, making it easy to stay on brand.
You can opt for a scary clown design that will scare even scary movie lovers, sinister zombie logos that will give you nightmares, or a very Halloween pumpkin design. There are plenty more to choose from, so go check them out for yourself.
Spine-Tingling Animated Horror Logos
Did you know there are also animated horror logos? Check out Placeit's animated logos to make your scary designs come to life!
Horror and Halloween Templates for Twitch
Get your Twitch channel looking its eerie best with brand new assets perfect for the season!
With Placeit's Twitch templates, it's easy to give your channel and profile a whole new look in no time. Get it all, from spooktacular Twitch banners to Twitch panel designs that will impress your audience.
Design the Perfect Horror Gaming Twitch Banner
A new Twitch banner can completely transform the look and feel of your channel. And, if it's horror vibes you're going for, we've got just what you're looking for!
Before Halloween arrives, check out this collection of horror-themed Twitch banners. Choose from tons of designs that feature scary characters and scenarios, like demons, haunted castles, scary clowns, and more!
Create a Halloween Overlay for Your Stream
Take your scary new look and feel right into your live streams with a Halloween stream overlay design.
Your overlay will be visible throughout your stream, so try to make it match your Twitch banner for a more cohesive look. Choose from a collection of horror Twitch overlays that feature skulls, crows, skeletons, and other popular Halloween-inspired graphics.
💀 New to Twitch? Check out this post that guides you through how to make a stream overlay.
Update Your Twitch Panel With Eerie Graphics
Complete the transformation of your Twitch profile with matching Twitch panel graphics! Your panel graphics give you a space to stand out and really show your personality, so go big with these. Just make sure they match your stream as a whole.
Your Twitch panel is super important because this is where your viewers can stop by and see everything from your stream rules, where to make donations, what other platforms they can find you on, and even links to your merch.
To make these standout, use exciting graphics that will entice your audience to click.
Learn how to make Twitch panels and add them to your profile.
Even More Horror Templates for Your Twitch Stream
To finish off your Twitch profile's horror transformation, don't miss all the other templates ready to be customized this season.
Browse everything from Twitch alert box templates to Twitch offline banners, and Halloween emotes to video intro templates that will get you hyped for the season.
Keep in mind that while these templates are perfect for this time of year, you can use them all year long. Just make sure the horror theme matches your brand all year.
Transform Your Channel With Horror-Inspired YouTube Templates
If you love to repurpose your Twitch content and use it to create gaming-related YouTube videos, we've got the perfect horror-themed YouTube templates for you!
Give your YouTube profile and videos a makeover just in time for the spookiest time of the year with everything from Halloween-inspired banners to spine-tingling thumbnails.
The best part is they're all super easy to customize and will be ready to upload in minutes!
How to Make a Horror Banner to Spook All Your Subscribers
Eager to create a frightening YouTube banner, but not sure how to get started? Follow these simple steps:
Go to Placeit's collection of horror-inspired YouTube templates.

Select the banner template you want to customize.

Type in your text, change the fonts and choose the font colors.

Select a graphic and a background design or upload your own.

Choose colors for every element until your design is perfect.

Hit the download button and get ready to share your design.
Make the Eeriest YouTube Thumbnails in Time for Spooky Season
Having an attention-grabbing YouTube thumbnail is a must for every single video you post. This along with the title are basically what will convince someone to click on your video.
To get your thumbnails just right, be clear about what will be featured in the video and the general vibes to be expected.
If you're creating a special Halloween YouTube video for your channel, create a thumbnail that gives off those spooky vibes.
You can design a beautiful thumbnail straight from your browser in minutes no matter your design experience. Check out Placeit's horror-themed YouTube thumbnails to get started!
Ghastly Intro Videos That Are Sure to Send Shivers Down Your Spine
Start your videos off with a bang! Check out Placeit's intro makers with a horror theme to create a truly frightening video intro.
You don't have to use a Halloween-themed intro video all year long (unless it makes sense for your brand), but this can be a fun seasonal update for your videos.
Get your viewers ready for some spooky content with a video intro that will hook them from the start.
Now that you have all the templates you need to create a perfectly eerie stream or video, what are you waiting for?
Keep in mind that Placeit by Envato has plenty more Twitch and YouTube templates you can use to keep your stream and channel up to date all year long.
Let us know in the comments below what horror templates you're excited to use this season ⤵️