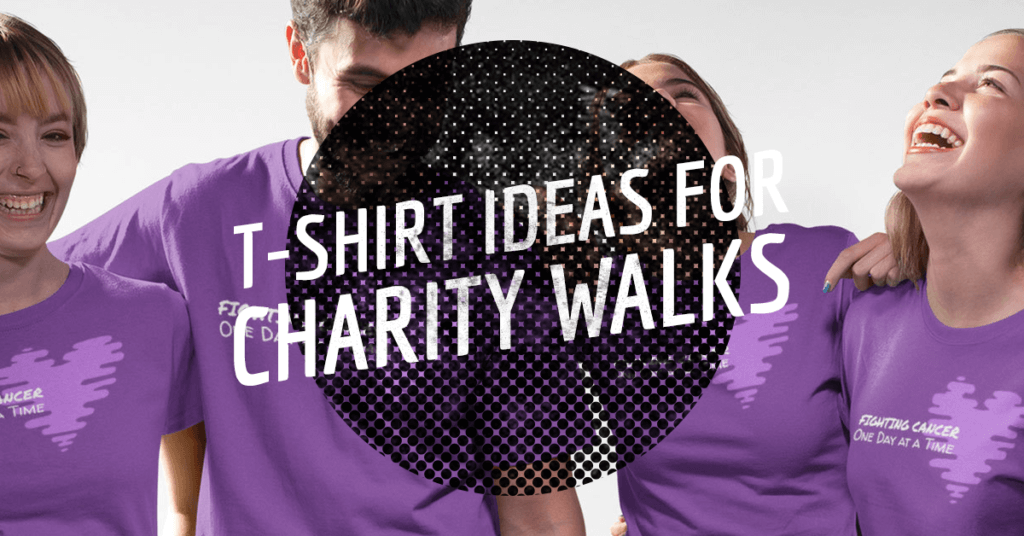 Charity walks are a great way to support a good cause and get some exercise at the same time. The only thing better than that is to have your friends join in! 
Below, we have a list of some of the biggest charity walks and runs in the United States and some design ideas you can use to make charity t-shirts for your team.
Top 7 Biggest Charity Walks / Runs Causes
Breast Cancer Awareness Runs
Other Cancer Awareness Runs
Arthritis Awareness Walks
Premature Birth and Infant Mortality Walk
Stopping Sexual Assault and Gender Violence Walks
Why Make Custom Charity Run T-shirts?
1. Helps your team feel like they're really supporting the cause as a team.

2. You can wear them after the event as conversation starters to talk to people about your specific cause.

3. Use them help an afflicted loved one feel like they're not facing their situation alone.
Who to Invite to Your Charity Run Team
Family members – Use the opportunity to spend some quality time with your loved ones
Coworkers – Get to know the people you work with better and rally around a good cause
Schoolmates – Get your friends from school together and form a school team
Sorority / Fraternity members – Coordinate fellow members to run or walk as a team
Church members – Organize a charity walks team for your church.
Start your Own Charity Walks / Run Team
Follow these simple steps to organize your own charity run team!
Charity Run Checklist and Resources
Steps to Start Your Own Charity Run Team
Your charity walks team can be as small as two or as big as a school or a church congregation. The important thing is to find people you like spending time with and are interested in a good cause.  
 Make a whatsapp group or a Facebook group to organize everyone. You can use this group for the following steps. 
Bonus tip – If you want to start a large charity run group online you can use the following tools to recruit team members.
Register your team for the charity walk you are going to take part in. Most events have registration pages on their website.
Design a charity walks t-shirt for your team. Having your team wear the same t-shirt really helps everyone feel like they're part of the group and working towards a common goal
Take orders and purchase race shirts for your team. 
Arrange transportation and logistics so everyone on the team can arrive and participate.
Have fun walking or running with your team!
Bonus tip (Don't forget to bring plenty of bottled water and snacks to keep your going strong. If the race is a 5k then you might also want to bring a clean change of clothes, some deodorant, toilet paper and depending on the weather, some sunglasses, a raincoat or sunblock.)
What are you waiting for? Choose a charity walks near you, gather some friends, make some cool t-shirts for your team and run for a good cause! Simply follow the easy steps in the checklist and with a little help from Placeit's charity run t-shirt design maker you'll have a team in no time!
"My team really liked the shirt design I made with Placeit's charity run t-shirt design maker"
Dylan Hadfield
5/5