Best MacBook Pro Mockups for Business Websites
If you are designing a business website, it is important to show it in the right context. Whether you are pitching it, showing a mockup, looking for the final approval, or even showcasing it somewhere, having a professional, photorealistic MacBook mockup is an excellent tool to correctly portray your design.
For that, we have selected our best Macbook Pro mockups.
The Busy Man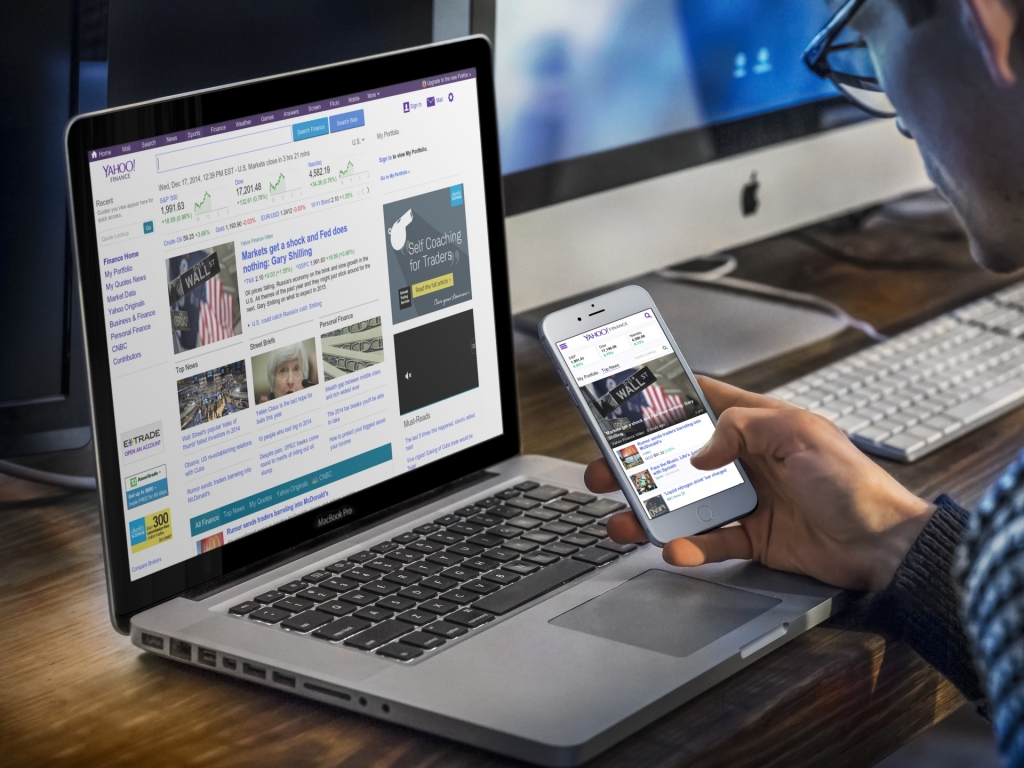 Try it here. Source: finance.yahoo.com
To start our compilation, we chose this Macbook and iPhone 6 mockup. This is what we call a "dual mockup", in which you can drop two images or URLs and receive a mockup that helps your audience compare both the desktop and mobile-optimized designs. You could also show an app on the phone while showing a website on the MacBook. This particular mockup is ideal for business websites because, by featuring the two devices plus the iMac in the back,  you get a modern, slick environment with silver aluminum and a modern wooden desk.
The Comfy Creative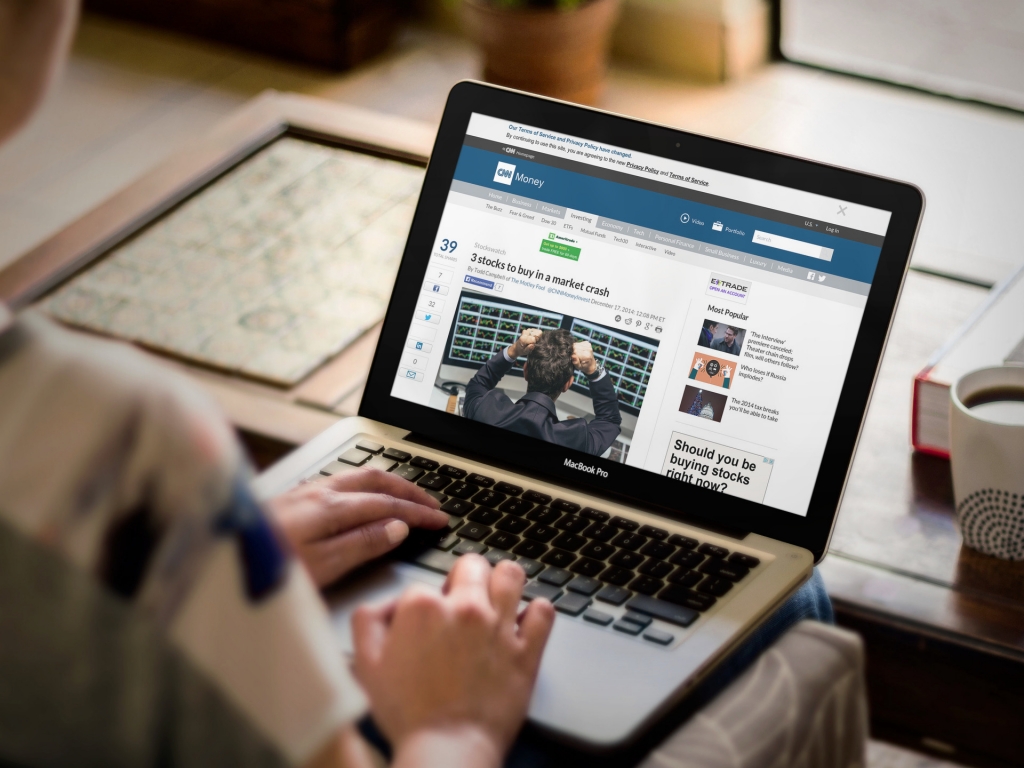 Try it here. Source: money.cnn.com
Not all businessmen and business environments have to be cold and serious. This soft, warm photograph showcases a creative person, maybe a startup owner, checking business tips on CNN Money. The Macbook mockup has a soft blur around the edges, allowing your audience to focus on what matters: the design on the screen. This mockup, like our other still images, allows you to input an image or a URL. We pay special attention to how the environment's colors interact with the silver of the Macbook to allow your design -on-screen- to pop right out.
Regular vs Wide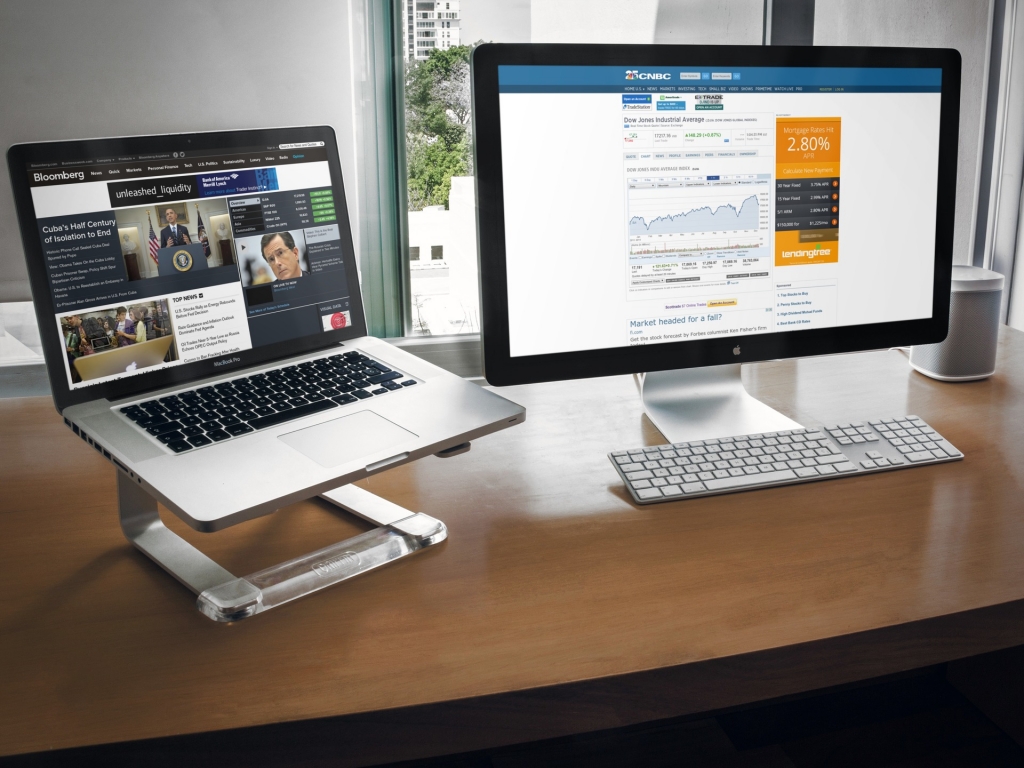 Try it here. Sources: Bloomberg / CNBC
This dual mockup lets you compare designs or showcase the same design on two types of displays: a regular Macbook Pro and an ultra-widescreen iMac. The Macbook mockup sits on a specialized stand so you can see both screens at the same height. They are on a brown desk, with a color-complimenting grey and white cup. Behind them, you can see that this desk is located at an office complex, which is a perfect environment for any business website. Depending on what type of design you are making, this might be just the Macbook mockup for you.
The Minimalist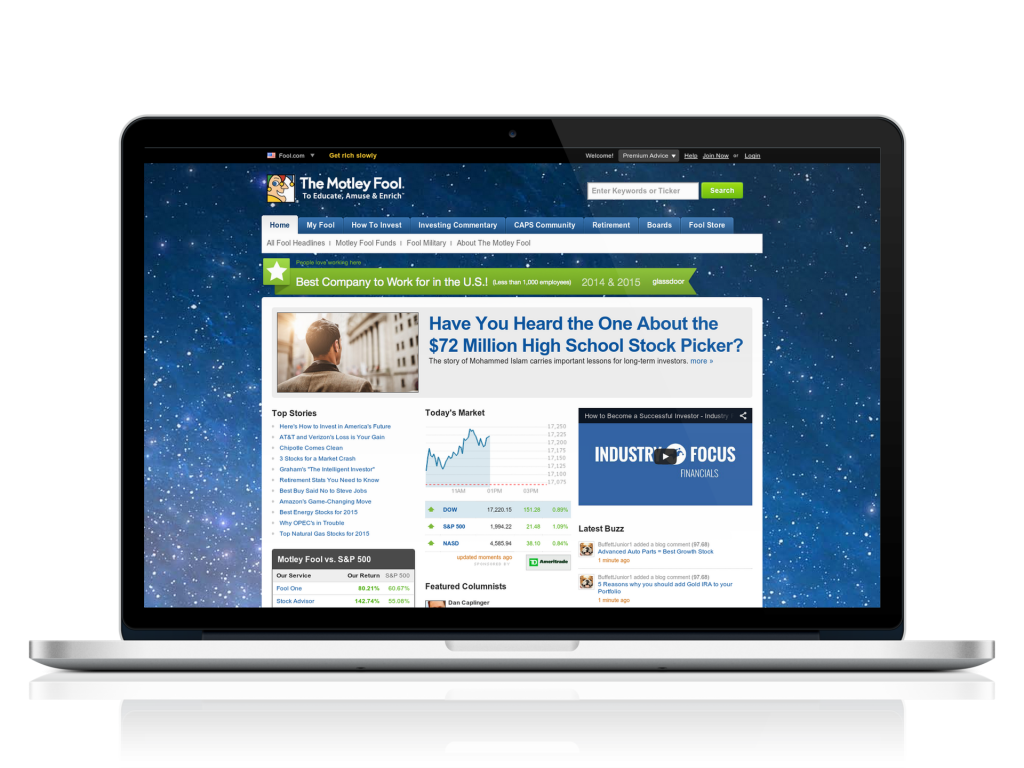 Try it here. Source: The Motley Fool
Sometimes we just need to go back to the basics, which is why we created this classic Macbook mockup. Mimicking the classic ultra-minimalist style that Apple uses, this perfect frontal shot of the Macbook Pro is an absolutely versatile choice for any design but will complement business websites especially, since it's meticulously calculated look will combine properly with the hard facts of a business website. The background is transparent so you can place the mockup against any background that you choose.
Wide / Banners

Try it here. Source: Google Finance
We have chosen two different mockups to show you the beauty of our wide stages. Even though we offer the possibility to crop your images after download (using the "Add fx" button), you can also choose wide 17:6 ratio versions of our Macbook mockups. These are great to use as a banner or in a section where you don't want to take too much vertical space.

Try it here. Source: Bienville Capital
Top View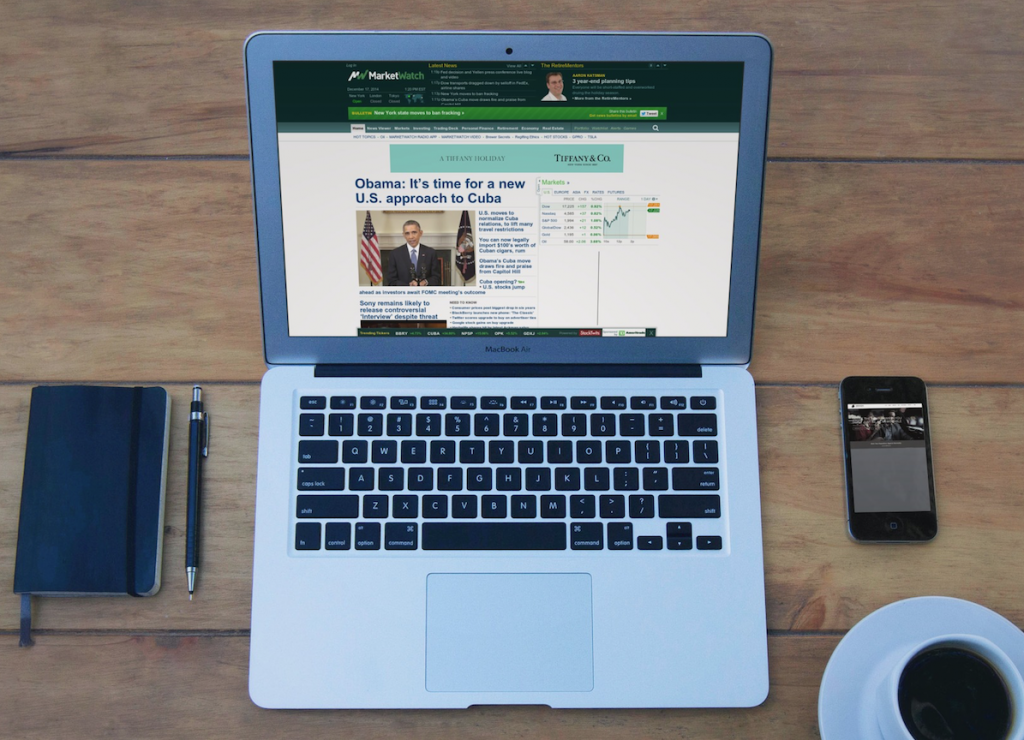 Try it here. Source: MarketWatch
This top-down view of a Macbook Pro mockup lays on a wooden desk, next to a cup of dark coffee, an iPhone, and a notebook: a classic setup for any businessman. This immersive mockup puts the audience right in the action as if they were looking at your website themselves. For this particular picture, we cropped the final photograph using our built-in image editor, which you can access by clicking "Add fx" after downloading.
The All-Rounder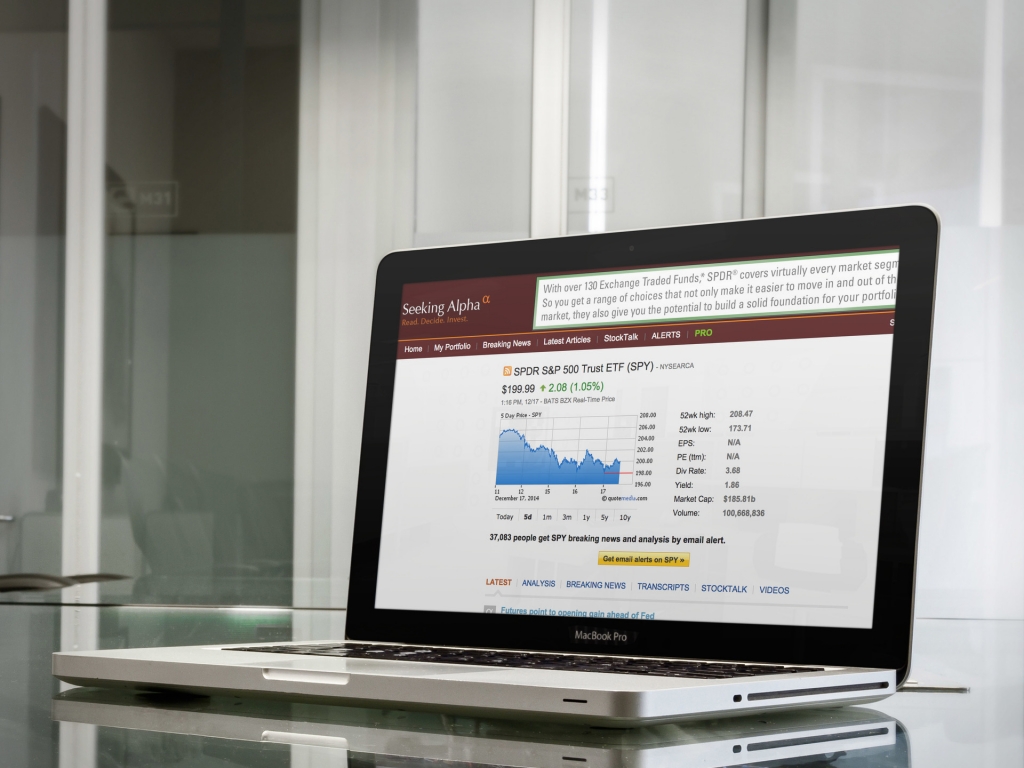 Try it here. Source: Seeking Alpha
Finally, here is a modern mockup that has the best mix of modern, slick, and contextual. This Macbook mockup lays on a glass desk in a meeting room. The slight angle of this photograph invites the user to peek into the screen, which would showcase your design. The suggestive reflections really make this mockup unique.
Remember that, if you are designing a business website, it is important to showcase it in context. Choosing the right mockup for your design can really make-or-break your idea. Feel free to try our new iPhone 8 Mockups and Laptop Mockups too! We hope these mockups help you in your work.
If you have any questions, we'll be glad to help: support@placeit.net
"Can't mention this enough: For web/UI designers, Placeit is a great online tool."
Six Revisions 5/5
---
Promote Your Products With iMac and Macbook Pro Mockups
Powerful visuals can propel your marketing campaign, raise your sales and improve the impact on your audience and future costumers. Placeit makes it easy to display your products with iMac and Macbook mockups, without the need for photoshop or a designer. Showcase your web or app in the proper setting and devices with responsive and transparent png mockups.
Make a Macbook Pro Mockup Now
---
Hundreds of Free High-Res Freebies Just for You!