Hello there, fashionistas and beauty enthusiasts! Think you got what it takes to create your own beauty blog? You are dead right! We are here to tell you how you can transform your passion into money! More specifically, how to start a beauty blog! 
Starting a beauty blog can be a stimulating way to share your beauty knowledge with other people passionate about beauty! However, you should know beauty blogging is a busy street. But with hard work and a unique angle for your beauty tips, you can succeed.
We will go step by step how you can crush with your blog your beauty industry marketing and become part of the best beauty blogs.
Unleash your creativity with like-minded people and make some money from it!
1. Name Your Blog & Make a Beauty Logo Design
Come up with a unique and memorable name. Think about keywords and beauty-related words you can add or phrases that define what your blog is all about. Brainstorm and play around with your words, and finally, get something amazing! It's super important that you check that your blog's name doesn't exist already. 
Once you have your name ready, it's time to design an unforgettable and unique logo to represent your whole blog. Why? Because your logo will be basically everywhere on your blog, your social media, your watermarks, and so on.
2.
Build Up Your Brand
Don't make the mistake of thinking that you don't need to brand your blog! Once you have your logo, don't stop there! You need to establish your brand's design line to keep consistency throughout all your posts and even your products. 
Think about your color palette, your fonts, your style, your voice. All of these working together make up for your brand's style. This means choosing how to shape the user experience when reading your blog.
3.
Find a Niche to Talk To
To find your very own angle, you need to understand your niche. Because as you may know, there is a world of different targets under the beauty industry you can talk to. Because having a specialty will help your blog stand out from the rest. 
So you might be thinking "Well, I definitely know my target. Beauty lovers, duh!" But you should be able to go a little deeper. Their ages, their locations, the stores they like to go to, their general interest in life, and more.
4. Create a Website
Mockup of a businesswoman working on her blog
Whenever you choose a software to build your blog's website, consider these things: 
WordPress, for example, is a very known platform to get your website on, and it's completely free. You will still need to pay for your domain and hosting, but more on that ahead.
Look for a beginner-friendly platform that will be easily manageable. WordPress is very user friendly. 
Choose a website template that allows you to make easy customizations. 
So once you've considered these things, you can choose a theme or template for your blog. But don't stop at your website's theme; you can look up interesting plugins to allow you to create different applications on your blog. For example, you can add your Instagram feed as a gallery. 
Pages you should definitely set up: 
Your about page where you can share who is behind your blog! 
Your contact page with all your contact information in case anybody wants to get in contact. 
Purchase a Domain & Hosting
Look for a domain name that hasn't been taken yet and look at your hosting options. Look for a hosting that is affordable and easy to install on your website template. For example, Karisthehouse.com or whatever you have decided to name your blog! You can try Bluehost or wordpress.org  sites to buy your hosting and check for availability.
5. Create Mind-Blowing Posts
Intro maker for a beauty video with torn paper effect
Great content should be your very first and most important focus to cover a variety of topics. To do this, you can ask your following what they would like to read about or see. Search for beauty trends and make your own subject on it. For example, beauty health is a biggy right now more than makeup routines. People are looking for ways to take care of their skin, their hair, and so on. 
Think of different angles to talk about beauty subjects. Stand out from the crowd by giving your audience your very own spin to topics. 
Always post beautiful, high-quality images to support your writing. This is a biggy basically everything you are sharing can be supported and have a significant impact if it comes with a stunning image or video. 
I would recommend you get a good camera to take beautiful pictures and add them to your image templates and videos. You can take natural light images or set up your own little studio with good lighting; either way, you get great photos. 
You can talk about beauty on budgets, beauty wellness, artistic makeup, natural looks, closet organizing, how to clean your beauty brushes, myths about beauty.
Don't Forget About Video!
Demonstrate your knowledge by posting tutorial videos, or make live sessions to connect with your following. You can run a Q&A, for example. Running a YouTube channel is a great complement to your blog.
Video blog involves consistency just as your blog does, so it is vital that you keep a content schedule, don't leave your fans hanging! 
Minimal Instagram story video maker for makeup artists
6. Build a Fan Base
Interact with your audience through your blog and through your social media. Encourage them to leave comments and feedback. You must manage to establish a real connection; otherwise, they will eventually lose interest.
7. Monetize Your Blog
Affiliate Marketing
Join forces with a brand and promote their link through your blog, you can start affiliate marketing in several ways:
Join an affiliate program, for example,

Amazon associates

, and whenever you mention their products, you can add a link.

You can create a shop post filled with products you recommend to purchase.

Add swipe up links on your Instagram stories to redirect them to the shop's site. 
Display Ads on Your Sites
Whenever your blog has high traffic, you can offer a few ad spaces. Make sure these are brands you believe in and are relevant to your audience. Don't be a sell-out! 
Create Merch!
Create your own products, promote, and sell them. This is a great way to get your blog out there and make some extra cash!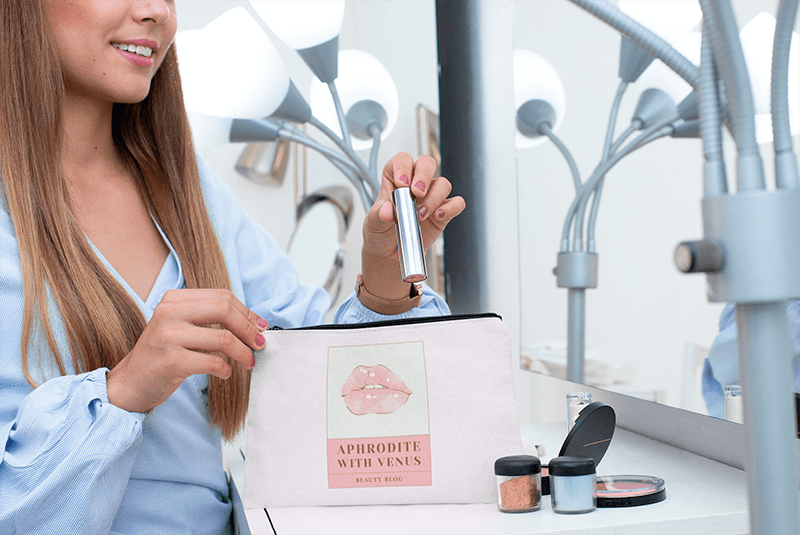 8. Time for Some Beauty Marketing!
Promote on Social Media
As we have mentioned before, social media is your blog's best friend to help you interact, build an audience, and promote. Take your time into creating eye-catching posts to link your audience to your blog and also to get closer to them! 
Beauty Templates
Using social media beauty templates, you can automate your work and post stunning visuals every day. Use templates to post on Facebook, Instagram, Twitter, Pinterest, and make engaging ads too!
Last Thoughts
There is a lot to consider when launching your very own beauty blog. Follow these tips to make a successful launch and keep the good work up! Good luck, and if you have any questions, don't hesitate to write to us!