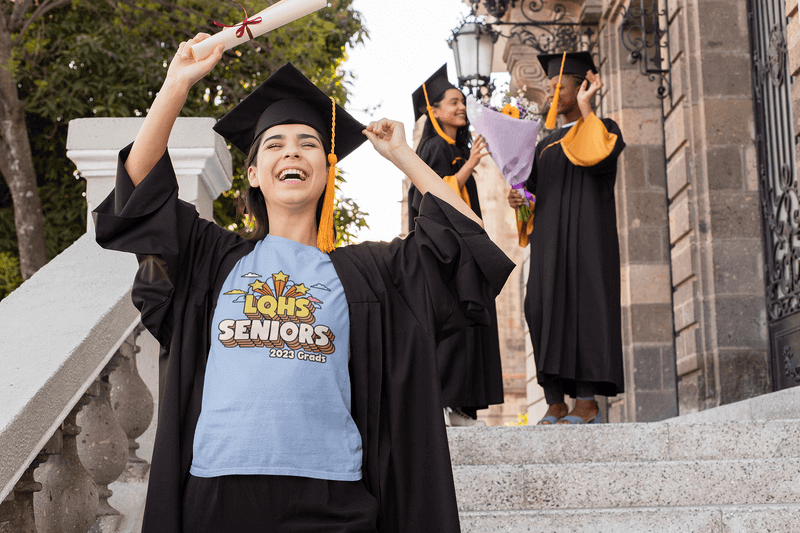 As the summer gets closer, so does graduation season! Before it's in full swing, check out all the graduation templates you can use to create custom items to celebrate this joyous occasion.
Find everything you need, from graduation t-shirt designs to graduation announcements you can customize for your grad. Let's get started!
Share the News With a Graduation Announcement Template
Whether you're the one graduating or you're getting ready for your child's graduation, this is a very exciting event that you'll want to share with those close to you. While you may not be able to invite them to the actual graduation ceremony because of limited seating, you can still include them on this big day.
Graduation announcements allow you to send a personalized card to those close to you. Use a photo of the recent grad along with a thank you message or a celebratory message for a heartfelt design. These can be mailed out to family members, close friends of the family, and anyone else who has been a source of support in the graduate's life. If mailing them is too much of a hassle, you can also share them on social media, email them, or even message the announcement to your loved ones through whatever messaging service you like.
To create a custom announcement, check out Placeit's graduation designs! Here, you can find the perfect graduation card template and customize it in seconds. Use a photo of the grad, the school's colors, and a personal thank you message for a custom design.
Get some inspo from these designs:
Create Grad Party Invites to Get Everyone Hyped for the Celebration
Not everyone throws a graduation party, but if that's something you plan to do, then invitations are a must!
Announcements and invitations are often thought to be the same thing, but that isn't quite true. A graduation announcement is used to share the graduate's achievements, while an invitation should also include information about the celebration that follows.
This means you should include an address, date, and time so that whoever receives an invitation knows when and where to show up to celebrate.
You can easily create an invitation with a graduation party invitation template from Placeit! These templates make it easier than ever to design an eye-catching invite. Check out these designs for some inspiration:
Design Custom Graduation Shirts to Commemorate the Day
As the big day approaches, you might not know what to wear to the graduation ceremony to show your support for the graduate. Luckily, you still have time to create a custom graduation t-shirt design featuring the graduate's name, school colors, and a special message.
Creating matching shirts for your family is a great way to show your support, but this also means you have a physical memento of the day that you can hold onto.
Not sure what type of shirt you want to create for this occasion? Check out these graduation shirt ideas, including graduation t-shirt ideas for family and friends:
If you sell custom graduation gear, then you'll need more than just t-shirt designs to promote your designs. Check out our collection of graduation mockups, including t-shirt mockups, mug mockups, and even graduation cap templates where you can show off your design work!
Graduation Post Ideas to Celebrate on Social Media
If you didn't post about your graduation on social media did you even graduate?
Get excited to share your achievements on social media, and be sure to get creative with your posts! Create a beautiful video or image post that shows your school pride and that lets everyone in your life know you've done it!
Check out these graduation-themed Instagram templates you can use to light up your stories and feed:
You have your video or image ready to post, but what about the caption? A good caption is a must, especially on a significant day like this. Take your time to think about what you want to say in your caption and the mood you want to set with it.
Do you want to make it funny and about how you're finally free? Or do you want to use this space to reflect on your growth accomplishments? Maybe you want to use your caption to write some heartfelt thank-yous to those who supported you during the rough times.
Look for some graduation quotes for Instagram to get inspired and check out these graduation caption ideas you can use to complete your post:
This tassel was worth the hassle.
And so the adventure begins.
The best way to predict the future is to create it.
I believed I could, so I did.
Con-grad-ulations!
Now, it's hotter in here by one degree.
How lucky I am to have something that makes saying goodbye so hard.
Graduations are a big achievement that are meant to be celebrated. No matter who gets to don the cap and gown this time, make sure they feel the love!
Creating custom designs for the big day is a great way to show your support and send a loving message. And, before the day arrives, be sure your graduation announcements are ready to go and that your graduation party invites have been mailed.
Remember that Placeit by Envato has all the designs you need to make any graduation a memorable one!