Erase White or Black Backgrounds with Placeit's Free Background Remover
All of our new apparel mockups now have the background remover tool included! You will find it on the left side of the screen. Use it to erase either the black or white background of your image when adding it to the mockup.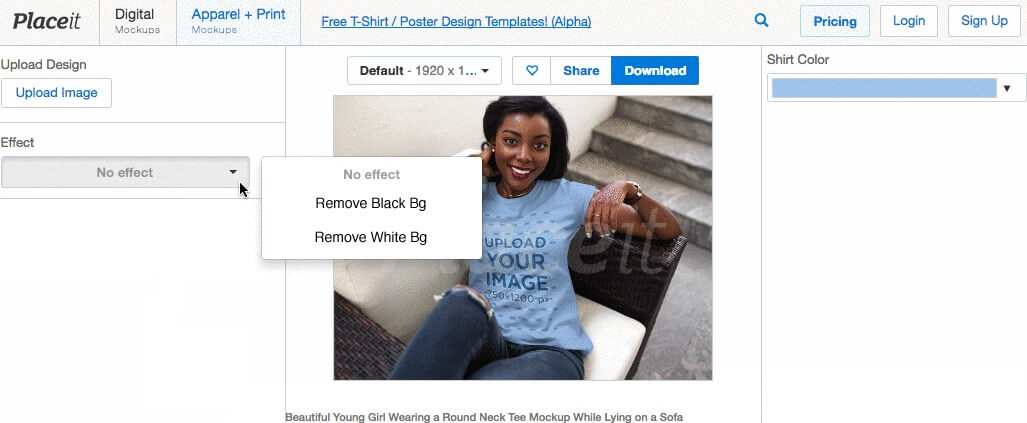 Removing the white background from an image to make it transparent has got to be one of the most annoying tasks one comes across when making t-shirt designs, graphics for social media or any other visuals that need you to have a png image with a transparent background.
Sure, you can erase the background from an image with Photoshop, but that means you need to have the program installed and most importantly, you need to know how to use it. Well we've got some great news for you, Placeit just released it's very own free background remover for white and black backgrounds! No need to download anything to your computer or learn graphic design skills, this free background remover works like a charm and best of all, straight from your browser!
Here are some examples of how the white or black background burner works, all you need to do is give it any image with a white or black background, select the corresponding action and it will remove the background to deliver a transparent png.
Don't take our word on how this amazing tool works, see for yourself!
Removing the White Background from an Image
Erasing an Image's Black Background
Think the background eraser tool would only work for simple shapes? Think again!
This is a more complex image, it has text in different fonts, a shape and a background, all in different colors. Yet you can instantly remove your image's white background to make it transparent by using this new tool, just like magic!
Note how the white elements in the image are automatically turned into transparent shapes instead of having a white background, you didn't even have to select the shapes.
This tool will soon be ready, be sure to fill the form above to receive an alert whenever this tool is ready to be used again. In the meantime, check out Placeit's Design Templates and create amazing designs online!
---