Make an App Demo Video With Gestures Online
When we first launched Placeit video, the main feedback was that the "invisible hand" was really throwing off the videos. What those users were referring to is not being able to see real hand gestures in the videos. You can see example of how they used to look here.
Creating realistic hand gestures on the fly turned out to be a hard problem to solve. Not only from an asset production perspective but also technically. So it took us a while to pull it off.
Well, it's finally ready for you to try it out.
Placeit can now listen to your clicks and convert them into real gestures in the actual final video that we produce.
Here's an example below.
Please note that the music here is directly from YouTube so you have access to 150k+ tracks to lay over your video.
Next time you're trying to show off your app, you can use Placeit to create a beautiful looking app demo video in minutes.
You just find the template that you like, click "Record Your Screen", pull up your app (we recommend using iOS Simulator) , and record. If you need some instructions on how to record an app using iOS or Android Simulator click on their respective links.
You can record up to 1 minute. We have two types of video templates. Ones that have user stories and ones that are simply someone using the app. The small version is free, even for commercial usage. The other licenses are priced at $99 or only $29 with the new Unlimited Subscription Plan.
You can choose these templates by clicking the filter option and then choosing "Video".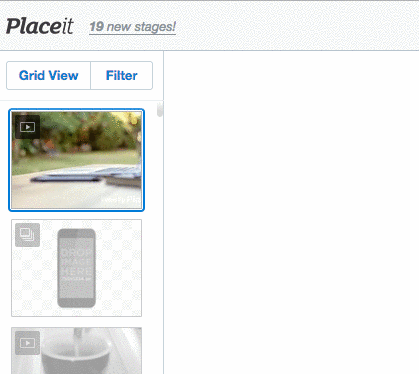 How does it work?
When you record your screen with Recordit, we're actually uploading your click data to our servers and once we can understand your clicks, we convert them into real hand gestures on the videos.
Once the video is produced, you can push the video to YouTube with a single click. You can also add sound and make edits to your video there.
What gestures do you support?
We support tap, swipe up, swipe down, swipe right and swipe down at the moment.
What else?
We have about 100 video templates to choose from. We're adding more every week. Let us know if you'd like any specific themes that we've missed.
We hope you'll enjoy the feature and please do give us feedback.
Lastly, I want to thank the entire production, development and customer service team that worked so hard to make this feature possible.
Thank you
Navid & The Placeit Team
I leave you with our creepy commercial.
Try also Make a YouTube Banner in Seconds!
---
Make a Professional App Demo Video From Your Browser
An app demo video will put your app marketing efforts on steroids. App demo videos allow app entrepreneurs to truly demonstrate what their new app is all about. Moreover, Placeit's app demo videos don't need any previous video editing skills, its ease of use is simply outstanding. Go and make your own app demo video today!
Create your own App Demo Video now!
"Now my app has an app demo video thanks to

Placeit

, it was by far the most convenient option for us!
"
Michael Campbell
5

/5