Make Christmas Sweaters with Festive Templates from Placeit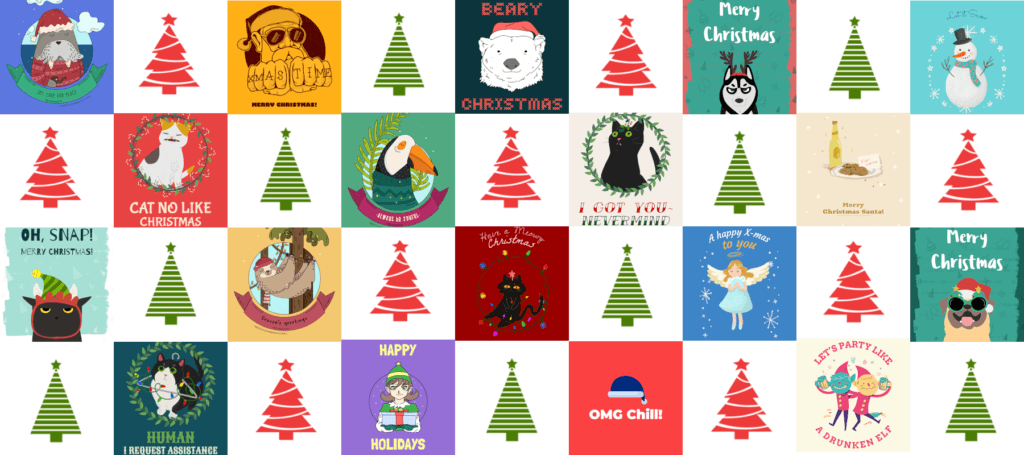 The perfect time of the year to design and sell custom sweaters and hoodies is here! With tons of holiday trends to take into account, you should start making your Christmas sweater designs! Get ahead of your competition, post your designs first, make creative sweater designs that everyone will want to wear these holidays!
Stock your shop with tons of festive sweater designs you can create on your own with just a few clicks! This tool is super easy to use so that you can become your own expert designer. No need to hire someone else or to spend hours learning how to use complicated software.
Get inspired by these amazing templates we've collected for you with many different styles. So don't waste any time try our online design tool. Again, it's super easy and it's super fast!


Placeit allows you to make your own Ugly Christmas sweater design with the easiest tool that is ready for printing and sewing.  There are tons of tacky designs to choose from! Just choose your favorite to customize it to say whatever you want! Look as corny as you want! 
Find Christmasy patterns, Jesus boy, Santa Claus, Christmas dinner graphics, cute lamas and much more! Every template is completely customizable to say and display anything you want!
You can easily create funny Christmas sweater designs with quotes, jokes, and funny graphics for more unconventional designs these holidays! Find a great collection of these right here!
Find designs like drunk Santas, cute reindeers, Christmas cats, party elves and much more! Remember you can fully customize any template to say whatever you want! Maybe your favorite Christmas joke!
For a little different Christmas spirit, we have a great surprise! Looking for a naughty Christmas sweater design? No problem! You can find from naughty ugly Christmas designs to Krampus Christmas designs. The villains have their Christmas too!
Choose between scary snowmen, Krampus, Bad Santa and other dark Christmas designs for other Christmas sweater styles.

Using mockups to show off your newest Christmas collection is a great idea! You can showcase your designs using realistic mockups in all kinds of scenarios, seasons, places, holidays, and more.
Also, you can choose to show your merch alone or show models using the product. There are thousands of different models that you can filter by gender, age, color, size, everything! You can even use the same model with different products if you click on its own code. 
With Placeit you get a wide range of different product mockups like notebooks, pillows, mugs, apparel, socks, beanies, activewear, agendas, bags, hats, phones cases, basically anything you can imagine and if there is something you can't find you can always make a request and you will surely get it real soon!

Are you selling Christmas sweater online? Don't forget to promote! This is the best time of the year to make awesome sales! Fortunately, with a Placeit subscription, you can make all your Christmas sweater designs but you can also make all kinds of cool posts to share everywhere your newest collection. Make Christmas banners to advertise everywhere, on your shop, on Google, on your social media or even to print them out! Promote on your social media with amazing Facebook posts, Instagram posts and stories, Pinterest templates, Twitter posts, and more. Having a Christmas party? Make your Christmas invitations, and flyers to get the word out. Also, don't forget about making your Christmas videos for every channel like YouTube and much more! 
So there you have it, it's super easy to make your Christmas sweater designs using our t-shirt designer. There is a template perfect for all styles. After you get your fantastic designs ready promote all over social media, your shops and in all your channels. Everything you'll ever need is right here!
If you have enjoyed this post to might also want to read our how to prep your store for the holiday post or our Christmas banners to promote your shop post! 
"Made tons of cool designs for Christmas apparel with 's t-shirt designer Placeit."
Jazmine Bevan
5/5
---
Make Custom Christmas Sweater Designs with This Tool
It's time to stock your shop with cool Christmas designs that you can make on your own. You can create tons of cool Christmas sweater designs with templates for ugly Christmas sweaters, naughty Christmas sweaters, funny Christmas designs, and much more! Also, find everything you need to promote your newest collection right here!
Make a Christmas Sweater Design
---