Promote Your Apparel Brand with the Best Blank T-Shirt Template Out There!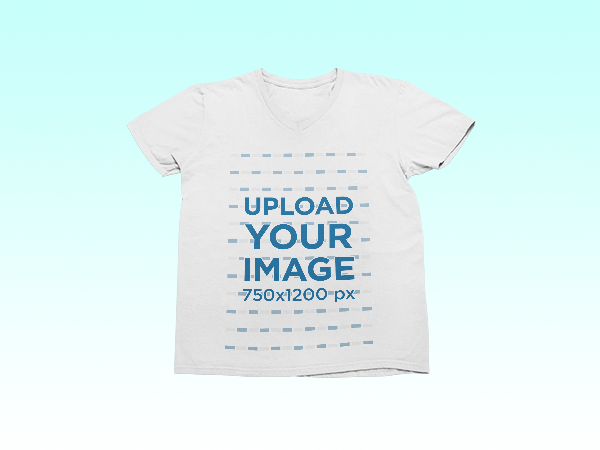 Whether you want to keep your Facebook and Instagram updated with your brand's latest designs, or you need fresh photos to run some promotions, showcasing your products with beautiful and sleek photos is definitely something worth writing on your to-do list. Sure, user-generated content is important and great for engagement and to build brand recognition, but having your t-shirt designs displayed on a sleek photo is also important, sometimes your brand will also want to present itself as someone who cleans up nicely.
Luckily for you, Placeit is here to save the day (yet again!) with blank t-shirt templates that are perfect to display your most amazing t-shirt designs with just the right amount of color to allow your designs to steal the spotlight, have a look:
In this shot we can see how the main protagonist of the scene will be your design, the photo doesn't even have a background for crying out loud!!! The t-shirt is just floating around, which means you can paste it over any scenario you like and it will blend perfectly, no hangers, no cut-out arms, torsos, or handbags, just a plain white tee waiting for you to drop your artwork on it.
Looking for some middle ground between having a context in your photo and just having the garment awkwardly lying around? Hey, it's cool, we understand each brand has its own style, that's why we try to spice it up for everyone, take this transparent mockup of a woman wearing a blank tee template for example; we have a model but we don't have a face, background or any indication of where she is, but we can tell she's cool since she has a couple of amazing tattoos!!
Here we can see the back of a blank t-shirt being hung from a wooden hanger, isn't it the best way to display a kick-ass design meant for the back of a tee? Especially since this is a simple photo that allows the viewer to focus solely on your design and not be distracted by any other elements. Use this mockup to promote your graphic tees like the pros.
In this blank t-shirt template, you will be able to showcase your designs on a stack of folded tees, it's a great way to make your t-shirt designs stand out as you can also pick a color for the garment to make the most of the photo while still keeping it simple. Go ahead and upload or drag and drop your design to the template to make it come alive with this blank tee template!
This sublimated blank tee template features a round neck plain white tee lying over a wooden table or surface, ready for you to add your artwork, logo, or design and promote it on social media or website, as it's a photo with a simple aesthetic it won't steal the attention from your designs and it will let your potential customers focus on what's important your work! Go ahead and use this all-over print t-shirt mockup to promote your products right away, using mockups of blank tees is a great way to gain new users from social media without having to go through the hassle of a photoshoot.
Looking for a blank Bella + canvas tee to promote your designs? Here it is! This mockup features a long sleeve Bella canvas tee over a transparent background, it has a ghosted woman's shape and it lets you choose from a wide variety of garment colors to pick the right shade for your t-shirt design. Make the most out of your products by promoting them with beautiful product shots on social media, Placeit Apparel has got you covered! All you need to do is drag and drop your tee designs.
Now this blank tee template really portrays what we mean when we suggest you go for a simple and minimalistic look to promote your designs, it's sleek, it's white and it basically just conveys whatever you want it to, add your logo to it and you are ready to go! Did we mention it's a plain white tee? Who doesn't love a plain white tee to add any graphics or sarcastic quote to it? We certainly do.
This t-shirt mockup featuring a black man sitting on a wooden stool in front of a transparent background could be just what your visual marketing campaign needs, so waste no more time and customize it today by simply uploading one of your brand new designs onto the template and then make a social media ad out of it!
Selling Kids Apparel? Just like that college best friend, Placeit will always have your back! With tons of kids and baby clothing mockups to choose from, you will be able to display your designs in lots of different scenarios and with the cutest models of them all, but sometimes you will also need a simple photo with a white background – without having to spend on renting a photo studio, or even better, a photo that already has the background cut out for you, and this transparent background kids blank t-shirt template is just perfect.
Don't forget to take a look at our incredible polo shirt mockup collection to find the look you're after!
On another note, are you struggling to find a way to make professional t-shirt designs without breaking the bank, hiring a designer, or spending what seems like forever? I just wrote another post on how to make a t-shirt design from scratch using Placeit's brand new smart templates vs using Photoshop to put together some online assets, make sure to check it out!
CHECK OUT THE REST OF OUR BLANK T-SHIRT TEMPLATES AND MOCKUPS HERE AND START PROMOTING YOUR T-SHIRT DESIGNS LIKE THE PROS!