How to Use a 3D Book Cover Generator for Your E-Book Marketing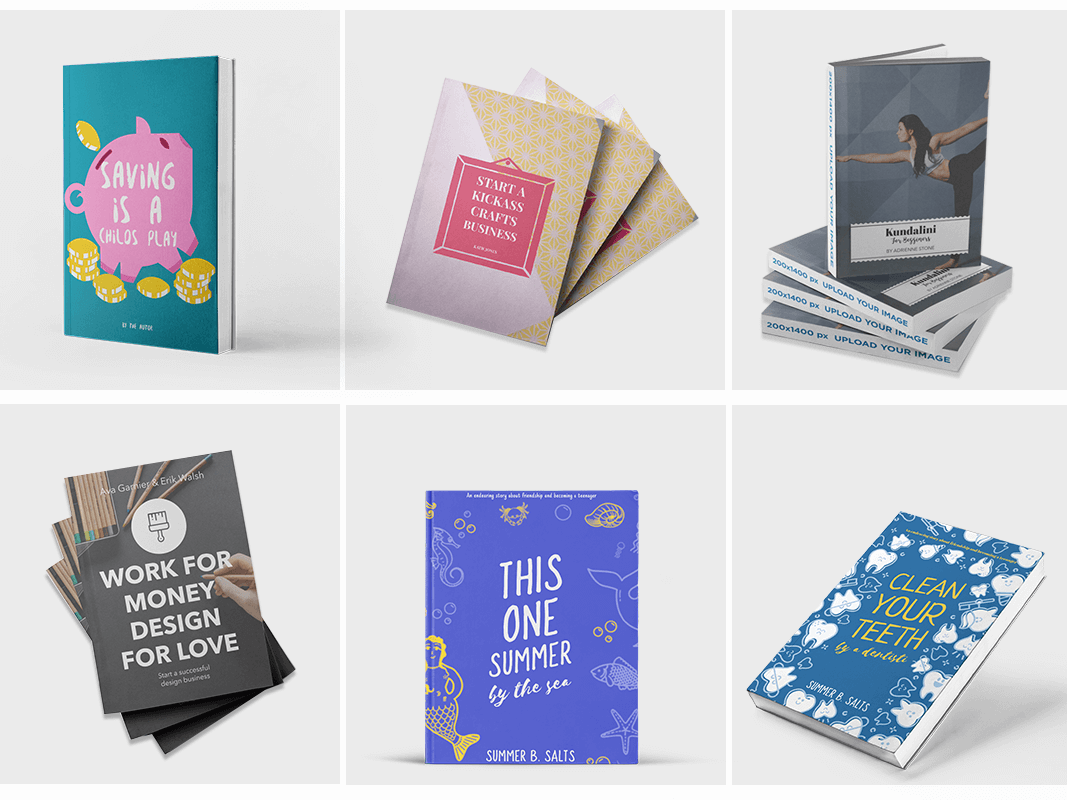 When it comes to E-book marketing, you can really never have enough tools to aid you. Of course, after putting all our effort into writing our next book, it's only reasonable we put in the same effort into creating compelling visual content to promote the title in the most attractive and accurate way possible. Thus, we need visual curation tools like a 3D book cover generator helping us bring our latest work to life.
By now, there are probably two questions popping up in your mind:
Where can one find such a tool? Is it hard to design a book cover on your own? And most importantly, Is it expensive?
To keep things simple: In this post, It's not hard at all, and it doesn't have to be! Now, where do we start…
This is What You'll Find: 
Why Should I Use Mockups to Promote E-books?
As a reader, have you ever had that excitement/dread about thinking of your favorite author's next release? On one hand, you're finally getting a new guaranteed read, but on the other, how long more do you have to wait for it? We need something to feed on, meanwhile, right? And, if you're following me, those small previews authors grant us are essential to figuring out what direction exactly this book is heading, so we need a good presentation!

In general, mockups are wonderful visual assets that help us connect with our readers, letting us showcase a context, a beautiful E-book design, and of course, availability! Creating eBook covers is just the beginning; the real fun starts when we get to see our books in realistic mockups, just one step closer to a successful e-book release. Creating ebook mockups is a quick and effective way to market your book, so it's definitely worth taking the time to do.
Plus, you don't have to wait more than a few seconds to see what your professional book cover will look like in your reader's hands; the 3D book cover generator will give you back time and money so you can concentrate on your creative work!
Create Your Own Ebook Cover Mockup
So now that we know that making your own E-book mockup is really very easy, let's see how exactly this works; for this, we have prepared a very quick guide to mock-up your covers into our incredible book templates:
First, choose one of many ebook covers from our variety of print templates curated to fit your different title needs.
This E-book mockup, for example, features an angled paperback book floating over a transparent background, and it can be customized easily with our 3D book cover generator in no time.
2. Continue personalizing your mockup by simply dragging and dropping your artwork over the placeholder of the template you chose. Remember to use an image that has the closest possible size to the one indicated on the mockup for the best results!

3. Finally, our 3D book cover generator will adjust your image automatically, making the artwork fit perfectly onto the E-book design you chose and done. You now have a download ready to promote your latest ebook!
Yes, there are only three simple steps to it; who knew there was such an online mockup app, right? Check out these other great examples of photorealistic book mockups from our 3D book cover generator that will make your next book release easier and more attractive to your readers.

Want to see what your book will look like at the bookstore? Try this mockup out and let your cover illustrations stand out in a real-life scenario, captivating your readers with content they can connect with!

You could also go with a more minimalist approach and customize this book cover with your artwork, go ahead and try it out now with our 3D book cover generator. This photo mockup features a hardcover book lying over a surface on a PNG background, so you can create differently-themed scenarios!
Do You Want to Know the Secret to Sell More Books?
It's easy; you need our new Facebook E-book Ads! Why? To start with, Facebook Ebook Ads are easy to customize. You just need to upload your E-book cover art and type in the special discount you will use to attract your customers. If you are like 99% of human beings, you are attracted by discounts.
Well, your customers are part of that 99% and are also attracted to discounts, so go on and give your customers a good reason (discount) to purchase your book! Have a look!
How Else Do the Pros Promote Their Books?
Another cost-effective marketing strategy is to use book mockup videos on your author's website, Facebook Page, or Facebook Ads campaign. By simply uploading your ebook cover art image file, you can get a beautiful Book Video Mockup in seconds. No video editing skills are needed! Ready to surprise everyone with a book video mockup like this one?
But Wait! I Don't Even Have a Book Cover Yet!
How can that be a problem when your book cover maker tool exists! Not so long ago, it was still a thing to pay $200 USD to get a book cover designed. But not anymore. Now, with an online software like Placeit's book cover maker you can design your next book cover all by yourself! Before presenting your book, you can also use a digital book maker to help you create your next bestseller. Follow the next easy steps to create our own original book cover art.
Spend less money and less time!
Creating book covers for less money and in less time is now possible with Placeit's 3D book cover generator, and all you need is one of your designs to customize them. Your new favorite E-book marketing tool is here and ready to help all your best sellers achieve success, read more about boosting your sales with ebook cover templates.
"Thanks to Placeit mockups now I have a realistic cover to boost my sales."
Brice Adams 5/5