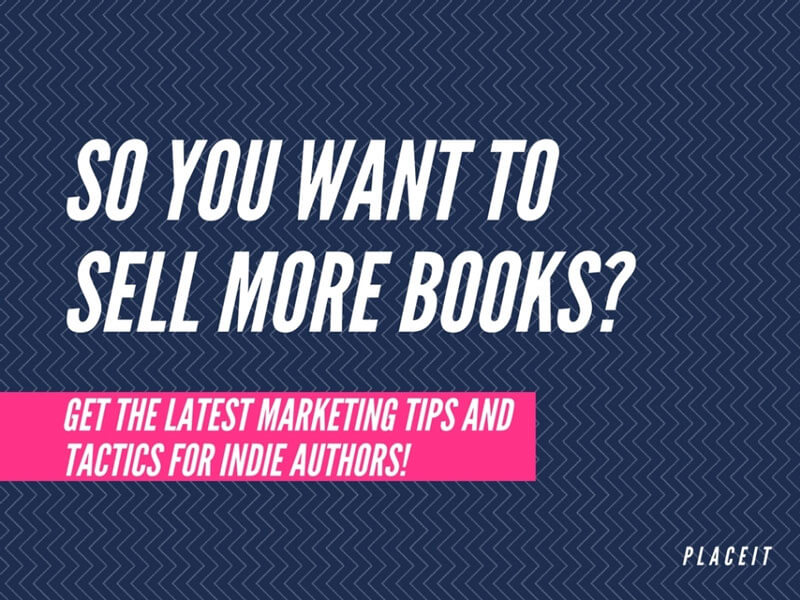 You wrote a great book, now it is time to market the hell out of it. It's understandable why most authors fail at marketing their books though, in the end, they are writers, not marketers. Writers that decide to go with an editorial don't have to worry about marketing as much as indie authors do, what they pay an editorial for is precisely for their social connections and book marketing and promotion expertise. Worry not, you will get book marketing tips right here right now!
What You'll Find:
It's not only about being a great writer, but you also must not fail at marketing your book and we'll show you how!
Truth be told, both books and ebooks pretty much amount to nothing if the author fails to market and promote them properly. If you wrote a book and you're not getting the results you want, then this guide is for you. Boost your book's success and sell more copies of your book by following 20 marketing tips and tactics for self-publishing authors. If you are just starting your self-publishing journey you might as well get our best self-publishing resources article.
1. Use Metadata to Sell More Books
Metadata is the piece of information that will differentiate your ebook from the rest and definitely should be part of your book marketing tips. You will notice that while uploading a book to a publishing platform you will be asked for details like the book's title, book's author, book description, genre, etc. That information is your ebook's metadata and metadata goes a long way. Check that your book title is unique with this online book title checker tool.
Take all the time you need to fill in the metadata information thoroughly since this is what will make your ebook show up in searches performed on Google Search, Amazon search, Goodreads search, etcetera.
Think about what a user would type in to find a book like yours and make sure you use those meta keywords. Pay special attention to your book description, see it as a movie trailer, your book description should spark enough curiosity in the curious readers that are reading it so that they should immediately pull out their credit cards or download your ebook in that exact moment.
Use the famous Onix Metadata Template, a free-to-use format for passing descriptive metadata about books between publishers, data aggregators, book retailers, and other interested parties in the publishing industry.
You can use free software like Calibre to edit an ePub's metadata. When you are done editing, choose Save to Disk or Send to Device and the metadata will be written on the ePub file.
2. Get an Attractive Book Cover
We still judge books by their cover. It doesn't have to be the best cover but it definitely shouldn't be the cheapest-looking cover on the bookshelf. Make it enticing and provocative to boost click-through rates.
A product's appearance has a positive impact on consumer decisions and implies superior quality. Because of this, it's crucial that you design a book cover that looks professional and which can increase your book sales.
Placeit's book cover designer is the smart way to go when going about designing book covers that look good and don't necessarily need to take days or weeks in the making. Have a look at some book covers created with Placeit. Here are some nice premade book cover examples you can check out to get inspired.
Once you have a design or at least a draft, ask your friends for feedback via Facebook, WhatsApp, E-mail or simply ask random people on the bus or metro for their opinion.
3. Upgrade Your Marketing Efforts with Videos
Placeit allows indie writers and self-published authors to create videos to promote books and ebooks easily as well as book cover mockups. Best of all, no video editing skills are necessary at all and it takes just a few seconds to get a video done! It is as simple as choosing a template and uploading your cover art image file in JPEG or PNG format, that's it!
Writers use 3D Book Video Mockups to grab people's attention in crowded environments like Facebook Groups or Instagram for example. This is what our all-new eBook videos look like:
4. Get Media Coverage (Press) for Your Book
Truth is, it is not easy to have mainstream press talking about your book when you are a newcomer indie author. People from the press become more accessible the more books you write.
If you have a proven track record, and you are able to show your success to them then they will pay attention to you and your book and you will then be able to benefit from the mainstream press. In the meantime, aim for a small press release. Get in touch with local newspapers and magazines, niche blogs, podcast interviews, etc. Ask to be part of book presentations, book fairs, cultural events, and such.
5. Talk to Top Book Reviewers
Writing a book that readers will enjoy and getting positive reviews are authors' main concerns. You will want to pick the right reviewers for your book. Pick a reviewer that is accessible and is familiar with your genre.
The Book Reviewer Yellow Pages is your start point to get the book reviews you need. A book reviewer will help you improve and promote your book's sales. Craft a short and concise pitch email where you let them know why you need their specific review and how much it will mean to you. Once you get the positive reviews, use them and repurpose them as testimonials, tweets, or posts.
6. Book Price vs Sales
Anything from $1.99 to $9.99 is a good price for your book. Pricing can be tricky though. If you price a book higher than your competition it could be perceived as of better quality and on the other side, it could discourage some because of the high price.
You are the only one who really knows how much your book is worth. What you should consider when pricing your ebook:
– How other authors from your same genre are pricing their books?
– The length of your book. It's fair to pay more for a longer book.
You could also consider making your first book perma free to build an audience to receive feedback and reviews from and who could be ready to pay for a sequel. Feel like reading more about this? Here's a case study. We created an ebook profit margin calculator to help you figure this out.
7. Personal Branding Management
Let your users know what you are all about. Your values, interests, passion, and purpose. True authenticity is what readers love, be yourself and let your audience know what you stand for to connect with them. Be consistent in the message you spread, be it in Social Media, blog posts, your bio, or real-life interactions.
8. Should I Change My Book's Cover?
Consider refreshing your book design if you are not receiving the results you were looking for. Humans are visual and even when we try hard not to be influenced by visuals, most of the time we make decisions based on aesthetics.
Let your ebook cover designer know what is it that you have in mind and provide an example of how you would like the cover art ideally to look like. Once you get a couple of options, you can run a poll among friends, coworkers, and acquaintances to choose which will be the way to go.
9. What About Book Co-Promotion?
Another book marketing tip is Co-promotion,  it's an excellent tactic. Stop the me, me, me, nonsense, and partner up with a fellow indie writer who needs the same help you do. You will want to talk with your co-promoters about how you can maximize results; determine the frequency, location, message, etc.
You can also promote your book together with other books from your peers of the same genre inside blog posts and include a couple titles they might be already familiar with. For example, you could create a blog post on the topic "5 Sci-Fi Novels You Should Be Reading". Readers and consumers like to have several options and choose.
In marketing, this is well known as "the sandwich technique" and this is the reason why there are compilations and lists all around the internet. Radio hosts use the sandwich technique a lot. They have one hour to play jams that their audience love and at the same time they have to introduce new tunes so what they do is they play the new ones between songs the audience is already familiar with.
So there you go, make your book appear on book roundups and get discovered!
10. Influencers Have Super Powers
Think about who you would like to be talking about in your latest book. These individuals should have influence over your potential buyers. They don't necessarily have to contribute with a book review, they rather should tweet or post on Instagram a status update showing that they are, for example, reading and loving your book.
This way they advocate for your book. Their fans are heavily influenced by these influential people, if they are reading your book they feel they must definitely read it!
There are paid influencer marketing and earned influencer marketing. If you detect there's someone worth your money, go for it. Negotiate with the influencer about the frequency he or she is going to tweet, post, or write about your book. Ask the influencer to use hashtags that work for you and to enrich every post with creative visuals.
💡 Tip: I recommend creating eBook mockups and videos yourself and sharing them with the influencer.
11. Join Reddit
Inside Reddit, you can join all kinds of controversial conversations, demonstrate expertise, and learn new stuff every day. Reddit is one of the domains with the most traffic on the internet which makes it a great place to network, don't you think? Find your place inside the Reddit community, start here:
And most importantly, learn how to Reddit. To succeed in the "Reddit game" first you have to accumulate good karma or in other words, you have to contribute to the Reddit community.
12. Use Meetup.com to Network with Fellow Authors
Meetup.com is self-authors' heaven. Meetup is an online social networking portal that effectively facilitates offline group meetings all around the world. Type in your postal code and search for writers' groups, indie author's groups, and self-publishers support groups near you.
Meetup administrators constantly host seminars, webinars, critique groups, literary meetings, and workshops to help group members thrive. Group sizes vary, there are small groups and huge groups with up to 1.5k members. Here are a few examples of top Meetups spread all over the world:
New York Writing Club Meetup Group
Read Write Publish Meetup Group
E-Publishing and Online Book Promotion Meetup Group
Chicago Self Publishing Ebook Group
Self Pub Meetup Group
13. Join Facebook Groups for Writers
Another great place to interact with fellow self-publishers, develop contacts, ask for opinions, peer review, and exchange tips and tricks are Facebook Groups. Same as Meetup Groups, Facebook Groups are monitored by administrators who shield groups from spam and foster group dialogue.
You can use Facebook Groups to test ebook covers, put side to side two book cover designs, and ask users for their opinion. And remember not just to ask questions, you should be actively responding to other users' questions. Make new friends who will kindly read your next book. Here are a few Facebook Group examples that will gladly welcome you.
These are groups on general book talk. You can also receive and share niche-focused advice and engage with readers and writers that talk specifically about a specific genre or topic. Search on Facebook for "Children's book writers", "Christian book writers", "Horror book writers", "Romantic book authors" etc.
In these groups, the promotion of books is allowed and encouraged. 😉
Do you want to be part of a community of 2 million book lovers? Then join Library Thing. It is used by authors, individuals, libraries, and publishers. You can participate in member forums and join their Early Reviewers program.
LibraryThing connects people based on the books they share. Their "forum system" is called Talk. The page that lists all the groups in Talk is called Groups.
Learn about author readings, signings, discussions, and other book-related events in your area by checking the Local section. This way you can keep track of events that interest you and immerse yourself in the book community.
💡Learn how Authors can participate in the LibraryThing community.
Of course, you already know about Goodreads. #1 website for readers and book recommendations, now owned by Amazon. Goodreads Author Program helps new and renowned authors reach their audience.
You can have your own blog, get followers, share your favorite books with your fans and connect with them, and much more. Promoting yourself and your books in Goodreads just makes sense.
Now, if you want to turn it up a notch you can also advertise on Goodreads. Gain access to and target your ad by book genre, location, gender, or age. Ads cost $0.50 per click.
16. Maximize Amazon
Read this super complete guide to learn how you can crack Amazon's sales rank algorithm. Hitting the top of the charts is the ultimate goal for authors. Unfortunately, this doesn't always last for a long period so don't see this as a long-term solution. Focus on building a community, engaging with readers that love your book, and writing books for them.
17. Landing Pages for Writers & Examples
Your readers will want to know more about you once they read your books. There is Facebook and there is Goodreads but none of these two websites can be personalized as your very own website. It's up to you if you want to create a website with a blog section where you could frequently write to your fans or if you want to have a one-page website design that is known to work for writers and authors.
The main benefit of having your own website is for branding purposes. Ideally, your domain name will be your author's name so that you can be found when a fan searches your name online.
Author websites don't need to be too complex at all. Google your favorite authors and see what they are doing and get yourself a website that looks even better than theirs. Here are a few examples of book author's websites:
Find out if the domain name you have in mind is available by typing it in this Domain Name Search Tool.
Squarespace allows you to easily create professional-looking websites without having any prior experience.
You can use Google's freemium web analytics service which allows you to discover the demographics of people that visit your website. Google Analytics allows you then to know from where your users are visiting you and if they are new or returning visitors.
This information will become useful if you decide to invest in Google Adwords, Google's famous advertising option that allows you to create ads that once clicked can take users to your web. You have two options, Google
Search Ads & Google Display Ads
Google Search Ads are triggered by a search query, and the Google Display ads show up when a user that matches your previously specified interests and demographics visits certain websites. Google Search Ads:
Use the Facebook Pixel to learn more about your website visitors. This is a more advanced book marketing tips. Similar to Google Analytics, by copying and pasting a few lines of code on your website you will be able to get helpful insight from your visitors. With the Facebook Pixel, you will be able to learn more about the users that visit your site.
This data can be used to enhance the targeting of a Facebook Advertising Campaign. If a user visits your website and doesn't download or buy your book, you can later display ads to them while they spend their time on Facebook. Hopefully, this second time you will be able to convince them of purchasing and reading your ebook.
To put it super simple, the guys from Wordstream made a great infographic that shows you every possible way of taking advantage of Facebook Advertising features.
Go the Extra Mile with Book Ad Images
Creating 3D book mockups is one thing and creating Ebook Ad Images is another whole new thing! Ebook ad images will allow you to better promote your book online. These images are composed of a book mockup and compelling text that will attract prospective customers' eyes. Simply think about a special discount you could be offering to your prospect readers, type it in, and that's it!
18. Get The Most Out Of Your Social Media Accounts
Readers expect to further connect with their favorite authors. When I read a book that I like I go online and search for more information about the author. I first follow them on Twitter, then I like their Facebook Page and finally, I search for the author on Goodreads to see what else the author has written and then I add those books to my "To-Read" list. This is a common bookworm behavior.
Besides being able to share your interests, contact information (like your email), and your achievements, a social media account is an excellent source of referral traffic. You might not be able to sell directly from your favorite social media account but it works as a medium where you can let users know about your progress on a new book or a special discount for your book. Learn how to audit your social media profiles.
Visit your favorite author's Social Media profile, see what they are doing and improve upon.
A 3D ebook cover mockup template will help you promote your book or ebook online. The usability of a PNG 3D mockup is enormous. You will be able to better promote your ebook via Social Media, Email, and on your website – this will be tackled further down on this guide.
See the image below and be the judge, it looks great, right? What's even better is that you can find book mockups for all genres. Whether you're writing recipe books or children's books, you can be sure you'll find mockups that suit your target audience.
20. Use User Generated Content (UGC) to Promote Your Book
An excellent tactic to promote your ebook for free is to exploit user-generated content. Every book series, or ideally, each book should have its own hashtag. I searched for last year's popular books and found out that "Homegoing: A Novel" was a popular book in 2016; so I took a wild guess and searched on Twitter for the hashtag "#homegoing" and voilá, there's a lot of people talking about it!
In order to make this work for you, make sure that a hashtag can be easily created out of your book's title in order for you to easily track the conversation that your readers are having about your book. Now it's up to you to kindly reply to them and send your thanks, thank you with a retweet or like that tweet. So if you usually struggle creating original content for your followers, make sure you re-share UGC!
#homegoing Tweets

Over to You
These book marketing tips will help your book get noticed. As you write more and more books, the press will start paying more attention to you. There are a lot of thirsty readers craving original content.
Promoting an ebook is not an easy task but it isn't an impossible one either. If you want to print your book you should check these print-on-demand book companies. What has worked and hasn't worked for you? Let us know in the comments section!
You can always start building a brand for your small company, maybe your personal brand as a publisher. Author? Writer? Or any other business you have in mind and want to grow and promote.
If you liked this post, you can read our All You Need to Know About Branding Your Small Business to learn on a more general basis, how to use branding on your side to launch your small business!